true
When news broke in the mid-1990s about separate adultery scandals involving Christian music superstars Michael English and Sandi Patty, reaction from the evangelical community was swift and severe. Christian radio and retail were quick to pull those artists' songs from the air and CDs from the shelves.
When Amy Grant divorced and remarried in the late 1990s, many radio stations and stores pulled her music from circulation. Only in recent years have English, Patty, and Grant been relatively welcomed back into the retail (and to a degree, radio) fold.
In the wake of Jennifer Knapp's recent revelation that she is in a long-term same-sex relationship, the reaction from Christian radio and retail has been somewhat mixed—partly because Knapp hadn't been on the Christian music charts in years—and some in the business didn't even want to talk about it.
Knapp walked away from the scene in 2003 but now is staging a comeback, though not as a "Christian musician." Knapp, whose new album Letting Go releases in May, says she's still a Christian, but is no longer on a Christian label (she's indie), nor is she interested in making music marketed to a faith audience. (Her new album does include some references to her faith.)
CT contacted a number of people in radio and retail for this story; several chose not to comment, while others noted that since Knapp has been out of the picture for a while, they didn't have to wrestle with a decision whether or not to carry her music.
"We haven't been playing her songs for a long time, so it's been easy for us," says Tim McDermott, president and general manager of Houston's KSBJ, one of the nation's top Christian radio stations. But if Knapp were a current star, McDermott said they would definitely pull her music from the airwaves. "I'd be surprised if any station decided to play her music at this time.
"We have a standard of ministry for the artists we play," McDermott continues. "The lifestyle of the artist matters a lot; we view our artists as 'ministers' on the air. We want artists who love the Lord and live by Christian principles. We also want to love the person, but we believe their lifestyle has to line up with the Word of God. Jennifer apparently sees a congruence between what she's doing and the Bible, but we read it differently. We want to be careful and not judge her, but the Bible's pretty clear about [homosexuality]."
In the wake of the Patty, English, and Grant controversies, KSBJ drafted a policy, "When Artists Fall" with the help of pastors, artists, and record company personnel. The policy in part reads, "KSBJ, in good conscience, cannot continue to keep an Artist in the public spotlight who has fallen spiritually and whose sinful actions, because of their public nature, have had negative repercussions not only on the individual's ministry and the ministry of KSBJ, but also the Body of Christ. Accordingly … KSBJ will remove all songs by the Artist from airplay until the Artist acknowledges his or her sin, seeks forgiveness, and begins steps toward restoration."
Mike Prendergast, programming director at KLTY in Irving, Texas, said the station hasn't played any of Knapp's music "in well over a year," but wouldn't answer any other questions, including whether the station has officially pulled her from the air.
CT was unable to reach a spokesman for K-LOVE, the massive syndicated Christian radio network.
'A stance we're not comfortable with'
Johnathon Eltrevoog, program director at WONU (Shine FM) in Bourbonnais, Illinois, said his station hasn't played Knapp's music regularly in years, but that if she were in their current rotation, "I think we would not. She seems to have taken a stance that we wouldn't be comfortable with."
Eltrevoog—who blogged his personal thoughts on the situation—said WONU does still play "Sing Alleluia," a duet between Knapp and Third Day's Mac Powell from 2002's City on a Hill CD. But Eltrevoog believes "the vast majority of adult contemporary Christian radio would be quick to pull [Knapp's music] because they're afraid of backlash from their audience." When asked what WONU would do if most of its listeners expressed support for Knapp, he says, "I think we would still drop her, but I would definitely invite a discussion on it [with listeners]."
KSBJ's McDermott, who also serves as the radio committee chairman for National Religious Broadcasters, agreed that his station wouldn't let listeners make such a decision. "Some would say that we should let the audience decide, but we have a responsibility, like a church. You wouldn't want someone in the pulpit preaching on the sanctity of marriage if they've been married seven times."
On the retail side, Christian Book Distributors has removed Knapp's music from its website "based on customer feedback," says CBD's Neal Eagleton. When asked to elaborate or answer further questions, Eagleton replied, "Nobody wants to talk about it because it's a no-win situation." CBD's website includes a page titled, "A Word on Our Product Selection," which states, "From a very early point in our company's history, we had to choose whether we wanted to become 'censors' for our customers, and not carry [products] with which we might disagree. Our overall position is to make available a wide assortment of products to a wide variety of customers, to let you choose what is important and useful to you, rather than to make that decision for you."
(UPDATE: Until Friday afternoon, CBD was carrying several books that seemed sympathetic to gay ideology. For example, Reformation of the Heart: Seasonal Meditations by a Gay Christian, Christianity and Homosexuality, and Gay & Lesbian Rights: A Question: Sexual Ethics or Social Justice? But those three books have since been pulled from CBD's website.)
LifeWay Christian Stores, owned and operated by the Southern Baptist Convention and with 156 stores in the U.S., has pulled Knapp's music from its website and shelves. Chris Rodgers, LifeWay's director of product standards and customer relations, said in a statement: "Jennifer Knapp has been out of the music scene for a long time and we have not been carrying her product in our stores for several years. Stocking her music is not an issue since there is no demand for her product in our stores or on our website." Rodgers would not answer any follow-up questions.
Curtis Riskey, Executive Director for CBA—the Association for Christian retail industry—said it's up to individual retailers and stores whether or not to continue carrying Knapp's music. Riskey also said that customers would ultimately determine whether Christian stores should carry Knapp: "Consumers (both believers and non-believers) that purchase from Christian retail stores would make that determination through their votes with their dollars. Jesus is all about redemption and reconciliation. Jennifer Knapp needs to know that Jesus truly loves her and died for her."
At this writing, Parable Christian Stores (51 stores), Mardel (34 stores), and Christianbookstore.net were all carrying Knapp's music on their websites.
A different type of controversy
Mark Allan Powell, author of the Encyclopedia of Contemporary Christian Music and a prof at Trinity Lutheran Seminary, said that Knapp's situation is different from previous scandals/controversies in Christian music because Knapp has not confessed to any sin.
"In all of those instances, the guilty party admitted that they had failed to live in accord with God's will," says Powell. "Those were simply cases of Christian artists failing to be the role models that one would hope they could be. The situation with Jennifer is comparable to thatof Ray Boltz [who came out in 2008] and (most of all) Marsha Stevens [who came out in 1979] because she does not regard her lifestyle as inappropriate."
Powell went on to say that Knapp's lesbianism will likely "limit her appeal as an artist within the Christian music world, especially since that world tends to be composed of more conservative Christians. Retailers will probably want to comply with the wishes of their constituency—and from a business standpoint,and that may bewise. But that matters less than it once did, when the control of such gatekeepers was nearly absolute. When retailers quit carrying Marsha Stevens' albums, they became virtually unobtainable. Now, there is amazon.com."
Craig Detweiler, a pop culture expert and associate professor of communication at Pepperdine University, noted that Knapp's revelation was "fascinating" in that it's "not in the form of a confession or asking for forgiveness. It is much more of an open declaration that does not include any form of apology or regret. And as a grace-based people, it is fascinating to see the limits of our love stretched. It's so easy to lift up heroes when they fulfill our highest aspirations. But when happens when they need our love the most? I think many artists have been sorely disappointed in how we've responded in their hours of greatest need for grace and restoration."
As to whether Christian radio and retailers should pull Knapp's music, Detweiler says it makes for "a fascinating tension," and that program directors might not want to "risk the wrath" of listeners and perhaps should "let the fans decide."
Powell added that Knapp's current ideology and choices should have no bearing on the quality of art she has produced in the past.
"Knapp's announcement regarding her lifestyle does not call into question the sincerity of her beliefs or of her devotion to Christ," Powell says. "Even those who think that she is completely wrong should be able to realize that she believes she is living in a way that is scripturally faithful to God.
"Furthermore, the image of an artist and the quality of their art do not have to be intrinsically connected. Many Christians find that it is possible to appreciate the music and even the message of artists (secular and Christian) whose lifestyles do not match their understanding of Scripture. Personally, I like the 'Hallelujah Chorus' quite apart from any endorsement of Handel's lifestyle." (The great composer was rumored to be gay.)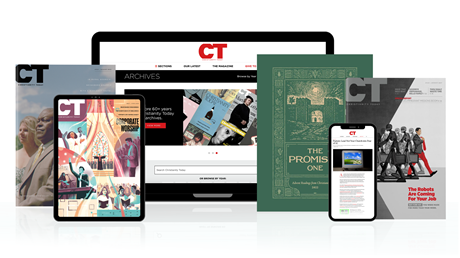 Annual & Monthly subscriptions available.
Print & Digital Issues of CT magazine
Complete access to every article on ChristianityToday.com
Unlimited access to 65+ years of CT's online archives
Member-only special issues
Subscribe
Radio, Retail React to Knapp
Radio, Retail React to Knapp