true
If everyone in your immediate family suddenly backed out of a planned family celebration, would you breathe a sigh of relief and put the sweatpants back on, or set out on a cross-country venture to track them down?
In Everybody's Fine, opening this weekend, Frank Goode (played by Robert DeNiro) decides on the road trip. When his four grown children all cancel their plans to visit him for a cookout weekend, Frank decides to travel the country to see them at work. His wife, who recently died, told him the children have jobs in advertising, music, and art, but Frank wants to see for himself. Over the course of the film, Frank realizes his children's positions aren't quite as prestigious as he had imagined, but he—and they—slowly realize that position titles and paycheck sizes aren't, after all, what matters.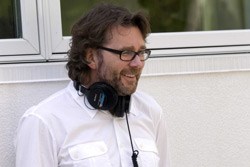 Kirk Jones, writer and director of the film, hopes Everybody's Fine works as an antidote to the ideal of the American dream that many parents transmit to their children. Jones, a British filmmaker who also wrote and directed 1998's Waking Ned Devine, has three sons of his own, aged 3, 14, and 18, and although he has not reached the empty-nesting stage of Frank in the movie, his insights from parenting helped shape the film. CT Movies spoke with Jones about film directing and the importance of family.
What drew you to this movie as a director?
I have three children myself and was able to relate to it from the start. Being in a family is a universal theme, second probably to the theme of love, which seems to be responsible for most of the films and music and books that we listen to and read. All of us are in a family at some level. It suddenly dawned on me that everyone can relate to the dynamics of family, of the complications of family, of what's great about being a part of a family and what can be very difficult in that setting at times.
Did your childhood play into creating the movie?
It wasn't really a factor. I had probably too good an upbringing; I was an only child, but my parents were always incredibly supportive of my own interests and what they thought were my own talents. I never felt any pressure to be anything other than what I was.
Did your parenting experiences give insight into directing or writing the film?
I was aware, as a father of three boys, of the very obvious traps. When you know you're going to have children, it's easy to start mapping out their lives in advance, and think, "Great. If it's a boy, he'll be great at football [soccer], and we can go to football matches together." You fall into the trap of mapping out someone's life before you've even gotten to know them or gotten to know their strengths. And of course, children are always very different from how we imagine they'll turn out to be. I was aware of that, and a sense of finding a balance between pushing and inspiring your children, and allowing them to fulfill their potential, but not pushing them so much it can be damaging.
I went to school with a number of kids who had incredible potential—there was talk of them being fighter pilots, and another child going into politics. They ended up dropping out because they felt there was so much pressure put on them from their parents and the schooling system. One of them became a butcher and one got very heavily involved in drugs. It was a good example of kids who were just pushed too much and were not allowed to be themselves and develop.
Do you share any of Frank's regrets about having to spend a lot of time working and not with the kids?
Ironically, making a film about family, I had to spend 14 months away from my own family, in America. So it's made me reconsider my own priorities. I can't let that happen again in the future—I need to work out some way my family can be with me, or structure it differently. It was too long away.
What do you want viewers to take away from Everybody's Fine?
I think the film makes them aware of the fact that they need to prioritize their family and keeping in touch with their families more. It's a pretty common modern dilemma: A lot of children finishing college travel to find work in different areas. They certainly do in the U.K, and I'm very aware they do here [in the U.S.] Younger people are relating to the movie because they're very aware that they need to make more of an effort to keep in touch at home, especially since they live so far away.
What does the film say about the culture of the modern American family?
One theme is the idea of the modern state of the American dream. I wonder how realistic it is to tell our children that they can achieve anything they want to achieve in the real world as long as they work hard. Perhaps parents would do better to support their children, evaluate what their strengths are, encourage them and push them to do their best, but be more realistic about what their children might achieve in the modern world.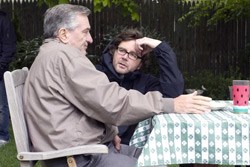 I don't think Frank is a bad dad; he tries his very best to be a good dad. At times, his love was a little bit misguided; he pushed his children too hard, and maybe pushed them into fields they weren't naturally suited to. In return, they worked very hard, but felt as if they could never achieve the level of perfection he had set for them. That was another theme I wanted to touch on in the movie: Parents' expectations, the dangers of those expectations being set too high and the consequences of children feeling like they never lived up to expectations.
Is there a faith aspect to the movie?
This is the second film I've written, and I find myself writing about the importance of family, of communicating with each other, of supporting each other. I have no formal religious beliefs, but I'm very aware spiritually of the world in which we live.
The message of the movie is "everybody's fine." Initially he doesn't at all think his children are "fine;" can you explain how Frank comes to understand the phrase?
When Frank starts his journey, his definition of everyone being fine is based on what he's learned from his wife, which is, "Everyone's very happy, everyone's very successful and they're all doing very well." Through his journey and his process of learning, he realizes the truth about his family, and it's clear that there are problems. But by the end of the film, he truly believes everybody is fine. When he started out, he bought into an ideal world. By the end, he's aware of the reality of his own children. He knows that his children are good people; they're not bad kids, they're just real-life kids.
Why did you set the movie at Christmastime?
It's a time of year where we still consider it important to reconnect with families. The most amount of time that I spend with my extended family is around Christmas, and it seems that everyone identifies with the importance of family during the Christmas season.
Freelance writer Ruth Moon has written about the economy, higher education, and climate change for Christianity Today, and occasionally writes for Her.meneutics.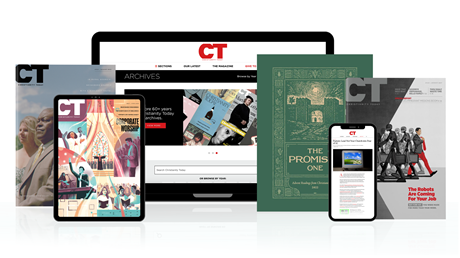 Annual & Monthly subscriptions available.
Print & Digital Issues of CT magazine
Complete access to every article on ChristianityToday.com
Unlimited access to 65+ years of CT's online archives
Member-only special issues
Subscribe
Is Everybody Really Fine?
Is Everybody Really Fine?