true
After releasing two albums that focused primarily on justice, mercy, and social commentary, Sara Groves wondered where to turn next for her ninth studio project.
She didn't need to look very far. Encouraged by her record company president, INO's Jeff Moseley, Groves decided to look inward for inspiration for Fireflies & Songs, arguably her most personal project yet.
"As a songwriter," Groves says, "it's easier to step back and take an observer's view, and that's what I had been doing the last couple albums. Of course, I'm in all those songs and they're personal, but I wasn't 'digging in the dirt' for sure. It's hard to do that. It's hard to say, 'Here's my stuff.'"
Perhaps, but this "stuff" earned Fireflies & Songs Groves enough votes from a panel of ten music critics to be named Christianity Today's Album of the Year. It was a runaway winner for first place, beating out other 2009 albums from Switchfoot, Steven Curtis Chapman, Buddy & Julie Miller, Ashley Cleveland, and even U2.
"This is a complete surprise, and I'm deeply grateful," Groves told CT upon hearing the news. "When I'm done with a record, I try to let it go, knowing I have done everything I can do. But at the same time, a record like this is my heart and soul parading around. It feels good to know that it is resonating.
"I know this gospel can square off with any complexity in our culture or relationships, and that brings me a great deal of joy, to look into every corner of life with this worldview."
Groves also gave a nod to INO.
"I have always been given a great deal of creative freedom from our label to write about the whole of life, and I know that freedom has made me the songwriter I am today. With this record, you are hearing a very raw version of how I write."
See our full review of Fireflies & Songs here, and a recent interview here.
Here are CT's Top 12 Albums of 2009:
1) Sara Groves

Fireflies & Songs (INO)
Already known for her transparent songwriting, Sara Groves gets even more piercingly honest on this, her ninth album. Whether her relationship with God, marital tension, or a private battle with anxiety, it's poetically spilled forth in Groves' call for the church to "live confessionally." And paired with less poppy, stripped-down arrangements, her achingly clear vocal remains front and center. This is vintage Groves—yet more herself than ever.—Andrea Bailey Willits
2) Switchfoot

Hello Hurricane (Atlantic)
After three years between albums, Switchfoot churns out its most urgent and immediate project to date, while kicking up the socially conscious songwriting another notch. Hello Hurricane reads like a sequel to the band's breakthrough The Beautiful Letdown, but finds the band taking additional sonic risks (such as extra grimy riffs and experimental programming), while never losing sight of its anthemic, stadium-shaking appeal.—Andy Argyrakis
3) Buddy and Julie Miller

Written in Chalk (New West)
For years Americana's prize singer/songwriter team, Buddy and Julie Miller have issued standout alt-country records as a fresh alternative to Nashville's radio-ready schmaltz.Paving highways of heartache with each and every strum,the Millers write from a place where pain lives, but they always turn to eternal promises for a remedy. Written in Chalk allows the spouses space to hurt and hope, dipping into musical inspiration from a well that seemingly never runs dry.—Andrew Greer
4) Bifrost Arts

Come O Spirit! (Great Comfort)
A song compilation with collaborators including Fleet Foxes, Sufjan Stevens, and Damien Jurado, Come O Spirit! avoids indie-rock clichés by approaching classic (and new) hymns with awe and reverence. Arranger/producers Isaac Wardell and Mason Neely prove that modern worship doesn't have to aim at the bombast of U2 or Coldplay to be contemporary or relevant; this collection feels humble and holy.—Joel Hartse
5) David Bazan

Curse Your Branches (Barsuk)
With this solo effort, the grizzly singer/songwriter manages to make his boldest and bravest work. Over a bed of sparse acoustic-based pop, Bazan lays bare his struggles with alcohol, adult responsibility, and, most of all, his faith in God. With straightforward and sometimes brash language, Bazan gives voice to the intimate issues that all Christians wrestle with, but few are afraid to own up to.—Robert Ham
6) Joe Henry

Blood from Stars (Anti)
Joe Henry doesn't just sing the blues—he sings about the blues, mentioning the form by name many times over on his masterful Blood from Stars. "Our every word now is a talking blues," he mourns, but there's something of a grin in his voice—probably because he knows that love is stronger than any ache, and that it's in the dark where we are so often found by grace.—Josh Hurst
7) The Mountain Goats

The Life of the World to Come (4AD)
TMG's John Darnielle calls himself a "Catholic atheist," but he knows his Bible, and writes twelve songs based on specific verses here. This album, sparsely acoustic and beautiful, is neither "worship" nor "Christian" music per se, but it feels sacramental, with its intimate production and songs of beauty, depravity, faith, violence, love, hopelessness, hope, life, and death—kind of like, you know, the Bible.—Joel Hartse
8) Ashley Cleveland

God Don't Never Change (E1)
The gritty-voiced, Grammy-winning Cleveland continues to make some of the best music coming out of the CCM universe. This album of rousing oldies runs the gamut from the blues-soaked "I'm Going to Live the Life I Sing About in My Song" (by Thomas Dorsey) to the mass gospel choir romp "Going to Heaven to Meet the King" (from a rare 45 lp by Mattie Moss Clark). The album has also been nominated for a Grammy.—Mark Moring
9) Derek Webb

Stockholm Syndrome (INO)
Controversy swirled around swear words in the song "What Matters More" and resulted in a clean label version and free single download from Webb. Webb has been pushing the church's buttons for years with provocative depth. This time he's done it by setting his skillful lyricism against a pulsating backbeat of trippy dubs and atmospheric electronica. What really matters more are Webb's prophetic proddings and his most creative and fresh sonic palette. A genius combination.—Jeremy V. Jones
10) Various Artists

Fire in My Bones (Tompkins Square)
This 3-CD set spans sixty years and almost as many stylistic shifts in African-American gospel, offering the best available overview of the music. There's nothing polished to a studio sheen here. These are the unfiltered sounds heard in church services throughout black America, and as such it comes closer to worship music than most of the more sanitized imitators. Raw, raucous, and uplifting, this is music for Sunday morning, Saturday night, and everything in between.—Andy Whitman
11) U2

No Line on the Horizon (Interscope)
For 30 years Bono has been about revolution in various forms. Though he promised reinvention on No Line, the foursome deliver more of their quintessential fare plus a few new production tricks. Tracks range from poignant confessionals to stadium rockers, and the songwriting raises the bar with its thematic richness and spiritual transparency. "Magnificent" and "Moment of Surrender" rank in the top tier of the supergroup's voluminous canon. Bono and Co. can still bring it—and keep expanding their abilities.—Jeremy V. Jones
12) (tie) mewithoutYou

It's All Crazy! … It's Alright (Tooth & Nail)
Aaron Weiss and company drop the Screamo angst and head straight for freak folk territory on their fourth album, employing wheezing accordions, gently plucked mandolins, and the usual guitar onslaught as they spin out literate fables of talking animals, warring fruits and vegetables, and ever-relevant tales of sin, forgiveness, and grace. Childlike but not childish, it's more than alright. It's a whimsical and weird delight.—Andy Whitman
12) (tie) Steven Curtis Chapman

Beauty Will Rise (EMI/CMG)
With these gut-wrenching psalms of lament written in the wake of the death of his 5-year-old daughter, Maria, Chapman's songwriting is as raw, honest, and vulnerable as it gets. On these mostly acoustic tracks, recorded with little or no slick production, Chapman's pain is palpable, but so is the hope, even as he and his family walk through the valley of the shadow of death. A hauntingly beautiful mix of heartache and heaven.—Mark Moring
The Ones That Got Away
Each of our 10 music critics picks one album they wished had made it into the final list:
Andy Argyrakis: Skillet, Awake (Listen / Buy)
Andrea Dawn Goforth: Flyleaf, Memento Mori (Listen / Buy)
Andrew Greer: Julie Lee, Will There Really Be a Morning? (Listen / Buy)
Robert Ham: Prefab Sprout, Let's Change the World with Music (Listen / Buy)
Joel Hartse: David Åhlén, We Sprout in Thy Soil (Listen / Buy)
Josh Hurst: Dave Perkins, Pistol City Holiness (Listen / Buy)
Jeremy Jones: Josh Garrels, Lost Animals (Listen / Buy)
Mark Moring: Carolyn Arends, Love Was Here First (Listen / Buy)
Andy Whitman: Aaron Strumpel, Elephants (Listen / Buy)
Andrea Bailey Willits: Future of Forestry, Travel II (Listen / Buy)
Note: This list is not called the best "Christian" albums of the year—though many of the albums and/or artists would identify themselves as such. Our criteria included albums that are a) on a known CCM label (or an "indie label" with Christian sensibilities), b) by artists who are Christians (even if they don't call themselves "Christian artists"), c) by artists who seem to look at the world from a Judeo-Christian perspective, whether they've fallen from faith, are "nominal" Christians, or are just "seekers" who seem to be looking for the One True God, faith, and redemption.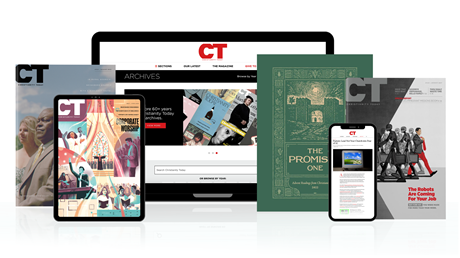 Subscribe to Christianity Today and get access to this article plus 65+ years of archives.
Home delivery of CT magazine
Complete access to articles on ChristianityToday.com
Over 120 years of magazine archives plus full access to all of CT's online archives
Subscribe Now
The Best Albums of 2009
The Best Albums of 2009