And It Came to Pass
Advocacy groups have kept up their fights through the holiday season. In fact, the fight over health care was "the Mother of all Battles, the titanic struggle over Obama's determined effort to transform/co-opt a sixth of the American economy," said Dave Andrusko of the National Right to Life Committee in an e-mail to supporters.
The "titanic struggle" included lobbying in the halls of Congress and protests on the streets. Days before the Senate's Christmas Eve vote, the Family Research Council organized a protest at Senator Mary Landrieu's (D-La.) Baton Rouge office, which was closed for the holidays. Images on the FRC website show protestors dressed as Roman soldiers with signs reading:
"Obama Care
Health Care King Herod Would Love!
Matthew 2:16-18"
The verses in Matthew refer to Herod's murder of all males under two years of age.
Andrea Lafferty, president of the Traditional Values Coalition, condemned the tactics allegedly used by the Senate leadership to pass the bill. "At a time when most Americans are thinking about the celebration of Jesus' birth in Bethlehem, Senate Majority Leader Harry Reid (D-Nev.) was using bribes, extortion, threats, and secrecy to ram through Obama's socialized medicine plan," Lafferty said.
Other groups were also disturbed by how the bill was negotiated.
Jay Sekulow of the American Center for Law and Justice accused the Senate of using Christmas as a distraction as it passed "a very disturbing measure that puts the federal government at the center of what should be private and personal health care decisions." 
Richard Land of the Southern Baptist Convention's Ethics & Religious Liberty Commission (ERLC) also criticized the wrangling of votes, taking aim at Landrieu and Senator Nelson (D-Neb.) for receiving special concessions in the bill. Land was particularly angry with Nelson, who had said he would not vote for the bill without strong language against federal funding of abortion.
Tony Perkins, president of the FRC,said the Nelson compromise would fund elective abortions and construct abortion facilities. The FRC, like most Christian advocacy groups, favored the stronger restrictions against abortion funding of what is known as the Stupak Amendment in the House version of the bill.
But even if questions of abortion funding could be settled, the FRC and other conservative groups would likely oppose the legislation. ERLC's Doug Carlson wrote, "All told, abortion funding, higher taxes, Medicare cuts, rationed care, and poorer service are gifts worth asking to be exchanged."
Not everyone was so quick to return the Senate's Christmas package.
Dan Nejfelt of Faith in Public Life said that all he wanted for Christmas was a bill that would be affordable to lower-income families. The Senate bill, according to Nejfelt, would assist middle-income families, but the House version was better for those with lower incomes.
"I'm not sure how feasible it is to expect the final package to combine the best of both, but on Christmas Eve eve, that's one of many things I'm hoping for," said Nejfelt.
"Guess We'll Spend"
Although most attention has been focused on health care, Congress also approved appropriations for federal agencies. The "Consolidated Appropriations Act," also referred to as the "Omnibus Spending Bill," provides $447 billion in appropriations for most federal agencies. A separate Defense Department appropriation bill, allocating $663 billion, also passed. Yes, that's over one trillion dollars in federal spending.
In its weekly webcast, Focus on the Family Action focused on the omnibus bill. Tom Minnery of Focus Action said the bill "really bludgeons those of us who have values … this omnibus bill really tears us apart." 
Minnery balked at the size of the spending and its elimination of specific prohibitions in the District of Columbia, including needle exchanges for drug addicts, medical marijuana programs, recognition of domestic partnerships, and locally funded abortions. The bill also increased funding of Title X, which is interpreted by many conservatives as an increase in funding for Planned Parenthood. 
The bill also made changes to education funding. Abstinence education no longer receives federal funding (though watch to see if the health care bill reverses this). Also zeroed out is the D.C. Opportunity Scholarship Program, a voucher scholarship program allowing students in the District to attend private schools.
"The liberals in Congress are placing the special interests of the teacher's unions ahead of the success of the kids who go to school," said Stuart Shepard of Focus Action.
The FRC took a melodic approach to the spending in Congress. The FRC staff held pictures of the Democratic leadership up to their faces while singing "Guess We'll Spend" to the tune of "Let it Snow."
Oh the Congress is really frightful
Raising taxes they find delightful
And it seems to be the current trend
Guess we'll spend, Guess we'll spend, Guess we'll spend.
The rest of the song is on the FRC blog.
Gearing Up for 2010
2009 will not be remembered as a winning year for Christian conservative advocacy groups, but many are hoping 2010 Congressional elections will change the tide.
Connie Mackey of FRC Actionhopes the public will realize "that only changing the numbers on Capitol Hill and even the White House in 2012 is necessary in order to protect the country from further decline." For FRC Action, one of the key electoral fights will be to unseat Reid.
Focus on the Family Action plans on providing voter guides for next year's "very important midterm election" campaigns.
But for some advocacy groups, congressional politics is not the answer. The American Family Association's Bryan Fischer issued a "manifesto" in which he said there is no hope to be found in Washington, D.C., until (at best) 2013. Until then, Christians should focus on the state legislatures.
"I believe," said Fischer, "we must turn our attention now to state legislatures who will exercise their Tenth Amendment rights under the Bill of Rights and simply, firmly and politely refuse to submit to any directive that comes from Congress or the executive branch that has no warrant under the enumerated powers listed in the Constitution."
In a later post, Fischer explains that this includes the current health care reform as an unconstitutional directive, "since the Constitution does not list 'the takeover of the nation's health care system' as one of the enumerated powers of the central government."
Finally, groups including AFA, Liberty Counsel, and Concerned Women for America will participate in a May Day rally at the Lincoln Memorial. This will certainly not be a remembrance of the 1886 Haymarket Riot, when a person threw a bomb at police as Chicago laborers rallied for an 8-hour work day. According to organizer Janet Porter, the May Day rally will be a time "to humble ourselves, repent and pray, to seek God's face and turn from our wicked ways, it is our hope that God will look down and see enough of a remnant to hear us from heaven, forgive our sins and heal our land."
Barbarism of "Counterfeit Marriage"
The District of Columbia is the most recent government to approve same-sex marriage. FRC's Ken Blackwell wrote that same-sex marriage in the District is "counterfeit marriage" that "abolishes marriage." This devaluation of marriage is important, said Blackwell, because the fight over marriage is about "social justice for the poor."
"Every social science indicator we have shows that children raised by a mother and father who are married have the best prospects in life," Blackwell wrote. "If we really care about health, education, and welfare, we cannot destroy marriage."
Blackwell also claimed that the protection of marriage has been part of the social justice reforms espoused by the Republican Party since its formation. "The first platform ever crafted by the party—in 1856—called slavery and polygamy the 'twin relics of barbarism.'" said Blackwell. "We all agree about slavery being barbaric. It's time to see that overturning marriage is also barbaric."  
Related Elsewhere:
Earlier Political Advocacy Trackers are available on our site, including:
Political Prayers and Petitions | As political rhetoric focused on evil and injustice this week, prayer seemed to be the strategy of choice. (December 18, 2009)
The Worst Week For Conservatives | Conservatives are licking their wounds from fights over abortion funding, health care reform, a gay-rights nominee, embryonic stem cell research, and Uganda's anti-gay law.
Who Backs Obama's Afghanistan Strategy | Like the rest of us, advocacy groups came back from the Thanksgiving holiday to find a long to-do list waiting for them, filled with issues at home and abroad. (December 4, 2009)
Christianity Today also follows political developments on the politics blog.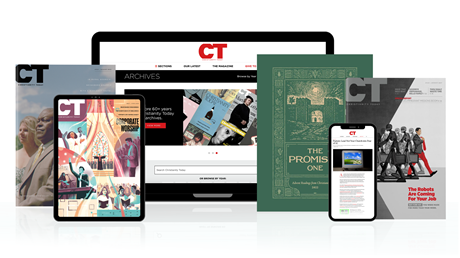 Subscribe to Christianity Today and get access to this article plus 65+ years of archives.
Home delivery of CT magazine
Complete access to articles on ChristianityToday.com
Over 120 years of magazine archives plus full access to all of CT's online archives
Subscribe Now
'Health Care King Herod Would Love!'
'Health Care King Herod Would Love!'