true
On the Sunday after Easter, famed Southern Baptist preacher Adrian Rogers appeared on Trinity Broadcasting Network, asking his congregation in suburban Memphis to turn to a passage of the Gospel of John.
"A Christian with a witness in his heart is never at the mercy of a man with an argument in his mouth," he said in the trademark deep voice that has been heard on TV and radio for 22 years. "Learn that, my friend."
Within hours, the Rev. D. James Kennedy was on Ion Television, comparing Americans who have drifted away from God to secular humanism to the New Testament's prodigal son.
Both evangelical preachers, along with radio broadcaster J. Vernon McGee, all have something in common. They all died years — and in McGee's case, decades — ago.
Yet their messages continue via TV, radio, and the Internet, even as some listeners probably don't even know they're long gone.
"McGee, of course, is king of the hill," said Frank Wright, president and CEO of the Virginia-based National Religious Broadcasters (NRB). "He is today the most widely listened-to Christian broadcaster anywhere in the world."
The three broadcasters, Wright said, remain on the airwaves because of their knack for telling "timeless stories" and their focus on the unchanging texts of the Bible.
When Wright worked at Kennedy's Center for Christian Statesmanship in Washington 14 years ago, he would listen to McGee on the radio as he drove to the commuter-train station.
"I listened to the guy for 3 1/2 years before I knew he was dead," Wright recalled. "I was captivated by his kind of homey preaching style and had no idea that he had gone on to be with the Lord."
Leo Karlyn, president of McGee's Thru the Bible Radio Network in Pasadena, Calif., said the ministry, which began in 1967, has expanded to the Internet and added a Facebook page a few months ago. He expects McGee would be surprised that the ministry continues.
"He said, 'I want you to play these tapes until the money runs out,' and the money has never run out," Karlyn said of McGee, who died at the age of 84 in 1988. "We have great donors and people who are interested in what does the Bible really say."
One donor recently gave $800,000 and others have bequeathed jewelry, an old Oldsmobile and even a $20,000 stamp collection to the ministry.
Both Kennedy, who died in 2007, and Rogers, who died in 2005, set up separate broadcast ministries that have continued even as their pulpits have been filled by successors.
The Rev. Tullian Tchividjian, grandson of evangelist Billy Graham, has been in Kennedy's pulpit at Coral Ridge Presbyterian Church in Fort Lauderdale, Fla., since Easter, but Kennedy is the one seen on the television program, "The Coral Ridge Hour."
"Nothing has changed," said John Aman, spokesman for Kennedy's Coral Ridge Ministries. "We'll continue to air Dr. Kennedy's sermons and provide occasional specials."
Although the ministry made significant cuts in the number of stations that carried Kennedy's sermons after he died, it now reaches the same percentage of U.S. households it reached before his death—90 percent. Kennedy's "Truths that Transform" radio program airs on 544 radio outlets today, compared to 700 in 2006.
"His messages remain very timely," said Aman, citing an example of a sermon that Kennedy preached more than a decade ago on the federal deficit. It was resurrected in March to air during the current economic crisis.
"We're just trying to … bring audiences the best of what he preached that's most appropriate to the time and, surprisingly enough, we can offer some very relevant messages even though he's no longer with us."
Quentin Schultze, a Calvin College communication professor and editor of Understanding Evangelical Media: The Changing Face of Christian Communication, said the Internet, especially, has given religious broadcasters a second lease on life, even as the first lease expired.
"In the age of the Internet, such ministers will not likely survive on pricey broadcast media," he said, "but they will continue to be available online and through computer downloads to iPods and other personal players."
Derek Prince Ministries has been doing just that. Prince, whose strong British accent permeates his discussions of the Holy Spirit, end-times theology and healing, died in 2003 at age 88, yet his "Derek Price Legacy Radio" airs on 35 stations and online.
"People will write to us or call us or e-mail us regularly and say, 'I just finished listening to Derek's message … and my life has changed,"' said Dick Leggatt, president of the charismatic Christian ministry based in Charlotte, N.C.
The Rev. Bill Skelton, president and CEO of Love Worth Finding, said the Tennessee ministry founded by Rogers runs on about 13,000 U.S. television outlets and 1,800 radio stations worldwide. His Internet sermons were downloaded 1.7 million times last year.
"His own words were, 'While the messenger's gone home, the message must continue,"' said Skelton, who also is chairman of the NRB board.
"It may sound a little bit macabre to say this: I think as long as people turn on their radio and turn on their television sets and hear somebody teaching and preaching truths that are relevant to this life, the fact that he is alive or not is really not the important thing."
Skelton said he's used his ministry as Exhibit A in workshops at NRB conventions about the importance of succession plans before a major ministry leader is no longer physically able to be on the air.
At least one evangelical broadcast ministry has made its decision already.
Focus on the Family, the Colorado ministry founded by the very-much-alive James Dobson, will continue to air Dobson's broadcasts after he dies, said ministry spokesman Gary Schneeberger.
"In addition to producing new shows, when such a time comes, with new voices, there will always be a place for the content that Dr. Dobson has poured his heart into for the last 32 years," he said.
Related Elsewhere:
Christianity Today has extensive coverage of transitions in evangelicalism in the news section and on liveblog.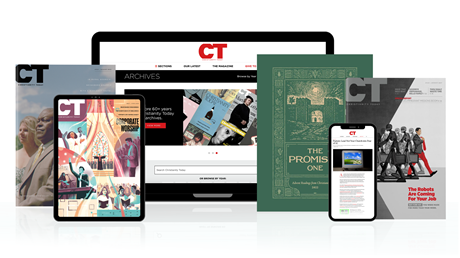 Annual & Monthly subscriptions available.
Print & Digital Issues of CT magazine
Complete access to every article on ChristianityToday.com
Unlimited access to 65+ years of CT's online archives
Member-only special issues
Subscribe
Some Preachers, Long Gone, Keep Preaching from Beyond the Grave
Some Preachers, Long Gone, Keep Preaching from Beyond the Grave