true
What is it about the old hymns that connect so deeply with people? Is it merely nostalgia for the music that we grew up on? Perhaps a love of heritage? Or are they simply better written songs of worship? Whatever the case, Bart Millard knows that the hymns are a timeless part of the Christian church—his past, present, and future. Back in 2005, the MercyMe frontman recorded Hymned No. 1 in honor of his grandmother. Now he's released Hymned Again for his children, who can't seem to get enough of singing the hymns from the first album. We sat with Millard while he was in Chicago to talk about his reasons for recording hymns and his unique approach of adapting them to different styles of music.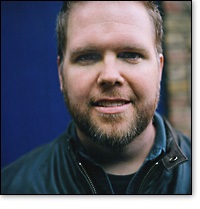 So, Bart, you've been "hymned again"—what led you to return to the well, so to speak?
Bart Millard The first record I did as a promise to my grandmother to do a hymns record before she passed away, so wanted to fulfill that. I think it was after hearing my kids singing these old songs and ask to hear "The Old Rugged Cross" that I realized my church doesn't sing old hymns like they used to. It's such a big part of my upbringing and I want it to be a big part of my kids' lives too, even if it means I have to record them myself to make that happen.
Maybe it's because of your grandmother's hymnbook, but the first album seemed somewhat more varied, whereas this second album feels a little more Southern.
Millard I don't know if I did it on purpose. I grew up in East Texas in a little country church, and at the same time, my dad was a huge fan of everything from Willie Nelson to big band stuff like Louie Prima. For whatever reason, I love those two styles—country and big band—so I wanted to keep an old soul to these records. They somehow work together and it's something I could never do with MercyMe.
That's interesting, since MercyMe has done its share of country or unplugged sets in concert. It seems like this sort of music wouldn't be that much of a stretch for the band.
Millard Well, it's probably my fault that MercyMe does the country breakdowns in concert (laughter). Most of the other guys are big into Brit rock—I am too, but they're always dogging me because I'd rather listen to Frank Sinatra than Coldplay. So they only let me go so far with it, other than the fact I have kind of a country twang [to my voice].
As far as hymns go, MercyMe's always performed hymns from 1994 to 2000 when we were independent. We did songs like "I Stand Amazed" on a regular basis. So I actually went to the guys in the band and asked, "Do we have plans of doing this song anytime soon? Because I'd actually like to put it on my next record."
None of it is too far of a musical stretch for me personally. I just didn't want to sabotage MercyMe by doing big band stuff, so I've kept it separate and the band has let me get this out of my system.
You mentioned how these hymns are meant to give your kids more to sing. Do you feel like there was a different approach to the hymns to make it more reachable to youth—more kid-friendly?
Millard My three kids are 6, 3, and 2, and I don't think they're musically biased in any sense of the word. They like Louie Prima from Jungle Book just as much as they like anything else. I probably wouldn't have made an album with such an old spirit if I had teenagers in mind—it would have probably been more pop.
It's funny because some people have said there's a lack of reverence to the way I did these songs [for example, referring to the Dixieland sound]. But I look at it the opposite way—there's a sense of reverence just in keeping an old spirit about them. If these arrangements are irreverent, then maybe we I guess we lacked reverence in my church growing up because we were about as honky-tonk as you could get. For that matter, we sang "I Saw the Light" in church all my life, and I had no idea until I was a teenager that Hank Williams wrote it!
So I guess I'm saying that I never thought about who this album was for or how it should sound. For once in my life, I got to make a record without radio or record sales playing a part. I love the first album so much that we kind of toyed around with what to call the next record, like Hymned 2. But Hymned Again was meant more to be tongue-in-cheek—let's just do it again, and continue where the last one left off. There is intentionally kind of a similarity between the two. I never really thought it would sell, so I was trying to get in as many styles as possible, because I figured it could be my only chance to do this!
So if there's a third album, what do you call it?
Millard I don't know. I didn't think of that. Hymned 2.1 or maybe Hymed 2 plus 1?
Are there other styles you haven't tapped into you that you'd like to try for a future project?
Millard: It would be great to make an album of Christmas hymns with this old vibe. I don't know if there's a particular style that I've been wanting to tackle. But I'll hear hymns that I haven't done yet that I think would also work in the same style.
A lot of the songs I don't decide on until the recording. Like "Victory in Jesus," I tried it on the first record but it didn't work. I never really liked it growing up, but that was part of the motivation for making Hymned—to take songs I didn't care for as much and try to make them into something cool. It was the session players that came up with the Kansas City swing/shuffle feel on Hymned Again that worked great with it. I never thought to go there with it, but I kept bringing up Louie Prima, and they came up with this identical vibe that worked out great.
So it's not just you and producer Brown Bannister coming up with the arrangements? It's a collaborative process with the studio musicians?
Millard Yeah, this time around especially. With the exception of one or two players, it's all the same guys who played on the first Hymned album. I had a blast going in with a clean slate because they typically have to read sheet music when playing for a living. So they were flipping out over the chance to create, and it was really cool to hear what they'd bring to the table.
Maybe it helps that they're not in a band—they play a wide range of styles rather than remaining grounded to "the MercyMe sound."
Millard Yeah, definitely. The guys in MercyMe, when we sit down and start writing music together, it naturally ends up sounding like MercyMe. That's just what's going to happen when you put the music through that filter. But these [studio musicians], while they're familiar with MercyMe, they're not tied to the sound. We've got Faith Hill's guitar player, Emmylou Harris' bass player … they all come with lots of experience, and a unique sound, but nothing too specific since they're always playing with different artists. It's cool to have their input. They stretched me a lot—because I know I didn't stretch them!
Talk a little about "Jesus Cares for Me," the new song you wrote for this album. Last album, "MawMaw's Song" was an arrangement of an old hymn, but in this case, you contributed an original that sounds like an oldie.
Millard And that was our intention. One of the things I planned for with this album was to write a song that sounded like it could've been written 80 years ago—so that if people didn't look at the credits, they might think it was just a hymn they were unfamiliar with. Once we had a chorus that just broke my heart, I started writing a verse for it. Eventually, Vince Gill became involved to sing backing vocals, and when he heard "Jesus Cares for Me," he said, "Man, I'd love to take a shot at that." And I was like, Gosh, he'd sound perfect on this! It's one thing to ask Vince to do harmonies, but to actually showcase him on a duet—normally that's a battle with the record labels, but Vince can get away with anything like that. So it was great to have him and he nailed the duet.
You two really do sound perfect together on it.
Millard When we were tracking vocals in the studio, we had them turned up louder than the rest of the music. There were 2 or 3 times where both of us thought I was singing, and I was like, Gee, I don't remember singing the high part. I found out later he had added a part, but yeah, that's good—it's nice to be mistaken for Vince Gill. (laughing)
What's different about old hymns compared to modern worship?
Millard I think it was Bob Dylan that said, "All the good songs have been written," and I think that sometimes applies to hymns as well. We, MercyMe included, sometimes have a tendency to speak a language today in all of the worship songs that is very similar. We tend to recycle the same phrases. Hymns do the same thing, but for whatever reason, their language has become much different over time—I guess because we communicated differently back at that time.
They say more too, with multiple verses.
Millard Well, it depends, but yeah, I've seen hymns that are 11 verses long and worship songs that only had two lines to them. But I think what's key is that it's good to be reminded of what generations before us believed, how they worshipped, what they were going through. The message may be very similar, but then maybe that's to remind us that the message was just as relevant then as it is today.
Do you think there will be a third Hymned album?
Millard Man, I hope so. I mean, I don't know what would stop me. It's some of the most fun I've ever had making a record. I don't know if it's just the joy of making a hymns record or else the freedom in being able to make this alongside being in MercyMe. And while I'm not concerned [whether the album is a hit or not], I'm glad people are buying the record and connecting with it. So as long as the label keeps giving me the go ahead, I'll keep making them. There are a lot more hymns I'd love to do.
For more about Bart Millard, check out his artist page on our site, as well as our artist page for MercyMe. You can read our review of Hymned Again by clicking here. Visit Christianbook.com to listen to song clips or to purchase the music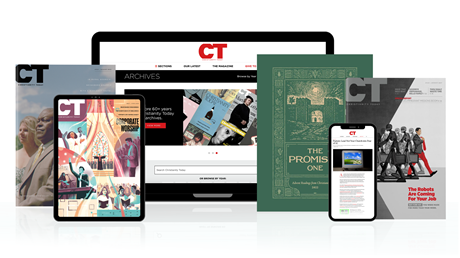 Annual & Monthly subscriptions available.
Print & Digital Issues of CT magazine
Complete access to every article on ChristianityToday.com
Unlimited access to 65+ years of CT's online archives
Member-only special issues
Subscribe
Reimagining the Hymns
Reimagining the Hymns