President Bush welcomed Pope Benedict XVI to the White House today in a grand arrival ceremony that coincided with the pope's 81st birthday.
White House staff said the event, with its unprecedented number of 13,500 guests, was designed to reflect Bush's deep regard and respect for the pontiff. But the warm reception is seen by many as an indication of improving relations between Catholics and evangelical Protestants.
The significance of the pontiff's April 15-20 U.S. visit — his first as pope — is not lost on evangelicals. Many have found an ally in Pope Benedict, whose social convictions and message of faith coincide with theirs.
In his opening remarks, President Bush told the pope that he would find America to be a nation of prayer and compassion, one that "welcomes the role of faith in the public square," and while "fully modern," is "guided by ancient and eternal truths.
"Most of all, Holy Father, you will find in America people whose hearts are open to your message of hope," said Bush.
In a phrase that received hearty applause from the crowd, Bush referred to the pope's pro-life message, saying, "In a world where some treat life as something to be debased and discarded, we need your message that all human life is sacred, and that 'each of us is willed, each of us is loved.'"
After expressing deep appreciation for his invitation to the U.S., Pope Benedict said that he "come[s] as a friend, a preacher of the gospel, and one with great respect for this vast pluralistic society."
The President wished the pope a happy birthday, and the pontiff responded warmly when the crowd erupted in a spontaneous rendition of the traditional birthday song.
Pope Benedict's is the first papal visit to the White House since John Paul II's meeting with Jimmy Carter in 1979 and the second in American history.
The festive outdoor ceremony, which included the Old Guard Fife and Drum Corps in Revolutionary War regalia, a performance of "The Lord's Prayer" by opera singer Kathleen Battle, and a U.S. Army Chorus performance of the "Battle Hymn of the Republic," was designed to emphasize America's faith tradition, chief of staff to the First Lady Anita McBride told faith-based media.
Following the ceremony, the President and the pope met privately in the Oval Office.
The White House said that during the meeting, which is Bush's second with Benedict, the two leaders discussed issues related to "the defense and promotion of life, matrimony, and the family," human rights, religious freedom, and immigration, as well as conflict resolution in the Israeli-Palestinian conflict and in Iraq, where Christian communities face a particularly precarious situation.
During the meeting, the pope noted the Bush administration's "substantial financial contributions" to fighting poverty and disease in Africa, according to a White House press release.
The two also "reaffirmed their total rejection of terrorism, as well as the manipulation of religion to justify immoral and violent acts against innocents," and discussed confronting "terrorism with appropriate means that respect the human person and his or her rights."
Jim Wallis, CEO of Sojourners/Call to Renewal and an outspoken opponent of the Iraq war, said he hoped the pope would emphasize the "multiple threats to human life" during his U.S. visit, such as the impact of war, poverty and disease.
But a former White House adviser on Catholics, Deal Hudson, said he did not expect the pope to highlight his opposition to the war in Iraq. "If he overemphasizes that, he hands the Democrats a very significant tool to use in the next election, and Benedict XVI knows that most Democrats are not pro-life and would undo many of the measures passed in the last eight years."
Hudson predicted that while Benedict may discuss the war during his visit, "[he'll] frame it in a way Catholics won't be fooled into equating it with the non-negotiable issues that he himself has so well defined in his writing."
Hudson, a Southern Baptist convert to Catholicism, said Benedict's commitment to the social priorities of his predecessor, Pope John Paul II, and his deep grounding in Scripture and Christian truths, resonate with evangelicals.
"John Paul II fundamentally changed evangelicals' view of Catholics through the priority he gave to social issues and his pastoral emphasis on Scripture," said Hudson.
Leith Anderson, president of the National Association of Evangelicals, said, "We have solidarity with the Catholic church in that we are pro-life, value traditional families, and uphold the doctrines of the Trinity, the deity of Christ, and the substitutionary Atonement. In a culture where these beliefs are constantly challenged, we are grateful for all who strongly stand for shared beliefs."
"It's not just about abortion," said Wallis, who describes himself as an evangelical convert to Catholic social teaching. "We're talking about a new evangelical-Catholic alliance that's forming around what we would call good news to the poor and what [Catholics] would call preferential option to the poor, as well as what it means to be committed to the common social good."
Peter Giersch, president of the National Bible Association and a Catholic, said he believes the warming of relations between evangelicals and Catholics has less to do with shared enemies than with a change he sees occurring within both religious traditions.
"In the last half of the 20th century there was very much an either/or choice between Catholicism and evangelicalism," said Giersch. "To use the stereotypes, Catholics were all ritual and no Bible, and the evangelicals were all contemporary worship and no history. It was a false choice even then, but it feels like one is no longer forced to choose. I see Catholics reading the Bible much more and bringing contemporary tools to their faith, while I also see evangelicals reading the church fathers and coming awfully close to what you might call liturgy in their worship. There's been a real cross-pollenization."
Anderson said he would stop short of describing the two faiths as too closely aligned.
"Evangelicals and Catholics have found much more common ground and common cause in the struggles with secularism and other religions," said Anderson. "But don't think this means alignment or merger. Our doctrinal differences are as deep and distinct as ever."
Related Elsewhere:
CT's News Feed has links to more articles about the Pope's visit.
Christianity Today's previous articles on Benedict XVI and Catholicism are available on our site.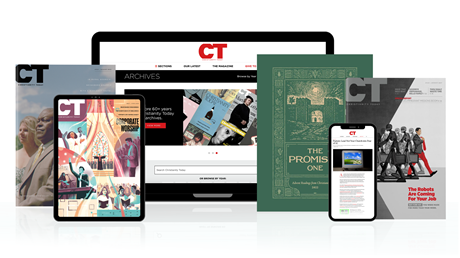 Annual & Monthly subscriptions available.
Print & Digital Issues of CT magazine
Complete access to every article on ChristianityToday.com
Unlimited access to 65+ years of CT's online archives
Member-only special issues
Subscribe
Pope Benedict Goes to Washington
Pope Benedict Goes to Washington