On his first day as CEO of the Christian relief agency World Vision, Rich Stearns sat down in a conference room, bowed his head in prayer, and wondered, not for the first time, what exactly he'd gotten himself into.
In 1998, after a successful corporate career, Stearns left behind his corner office and company Jaguar at Lenox—a high-end tableware company—and entered a world he knew nothing about. He was convinced that God had called him to the job—and nearly as certain that he would fail.
So his prayer went something like this: "Lord, I don't have a clue when the eight o'clock bell sounds, and it is time to start actually doing this job. I haven't the foggiest idea where to start."
Then he added this request.
"I did my part. I showed up," he told God. "Now you have to do the rest, or we are going to screw up one of the best ministries in the kingdom."
Stearns learned quickly. During his tenure, his business skills have helped World Vision cut overhead costs and strengthen its programs to better serve some of the world's poorest people.
In doing so, he's joined a long list of Christian businesspeople who've taken leaps of faith into the nonprofit world. That list includes Peter the fisherman; George Williams, who was a draper before starting the Young Men's Christian Association in the 1840s; Bill Bright, who ran Bright's California Confections before starting Campus Crusade for Christ; and Millard Fuller, who was a millionaire lawyer and entrepreneur before founding Habitat for Humanity.
In recent years, several high-profile Christian nonprofits—including World Relief, Habitat for Humanity, and the Evangelical Council for Financial Accountability (ECFA)—have hired former business leaders to head their organizations. Sammy Mah of World Relief and Ken Behr of ECFA are former auto industry executives. Jonathan Reckford of Habitat was once president of stores for Musicland. (Both Reckford and Behr were executive pastors at megachurches before taking their new jobs.)
It's a list that is likely to grow. According to a report, "The Leadership Deficit," in the Stanford Social Innovation Review, American nonprofits will need to hire 640,000 new executives in the next decade. Because nonprofits are not producing leaders fast enough, many of those leaders will have to come from the outside. As author Thomas J. Tierney put it, most nonprofits are "one person away from a leadership crisis."
A Brand New World
At the same time, many baby boomers are looking to move from "success to significance," a phrase coined by Bob Buford, author of Halftime. Like Bill Gates, who recently decided to work full-time at his foundation, many Christians hope to put their business skills and resources to work in the charitable world.
But it's no easy transition, says Laura Nash, formerly a senior lecturer at Harvard Business School and coauthor of Church on Sunday, Work on Monday. Businesspeople are accustomed to a world where everything is measurable, from results to bottom-line profits. In the nonprofit or church world, results are harder to measure, says Nash. Any mention of business terms like efficiency or customer service prompts suspicion.
There's a stereotypical assumption among Christians in the nonprofit world that capitalism means greed or selfishness, and "therefore has got to be bad," says Nash, founder and managing partner of Piper Cove Asset Management LLC. Using goals to measure progress—standard practice in the business world—is seen as "cold-blooded and materialistic."
Jonathan Reckford of Habitat says that at times, people in the nonprofit world believe that "being grassroots and faithful" is enough—that results and good management don't matter. But nonprofits still have to worry about efficiency and effectiveness. "The idea that an organization that's using other people's money to serve God would be less well run than a business or corporation is atrocious," he told CT. "We ought to have much higher standards than the business world."
Reckford points to a lesson he learned from Jim Collins, author of the business management book Good to Great. (Collins's book has become so popular in the nonprofit sector that he wrote a follow-up monograph called Good to Great and the Social Sectors: Why Business Thinking Is Not the Answer.) Trying to make nonprofits more like businesses is "the wrong idea," Collins says, because most businesses are run poorly.
That's an idea Collins reiterated at a recent Leadership Summit held at Willow Creek Community Church outside Chicago.
"Most businesses, like most everything in the world, are not great—they are average," Collins said. He argues that nonprofits should try to become great organizations.
For Reckford, that means evaluating everything Habitat does in light of this question: "Are we tangibly moving forward in eradicating poverty housing?" Despite all of Habitat's accomplishments, Reckford says Habitat needs to make strategic changes.
"We've built 200,000 homes [and] impacted a huge number of people, which has been wonderful," he says, "but I don't know that we have actually meaningfully helped solve poverty housing."
The Business of Intangibles
Many nonprofits are in the "business of intangibles," says Stearns. That makes measuring their effectiveness tricky.
One major difference between the nonprofit world and the business world is how they view money. In the for-profit world, money is both a means and an end. To figure out whether a for-profit business is doing well, Stearns notes, all you have to do is look at financial statements.
But financial statements don't tell the whole story for nonprofits, where money is a means and the mission is the end. For example, suppose World Vision lowers its overhead by 10 percent. That sounds good, Stearns acknowledges. But what does it really mean?
"That doesn't mean we are helping any more kids, or that we are any more effective in the field," he says. "That means we are sending more money—but where is the money going?"
Stearns soon discovered he had no way to tell how effective World Vision's field programs were. He says that if 60 Minutes had called and said, "Okay, World Vision, you raised $1 billion last year—prove to me that the money was well spent and that you had impact"—World Vision would have been in a tough spot.
"We would have had a very difficult time, 10 years ago, proving that we were having impact in the field," Stearns says. "We could point to metrics—we used to have 1,200 area development projects and now we have 1,400; we drilled X-number of wells; we built X-number of schools—but even that doesn't translate necessarily to impacting lives, helping lift people out of poverty, helping children realize their full potential."
So instead of measuring results, World Vision focused on telling stories about the children they serve.
"We all tell stories—little Mario was poor, his father died; look at him now, he is in school," Stearns says. "That is great, but hopefully it didn't cost $1 billion to get one kid, Mario, in school."
World Vision now uses a measure called "transformation development indicators," or TDI. Those indicators include access to clean water, vaccinations, and the number of children who finish the eighth grade.
But even those measures fall short at times, admits Stearns. "How do you measure the coming of the kingdom of God? I can tell you how many people have access to clean water; that's good. But can I necessarily prove to you with numbers that lives are being transformed—that the kingdom of God is coming in force in a community in Zambia?"
People First
In Good to Great, Collins argued that the first step to building a great organization is "getting the right people on the bus." His research backed up the idea that an organization's people are its greatest assets.
But that's not always the reality—at least in the way staff members are treated—at Christian nonprofits and churches, says Sammy Mah, CEO of World Relief. His first task was to work on compensation and staff evaluation.
"What I find here is a missionary mentality: that people need to be suffering for the Lord, that everyone has to be at the ragged edge, overworked and underpaid," Mah told CT. "But I can't see how that honors God."
Drawing on his business experience, Mah says that he's helping World Relief to think long-term about its programs and staffing. That means preparing staff members for positions they'll hold in the future. "If people are our greatest asset, then we ought to be cultivating them."
At General Motors, Mah helped develop new engines produced at plants in China, Mexico, and Australia. That cross-cultural experience translated well at World Relief. The most crucial lesson Mah learned was the value of relationships.
In some cultures, saying no—at least face to face—is difficult, he says. Mah recalls that the engineering staff at a plant in Mexico agreed to complete projects by certain deadlines. Except the deadlines were untenable. But because the staff didn't have a strong relationship with Mah, members didn't feel safe saying no.
"You need to build a personal relationship so people will tell you the truth," he says. "In the U.S., we don't take time to build relationships, because we just believe in being brutally honest. In other cultures, you can't work together until you develop that relationship. When you don't build relationships, things go awry. … Sometimes, someone telling you that you are wrong is worth more than gold."
Reckford notes that in the past, Habitat also sometimes neglected staff development. "There was little career development or making sure that people were in the jobs that fit their gifts and skills."
After finding the right person, Reckford says, an organization has to "give [that person] the tools to be successful in that job."
At times, nonprofits are tempted to hire outstanding staff from other organizations rather than developing their own. Harvard Business School professor Ashish Nanda calls this "the risky business of hiring stars," and says that this approach usually fails.
Instead, the best approach is to train and develop leaders from within, and then "do whatever you can to hang on to them," Nanda said at the Willow Creek Leadership Summit. "There is no shortcut to building a great organization."
Humility is Key
Sometimes business leaders come into the nonprofit world with a bias—they think the nonprofit world is an easier place to work than the corporate world.
Stearns characterizes that bias in this way: "I know all the answers, because I played in the big leagues. This is the way it's going to be, and I'm going to change everything."
That attitude is a recipe for failure.
"If I had come to World Vision saying, 'I know all the answers. Watch and learn,' World Vision would have rejected me as a leader like a body would reject a heart transplant as foreign tissue." Instead, he took this approach: "I don't know the answers, but I think you do, and I want to learn from you. If you can teach me, and I can learn from you, then I hope to get to a place where I can add value to what you're doing."
That approach took patience but ultimately paid off for Stearns—he earned the right to be heard. It's an approach he hopes that others who come to the nonprofit world will take. For now, he sees the prospect of thousands of business leaders taking a leap of faith into the nonprofit world as a double-edged sword.
"To the extent that these execs come in with a little humility, with a willingness to learn, with a healthy appreciation for how different the nonprofit sector is—not inferior but different—that could be a good thing," he says. "But I think there are going to be some horror stories as well, where very reputable charities suffer because the person coming is not the right medicine."
Stearns is glad he set aside his fears to follow God's call to World Vision. He draws on a verse from Jonah to describe the change in his life: "Those who cling to worthless idols forfeit the grace that could be theirs" (2:8).
"When I came to World Vision, I had a real desperate need to cling to my safety zone, but those were worthless idols," he says. "Selling fine china to well-to-do old ladies is a worthless idol. But in clinging to that worthless idol, you are forfeiting the blessing that would come if you completely surrender."
Bob Smietana is features editor for The Covenant Companion.
Article continues below
Related Elsewhere:
World Vision CEO Rich Stearns, George Williams of the YMCA, Bill Bright of Campus Crusade for Christ, and Millard Fuller of Habitat for Humanity are all business executives who took on careers in not-for-profits.
Interviews with Rich Stearns include a Q&A with Christianity Today and with The Other Journal.
The Fuller Center for Housing has links to Fuller's speeches. He has written The Theology of the Hammer and Building Materials for Life (I and II).
Today's Christian has an obituary for Bill Bright, 'Remembering a Crusader for Christ.'
The Evangelical Council for Financial Accountability helps evangelical organizations maintain sound and ethical financial standards.
Halftime helps people go from "success to significance."
Jim Collins, author of Good to Great, has a website devoted to the principles he writes about. It includes an excerpt from Good to Great and the Social Sectors: Why Business Thinking Is Not the Answer. Christianity Today interviewed Collins.
Christianity Today articles on organizations in 'Leaps of Faith' include:
Home Sharks | Unscrupulous lenders target Habitat for Humanity homeowners. (February 19, 2007)
Keeping the Faith | How other Christian organizations stay true to their mission. (June 10, 2002)
God's Contractor | How Habitat for Humanity's Millard Fuller persuaded corporate America to do kingdom work. (June 14, 1999)
Habitat Builds 50,000th Home | Habitat for Humanity had its busiest week ever starting September 8, constructing 150 homes in 70 cities. (Oct. 26, 1998)
Building Straw Houses on a Firm Foundation | Habitat for Humanity goes low-tech with big results. (Feb. 3, 1997)
What's Next: Relief and Development | Not What, But How: What evangelical leaders say are the priorities and challenges for the next 50 years. (October 17, 2006)
College Sports: Prodigal Son of "Muscular Christianity" | In the wake of a basketball scandal at a prominent Christian university, we take time to remember the Christian roots of college athletics. (Christian History & Biography, August 15, 2003)
Have something to add about this? See something we missed? Share your feedback here.
Our digital archives are a work in progress. Let us know if corrections need to be made.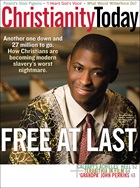 This article is from the March 2007 issue.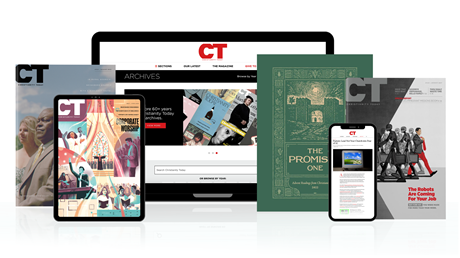 Annual & Monthly subscriptions available.
Print & Digital Issues of CT magazine
Complete access to every article on ChristianityToday.com
Unlimited access to 65+ years of CT's online archives
Member-only special issues
Subscribe
Leaps of Faith
Leaps of Faith