On December 9, Matthew Murray shot and killed Tiffany Johnson, 26, and Philip Crouse, 24, at a YWAM training center in Arvada, a Denver suburb. He later killed two at New Life Church in Colorado Springs. About 900 people attended the funeral for Johnson last week.
Despite the deaths, Youth With a Mission (YWAM) is on track with its missions training program. Training for missions will begin once again in January, and not one of the 120 who signed up has dropped out of the program. Director of the Arvada YWAM Peter Warren spoke with Christianity Today about the shooting, the response, and the future of YWAM.
Can you describe what happened the night of the shooting?
Matthew was in the building for half an hour talking with students, and then he asked to spend the night. Tiffany was called to the front because she handles hospitality. Normally, we would not have someone spend the night without knowing them or arranging ahead of time. After that, Matthew said, "Then this is what I've got for you," pulled out a gun and began shooting.
After firing a few shots, he had his foot in the door, and at some point his foot slipped and he fell back. The door slammed shut on him and automatically locked so he could not get back in again. Right then, other staff and students were driving up and saw Matthew banging on the door, trying to get back in. When Matthew saw them, he ran away.
After another student performed CPR on Tiffany, she regained consciousness and asked Holly, "Is it bad?" Holly said, "Yes it's bad." Tiffany looked at Holly and her boyfriend, Dan, who was also shot, and said, "We do this for Jesus, right guys? We do this for Jesus."
How are the students in YWAM responding to the shooting?
Some who came running and saw their friends dying were deeply impacted. There's a long road to healing that some of them will have to walk longer than others. YWAM is like a Bible college, a hotel, and a restaurant all in one. You become very close very quickly, so I think that added to the degree of trauma because Tiffany and Phil had become some of their closest friends.
I thought there would be a few people who would drop out of our January program, but not one person has canceled; 120 students are arriving [at the] beginning of January.
How are the families doing?
Several went to Tiffany's funeral on Saturday, and I'm sure it's extremely difficult for them. I was so amazed and proud at the families and how they responded to Matthew's family. They didn't feel Matthew's parents were responsible or should be carrying that weight. They said to Matthew's family, "We don't need to forgive you because you did not do anything wrong. But even if Matthew were alive, we would still forgive him." It was a powerful time. It was really a testimony of how to respond even in the greatest injustice.
God is the only one who has the right to judge. Our place is to forgive. We have no right to hate others. Jesus said if you only love those who love you, big deal, but when you love enemies, than that is the gospel in action. Like one of the translations of Mark 16:15 says, we want to go and tell others that forgiveness is possible.
Matthew went through YWAM five years ago, so did you know him?
We have 350 students who come through every year. He went through our program five years ago, so since that time, we've had 1,500 to 2000 students come through our doors. At first, I didn't recognize his name, but then someone reminded us of something bizarre that he had done. My wife and I remembered that at the Christmas banquet, he sang a Marilyn Manson song that wasn't Christmassy and made some people afraid. All of a sudden, we remembered who he was.
In YWAM's press release, you said that he was not allowed to go onto the field. Can you tell me why he wasn't?
His health issues were not physical, but I can't say specifically because of legalities. We do this, not often, but we do this occasionally where someone is unstable and we don't feel they are ready to go onto the field. When someone's in our community in Denver, it's a very secure environment, but when they go on the field, they go with a younger leader in a different culture and that accentuates any issues they might be struggling with.
The shooting has generated some anti-YWAM comments. Are you surprised?
No I'm not surprised. Every Christian organization has people who criticize them, but if some fringe person criticizes an organization like YWAM, that is not as significant. If you had leaders in the church like James Dobson, Jack Hayford, or Billy Graham who are critical of YWAM, that carries a lot of weight. But none of those leaders are criticizing YWAM.
How do parachurch organizations handle students differently than the local church?
The church is really separated into two parts: the local church and then the mobile church. YWAM is part of the mobile church, training people to go on to the mission field. There's a place for everyone in the church, but it's not advisable that every one go on to the mission field. That's why organizations like YWAM have to make a distinction between people who still need time to be disciples, which is the strength of the local church, and those people and those who are ready to go into more challenging circumstances overseas. If we see that someone might crumble under pressure, we have to be careful because they could do greater damage than good.
Have you changed any of your security measures since the shooting?
We are putting new doors and new locks on doors, but I don't think this could have prevented what took place. Unless we change the way we do things, which would be to not allow guests on our property. Guests come to meals and worship time. As traumatic as it is, I don't know that we could protect all of our staff and students unless we took drastic measures. Those drastic measures would take us out of ministry to people. It would be like putting metal detectors at church. It would scare people away.
What do you think will result from the shooting?
Two separate people came to me and said essentially same thing: "I believe that both Phil and Tiffany asked God to use them to make an impact on the nations of the world. This is the way that God is answering their prayer because he is going to accomplish more through their deaths than if they were still alive." God is definitely going to use this in the lives of others. There are many who will say, "Lord I'm going to take up where these ones left off."
Related Elsewhere:
Recent news about the Denver shootings includes:
A religious movement with an edge | Youth With a Mission takes in just about anyone -- even an unstable young man who would later shoot and kill 4 in Colorado. (Los Angeles Times)
Slain Colo. Missionary Mourned in Minn. | Tiffany Johnson's funeral held (Associated Press)
Slain staffers inspire at YWAM graduation | 50 students look to future, share a special bond. (Rocky Mountain News)
Three families join hands in mutual grief | Meeting called dramatic example of Christian love. (Rocky Mountain News)
Bound by grief and faith | Kin of victims, gunman join in private prayer after service for missionaries. (The Denver Post)
Christianity Today's report is available in CT Liveblog, along with other news and commentary:
Article continues below
Wednesday's new stories on Colorado shootings | Media attention turns to gunman's internet postings and homeschooling as churches pray for healing. (December 12, 2007)
Tuesday's stories on the Colorado shootings | Developments: Shooter apparently posted diatribe, coroner rules death a suicide, churches discuss armed guards, families will unite. (December 11, 2007)
Security Guard Describes Shooting | "It was me, the gunman, and God," security guard says. (December 10, 2007)
Gunman's family asks for forgiveness as YWAM explains relationships | Murray "was briefly a student" at training center but did not complete program. (December 10, 2007)
Colorado shootings reflect big threats at big churches | Growth of megachurches has spawned an industry devoted to protecting and securing large congregations. (December 10, 2007)
Gunman "Hated Christians," Kicked out of YWAM | Man killed four at training center and megachurch. (December 10, 2007)
Reports Draw Connections Between Victims, Shooter | Sisters in New Life shooting were heavily involved with Youth With a Mission. (December 10, 2007)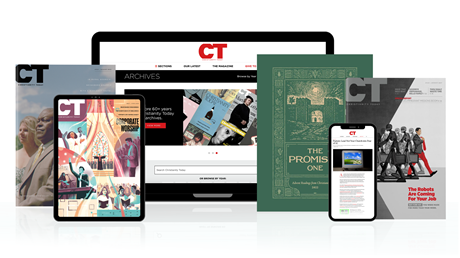 Annual & Monthly subscriptions available.
Print & Digital Issues of CT magazine
Complete access to every article on ChristianityToday.com
Unlimited access to 65+ years of CT's online archives
Member-only special issues
Subscribe
YWAM Director Describes Shooting, Forgiveness
YWAM Director Describes Shooting, Forgiveness