true
What would motivate a group of high-school students to give up $1,000 and a good chunk of their free time for an entire semester?
How about a chance to make a movie?
Burn, a new and innovative film school for youth, is helping to ignite creative passion among some North Carolina teenagers. The one-semester pilot program recently finished, and by all accounts it has been a tremendous success.
Burn is the brainchild of Jason Mitchell, founder and president of Illuminati Pictures, a Christian filmmaking company. About three years ago, Mitchell—who has experience in film, TV, commercials, and music videos—had a vision for a top-quality film school for young people. The result is Burn, a rigorous program that takes students deep into the world of filmmaking—from a Christian worldview.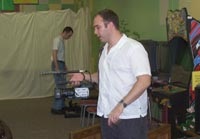 Burn's goals are threefold: 1) To awaken students to the grandeur of God and his creation in new ways; 2) to help students tap into their creative brilliance by utilizing the mind of Christ; 3) to teach students the practical means necessary to realize their artistic concepts within the entertainment industry.
"Anyone who follows Christ, and I mean really follows, as in follows Scripture to its logical conclusions every time and choose to live by them, will be magnificently creative," he continued. "My artistic choices reflect all the hope and wonder of my belief. Scripture tells us that anything is possible to him who believes, so Burn students are taught to stretch their imaginations in every respect, from concept to completion, as long as they remain within the vast borders of God's Word."
The program includes several components, including a weekly class that met for four hours on Monday nights at Raleigh's Evergreen Community Church. The program's first class of nine students explored 18 units on topics including Worldview, Business Etiquette, Creative Thinking, Administration, and all aspects of the filmmaking process, from Pre-production to Directing to Editing to Distribution (see full curriculum here).
Each unit explores the topic from a biblical perspective. The Worldview 2 unit, for example, seeks to answer the following questions: "How can Scripture be applied to lighting? Would Jesus direct a horror movie? Can filming be a spiritual experience?"
Making a Music Video
Students are given a major assignment each week. For one assignment, they had to produce a beat-box video using stock sounds and images; for another, they developed and shot an entire music video—to Switchfoot's "Faust, Midas and Myself"—complete with professional makeup and exotic camera angles. (Click here to watch the video.)
Mitchell explains the process behind the making of the video.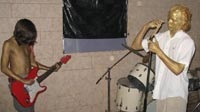 "We discussed the concept in class, practiced some of the acting and camera movements and assigned production roles," he says. "Some students were actors, some were crew, and Illuminati took care of permissions, props, etc.
"We wanted a dream effect, so we did severalcontinuous shots, which werejumbled up later to get that dream-disorientation feeling. That meant we had to run through the shots without stopping several times, so we had to switchRegular Guy and Golden Guy over and over,through every room, clean all of their glitter off and try again.
"Additionally, ourGolden Breakdancer had to leave soon, so we had to move quick. All in all, the shoot only took about5 hours, which is very fast, and everybody left painted gold, covered in glitter and some even got to keep some of the props and lights. It was a total blast and when everyone saw the final product, they were amazed at what they'd accomplished."
Burn's students also spend time working with Illuminati Pictures on real-life film projects. At the end of the semester, each student has compiled an impressive demo reel. While Illuminati has produced commercials for companies such as Subway, its primary work focuses on the exploration of misunderstood or discarded cultures.
Illuminati's second film, Dark Planet: Visions of America takes viewers on a gritty, uncensored tour of four youth subcultures: Skinhead, Straightedge, Black Metal, and Zealot. It was the first R-rated film to be accepted in Focus on the Family's Envoy film festival, stirring up a bit of controversy even before it won the Youth Documentary Award at the 2005 festival. (For more info on Illuminati's past, current and future projects, including clips, go to the website.)
Rattling cages
Burn's current faculty members include Mitchell and a variety of specialists, nearly a dozen in all, many of whom also work for Illuminati Pictures. All are skilled teachers who clearly love their work and their students, and the class remains fully engaged during the entire session, diligently taking notes and asking insightful questions.
"I never thought I would learn this much from just a six-month course," said Jill Cromwell, a high-school sophomore. "Jason doesn't just let you sit there. He's not afraid to rattle your cage, in a good way. It's been really amazing."
Cromwell said she always thought film was "cool," but that her original interest was in acting. "Who doesn't want to be in film?" she said. However, Burn has opened her eyes to a much broader world, one in which acting is only a small part of the creative process. "Doing this program was like finding a second long-lost love," Cromwell said.
Meanwhile, Cromwell's eighth-grade brother, Andrew, came to the program with an interest in special effects and compositing, and says he would "strongly suggest" Burn to anyone interested in film. He says he was surprised at how much there was to learn, especially on the technical side of filmmaking: "There are so many terms, so many things to know. Just having all that knowledge in your head is a lot of work."
"The instructors are really creative," adds Justin Phillips, a junior. "They are really smart about what they know."
While Burn is a dream come true for Mitchell, his vision doesn't stop there. The pilot program was condensed into just one semester, but future incarnations of Burn will extend an entire year and eventually two, which will allow even more in-depth exploration of each unit. Mitchell is unaware of any program like it anywhere else in the country.
Mitchell hopes to some day build Burn into "a full-scale university with 1,000 studentsand full accreditation," and is seeking investors to help meet that goal. But his grander dream is to develop the next generation of creative world-changers. "Burn students learn all kinds of practical filmmaking techniques like camera operations, casting, editing, etc., but our biggest focus is on teaching them to maximize their creative potential."
'Weapons of mass creation'
"Just imagine!" says Mitchell, looking to Burn's future. "One thousand of our most brilliant, hard-core Christian youth being trained and sent out to fight the culture war every year—an army of creators, or 'weapons of mass creation' as I like to call them."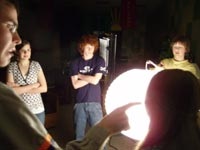 Mitchell's desire to see teens grow up to change the world is reflected in Burn's motto, "But If Not"—a reference to Shadrach, Meshach and Abednego when faced with a fiery furnace in Daniel 3:18: "But if not, be it known unto thee, O king, that we will not serve thy gods, nor worship the golden image which thou hast set up."
While most Burn students still have several years before graduating from high school, many of them plan to pursue a career in film or television. They say Burn has fanned the flame of their creative passions.
"I definitely want to use this somewhere down the road," Jill Cromwell said. "God is just pulling me in this direction."
Phillips agrees. "This has given me a better idea of the industry in general," he said. "And doing the hands-on things every week, I'll have a great demo reel."
While Burn's approach entails what Mitchell calls a "zealous Christian perspective" and most of its inaugural students are home-schooled, the founder emphasizes that students from all spiritual and educational backgrounds are welcome in the program.
"Non-Christian students are taught the same way at Burn," he says. "There's nothing like this in any public school. Burn is unique. And it's our goal to draw students from all kinds of backgrounds and artistically train them up in the way they should go."
Burn is now accepting applications for the fall semester. For more information, go towww.burnisgood.com.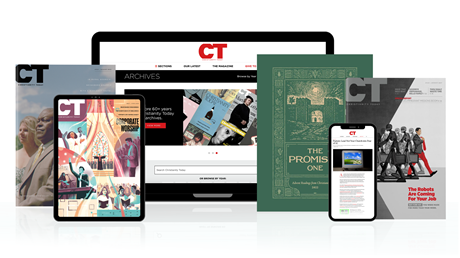 Annual & Monthly subscriptions available.
Print & Digital Issues of CT magazine
Complete access to every article on ChristianityToday.com
Unlimited access to 65+ years of CT's online archives
Member-only special issues
Subscribe
Learning to Burn
Learning to Burn