When young, charismatic Christian publisher Jason Christy was tapped two years ago to lead the powerful Christian Coalition, the group's leaders praised him for his ability "to inspire and encourage people of faith to action." But Christy's business dealings — both before and after his one-month affiliation with the Coalition — instead have inspired former customers and co-workers to file lawsuits charging Christy with defrauding their Christian businesses.
Christy, 36, who apparently had no previous public-policy experience, persuaded the Christian Coalition in 2005 to place him in one of the most visible and powerful positions in evangelical life. But before the coalition's leaders officially turned over the reins of their 1.2 million-member national lobbying group, they learned of a trail of legal and financial problems that has followed Christy from coast to coast.
Former associates and customers of Christy's many business ventures — mostly Christian magazines — say he cheated them out of money and threatened them. At least 10 of them have filed lawsuits, Associated Baptist Press has learned, and others have gotten court-issued restraining or protection orders against the Scottsdale, Ariz., businessman.
Christy says all the allegations are false. He and his supporters say "enemies" are spreading lies about him because of soured business relationships. But critics say Christy is a scam artist preying on trusting Christians.
Christy now publishes The Church Report, supposedly a conservative, national print magazine and web site. He has appeared as an analyst on CNN and spoken at megachurches like Robert Schuller's Crystal Cathedral. He hob-nobs with some of the evangelical elite and still has relationships with leaders in highly respected positions, like the Evangelical Council for Financial Accountability.
But Christian publishers like Gary McCullough, director of the Christian Communication Network and a competitor of Christy's, accuse him of running an "ongoing scheme that has defrauded many Christians."
McCullough says Christy uses his website to prompt Christian churches and organizations to buy ads for the corresponding magazine but then prints only "a few hundred copies" and mails them "as if they are part of a much larger distribution." Then, after the ministry has spent thousands of dollars and begins to ask for tear sheets or copies of the magazine, Christy balks, McCullough said.
"Each month Christy would apologize and give an excuse or wonder himself why I had not received copies of the magazine with my ad," McCullough said. "This was all an elaborate con. The Church Report was never printed with my ads — because it was never printed."
Christy apparently continues to sell ads and collect payment, claiming a circulation of 30,000, even though there apparently has been no print version of the magazine published in more than a year.
In a July 30 interview, Christy called the accusations "ludicrous" and said McCullough is trying to defame him. "I think it's absolutely atrocious," Christy said.
He said McCullough and others hold a grudge against him because he represents competition in the market of Christian publishing. A contingent of people in Christian media harbor a strong dislike for him, Christy said, and are prone to lash out by accusing him of fraudulent activities.
More than accusations, lawsuits have been won against Christy in at least three states — Wisconsin, Virginia and Arizona. Most plaintiffs were awarded damages in the thousands of dollars, with the largest sum totaling more than $125,000.
They include successful suits by Texas-based Church Loans and Investments Trust; Wisconsin-based St. Croix Press Inc.; Wisconsin-based Consistent Computer Bargains Inc.; Virginia-based Katalyst Solutions, LLC; Aris J. Gallios and Associates, a law firm in Phoenix; Linder Publishing Inc. in Scottsdale, Ariz.; Arizona-based Realty Executives; Power Trade Media in Phoenix; and Ersland Touch Landscape in Phoenix.
McCollough, who has not sued, said he is surprised Christy remains in business.
"I actually thought I, and others, had convinced him to pack his bags and leave the Christian marketplace before his dishonesty became widely known," McCullough said. "But I was clearly wrong, as he has once again published his fake 'Most Influential' list, a list used primarily to lure ministries into buying ads in his pretend print magazine."
The list of "50 Most Influential Churches" in the country was published on The Church Report's website recently. According to Christy, the list was provided by John Vaughn of Church Growth Today, a Missouri-based consulting firm. Vaughn did not return phone calls seeking comment.
Editors at The Christian Post and Associated Baptist Press published news stories about the list on their websites, then pulled the stories after they were alerted to concerns about Christy and the magazine. The Post released a statement saying editors received information "from a credible source challenging the legitimacy and integrity of The Church Report" and didn't want their story to cause problems for the uninformed.
An earlier issue of The Church Report claimed to rank the top 50 church business administrators. But only two were even known to the 3,000-member professional group that credentials church and denominational administrators.
"We raised questions with Jason about what his criterion was for those selections," said Phill Martin, deputy chief executive officer of the National Association of Church Business Administration, "but we never received any explanation."
Martin, whose association also advises churches and their employees on best business practices, warned there is no Christian version of the secular Better Business Bureau to verify that for-profit companies doing business with churches are legitimate and responsible.
Dan Busby, vice president of the Evangelical Council for Financial Accountability and an associate of Christy's, said he has no reason to believe the allegations against him. Busby writes a quarterly column for The Church Report's website. "I'm not aware of a problem or I wouldn't let my name be associated with that magazine," said Busby, a CPA.
The Evangelical Council for Financial Accountability monitors the financial practices of 2,000 non-profit Christian ministries — not Christian-owned businesses like Christy's. But ECFA has not received any complaints about Christy, Busby said. He acknowledged a "group of enemies" has been dogging Christy, but he said he has not established the credibility of any of their claims.
With the proliferation of Christian media, selling non-existing advertising is one way unscrupulous companies can take advantage of churches and Christian-related businesses, said Martin of the church-administrators group.
"There is enormous economic value in advertising for companies that are trying to do business with congregations," he said. But ad buyers should beware. "Just because someone says they have the ability to get your product in front of your customers doesn't mean they can or will," he said.
"And just because some group wants to call you the most influential whatever doesn't mean they are legitimate," Martin added. While there are some reputable organizations doing such rankings, he said, "not everyone is on the up-and-up." If the organization does not have a well-established reputation, advertisers should research the company's background and credibility, he advised.
Christy, who says he founded Church Executive magazine for those same church business administrators, left the magazine at the end of 2002. Steve Kane of Power Trade Media, who worked with Christy at Church Executive for roughly two years, says they broke ties because of Christy's "questionable business practices."
"The relationship fell apart, as it were," Kane said, echoing the sentiment of several of Christy's former associates.
Power Trade Media won a civil suit against Christy that awarded the company more than $125,000. No money has been received — and likely won't be, since Christy filed for bankruptcy in 2005.
Christy's legal woes don't end there. In addition to several court orders of protection listed in the Superior Court of Arizona, Maricopa County, other court records include at least one arrest, notices of eviction, and convictions for driving under the influence, driving with a suspended license and knowingly displaying a fictitious license plate.
Ben Shelemay, a former personal friend of Christy's who says he loaned him roughly $3,000 and then sued him when he failed to get it back, has yet to receive any money, even though he too won a court judgment against Christy.
Another person who filed a civil suit said Christy "networks" at coffee shops and convinces people to loan him money for his businesses — loans that are never repaid. "I can't believe he could get away with it," said the source, who asked not to be identified for fear of retaliation.
According to the source, Christy took banking and routing numbers from personal checks given to him and then used that checking account to pay his personal phone and cable bills. Christy has denied this charge.
"Even if I don't get my money back, it's like, lock this guy up!" the source continued. "I think they should put this guy on Dateline or one of those shows and set him up and put everybody he's ever swindled in the same room and ask the court to do something. It's like, come on, send this guy up the river!"
After word of the check deception spread, the source said, representatives from other companies that had sued Christy called to give their condolences.
The whole experience was "tormenting," said the source.
Christy offered few specifics about the variations allegations and judgments against him. He focused most of his response on McCullough, whom Christy said has "spread absolute filth" about him because The Church Report has taken away McCullough's corner on the market.
Christy said he earned his prominence in the Christian community through hard work over 15 years. His high-profile contacts with political and religious leaders came through a strong work ethic and being "blessed," Christy said.
He said McCullough "reacted terribly" when Christy launched his latest magazine product. "He had a corner on the market for nine years, and [he thinks] if it's not his, it's nothing."
"What's happening here is ridiculous," Christy said. "I will continue to take a beating as I have because I've done nothing wrong. If people don't like competing with me, that's their problem."
Although he said he has information that could hurt his competitors professionally, Christy declined to give details. Their accusations against him are "absolutely atrocious" and "not a Christian thing to do," he said. "I take the high road when someone disparages me. I don't go on a witch hunt."
Christy is not without his supporters. When he was hired as national executive director for the Christian Coalition in 2005, coalition president Roberta Combs described Christy as someone "with a solid understanding of America's Christian community and the public-policy issues that impact it."
But coalition representatives were mum about Christy July 31 — an unnamed spokesperson would only say the job offer was withdrawn before Christy was officially hired.
In the July 30 interview, Christy said he refused the 2005 job offer because he couldn't run the coalition and continue operating his other business ventures at the same time, since it would require him to work on both the East and West coasts. That was the same year he declared bankruptcy.
In the same 2005 Christian Coalition news release, Paul Crouch Jr., vice president of administration for Trinity Broadcasting Network, praised Christy as "the right man at the right time for Christian grass-roots activism." Representatives from TBN told ABP in July they have no information about Christy's alleged wrongdoing.
Busby, of ECFA, said he and other contributing writers would immediately disassociate themselves from The Church Report if it were found to have "less than top integrity."
Busby, who said he has attended conferences with Christy and regularly corresponds with him, acknowledged some people "hate" Christy, probably because his "departure from the former publisher apparently was so nasty. … There were charges about business principles they thought he had violated," he said.
"I've talked to him about it, and I've talked to his former employer about it," he said. "I don't know where truth lies." He said Christy has never exhibited to him the temper or threatening and abusive language others claim he uses to intimidate them.
Busby noted several other Christian publishers have refused to run his columns because of his affiliation with Christy. In nearly 40 years of writing books and magazine articles, Busby said, "I have never run into people who have said, 'If you're writing for that magazine, you can never write for us.'"
Busby and others say they have not seen a printed issue of The Church Report magazine in more than a year.
Don Cranford of Katalyst Solutions, who ran the Church Report website for Christy for a year in exchange for free advertising in the magazine, said Christy told him the magazine had 30,000 subscribers. But the magazine ads generated no business for Cranford, he said. "I got virtually no traffic off the print magazine," Cranford said. "There was relatively no benefit from it."
After calling contributors, contacts in the advertising business, and churches that had bought ads, Cranford said he is convinced the magazines were never printed.
When confronted about the inefficiency of the ads, Christy finally agreed to pay Cranford for his work, he said, but the checks were always "lost in the mail" or mailed and then cancelled.
Finally, Cranford asked a lawyer friend to get involved. "My friend … called him and Jason started cussing him up and down," Cranford said. "That's pretty much where our relationship ended."
Cranford recently won a court settlement against Christy.
Nonetheless, Christy told ABP July 30 that charges The Church Report has not been printed regularly are false. He did not offer proof.
Christy has other ventures besides the website and magazine. He founded a political action committee in 2006 called Impact America and CR Connections, a Christian online dating service. His website lists him as the "founding publisher of various publications including Church Business, Modern Car Care, PetroMart Business, Marina Business Today, and Church Executive."
At least some of those businesses are bogus, McCullough and others say.
"All Jason Christy is doing is scamming Christian leaders to get them to buy advertisements in his fake Church Report magazine, just like Christy's fake PAC called Impact America, and his fake news service, and his fake dating service that has one member, a Star Trek geek no less," McCullough said.
Apparently, Christy is getting accustomed to the mounting accusations. He said he is well aware that some people have said bad things about him, but he maintains the charges are untrue.
"I'm appalled that you're writing this," Christy told ABP. "I'm appalled that this continues to go on."
"I'm not going anywhere," he concluded. "I'm not going anywhere."
Greg Warner of ABP contributed to this story.
Related Elsewhere:
Christy responded to this article on his blog.
CNN has transcripts of Christy's appearances on the network.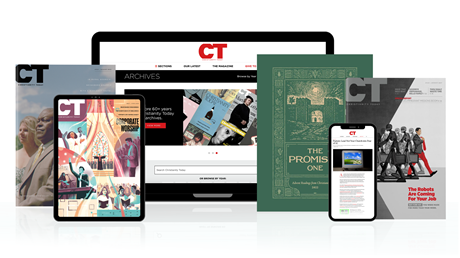 Annual & Monthly subscriptions available.
Print & Digital Issues of CT magazine
Complete access to every article on ChristianityToday.com
Unlimited access to 65+ years of CT's online archives
Member-only special issues
Subscribe
Church Report Publisher Jason Christy Leaves Trail of Fraud, Associates Say
Church Report Publisher Jason Christy Leaves Trail ...