I am a Christian ethicist, but there's something wrongheaded about much Christian social ethics. In graduate school, I learned to examine some social problem in detail, then bring Christian principles thoughtfully to bear on that problem. Curiously, this process most often results in statements about what government—not the church—should do about the particular problem.
Mainline Protestants have dominated the discipline of Christian social ethics from its beginning, but today it is conservative evangelical Christians who are most vocal and visible in telling government what it should and should not do. Sometimes this involves analysis. Often it merely involves raised voices.
Now certainly, the United States government should not be the primary audience for Christian ethics. Over the past 40 years, ethicists beginning with John Howard Yoder and then Stanley Hauerwas have strongly objected to this development. There is something quite wrong, they say, when the intended audience for Christian moral reasoning is the secular world and the institutions that govern it.
This simply does not fit with the biblical witness, especially in the New Testament. The ethical exhortations offered there are articulated for followers of Jesus Christ by Jesus himself or by his apostles. New Testament moral teachers aim to instruct Christians in what manner of life is worthy of those whose identity is bound up with that of Christ. Think, for example, of Paul's great ethical exhortations in Romans. Having been chosen by God and baptized into Christ's death and resurrection, we are to offer ourselves a living sacrifice, not conformed to the world, but transformed by the renewing of our minds.
The New Testament writers show great confidence that the world is being transformed through the redemptive work of Jesus Christ. But they show no confidence whatsoever that the powers and principalities of this world serve as the agents of that global transformation. No, the redemption of the world is God's activity, occurring in God's good time. It is an ongoing process in which the church is intimately involved, through faithful pursuit of its mission, but also, quite simply, through its quiet daily practice of God's will.
Generally speaking, American evangelicals have a poorly developed theology of the church. We also produce a variety of expressions of church life that do not emphasize rigorous moral commitment. Our pietistic individualism creates a "Jesus and me" ethos that often weakens any loyalty to the community of faith or any willingness to submit to a disciplined covenantal vision. The church is where I go to get my spiritual needs met—you have no right to tell me what to do as I pursue that quest.
The moral mediocrity of this kind of church can leave us hopeless about the church as the center of God's redemptive enterprise in the world. How can we truly believe that the world's transformation is happening right here, right among us, when we can't stop divorce in our midst, or abortion, or greed, or internal church conflicts?
Ironically, we turn to the state to enforce the values we can't seem to advance in our own churches. We're rightly concerned about our collapsing families, internet pornography, decadent movies and music, and the weakening of sexual morality. But we often can't seem to prevent the encroachment of these problems in our own Christian families and congregations. As if in response, we keep trying to change our nation's laws.
The Church's Message
Is there a direct correlation between our declining confidence in the church and our growing engagement with politics? The more we find it hopeless to think that we can actually create and sustain disciplined communities of faith, the more we spend our time on political activities. We may not be able to get self-identified Christians to obey the Word of God, but we might be able to leverage our political clout to elect "our people" to Congress.
Recently I was brought up short by reading about an Ohio pastor who was hoofing it through his neighborhood getting the work of the church done. No, he wasn't visiting the sick, preaching the gospel, or inviting people to church. He was registering voters. Call me old-fashioned, but somehow that doesn't seem quite right to me. I'm glad it's not how my own pastor invests his time.
It is election season, and we must remember that there are many good reasons to exercise our christian citizenship with care. but the church's message is that Jesus saves.
Related Elsewhere:
David P. Gushee is Graves Professor of Moral Philosophy at Union University. His books include Only Human: Christian Reflections on the Journey Toward Wholeness, Getting Marriage Right, and he is coauthor of Kingdom Ethics Following Jesus in a Contemporary Context. His columns for Christianity Today include:
How to Create Cynics | Everybody knows when we're covering up our confusion with God-talk. (Sept. 5, 2006)
What's Right About Patriotism | The nation is not our highest love, but it still deserves our affection. (July 18, 2006)
Crash | What our harrowing experience taught me about human nature. (May 1, 2006)
The Truth About Deceit | Most lies are pitiful attempts to protect our pride. (March 20, 2006)
Our Missing Moral Compass | Christianity is more than an event, an experience, or a set of beliefs. (Nov. 14, 2005)
Bill's Big Career Move | How do we make important family decisions? (Jan. 10, 2006)
Have something to add about this? See something we missed? Share your feedback here.
Do Likewise
David P. Gushee serves as Distinguished University Professor of Christian Ethics and Director of the Center for Theology and Public Life at Mercer University, where he also chairs the Mercer Lyceum initiative on rebuilding democracy. His column ran from 2005 to 2007.
Previous Do Likewise Columns:
Our digital archives are a work in progress. Let us know if corrections need to be made.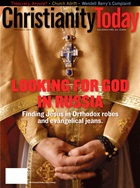 This article is from the November 2006 issue.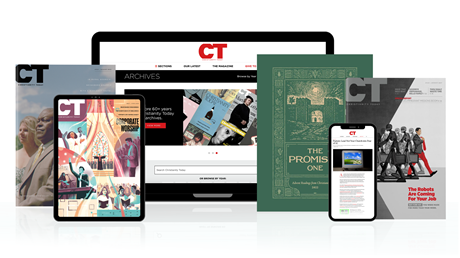 Annual & Monthly subscriptions available.
Print & Digital Issues of CT magazine
Complete access to every article on ChristianityToday.com
Unlimited access to 65+ years of CT's online archives
Member-only special issues
Subscribe
Children of a Lesser Hope
Children of a Lesser Hope