Mod rot. That's how Methodist theologian Thomas Oden pithily described "the aroma of modernity East and West" after visiting the Soviet Union in 1991. The sweeping effort of the past two centuries to nurture a way of life in the soil of Enlightenment rationality was, he concluded, doomed. For him, the signs and scents of vast decay were everywhere.
Right down to the food being eaten? Some 15 years later, Jordan S. Rubin believes so. His New York Times bestseller, The Maker's Diet—taking its place alongside such titles as What Would Jesus Eat?, Faithfully Fit, and Spiritual Secrets to Weight Loss—is both a telling testament of the ways moderns have failed to apprehend the nature of the world and an instructive example of where some are moving in pursuit of another way.
Whereas Oden has spent the past two decades urging spiritually flabby, misguided Christians to recover the theology of the ancient church, Rubin commends to us the diets of pre-industrial peoples. For Rubin, modern science and corporate capitalism have, in codependent fashion, reordered our lives in radical ways, so that from cleaning to healing to working to eating, we live differently. More particularly, our huge dependency on chemicals and our highly sedentary lifestyles are doing us in. He warns that obesity, diabetes, heart attacks, cancer, depression, and other illnesses point to deadly deficits in modern notions of health and wealth, extended average life spans notwithstanding.
Rubin's counter-vision comes from his own health crisis, which he dramatically describes in The Maker's Diet. Struck with Crohn's disease, Rubin lost 75 pounds in two years and was treated by scores of specialists, to no avail. Then he came across a nutritionist who guided him toward a "biblical diet." Unbelievably, he gained 29 pounds in 40 days, eventually returning to complete health.
Readers expecting a ransacking of Scripture for obscure dietary guidelines will be disappointed (or relieved). Rubin, as much the product of modern science as he is of evangelical biblicism, contends that both science and the history of long-living peoples support the way of life prescribed to the ancient Jews. Accordingly, Rubin's aim is mainly to steer people away from processed, refined, and chemically tainted food, and toward reestablishing our "lost connection to the earth's soil" through organic—and kosher—vegetables, beverages, and meats.
At its best, Rubin's work serves as a corrective, a reminder that humans are indeed made for ecological conditions that modernity has disregarded and endangered. It's hard not to be sympathetic to baffled, bogged-down Americans struggling to find a "fitness" that joins the spiritual to the physical. We are, after all, living receptacles made to embody holy lives in concrete, particular ways.
But at its worst, Rubin's project is constructed with the shoddy—indeed, decadent—materials of the culture he otherwise condemns. His book reads like an infomercial, with sentimental testimonials, grand pronouncements, and ardent sales pitches for such inventions as "Clenzology" (touted as "the first real advancement in how we wash since the bar of soap was invented!"). It's hard, in this light, not to see Rubin's remarkably free use of the term "Maker's diet" as a profanely commercial appropriation of that which ought to remain holy.
Tellingly, Rubin makes no serious effort to address the relationship of soul health to biological health. Christ, remember, had hard words for those whose obsession was getting the outside of the dish shiny. If this is a perennial temptation, it is one that has been extraordinarily intensified in our individualistic, image-saturated age. What we need far more than an improved diet is the profound eschatological awareness that burns on every page of the Gospels: the keen perception of what our times, and our Lord, most demand of us. To gain discernment of this sort, it might be best to consult Oden before visiting Rubin.
Eric Miller is associate professor of history at Geneva College.
Related Elsewhere:
The Maker's Diet is available from Christianbook.com and other book retailers.
More about the diet is available from the book's website.
An interview with Rubin is available from Beliefnet.
Earlier CT articles on dieting include:
Fit or Fat? | Why we worship slimness while supersizing our lunches. (Sept. 15, 2005)
Vegetarians in Paradise | Based on Isaiah 11:6-7 and 65:25, will we be vegetarians in the new heaven and earth as Adam and Eve were before the Fall? (Oct. 20, 2004)
To Hell on a Cream Puff | Gluttony makes you soft and lovable. It's the cute sin. (Aug. 29, 2000)
Rx for Gluttony | Even Christian diet experts rarely talk about it anymore. But the early monks did, and for good reason. (Aug. 28, 2000)
Evangelicals Embrace Vegetarian Diet | Christians are flocking toward the Hallelujah Diet as a healthier way of life. (Sept. 6, 1999)
Article continues below
Was the Messiah a Vegetarian? | PETA tries to win Christians to a "nonviolent" diet. (Aug. 9, 1999)
Hungry for God | Why more and more Christians are fasting for revival. (Apr. 15, 1999)
How Healthy Is Fasting? | Physicians and clergy alike say fasting is as good for the body as it is for the soul. (Apr. 15, 1999)
The Weigh & the Truth | Christian dieting programs—like Gwen Shamblin's Weigh Down Diet—help believers pray off the pounds. But what deeper messages are they sending about faith and fitness? (Aug. 25, 2000)
Have something to add about this? See something we missed? Share your feedback here.
Our digital archives are a work in progress. Let us know if corrections need to be made.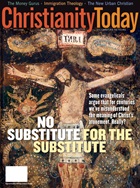 This article is from the May 2006 issue.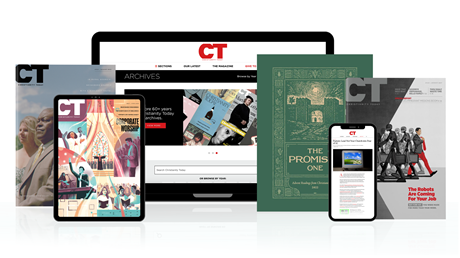 Annual & Monthly subscriptions available.
Print & Digital Issues of CT magazine
Complete access to every article on ChristianityToday.com
Unlimited access to 65+ years of CT's online archives
Member-only special issues
Subscribe
Choking on Modernity
Choking on Modernity