Earlier this summer I became a lacrosse fan. I've never actually seen a lacrosse game (I listened on the radio). And don't ask me about the rules. I don't know any of them. I also started watching softball. Baseball I love, but until this summer I had never seen women play fastpitch. Yet I caught almost every game of the Women's College World Series, thanks to the ESPN networks.
How long will my new interests last? That might depend on which teams reach the finals next year. What I really cared about was the word across the front of the jerseys worn by the college women's lacrosse national champions: Northwestern. Now you might be able to guess my sudden interest in softball. Northwestern, my alma mater, lost to Arizona in the national championship series. No matter the sport, I feel a tinge of pride whenever Northwestern athletes succeed.
I may have tuned in for the name on the jerseys, but I stayed gripped by the athletic excellence and mental bravery of the athletes. Fastpitch softball is one impressive sport. A rise ball? Are you kidding me? I could never catch up with the high fastball, let alone a ball that looks like it's coming belt-high and ends up over my head. I'll stick with my co-ed slowpitch league, thank you very much.
Until Northwestern faced Arizona in the championship series, whenever the women in purple needed a big hit, they would crush a home run. This was the pinnacle of their athletic careers, with all the pressure of finality, but it didn't seem to faze them. When my team blew a late lead against 10-time national champion UCLA in the semifinals, I gave up on them. All the Wildcats did was respond with back-to-back home runs to win.
I admit I don't like some women's sports. You still couldn't pay me to watch the WNBA. I tried one summer when I had no cable TV and NBC broadcasted the games. The NBA isn't my favorite either, but those players wow me with their athletic feats. At the same time, I prefer some women's sports to their male equivalents. Men's tennis, in particular, gets really boring when an expert server rains down aces on his opponent.
No matter my viewing preferences, if my wife and I have daughters, I'll encourage them to play sports. That's because of what I saw with the Northwestern lacrosse and softball teams. You couldn't deny their focus, determination, and athletic skill. Plus, they looked like they had a lot of fun. That's an experience I want for my daughter. Such team sports teach God-honoring disciplines like concern for the greater good, focus on a goal, and how to accommodate and lead many different characters. And as the Women's Sports Foundation has pointed out, studies show girls who play sports exhibit more confidence in themselves and a more positive body image than girls who do not participate.
Plus, female athletes mostly steer clear of the pitfalls we see in many male professionals. I'd be thrilled to see my daughter wear Northwestern purple one day. I wouldn't have the same reservations that come with a son playing football. Most female athletes can't act entitled to their millions, because they don't make that kind of money. And there are fewer incentives to cheat, again because of the lower financial stakes.
This week, retired tennis great John McEnroe argued against the Wimbledon tournament's policy to pay the female winner less than the male winner. "There should be no argument when they are at the same event at the same time that there should be equal pay," McEnroe said. I absolutely agree. I just hope that in the ongoing quest for equality, female athletes don't lose the very characteristics that make their sports attractive—the reasons I stopped and watched so much softball.
Collin Hansen is an associate editor for Christianity Today.
Related Elsewhere:
Earlier Play Ball columns include:
The NBA? Or the UN? | It's called the National Basketball Association, but it's looking quite international—thanks in great part to a Christian GM for the Dallas Mavs. (June 22, 2006)
Onward Christian Shortstops | The Colorado Rockies make a noble—if problematic—plan for winning. (June 1, 2006)
Incomplete Sentences | Many pro athletes convicted of a crime are sentenced to a lame excuse for "community service." It's time for the legal system to show a little backbone. (May 11, 2006)
Bowling Alone No More | A stealth revolution in attitude may be brewing. (May 4, 2006)
Sports as Soap Opera | Sportswriters seem to have forgotten their godly calling. By Mark Galli (April 27,2006)
'You Trying to Say Jesus Christ Can't Hit a Curveball?' | Fans vent their frustration on struggling slugger who professes religious devotion. By Collin Hansen (Apr., 20, 2006)
Un Problema Grande, No? | What major league baseball reveals about the dangers of immigration. By Mark Galli (Apr. 13, 2006)
WWJWD? | In the wake of UCLA's loss in Monday's NCAA championship game, I couldn't help but wonder: What would John Wooden do? By Mark Moring (April 6, 2006)
There IS Crying in Basketball | If only we all had something so precious to weep about. By Collin Hansen (March 30, 2006)
Play Ball
From 2005 to 2007, "Play Ball" examined the relationship of sports and faith: sports is important precisely because it is a form of play, that is, a manifestation of the Sabbath. Contributors included Mark Galli, Collin Hansen, Mark Moring, and others.
Previous Play Ball Columns: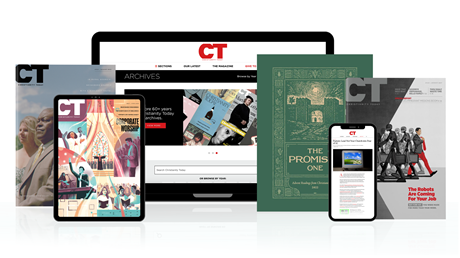 Annual & Monthly subscriptions available.
Print & Digital Issues of CT magazine
Complete access to every article on ChristianityToday.com
Unlimited access to 65+ years of CT's online archives
Member-only special issues
Subscribe
What's to Love About Women's Sports
What's to Love About Women's Sports