The Miami Heat are an anomaly.
Tuesday night they won the NBA Finals without any foreign-born players on their roster. Everywhere else, the NBA resembles the international smorgasbord currently being hosted by Germany—a relatively minor 32-country tournament known as the World Cup.
Just look at the Dallas Mavericks, whom the Heat vanquished in six games. Their most popular player is a seven-foot German and their roster includes players from Senegal, the Democratic Republic of Congo, and Russia.
When the Mavericks acquired Dirk Nowitzki in a 1998 draft-day trade, they were at the forefront of what is now a league-wide movement to capitalize on non-American talent.
For general manager Donnie Nelson, however, Nowitzki was just the latest in a line of his successful foreign forays. Recognized as one of the most influential international scouts in the league, Nelson is responsible for signing the first players to NBA contracts from the former Soviet Union (Sarunas Marciulionis) and China (Wang Zhizhi).
Nelson graduated from Wheaton College in 1986 and was introduced to international scouting by Athletes in Action (AIA), a ministry of Campus Crusade for Christ that was founded in 1966 to use the platform of athletics as a tool to fulfill the Great Commission.
The idea was new at the time, but makes perfect sense in our sports-crazed world. As Nelson found out during his four summer trips with AIA, the worldwide popularity of sport has created an international language that can help transcend traditional barriers.
"I had the chance to see how basketball was played in different countries and different cultures. It was just an incredible mix of experiences that cannot be replicated," Nelson said in an interview during the NBA Finals. "You can go down to EPCOT at Disney 1,000 times and you just don't get that feel of those cultures when you are actually there."
Nelson was introduced to Sarunas Marciuonius in a basketball game while on an AIA trip to the former Soviet Union during the Cold War. He had no way of knowing that the Lithuanian would become the first basketball player to break through the Iron Curtain.
"On that particular night, I held him to about 40 points," Nelson joked.
The blowout was just the start of a relationship, however, that has helped transform the NBA into a mini-United Nations—the league is now televised in 42 languages across 212 nations, and has 74 foreign players who represent 31 countries.
Other than the Miami Heat, only the New York Knicks have no foreign-born players. Yao Ming (China), Tim Duncan (Virgin Islands), Hakeem Olajuwon (Nigeria), Michael Olowokandi (Nigeria), and Andruw Bogut (Australia) have all been selected with the first pick in the NBA draft. And Steve Nash, the reigning back-to-back MVP, is Canadian.
The international growth is good for an NBA that has stagnated in the post-Jordan era.
Foreign players display better fundamentals and teamwork because they are not easily influenced by the one-on-one antics of playground basketball. Their friends play soccer.
Perhaps most importantly, however, is the introduction of role models in countries where basketball is still viewed as an American sport. Although Brazilians will never consider Nene more popular than Pele, his exposure is vitally important for the future of the game.
Although this fundamental shift is partly due to globalization, it can be largely credited to the distinctly Christian embrace of the diversity of the worldwide Church. It is not ironic that NBA growth has also produced valuable lessons for the mission field.
By meeting people where they are, Nelson has clearly shown the need for Christians to build meaningful relationships. Sometimes that requires traveling to the far regions of the earth. But oftentimes, there are local outreach opportunities that have been overlooked.
"When most people think of finding some secret gem, they think it has to be in some obscure place in Africa or Russia," said Nelson. "When we go to Europe, every NBA scout always ends up in Frankfurt—that's the hub of the whole continent."
Only Nelson traveled the one hour from Frankfurt to Wurzburg, however, in order to convince Nowitzki to join the Dallas Mavericks. This year, the five-time NBA All-Star finished third in MVP balloting while leading Dallas to its first NBA finals appearance.
But for all of Nelson's successes—he has also won three bronze medals as an assistant coach for the Lithuanian national team and is the chief advisor for the Chinese national basketball team—he has remained focused on what sports can contribute to society.
"At the end of the day, all that stuff—all the Olympic and international hardware—sits in the sock drawer," Nelson explains. "It's how you impact people, and for some of us who are blessed to be on the NBA stage—our audience is global."
Jason Bailey is a Christianity Today news intern.
Related Elsewhere:
Earlier Play Ball columns include:
Article continues below
Onward Christian Shortstops | The Colorado Rockies make a noble—if problematic—plan for winning. (June 1, 2006)
Incomplete Sentences | Many pro athletes convicted of a crime are sentenced to a lame excuse for "community service." It's time for the legal system to show a little backbone. (May 11, 2006)
Bowling Alone No More | A stealth revolution in attitude may be brewing. (May 4, 2006)
Sports as Soap Opera | Sportswriters seem to have forgotten their godly calling. By Mark Galli (April 27,2006)
'You Trying to Say Jesus Christ Can't Hit a Curveball?' | Fans vent their frustration on struggling slugger who professes religious devotion. By Collin Hansen (Apr., 20, 2006)
Un Problema Grande, No? | What major league baseball reveals about the dangers of immigration. By Mark Galli (Apr. 13, 2006)
WWJWD? | In the wake of UCLA's loss in Monday's NCAA championship game, I couldn't help but wonder: What would John Wooden do? By Mark Moring (April 6, 2006)
There IS Crying in Basketball | If only we all had something so precious to weep about. By Collin Hansen (March 30, 2006)
Pirates vs. Braves | Reforming sports one city at a time. By Mark Galli (March 23, 2006)
Play Ball
From 2005 to 2007, "Play Ball" examined the relationship of sports and faith: sports is important precisely because it is a form of play, that is, a manifestation of the Sabbath. Contributors included Mark Galli, Collin Hansen, Mark Moring, and others.
Previous Play Ball Columns: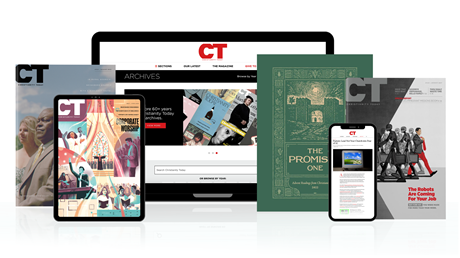 Annual & Monthly subscriptions available.
Print & Digital Issues of CT magazine
Complete access to every article on ChristianityToday.com
Unlimited access to 65+ years of CT's online archives
Member-only special issues
Subscribe
The NBA? Or the UN?
The NBA? Or the UN?