Seeking to better her life, Irina, 18, answers a newspaper advertisement for a training course in Berlin. Using a falsified passport, she travels from her native Ukraine to Germany. There she is told the school is closed and sent to Belgium for a "job." Upon arrival, Irina learns she owes those in charge $10,000 and must repay the debt by prostitution. Irina's handlers take her documents, beat and rape her, and make her a prostitute. Eventually they turn her over to another pimp in Brussels' red-light district. Watching for a chance at freedom, Irina escapes one day—only to be jailed by the police because she has no documentation.
Sexual trafficking is a huge problem in Europe and worldwide. University of Rhode Island researcher Donna M. Hughes, who relates Irina's story, says global trafficking in women and girls for purposes of sexual exploitation rakes in $7 billion every year. Untold millions more are domestic "sex workers" within their own countries.
Human-rights groups are understandably outraged by Germany's decision to make prostitution a spectator sport at the World Cup. Germany, which legalized the world's oldest profession in 2002, already has an estimated 400,000 legal prostitutes. Apparently that's not sufficient to satisfy 3 million visiting soccer fans. So Germany's World Cup cities have issued extra prostitution licenses and approved "sex huts" (complete with condoms and snacks) to be set up like portable potties around stadiums.
Anti-trafficking activists say these initiatives will bring 40,000 more women into the country. Many will be poor Eastern Europeans like Irina, under the control of organized crime.
German Chancellor Angela Merkel, a Christian, has been mum about these measures. Other officials defend them as necessary to regulate the sex trade and to provide health services to prostituted women. Yet open encouragement of prostitution carries both hidden and unhidden costs.
Routine Abuse and Violence
Prostitution is anything but glamorous. The U.S. State Department's office to monitor and combat trafficking in persons points to prostitution's core problem: The "routine abuse and violence that form the prostitution experience and brutally victimize those caught in its netherworld. Prostitution leaves women and children physically, mentally, emotionally, and spiritually devastated."
The statistics are sickening. "Field research in nine countries concluded that 60 to 75 percent of women in prostitution were raped, 70 to 95 percent were physically assaulted, and 68 percent met the criteria for post-traumatic stress disorder in the same range as treatment-seeking combat veterans and victims of state-organized torture," the office reports. "Beyond this shocking abuse, the public health implications of prostitution are devastating and include a myriad of serious and fatal diseases, including HIV/AIDS." The study found that 89 percent of respondents wanted to leave prostitution.
Recognizing these facts, President Bush issued a National Security Presidential Directive in 2003 opposing legalized prostitution as "inherently harmful and dehumanizing." The U.S. Agency for International Development will no longer offer anti-trafficking grants or contracts to organizations that support legalized prostitution.
An international coalition of Christian ministry groups is calling for the State Department to give Germany its lowest "Tier 3" ranking under the Trafficking Victims Protection Act of 2000—meaning the country does not comply with minimum standards and is not making significant progress toward doing so. Such a designation would send a powerful message to Germans.
Many so-called advocates for women attempt to contrast sexual trafficking, which they rightly see as slavery, with legal prostitution, which they call "voluntary." The New York Times columnist Nicholas Kristof says the debate among anti-trafficking activists over legal prostitution is a "ridiculously divisive" sideshow to the "central challenge" of sexual trafficking.
Hardly. As one activist told CT, "Prostitution is to sex trafficking what coal is to steam engines." There is an ugly, symbiotic link between legal and illegal prostitution: Legal prostitution stimulates the market for "commercialized sex" and opens the door to organized crime, including sex trafficking.
Whether governments draw the line at legalized prostitution or not, the fact is that God intended sex as a sacred gift, to be shared only in the one-flesh context of lifelong, heterosexual marriage. Any other use of our sexuality defaces the image of God as seen in man and woman.
Responding to the many brothels available in the Germany of his day, Martin Luther dismissed the argument—still held by many—that legal prostitution provides a safety valve for male lust, and instead extolled marriage, which "redounds to the benefit not alone of the body, property, honor, and soul of an individual, but also to the benefit of whole cities and countries, in that they remain exempt from the plagues imposed by God."
Modern Germany's state-sanctioned pimping and tacit encouragement of sex trafficking on a massive scale—even as its birthrate has plunged far below the replacement level—show that the plagues of which Luther warned are already upon us. No wonder Islamists call the West decadent.
Related Elsewhere:
News elsewhere includes:
Soccer games no match for sexual tyranny | With the World Cup now under way in Germany, both sides would agree that sex-slave trafficking for a soccer extravaganza is nothing to cheer about. (Roberta de Boer, Toledo Blade, June 11, 2006)
Vatican Laments World Cup Prostitution | Estimates Say 40,000 Women Could Be Exploited As Sex Workers (Associated Press, June 8, 2006)
Germany warned over World Cup sex trade | The United States has warned Germany that it must do more to stop an expected tide of sex trafficking for sexual exploitation during the football World Cup. (Times, London, June 6, 2006
U.S. warns Germany on World Cup sex workers | Report on human trafficking names violator nations (Associated Press, June 5, 2006)
Have something to add about this? See something we missed? Share your feedback here.
Our digital archives are a work in progress. Let us know if corrections need to be made.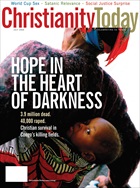 This article is from the July 2006 issue.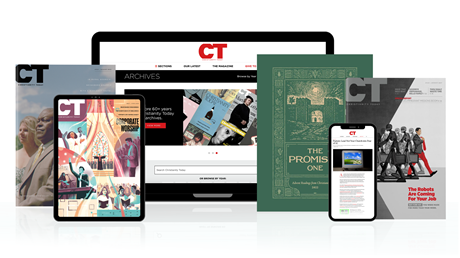 Annual & Monthly subscriptions available.
Print & Digital Issues of CT magazine
Complete access to every article on ChristianityToday.com
Unlimited access to 65+ years of CT's online archives
Member-only special issues
Subscribe
Sex Isn't a Spectator Sport
Sex Isn't a Spectator Sport