For those desiring a more intentional walk with God, practicing a spiritual discipline can be helpful. But choosing which discipline and sticking to it can be overwhelming. Adele Ahlberg Calhoun has compiled a Spiritual Disciplines Handbook (InterVarsity Press) with 62 disciplines, instructions on how to practice them, and a guide for choosing the correct discipline. Calhoun is pastor of spiritual formation at Christ Church in Oak Brook, Illinois, and a graduate of Gordon-Conwell Theological Seminary.
How did you get involved in spiritual formation and the spiritual disciplines?
When I was on staff at Park Street Church in Boston a long time ago, I had a crisis in ministry. The basic tool I was using was information. Boston loves information. People would come to see me or hear me teach, and they would say, "This is great information." Then they would come back two weeks, two months, or two years later with a different presenting issue—but underneath it was a sense of not knowing God's love or having things in their head but not in their heart.
I went to my senior pastor and said, "I don't really see transformation happening in a lasting way, and I either need to go someplace else or figure out how to do this right." That sent me on a journey. I ended up taking courses in spiritual direction. These practices lead people where they need to go as the Holy Spirit partners with them.
Spirituality, or walking closely with God, is often seen as more a matter of being than doing. But the spiritual disciplines are a practice. How does a daily or weekly practice relate to caring for the soul?
Disciplines are repetitive acts that I do to get something I want. I want to learn to speak Spanish. So I have to partner in the process. With the Spiritual Disciplines Handbook, I tried to get people to enter the disciplines through what they want. Sometimes it is just a longing, but sometimes it is out of desperation. I'm a mess, and I need this.
I have seen that there is more staying power through desire than through an ought or should. "You should get up every morning and have a quiet time" is a should I grew up with. It was a good thing in my life. I would be the last person to say it hasn't shaped me. But when you get to the point where you are doing something over and over again, and it is not leading you into the worship of God, I want to ask where God is showing up in your life.
As I see spiritual disciplines, they are to respond to our changing, ongoing relationship with God. You can enter the book depending on a season or cycle of your spiritual life. Maybe there used to be a time when corporate worship was the place for me. And now it seems like I'm being drawn into silence and solitude.
I can go with that, or I can keep banging my head against some other discipline. I'm not saying you don't have to persevere. Anything worth having takes perseverance, like marriage.
Do you see a greater interest in the spiritual disciplines today than in the last few decades?
I think the church has always had people who are interested in spiritual practices and disciplines. Our modern culture is highly technocratic, so that need to attend to the inward journey has become part of our culture. You read all these books that have soul in the title. They are everywhere. I think part of it is a response to the virtual reality of so much of life. We want to know how to engage our journey with God. It is not enough to say, "Go be spiritual." How do you go be spiritual?
Another word that I like for discipline is rhythm. Spiritual rhythms that add to my life with God. Am I making space for him on a regular rhythmic basis so that I can partner with the Holy Spirit for my growth? I think that is why it is of interest to people now. They want to have something to offset a very secular, cold, externally focused life with some internal journey.
I have heard some criticism that spiritual disciplines are really just about character building. Spiritual disciplines can be about what I'm doing rather than what God is doing.
I think that is an artificial separation. A spiritual discipline that isn't a partnership between you and God isn't a spiritual discipline. It is like what Jesus said to those who had the ability to do miracles, "I don't know you." He was saying, "You're making the effort, but that hasn't produced a relationship that I recognize." There needs to be a bringing together of the two things. If I'm just interested in some personal spiritual renewal that isn't going to touch my world, I haven't understood the call of the kingdom on my life. This is not what the gospel is about. It is not some personal feeling of bliss.
One of the disciplines you write about is creating a rule for life. What does that mean?
The rule for life—and again, you might want to call it a rhythm—asks, "How do I want to live my life given the circumstances and season of my life right now?" Say I grew up having my quiet time, and now I'm a mom with little kids. To have quiet time with God, I have to get up before six in the morning, and I'm exhausted.
The rule says these are the givens of my life. This is what's true of my life. This is what is true of my limits. This is what is true of my time. Now how can I arrange my life to give space to God?
Frankly, we all have rules, like Do your best or Never give up. So what should be my spiritual rule for this time and season of my life? And how can that shape the life I have, so it is not at the whim of what is urgent or what is cool?
Related Elsewhere:
Spiritual Disciplines Handbook is available from ChristianBook.com and other book retailers.
InterVarsity Press has more information on the book, including another author interview and excerpts.
Moody Broadcasting's Midday Connection has an MP3 of its interview with Calhoun on her handbook.
Christ Church of Oak Brook offers video and audio of several sermons from Calhoun, including 2005's "A Prayer for All Seasons" (video | audio stream | audio download), 2004's "Paul: An Eye for the Unseen" (video | audio stream | audio download), and 2003's "Practicing the Presence of People" (video | audio stream | audio download).
The syllabus for "Spiritual Formation," a class at Wheaton College that Calhoun teaches with Linda Richardson, is available online.
Earlier Christianity Today articles on spiritual disciplines include:
The Making of the Christian | Richard J. Foster and Dallas Willard on the difference between discipleship and spiritual formation (Sept. 16, 2005)
Not a Hallmark Bible | Richard Foster and Dallas Willard on the newly published Renovaré Spiritual Formation Bible (Sept. 16, 2005)
Changed by the Unchanging | A new take on the spiritual disciplines calls for a little more action and a lot more love. (Oct. 11, 2004)
Christian History Corner: Got Your 'Spiritual Director' Yet? | The roots of a resurgent practice, plus 14 books for further study (May 2, 2003)
Three Temptations of Spiritual Formation | When seeking to be shaped by Christ, It is all too easy to veer from a fully Christian approach. (Dec. 13, 2002)
Making Space for God | What spiritual direction is, and why evangelicals are increasingly attracted to it. An interview with Holy Invitations author Jeannette Bakke. (Apr. 25. 2001)
From Evangelist to Soul Friend | Leighton Ford's new ministry is, in many ways, like his former calling—only more personal. (Oct. 10, 2000)
Celebration of Traditions | Richard Foster wants Christians to be renewed by encountering the church's "living streams." A review of Streams of Living Water by Richard Foster. (May 24, 1999)
In His Steps | How to become an apprentice of Jesus. A review of The Divine Conspiracy by Dallas Willard. (Jan. 11, 1999)
See also Leadership Journal's interview with Phyllis Tickle, "Blowing Holes in Spiritual Formation."
Conversations is a semi-annual journal focusing on spiritual transformation and spiritual disciplines.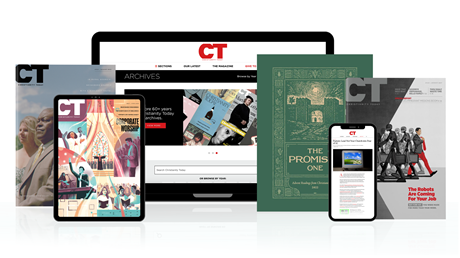 Subscribe to Christianity Today and get access to this article plus 65+ years of archives.
Home delivery of CT magazine
Complete access to articles on ChristianityToday.com
Over 120 years of magazine archives plus full access to all of CT's online archives
Subscribe Now
Spiritual Formation for Dummies
Spiritual Formation for Dummies