true
To laugh after victory is nothing;
to gloat over conquest is naught
But to pick oneself up when you have suffered defeat
is a virtue that can never be taught.
To cheer when you see your team winning;
To applaud when the score is with you
Is nothing when compared with the team that can smile
When they're behind by a touchdown or two
I wrote those amateurish words almost 36 years ago, but they remain hauntingly fresh and real in my mind. Especially with the upcoming release We Are Marshall, opening in theaters Friday, Dec. 22.
The movie tells the story of the Marshall University football program in the wake of the tragic 1970 plane crash that took the lives of 75 players, coaches, staff and boosters, and how the university, the community, and the families affected rose up out of the ashes.
We Are Marshall has generated a lot of emotion in my family, not just because it's an inspiring football story, and not just because many of us are fans of the Thundering Herd.
For us, the film hits much closer to home: My father, Gene Morehouse, was one of those 75 killed in the crash on that rainy evening, Nov. 14, 1970. He was 48. I was 18.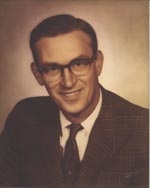 The chartered plane carrying the team, returning from a 17-14 loss at East Carolina University, crashed into the side of a hill less than one mile from the airport in Huntington, W. Va., Marshall's hometown.
There were no survivors. It remains the worst sports related disaster in U.S. history.
My father did double duty as Marshall's Sports Information Director at Marshall and as a radio broadcaster for the Herd's basketball and football teams. His voice was one of 75 silenced that night, but the memories of our loved ones keep those voices resonating within us to this day.
We Are Marshall, of which I've only seen the trailer, will certainly be difficult to watch as even 36-year-old memories of a father lost do not diminish over time. The film will surely stir up the empty feelings I felt the night I heard that my father "almost" made it home—but "almost" just wasn't good enough.
A radio bulletin
I was a sophomore at Virginia Tech in 1970. At the time, Blacksburg, Va., was a sleepy little college town in the Blue Ridge Mountains, a school of mostly males studying agriculture and engineering.
On that November night, my girlfriend and I were out for an evening, enjoying Blacksburg's limited social activities. We walked into a donut shop—oddly called "Spudnuts" as the donuts were made from potatoes—for a late evening snack.
I paid little attention to the noise from a radio playing in the shop, but somehow I picked up on a news bulletin. All I remember hearing were the words "Marshall University" and "plane crash." I knew my dad was flying with the team that weekend to Greenville, N.C., for the game as I had spoken with him earlier that week during one of my few phone calls home—cheap long distance and prepaid calling cards then being a thing of the future.
Dad was excited they were flying on a Southern Airways charter jet. At the time, Marshall was perceived as the second tier college behind West Virginia University, and the Herd teams usually traveled by bus. The flight was a first for Marshall and as a result, the plane not only carried 48 players, coaches and university staff, but also 22 leading citizens of Huntington who helped defray the cost of the trip by paying for their tickets—ultimately with their lives.
After hearing the radio bulletin and sensing that something horrible had happened, my girlfriend and I went immediately to her dorm to use the phone in her room. I dialed home several times, but the line was busy. Ultimately, someone—not a family member, as I recall—answered and confirmed that there had been a crash, but that there were no firm details yet.
By this time, friends and neighbors had come to the house and were no doubt attempting to comfort my mom and four of my five siblings who were in Huntington that night. My brother Steve, then 10, was at a midget football game in Tennessee.
The person I spoke with told me someone would call me back soon. "Soon" seemed like an eternity. My mind raced as I considered the possibilities. Would I "soon" find out that the crash was "minor" and that all were OK? Or would I find out that I would "soon" be saying goodbye to my father and my friend?
'No survivors'
Minutes passed with little conversation between my girlfriend and me. Though she tried, she didn't know what to say to comfort or reassure me, and I knew nothing would take away the gnawing sense of foreboding I felt. It was as if I just knew. As Job said, "That which I have feared the most has come to pass" (Job 3:25).
I was jerked back to reality by the ring of the phone sitting on the floor between us. I picked it up and heard simply "no survivors." Sounds so neat and clean … now, so 6 o'clock news-like.
I was told that a family friend and my 14-year-old brother Gene would leave immediately and make the 4-hour trip from Huntington to Blacksburg to pick me up. My girlfriend and I walked hand-in-hand in silence across campus to my dorm.
When we arrived, I woke the resident advisor and told him what had happened. I asked him if it was OK if my girlfriend stayed with me for a while. At the time, females were not allowed in male dorms. He said yes and she sat with me as I packed to go home. Her presence made the fear seem not so overwhelming.
Upside down
One never expects one's world to be turned upside down at 18, but it was for me. I arrived home early on Sunday to a city in shock and a home in tears. I remember seeing my mom as I came in and the blank, hopeless yet brave face she wore. I hugged her and told her that I, as the oldest son, would be there for her and my brothers and sisters, ranging from age 9 to 20. The truth be told; I didn't know what I should do or what I could do. Most of all I thought to myself, What would Dad do?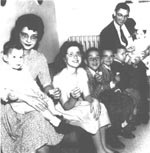 Twelve hours after the crash, the ensuing bedlam had given way to a pall over our home and our city. One has to live in a university town to understand the bond that exists between "town and gown." In essence, Marshall was Huntington and Huntington was Marshall. The town supported the school with a love, devotion, and care that belied the hardness of this Rust Belt city along the Ohio River.
The state and the nation opened their arms wide and comforted a town reeling from indescribable loss and families ripped apart on that West Virginia hillside. For days, funeral gave way to funeral, while young co-eds were heard pounding tearfully on the doors of their dead boyfriends' dorm rooms, not wanting to admit they would never again answer.
Life after death
But by the grace of God, there is life after death—now and to come. Marshall came back the next year as "The Young Thundering Herd"—a team comprised of mostly freshmen, sophomores, and inexperienced walk-ons under the leadership of a young coach named Jack Lengyel (played by Matthew McConaughey in the new film).
As fans wondered silently if Marshall would ever win another football game, the Herd shocked the world on Sept. 25, 1971, with a last-second 15-13 victory over Xavier in the first home game played after the crash.
Fast forward to 2006, and that thrilling victory—needing no Hollywoodizing or cinematic embellishment—will be presented on the big screen . . . and those of us who have never forgotten will remember with sadness and joy those we loved and lost.
They were not just victims of a plane crash. They were fathers, mothers, husbands, wives, sons, brothers, and friends. They were all—from my Dad on down to a backup lineman— family.
That's what the title of the movie is shouting for all to hear: "WE ARE MARSHALL!!!"
I will watch the movie with my wife, my two children, and a grandson—none of whom were ever blessed to know my dad. I will sit with my brothers and sisters. I will sit with friends who lost loved ones. I will sit and watch, and cry, and maybe even sob.
I will watch the flickering images and be reminded of the man who never had the chance to walk his two daughters down the aisle, or stand beside his four sons as we took our brides, or hold his twelve grandchildren or his three great grandchildren.
I will long for days before a rainy night in 1970.
But above all, I will remember. And I will give thanks to God for my dad and the rest of the Marshall family.
Mike Morehouse lives with his wife, Janet, in Opelika, Alabama where he works in a community rehabilitation facility for people with disabilities. When he's not spending time with his family, he likes to perform in community and church theatre productions.
Photos courtesy of Mike Morehouse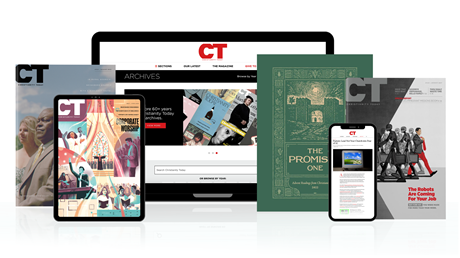 Annual & Monthly subscriptions available.
Print & Digital Issues of CT magazine
Complete access to every article on ChristianityToday.com
Unlimited access to 65+ years of CT's online archives
Member-only special issues
Subscribe
My Dad Was on That Plane
My Dad Was on That Plane