Christmas:
• Somber services mark 'Blue Christmas' | There were no jolly Christmas carols at the Cannon Memorial Chapel. No brilliant poinsettias or festive branches of holly. No smiling faces or hearty wishes of happiness. (Associated Press )
• Charity offers animal donations as gifts | Instead of waiting in line with hundreds of others for a chance at nabbing the year's hottest Christmas gifts, Food Network chef Alton Brown decided on an intangible alternative for the people on his list — a donation to Heifer International. (Associated Press)
• Don't trim the tree with guilt | Now is the season to celebrate not just a birth in Bethlehem but also the joys of being a consumer (The Australian)
• Dreaming of a green Christmas | At Christmas, people go through tonnes of paper, packaging, food and trees in the name of celebration. (BBC News)
• In your name: Holiday donations on behalf of those with plenty | Are the mixed blessing of receiving the gift of a charitable donation on the rise these days? (The New York Times)
• Mixed-faith families celebrate the holidays together | The Christmas Tree or the Menorah? Or both? For about 2.5 million families of mixed-faith marriages, the holidays are about respecting each others' traditions and balancing the needs of their faiths. Audio. (NPR's Morning Edition)
• Queen's Christmas speech on podcast | Queen Elizabeth II's traditional Christmas speech will be available as a podcast this year for the first time. A download can be ordered in advance for free on the British monarchy's Web site http://www.royal.gov.uk, royal officials said Friday. (Associated Press)
• Rare Christmas carol discovered | A rare recording of a "carol plygain" - the traditional Welsh Christmas carol - has been found in the British Library in London. (BBC News)
• Their real name is Christmas | Don't bother making jokes. This family has heard them all. No, they don't communicate directly with Santa Claus. They don't celebrate the holidays year-round, and they certainly have some not-so-cheerful days. The smirks and the wisecracks are just part of life when your last name is Christmas, and especially so when two of your family members are named — no joke — Mary. (Associated Press)
• Young 'forget Jesus at Christmas' | Fewer than half of children aged seven to 11 think Christmas is about the birth of Jesus, a survey suggests. (BBC News)
• Bishop praises strong Christians | The Bishop of Dudley has praised those who stand up for their religion, in his Christmas message to parishioners. (BBC News)
International Christmas:
• Australia warns of Christmas attacks in Indonesia | Australia warned on Thursday of possible militant attacks in Indonesia over the Christmas and New Year period, mirroring a U.S. warning issued this week. (Reuters)
• Christmas cheer descends on tent city in Beirut | Three weeks ago central Beirut's most dominant fixture was the blue-domed Mohammed al-Amin mosque. Now, a 15-metre cheerfully adorned Christmas tree has sprung up among the thousands of tents just a few steps away. (Reuters)
• It's Christmas! Have a little more bat meat! |  Dogs, bats, Kentucky Fried Chicken and barramundi will grace dinner tables across the Asia Pacific this Christmas, a festival celebrated with lots of cheer, and very little turkey, in this mainly non-Christian region. (Reuters)
• Security boosted at Indonesian churches | Thousands of police will guard Christian churches across the world's most populous Muslim country over the Christmas holidays, officials said Monday, as the U.S. Embassy warned that terrorists could carry out strikes targeting Westerners. (Associated Press)
• Why Japanese girls want Christmas romance | Get yourself a wonderful boyfriend by Christmas; Best Christmas date spots; Christmas for lovers—the magazine headlines tell the story: all a Japanese girl wants for Christmas is the perfect date. (The Telegraph)
War on Christmas:
• `Nativity Story' trailer airs in plaza | A trailer for a movie depicting the birth of Jesus played at a holiday bazaar Wednesday afternoon but went largely unnoticed by the lunch-going crowd, despite early city concerns that it represented paid advertising that could offend non-Christians. (Associated Press )
• Nativity film promoted | A religious group set up a DVD player and TV set at a downtown Christmas bazaar to show a trailer for a movie depicting the birth of Jesus after the city dropped an objection to the display. (The Washington Times)
• Let nothing you dismay: Christmas holds its own | The war is not going as well as some had thought it would. We are referring, of course, to what some call the war on Christmas, not that other conflict. (The New York Times)
• 'Merry Christmas' out of hiding, back in fashion | "Merry Christmas" is making a comeback. The holiday greeting, once as common as snowflakes in a Midwestern winter, had been swept aside in recent years by retailers and concerned citizens who felt the phrase might be politically incorrect or culturally insensitive. (The Toledo Blade)
• Britain's unholy war over Christmas | Britain has imported America's "culture wars," in which Christmas becomes a pitched battle between Christians, secularists and minority faiths. (The International Herald Tribune)
• Christmas tree briefly reappears in courthouse | A Christmas tree which was removed from a courthouse lobby by a judge made a quick reappearance, only to be removed to reignite a debate about the holiday symbol. (CTV Toronto)
• Tolerance: An unnecessary 'war on Christmas | Rabbi Elazar Bogomilsky walked into the Seattle-Tacoma airport recently, saw 14 plastic Christmas trees and threatened to sue unless authorities added a Hanukkah menorah. That made him one of the latest faces of what religious conservatives call a "war on Christmas." (USA Today)
• There's profit in alleging a 'War on Christmas' | Fox News host/Creators Syndicate columnist Bill O'Reilly is prominent among the conservatives known for complaining about the "War on Christmas" allegedly waged by retailers and others who prefer to say "Happy Holidays." (Editor & Publisher)
• Is it civil disobedience if nobody cares? | Local Christians who are part of a national campaign called "The Nativity Project: A Public Witness to Keep Christ in Christmas," will set up a Nativity Scene in front of Boise's City Hall on Friday, December 22, at 11:00 a.m. The display is sponsored by Generation Life and America's Renewal. (Boise, The New West)
Bethlehem/Israel:
• Few signs of Christmas cheer in the Jewish state | A glimmer of tinsel, a miniature Santa Claus and a cluster of plastic fir trees in a shop window are among the few signs that Christmas is on its way in the land of Israel. (Reuters)
• Fewer Christians in Birthplace of Jesus | Every year at this time, Christians around the world turn their attention to Bethlehem, a small city in the West Bank where, according to Christian tradition, Jesus Christ was born.  Christians have lived in Bethlehem for centuries, but now many are leaving.  A bloody Palestinian uprising over the past few years and the construction of a massive security barrier around the city have diminished the Christmas spirit from Bethlehem. (Voice of America)
• A little town oppressed by military occupation | Like the Bethlehem of Jesus' day, today's Bethlehem is a city under military occupation.(The Commercial Appeal, TN)
• Americans back Bethlehem but they are not sure where it is, findings from two surveys | 2 interesting surveys commissioned by the Open Bethlehem Foundation (Al-Jazeerah)
• Church leaders visit Bethlehem | Four senior churchmen, including the Archbishop of Canterbury, have arrived in the Holy Land for a pilgrimage to Bethlehem. Cardinal Murphy-O'Connor has said the town is "blocked in" by the Israeli security wall and checkpoints. (video) (BBC News)
• Is Christianity dying in Bethlehem? | The city's Christian population has been in decline since 1948, when it accounted for 80 percent of the total. That figure has now dropped to about 20% in greater Bethlehem. (The Jerusalem Post)
Nativity Scenes:
• Nativity scene rejected at Wash. Capitol | The state's Christmas tree controversy has shifted from the airport to the Capitol, where the governor lit a menorah this week, but officials rejected a Nativity scene. (Associated Press)
• No room at the inn? Vatican Nativity scene gets more figures | The Vatican's 2006 Christmas tree did not turn out to be the tallest ever, but its Nativity scene is definitely the most populated. (Catholic News Service)
• The perennial popularity of Nativity scenes | Early Nativity scenes included a more realistic portrayal of Mary as a woman having just given birth. (Associated Press)
• 'Tis the season … to steal nativity figures? | Thefts have been reported from four scenes in Utica (The Newark Advocate)
• 32 Baby Jesus Dolls Found in Ill. Yard | Dozens of people looking for Jesus can find him at a church on Chicago's South Side. (Associated Press)
Gay Nativity:
• 'Gay' dolls banned in nativity scene | Two deputies with Italy's small but vocal Radical Party caused an uproar among legislators in this predominantly Catholic country on Wednesday when they placed dolls representing two gay couples in parliament's nativity scene. (Independent Online)
• Legislators condemn Nativity scene dolls | Two Italian legislators caused an uproar among colleagues in this predominantly Catholic country on Wednesday when they placed dolls representing two gay couples in Parliament's nativity scene. (Associated Press)
• Rage over 'Gay Nativity' | Two members of Italy's leftist coalition sent fellow lawmakers into a tizzy Wednesday when they added two same-sex couples to a nativity scene in Parliament. (365Gay.Com)
Marauding Monks:
• 7 monks injured in clash over monastery | Rival groups of monks wielding crowbars and sledgehammers clashed Wednesday over control of a 1,000-year-old monastery in a community regarded as the cradle of Orthodox Christianity, police said. (Associated Press)
• Greek monks clash on Mount Athos, seven injured | At least seven Greek monks were injured on Wednesday when opposing groups of monks in the Mount Athos monastic community clashed inside a disputed chapel. (Reuters)
• Monastery fight hospitalizes seven monks | At least seven monks were hospitalized after violent clashes with other monks at a disputed monastery in a self-governed region of Greece, police said. (The Washington Times)
• Monks clash over monastery | At least seven Greek monks have been injured in clashes over a disputed monastery in Mount Athos. (BBC News)
• Monks holed up after rumble | Rebel order fights rivals in monastery (Associated Press)
Iraqi Christians:
Protecting Iraq's religious minorities | Since 2003, more than 1.5 million Iraqis have fled their country, and a similar number are displaced within Iraq (The Washington Times)
U.S. Iraqi Christians debate how to help relatives | For the past three years, Raad Khalaf has worried that every phone call to his suburban San Diego home would bring bad news about his sister in Baghdad.(Associated Press)
Witnesses Say Iraqi Christians Are Being Terrorized | As Christmas approaches, a Republican congressman says Iraqi Christians are being terrorized. (First Coast News, FL)
Iraq's embattled religious minorities | Beneath the violent Sunni-on-Shi'ite, Shi'ite-on-Sunni headlines, Iraq's sectarian violence has devastated the country's 2,000-year-old Christian community and its religious minorities generally (The Washington Times)
Half of Iraq's Christians have fled, says prelate | The violence in Iraq has prompted half of the country's Christians to emigrate, says an official of the Chaldean patriarchate of Baghdad. (Assyrian International News Agency)
International:
• TURKMENISTAN : After Niyazov, what hope for religious freedom | Following today's (21 December) death of Turkmenistan's dictator, Saparmurat Niyazov, victims of his policies have told Forum 18 News Service that, in the words of an exiled Protestant, "the transition leaders have already praised Niyazov and his policies and vowed to continue them." (Journal Chrétien, France)
• Stewardess objects to airline Bible ban | A stewardess is claiming religious discrimination against an airline that she says banned her from taking her Bible to Saudi Arabia. (Monsters and Critics)
• Profile: Archbishop Peter Akinola | As head of the fastest growing part of the Anglican communion, he is becoming an increasingly important figure. (BBC News)
• Mormons take Wiesenthal off list to be baptised | In life, Nazi hunter Simon Wiesenthal was among the most famous Jews of the 20th century. In death, he wound up on a list of people eligible to be posthumously baptised as Mormons so they could enter heaven. (Reuters)
• Bolivian Reforms Raise Anxiety on Mennonite Frontier | Fears of President Evo Morales's plans for land reform are roiling the apparently placid Mennonite farms in Bolivia's eastern lowlands. (The New York Times)
• Chinese Christians in riot trial | Eight Chinese Christians are going on trial in the eastern city of Hangzhou charged with instigating violence and interfering with the law. (BBC News)
Poland:
• Poland ponders giving Jesus an earthly realm | A move is underway to make Jesus Christ the honorary king of Poland, the country's influential Rzeczpospolita newspaper reported on Wednesday. (CBC News)
• Poland Proposal Would Name Jesus King | Lawmakers have drawn up a resolution naming Jesus Christ as the honorary king of Poland, but have failed to win support from the country's powerful Roman Catholic church. (Associated Press )
Pope Benedict and the Vatican:
• Pope Benedict warns of secular trends | Pope Benedict XVI urged Christians on Wednesday to defend the spirit of Christmas against secular trends during his last general audience before the holiday. (Associated Press)
• Pope defends nativity scenes from school bans | Pope Benedict, speaking after controversy in Italy over the decision by some schools and shops to scrap nativity scenes, said on Wednesday Christmas creches were part of Christian culture that had to be defended. (Reuters)
• Pope meets with head of Greece church | Pope Benedict XVI met on Thursday with Archbishop Christodoulos, head of the Orthodox Church of Greece, for talks on relations between the two churches.(Associated Press)
• Pope slams "dismal" theories on gay marriage rights | Pope Benedict spoke out on Friday against legal recognition for unmarried couples and "dismal theories" on the rights of gays to marry which he said stripped men and women of their innate sexual identity. (Reuters)
• Pope's speech irking Muslims wins award | Pope Benedict XVI's speech that angered the Muslim world won a speech of the year award from a university in his native Germany. (The New York Times)
• Pope's preacher calls for abuse penance | Pope Benedict XVI's personal preacher asked the pontiff Friday to declare a day of fasting and penance to publicly declare repentance and express solidarity with the victims of clerical sex abuse. (Associated Press)
• Vatican cardinal: Chastity fights AIDS | Fidelity in marriage and premarital abstinence from sex are the key weapons in the fight against AIDS, a senior cardinal who prepared a study on condom use said Wednesday. (Associated Press)
• Vatican quashes soccer team 'joke' (video) | The Vatican has quashed a rumour started by the Pope's deputy that it might form its own professional football team. (BBC News)
Abuse trials and settlements:
• $60M LA clergy abuse settlement OK'd | Attorneys representing 45 people who sued the nation's largest Roman Catholic archdiocese, accusing clergy members of sex abuse, signed off Friday on a $60 million settlement, according to the lead plaintiffs' lawyer. (Associated Press )
• Catholic Church in Oregon OKs $75 mln settlement | The Roman Catholic Archdiocese of Portland, Oregon, will pay about $75 million to settle at least 170 claims of sexual abuse by its priests as part of a revised bankruptcy reorganization plan, according to legal documents. (Reuters)
• Russian Orthodox church's insurer settles abuse claim in US | The insurance company for the Russian Orthodox Church Outside of Russia has settled a claim by a man who says he was abused as a teenager by monks at a monastery here. (Associated Press )
• Ore. archdiocese offers bankruptcy plan | The Roman Catholic Archdiocese of Portland has filed a bankruptcy reorganization plan that would pay about $75 million to settle nearly 170 claims of priest sex abuse. (Associated Press )
• Former Catholic brother gets 5 years after admitting molesting boys | Edward Anthony Holmes, a former Catholic brother shown at his arraignment last year, pleaded guilty today to molesting two boys in the 1970s and 1980s. (The Boston Globe)
• Mistrial declared for Fresno priest accused of abuse | A mistrial was declared Wednesday in the civil trial of a priest accused of molesting a former altar boy nearly 20 years ago. (Associated Press )
• Priest ousted for past abuse of a minor | Bishop Kevin Vann of the Fort Worth Catholic Diocese removed a Wichita Falls priest from active ministry on Thursday because of the priest's admission of sexual abuse of a minor in the early 1970s. (Fort Worth Star-Telegram)
Crime:
• 3 men plead guilty to federal arson charges in rural Alabama church fires | Three former college students pleaded guilty Wednesday to federal arson charges for burning nine churches in a series of blazes that alarmed rural congregations across Alabama. (USA Today)
• Gunman wounds woman | Victim, 36, injured leaving Kingdom Hall. (The Columbia Daily Tribune)
• Choir leader sentenced over porn | The head of a leading boys' school choir has been sentenced after being found guilty of making and possessing child pornography. (BBC News)
Euthanasia:
• A Poet Crusades for the Right to Die His Way | Piergiorgio Welby may be changing the way Italy thinks about euthanasia and other choices for the sick to end their own lives. (The New York Times)
• Italy doctor unplugged euthanasia man's respirator | An Italian doctor said on Thursday he switched off the life support system of a terminally ill man to end a life he described as "torture," after a legal battle for the muscular dystrophy sufferer's right to die failed. (Reuters)
• Rome lawyers look at right to die case | Rome prosecutors are looking into the death of a paralyzed man who requested the removal of his respirator in a case that fueled nationwide debate in predominantly Roman Catholic Italy, a lawyer said Friday. (Associated Press)
Entertainment:
• Casting an adoring eye on the Virgin Mary as artists imagined her | Mannish, sullen, radiant, aroused and agonized images of the Virgin Mary are the subject of "Picturing Mary," a documentary being shown on public television stations this Christmas season. (The New York Times)
• Board games reach biblical proportions | In Catholic-opoly, like Monopoly, the job is to bankrupt your opponents. (The Washington Times)
• Religious toys, games teach while playing | More and more parents who are stumped for meaningful holiday gifts for their kids appear to be passing up the regular secular fare for religious board games and toys. (Associated Press)
• Christmas TV exploits Yuletide Cliches | I'm dreaming of a white Christmas. Like I've got a choice. The media are pounding it into my head. Let it snow, let it snow, let it snow. No way of ducking this annual storm. (Associated Press)
• Some see red over 'Black Christmas' gore | Are holiday filmgoers ready to trade fuzzy fare like "Miracle on 34th Street" for the likes of "Nightmare on Elm Street"? (New York Daily News)
• Television personality looks anew at religion | When Barbara Walters decided to do a special on God last year, she had never done a piece about religion before. (On Faith) ?
Politics and Politicians:
• Va. Lawmaker's Remarks on Muslims Criticized | Republican Had Decried the Use of the Koran for Congressman's Oath of Office (The Washington Post)
• Lawmaker stands firm on Quran criticism | A congressman said Thursday that he will not retract a letter warning that unless immigration is tightened, "many more Muslims will be elected" and use the Quran to take the oath of office. (Associated Press)
• Congressman criticizes election of Muslim | Representative Virgil H. Goode Jr. warned that the election of the first Muslim to Congress posed a threat to the nation's traditional values. (The New York Times)
• Will Christians back a Mormon candidate? | As a clean-living, church-going father and grandfather, Gov. Mitt Romney has a natural appeal among conservative Christians. (Associated Press)
• Romney's faith could be factor in a GOP run Mormon faces the Christian right | As a clean-living, church-going father and grandfather, Gov. Mitt Romney has a natural appeal among conservative Christians. (The Seattle Post-Intelligencer)
• N.J. gov. to make gay unions official | New Jersey's gay couples are gaining all the rights and responsibilities of marriage under state law as New Jersey moves to become the third in the nation to institute civil unions and the fifth to offer some version of marriage. (Associated Press )
• Jimmy Carter to release Sunday school CDs | Former U.S. President Jimmy Carter is bringing out a new CD series this spring based on his Maranatha Baptist Church Sunday school classes. (The Washington Times)
• Gingrich, on a mission, has no time to campaign for '08 | Newt Gingrich is not running for president, at least not yet. He has set his sights much higher. (The New York Times)
• Democrats' religious spin likely to veer toward poor, environment | Many Democrats talked openly during the fall campaign about their faith and how it influenced their policy positions in an overt attempt to counter the power of the religious right. (USA Today)
Education:
• Curriculum of peace | An Eastern Mennonite University professor will help organize the first undergraduate peace program in Israel. (The Daily News Record)
• Ga. school district abandons stickers | A suburban school board that put stickers in high school science books saying evolution is "a theory, not a fact" abandoned its legal battle to keep them Tuesday after four years.(Associated Press)
• Cobb gives up on evolution book stickers | School board settles lawsuit that brought national limelight over disclaimers. (Atlanta Journal-Constitution)
Sex overdrive:
• Millions for head injury that led man to hookers | A British man who suffered a head injury at work that resulted in a loss of inhibition and led him to use prostitutes and phone sex services received about $6.2 million in damages from his former employer, according to media reports. (USA Today)
• Injured man wins damages for sex overdrive | A devout Christian who said an accident at work boosted his libido and wrecked his marriage as he turned to prostitutes and pornography was awarded more than 3 million pounds ($5.89 million) in damages Tuesday. (Reuters)
Polygamy:
• Polygamist church trust rich in land, but cash-poor | A polygamist church trust is rich in land, but cash-poor and unable to pay an accountant or lawyers appointed to manage it. (Associated Press)
• Polygamist Sentenced To 9 Months In Prison | A polygamist convicted of sex offenses linked to his marriage to an underage girl has been sentenced. (KUTV, Salt Lake City)
Church Life:
• Victim may return home in time for Christmas | An Amish girl who has been hospitalized for almost three months after being shot during a gunman's fatal attack on her one-room schoolhouse returned this week for her classmates' annual Christmas party and may finally be discharged Friday. (Associated Press)
• The unlikely cats in the elite pews | Once upon a time, Baptists were regarded as the most contentious of the religious denominations, full of earthly fire and doctrinal fury, so eager to fight among themselves they hardly had time for secular politics. (The Washington Times)
• Tech-savy Mass. cardinal starts podcasts | Boston's Cardinal Sean O'Malley is going high-tech. He already has his own blog, now he plans to start podcasting to the masses, beginning with downloadable Christmas messages. (Associated Press)
• Pentecostal church 'sees growth' | Pentecostal Christians outnumber Methodist churchgoers at services in England and Wales, research suggests. (BBC News)
• Latinos will shape future religious landscape | Pollsters say Catholicism remains the religion of choice for most Hispanics in the United States. But evangelical, Pentecostal and other charismatic churches are drawing an increasing number of worshippers away from their traditional choices. (RNS)
• Billy Graham says he and wife will make burial choices | Ailing evangelist Billy Graham said Monday that he and his wife, Ruth, are deciding together where they will be buried, an announcement apparently sparked by a recent report that the family is feuding over the issue. (The Washington Post)
• Christian leaders seek to help pastors battle desires | Gay-sex controversies have led not to new theology but to a call for the church to help pastors fight their urges. (The Los Angeles Times)
• Christians flex a manly attitude | New trend for men rejects meek, mild, effeminate faith (The Los Angeles Times)
• Already a blogger, Boston's Cardinal O'Malley tries his hand at podcasting | Boston's Cardinal Sean O'Malley is going high-tech. He already has his own blog, now he plans to start podcasting to the masses, beginning with downloadable Christmas messages. (USA Today)
Episcopal Split:
• Diocese declares time out on lawsuits | A day after members of nine conservative Episcopal congregations in Virginia announced that they were separating from the national church, officials from the diocese said yesterday that they had reached an agreement with the breakaway churches not to file lawsuits against one another for a month. (The Washington Post)
• Episcopalians against equality | Don't look now, but Virginia is seceding again. (The Washington Post)
• Anglican Communion schism looms | Two of the oldest and largest parishes in the US have chosen to break from their bishop and become a mission of the Nigerian Church. (BBC News)
New Life:
• Second evangelical exits Colo. church under cloud | An ongoing review of staff members at New Life Church initiated in the wake of the Rev. Ted Haggard's dismissal has resulted in the resignation of a pastor who oversaw a youth ministry at the Colorado Springs mega-church. (USA Today)
• Pastor at Haggard's New Life Church resigns over 'sexual misconduct' | A pastor who worked with young adults at New Life Church has admitted sexual misconduct and resigned just weeks after former church leader Ted Haggard stepped down over sexual immorality. (USA Today)
• Another pastor out at New Life Church | A pastor who worked with young adults at New Life Church has admitted sexual misconduct and resigned just weeks after former church leader Ted Haggard stepped down over sexual immorality (Associated Press)
Other:
• Anglo-Saxon finds in church work | An ancient church in East Sussex has been found to be 100 years older than was thought after restoration work uncovered hidden windows and paintings. (BBC News)
• Go ahead for gay rights challenge | The High Court has given leave for a group of Christian organisations to challenge new gay rights legislation. (BBC News)
• Holy marketeers want your soul | The spiritual is making a comeback in Australian society, but in surprisingly diverse ways (The Australian)
• 'I was not drunk' insists bishop | The Bishop of Southwark has denied he was drunk when he suffered head injuries following a drinks reception. (BBC News)
• It's been a good year for conflicts and atheists | As you enjoy your non-denominational pageants, trim your holiday trees and yell season's greetings at each other, the defiantly secular among you could be forgiven for feeling a little smug after all that has happened in 2006. (The Australian)
• Parker wrong about Bible and slavery | For 2,000 years, the Bible was the legal and moral justification for slavery. Repudiation of the Bible ended slavery. (The Sun-Sentinel)
Weblog
Launched in 1999, Christianity Today's Weblog was not just one of the first religion-oriented weblogs, but one of the first published by a media organization. (Hence its rather bland title.) Mostly compiled by then-online editor Ted Olsen, Weblog rounded up religion news and opinion pieces from publications around the world. As Christianity Today's website grew, it launched other blogs. Olsen took on management responsibilities, and the Weblog feature as such was mothballed. But CT's efforts to round up important news and opinion from around the web continues, especially on our Gleanings feature.
Ted Olsen is Christianity Today's executive editor. He wrote the magazine's Weblog—a collection of news and opinion articles from mainstream news sources around the world—from 1999 to 2006. In 2004, the magazine launched Weblog in Print, which looks for unexpected connections and trends in articles appearing in the mainstream press. The column was later renamed "Tidings" and ran until 2007.
Previous Weblog Columns: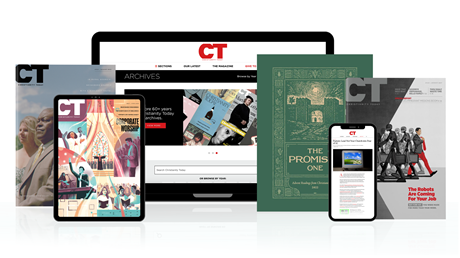 Annual & Monthly subscriptions available.
Print & Digital Issues of CT magazine
Complete access to every article on ChristianityToday.com
Unlimited access to 65+ years of CT's online archives
Member-only special issues
Subscribe
Feuding Monks, Nativity Scene Shock, and a Dangerous Christmas in Indonesia
Feuding Monks, Nativity Scene Shock, and a ...