I am a feminist because of Christ, the world's most avant-garde emancipator. When he praised Mary for choosing to learn from him over kitchen work (which we will always have with us), he was more radical than Gloria Steinem. But I know enough neurobiology to part ranks with feminists who say that gender is a social construct. Maybe because of some primordial wiring, I like to wear peasant skirts and make borscht, and I want to become a mother.
So I'm surprised that there isn't much room for women like me in the world of Stasi and John Eldredge as described in Captivating, which Publishers Weekly listed at number one on a June list of hardcover religion bestsellers. Many fans of Captivating are the women who bought the men in their lives the crazily popular Wild at Heart: Discovering the Secret of a Man's Soul by John Eldredge. They credit the Eldredges with transforming their faith from a duty-bound program to an ascent of the heart to its greatest lover. Sounds innocuous enough.
I worry, though, that the readers of Captivating have been sold a finicky idea of femininity—one that disregards the wondrous complexity God breathed into them.
Beware of "the domineering women," the Eldredges warn. They describe these vixens as the kind who "room alone when [they] travel." Who "receive corporate promotions." And who are "put in charge of our women's ministries." The gall! Ironically, the Eldredges scoff at bossy women just after they quote God's words of lament to Eve, predicting that, in the fallen world, the man would rule over her. They wrap their pronouncements in pop psychology, sentimentality, eisegesis, and clichés borrowed from Harlequin paperbacks: "How does a woman best love a man? The answer is simple: Seduce him."
The gist of Captivating is this: "Every woman longs for three things: to be swept up into a romance, to play an irreplaceable role in a great adventure, and to be the Beauty of the story." I used to want such things—when I was a girl who didn't understand how her womanizing father messed up her heart and when I fed my imagination with soft heart-porn like Pretty Woman. But doesn't there come a time when we must grow out of the kind of self-regard that was cute when we were girls?
What do I long for? To trust God always, no matter what happens. That's my trembling prayer.
And this: To figure out why, in a country as filled with devout churchgoers as my motherland, Poland, corruption is much more prominent and insidious than in the reputed atheistic countries of Europe. That's why I'm going to grad school this fall. I want to do my little part to fight a battle against corruption. It will be an adventure. (But wait: Does this kind of talk make me sound like a man, since "in the heart of every man is a desperate desire for a battle to fight, an adventure to live, and a beauty to rescue"—and since intellectual curiosity doesn't seem to mark a truly Captivating woman?)
I may not be an Eldredge kind of lady, but I know beauty when I see it. And the most regrettable failure of Captivating is its tame idea of beauty. "Beauty is core to a woman—who she is and what she longs to be," Stasi Eldredge writes. "Beauty is what the world longs to experience from a woman." She gives examples: "Pioneer women brought china teacups into the wilderness, and I bring a pretty tablecloth to eat on when my family camps. We wear perfume, paint our toenails, color our hair, and pierce our ears, all in an effort to be ever more beautiful." Sure. But there's so much more.
Beauty draws blood to the heart and speeds up the pulse; sometimes it evokes repentance. I wish more Christians were comfortable with its pull. Too often, beauty raptures us so forcibly that we fear it will lead to temptation. So we avert our eyes. What if we turned our ecstasy into worship?
With provocative hyperbole, a character in Fyodor Dostoyevsky's novel The Idiot predicts that beauty will save the world. Commenting on this line, Aleksandr Solzhenitsyn imagined that "if the too obvious, too straight branches of Truth and Good are crushed or amputated and cannot reach the light," then "perhaps the whimsical, unpredictable, unexpected branches of Beauty will make their way through and soar up to that very place and in this way perform the work of all three."
But it won't be the beauty described in Captivating. That beauty isn't wild enough; it's mere prettification, a tendency toward sentimental adornment. For some reason, the Eldredges restrict the source of beauty to women. Sorry, Rubens, Michelangelo, Da Vinci, Bach, and men with stunning looks—you don't make the list.
True beauty is precarious, unbound.
It cannot be confined to pre-approved tastes or to one gender. It is wild at heart. Like Christ. And like the complicated men and women who follow him (some of whom room alone when they travel).
Related Elsewhere:
Agnieszka Tennant's previous columns include:
A Velveteen Apologetic | How two creatures dig a rabbit hole in my disbelief. (April 10, 2006)
Article continues below
What Would Jesus Buy? | Saving the world one cashmere sweater at a time. (Jan. 31, 2006)
Agnieszka Tennant's previous articles include:
A Hard Pill to Swallow | How the tiny tablet upset my soul. (Nov. 8, 2005)
Ragamuffin | The patched-up life and unshabby message of Brennan Manning. (June 4, 2004)
'Jesusy' Anne Lamott | Chatting with a born-again paradox. (Jan. 8, 2003)
The Ultimate Language Lesson | Teaching English may well be the 21st century's most promising way to take the Good News to the world. (Dec. 6, 2002)
Possessed or Obsessed? | Many Christians say they are in need of deliverance but some may be giving demons more than their due. (August 24, 2001)
Have something to add about this? See something we missed? Share your feedback here.
Taste and See
Agnieszka Tennant is a former associate editor and editor at large for Christianity Today. She earned her master's degree in international relations at the University of Chicago, where she focused on how religiously-rooted norms influence world politics. Her "Taste and See" column ran from 2006 to 2007.
Previous Taste and See Columns:
Our digital archives are a work in progress. Let us know if corrections need to be made.
This article is from the August 2006 issue.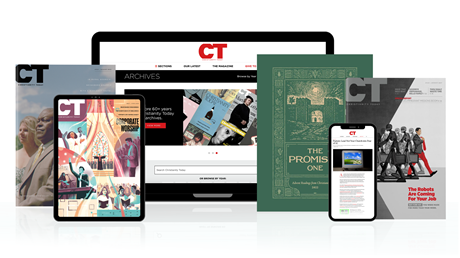 Annual & Monthly subscriptions available.
Print & Digital Issues of CT magazine
Complete access to every article on ChristianityToday.com
Unlimited access to 65+ years of CT's online archives
Member-only special issues
Subscribe
What (Not All) Women Want
What (Not All) Women Want