Even I didn't think the season would effectively end this quickly. Back in spring training I wrote about my unhealthy allegiance to the Kansas City Royals. Already 2-11 and riding a nine-game losing streak, the Royals may be lucky to lose fewer than 106 games, the franchise record they set last year.
Now, I promise not to write all my columns about the worst franchise in all of professional sports. But I couldn't miss this opportunity to write about my favorite ballplayer, Mike Sweeney. Back in the 2000, the Royals designated hitter slugged 29 home runs and knocked in 144 runs. That earned him a five-year, $55 million contract. His career batting average tops .300.
Yet stats aren't the only reason I root for Sweeney. When the Royals visited Wrigley Field a few years ago, Sweeney and I chatted a few minutes before the game about our shared faith in Jesus Christ. He signs all autographs with his #29 and Romans 10:9 ("[I]f you confess with your mouth, 'Jesus is Lord,' and believe in your heart that God raised him from the dead, you will be saved.") In more than 10 major-league seasons, he has become widely known as an all-around great guy and outspoken, devoted Catholic.
There must be many moments as a professional athlete when Sweeney falls back on that foundation of faith. And I guess now would be one of those times. Sweeney, the captain, is not exactly exempt from the team's failures this year. He's hitting .135 (5 for 37) with only one home run. Before Easter he joked, "You're purified by the fire, and resurrection is coming. That's what I'm waiting on."
This five-time all star is too good to be true. And that's the problem. You see, Sweeney has grown tremendously unpopular among Royals fans. The hometown Kauffman Stadium crowd booed last year's Major League Baseball "Man of the Year" on Opening Day. The $11 million he will earn this year for a small-market ballclub make Sweeney an inviting target for fan frustration.
But money isn't what peeves many fans the most. Few fans say anything bad about Sweeney's religious life when he's picking up RBIs. Yet as the feeble swings and losses mount, critics emerge from the woodwork to belittle him. Some ridicule him by wondering why Jesus doesn't save him from slumps. It's not uncommon to hear fans mockingly respond by reciting a line from the movie Major League: "You trying to say Jesus Christ can't hit a curveball?"
Others resent his devotion to faith and family, and complain that he should commit himself to nothing but baseball. During a poor team start a few years ago, even Sweeney's manager seemed to jab his best player. "Chewing on cookies and eating milk and praying is not going to get it done," former Royals manager Tony Muser said. "I'd like them to go out and pound tequila … " Muser soon apologized and said Sweeney is the kind of guy he'd be happy to have his daughter marry.
But is he the kind of guy you want to lead your ballclub? No matter their success, Christian athletes will probably never shake the ridiculous charge that faith undercuts their will to win. Curt Schilling barely dented the reputation by gutting through a bloody injury to pitch the Red Sox toward their first World Series title in ages. Kurt Warner earned two consecutive NFL MVP awards. Not a few fans rejoiced as injuries and squabbling felled Warner, the grocery bagger turned Super Bowl champion.
Near as I can tell, fans concerned about faith say that religion dilutes competitive drive and distracts athletes from concentrating on their job. This must stem from a misunderstanding of both sports and faith. It's not productive for athletes to eat, sleep, and drink sports. Whether it's Michael Jordan golfing and gambling or Mike Sweeney praying with his family, athletes need time away to clear their heads so they can refocus. Baseball especially requires time spent studying opponents, but thinking too much will handcuff a hitter when he needs to do his job—see the ball, hit the ball.
I'm afraid concerned fans likewise mischaracterize Christianity. The Lord of Scripture commands his followers to do all things as if working directly for him (Col. 3:23-24). Not to mention, Christianity promotes responsibility and selfless concern for others. In sports terminology, that's called "team chemistry."
I'm certainly disappointed about the Royals' never-ending struggles. Just a couple nights ago I groaned with frustration when Sweeney tried to stretch a bloop single into a double and failed. But as I share his spiritual priorities, I understand time spent reading the Word is not time better spent pounding tequila to prove his competitive edge. With the Royals we're talking about a team whose general manager freely admits he works nonstop and puts the team ahead of his family. Look where that got us.
Collin Hansen is an associate editor of Christianity Today.
Related Elsewhere:
More on immigration is available from our full coverage area.
Article continues below
Earlier Play Ball columns include:
Un Problema Grande, No? | What major league baseball reveals about the dangers of immigration. (Apr. 13, 2006)
WWJWD? | In the wake of UCLA's loss in Monday's NCAA championship game, I couldn't help but wonder: What would John Wooden do? (April 6, 2006)
There IS Crying in Basketball | If only we all had something so precious to weep about. By Collin Hansen (March 30, 2006)
Pirates vs. Braves | Reforming sports one city at a time. By Mark Galli (March 23, 2006)
Bjorn Again? | It's been a while since tennis legend Bjorn Borg was in the news. Too bad he's back because he's selling his Wimbledon trophies. By Mark Moring (March 16, 2006)
Steroids 'R' Us | It's not just Barry Bonds's heart that is desperately wicked. By Mark Galli (Mar. 9, 2006)
Heavy Medal | At the Olympics, if you don't medal, you certainly must be a loser. By Mark Moring (Feb. 23, 2006)
Opening Ceremony Blues | The Olympics is symbolic, but not of world peace. By Mark Galli (Feb. 16, 2006)
Play Ball
From 2005 to 2007, "Play Ball" examined the relationship of sports and faith: sports is important precisely because it is a form of play, that is, a manifestation of the Sabbath. Contributors included Mark Galli, Collin Hansen, Mark Moring, and others.
Previous Play Ball Columns: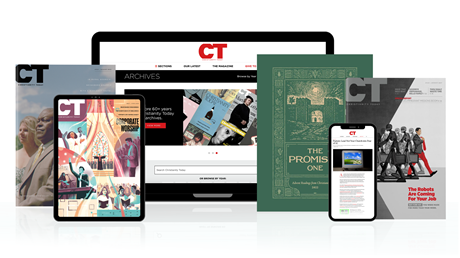 Annual & Monthly subscriptions available.
Print & Digital Issues of CT magazine
Complete access to every article on ChristianityToday.com
Unlimited access to 65+ years of CT's online archives
Member-only special issues
Subscribe
'You Trying to Say Jesus Christ Can't Hit a Curveball?'
'You Trying to Say Jesus Christ Can't Hit a Curveball?'