Illinois state senator and Chicago megachurch pastor James Meeks is looking for approval from a specific crowd as he considers running for governor.
"Making the decision will be widely based on the support that I will be given from the white church," he told CT.
The pastor of the state's largest church, Meeks would use an anti-abortion and anti-gay marriage platform and said white evangelical leaders have encouraged him to run. "I've had tremendous response," Meeks said. "We are both very concerned with the direction of Illinois." If he decides to run, Meeks would need a minimum of 25,000 signatures—just a bit more than his Salem Baptist Church's 22,000 members—by June 26 to get on the ballot. (Salem Baptist has a regular attendance of 9,000. Willow Creek Community Church in suburban South Barrington has a larger weekly attendance but fewer members.)
Meeks serves as an independent in the Illinois Senate, but is seeking re-election as a Democrat. He says he would run as an independent against gubernatorial incumbent Democrat Rod Blagojevich and Illinois state treasurer Republican Judy Baar Topinka, both of whom both support gay rights and abortion rights. Blagojevich has received criticism from social conservatives and prolife groups after his April decision to make Illinois the only state that requires pharmacy distribution of Plan B, the "morning-after pill."
President of Moody Bible Institute Michael Easley contacted Meeks's office to applaud his anti-abortion, anti-gay marriage platform. "Moody Bible Institute does not endorse candidates, but I am encouraged to see Sen. Meeks, or any politician, tackle these issues I believe are crucial to our families, cities, states, and country," Easley said in a statement.
James MacDonald, senior pastor of Harvest Bible Chapel, said he spoke with Meeks about running for governor. "On a personal level, I'm very supportive of James Meeks," he said. "He's a fantastic guy."
MacDonald said that while he cannot stand on the pulpit and endorse any candidate, he could inform his congregation to vote along biblical lines.
Meeks preached to his church on March 26 telling white churches to call him and tell him to run for governor.
"If I do run and there are two people in the race who both are not standing for morality, if I don't have every white Christian vote in the state of Illinois, I will stand on top of the Sears Tower and call every one of ya'll racist," he said to his congregation.
Wheaton College political scientist Helene Slessarev-Jamir said Meeks cannot expect to gain many white voters if he repeats similar comments.
"This isn't the kind of rhetoric that is going to work in building the bridges you need to run for statewide office," she said. "And I'm not sure they will see common interest with other parts of his political program, even though they may be in agreement with him on abortion or gay issues."
When asked about his statement, Meeks said, "That is a quote I would take back if I could say it again. My statement was simply saying that I would be extremely disappointed if it boils down to a race issue."
Mike Lawrence, a Southern Illinois University political analyst, said Meeks's presence in the race could create a greater voter turnout. While Meeks may take votes away from Blagojevich, it would be a long shot for him to win.
"There will be people in the African American community who don't share his views on abortion and related issues. Then there will be white fundamentalists who share his views on abortion but would be adamantly opposed to the kind of income tax he has proposed," Lawrence said. "He would have to tap significantly into the disillusionment that some people feel with the two major parties."
Meeks met with seven pastors of major Chicago-area churches Monday night to discuss his potential candidacy.
"On the positive side, I'm sure that we all would be very pleased to have someone to run for governor who holds to the values that are important to us as evangelicals," said Erwin Lutzer of Moody Church. "However, the issue that he will have to face is the inevitable conflict that he has as a pastor and the governor of the state."
Related Elsewhere:
Christianity Today profiled Meeks in the cover story of the magazine's February 2004 issue.
Chicago's WMAQ first reported Meeks's comments on calling white Christians who don't support him "racist."
The Chicago Sun-Times reported Sunday that Meeks is encouraging his church's 9,000 members not to show up on Easter Sunday "so that the whole 10,000 seats can be reserved for visitors, guests and friends."
Other coverage of Meeks's possible campaign includes:
Meeks rises as governor's inside threat (Chicago Tribune, Apr. 2)
Meeks seeking GOP support in bid for gov (Chicago Sun-Times, Mar. 29)
Meeks' run for gov would fire up campaign (Cindy Richards, Chicago Sun-Times, Mar. 29)
Black aldermen consider Meeks' bid for governor | Some say Blagojevich shortchanges blacks (Chicago Tribune, Mar. 28)
Alderman show support for possible Meeks run for governor | State senator still considering candidacy (WLS, Mar. 27)
Sunday lunch with … Sen. James Meeks (Debra Pickett, Chicago Sun-Times, Mar. 26)
Meeks says he'll run for governor | State senator to circulate petitions (The State Journal-Register, Mar. 25)
Meeks maps independent bid for gov (Chicago Sun-Times, Mar. 22)
Meeks doing homework for governor race (Chicago Sun-Times, Mar. 2)
Salem Baptist's political clout grows (Chicago Sun-Times, Nov. 10, 2002)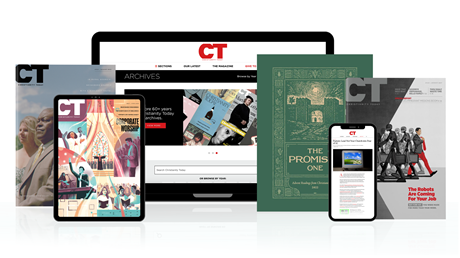 Annual & Monthly subscriptions available.
Print & Digital Issues of CT magazine
Complete access to every article on ChristianityToday.com
Unlimited access to 65+ years of CT's online archives
Member-only special issues
Subscribe
Pastor, State Senator Considering Illinois Gubernatorial Run
Pastor, State Senator Considering Illinois Gubernatorial Run