true
Hey kids, what movie do you want to go see this weekend? "Mom, Dad, can we see Corpse Bride?" (The formal title is actually Tim Burton's Corpse Bride, but that's even less likely to win over the parents.)
Rest easy, families. The plot may revolve around murder, death, and the supernatural, but this is not the horror film you think it is—no more so than other fairy tales, at least. Still, who else but the delightfully demented Tim Burton (director of Charlie & the Chocolate Factory, Beetlejuice, and Edward Scissorhands) can root such a potentially twisted, macabre film in such sweetness?
The film is also lightened (figuratively, not literally) since it's animated—more precisely stop-motion animation, which relies on posable and expressive figurines instead of hand drawings or computer graphics. The most familiar examples are the classic Rankin-Bass TV specials from the '60s and '70s, particularly Rudolph the Red-Nosed Reindeer. Some will also recall 1993's The Nightmare Before Christmas, produced by Burton. Corpse Bride is similar—consider it The Nightmare Before My Wedding Day—but it's less twisted, more fun, and more imaginative than any stop-motion movie to this point.
Vaguely set in a 19th century East European village, the story is reportedly inspired by an old, Russian folk tale. Longtime Burton collaborator Johnny Depp gives voice to Victor Van Dort, an awkwardly shy young man whose parents have arranged him to marry the equally shy Victoria Everglot (Emily Watson). Her cold and calculating parents (humorously voiced by Albert Finney and Joanna Lumley) have recently bankrupted, so their intention is to again secure their place in high society through the union with the rich Van Dort family.
But the wedding rehearsal goes badly for nervous Victor, and curmudgeonly Pastor Galswells (Christopher Lee) declares that the groom needs to learn his wedding vows if the ceremony is to continue. Distraught, Victor runs off into the woods and practices for his big day. Though he finally articulates the love in his heart, he innocently places the wedding ring on a branch vaguely resembling a hand, and to his surprise, the it becomes the arm of Emily (Helena Bonham Carter), the Corpse Bride of the title, who readily accepts Victor's proposal and whisks him off to the land of the dead.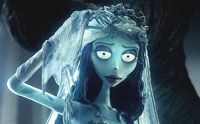 Meanwhile, Victoria waits anxiously for Victor's return. Her parents, showing no patience, decide the wedding most go on and agree to marry off their daughter to the potentially sinister Barkis Bittern (Richard E. Grant). How will this romantic row resolve? What is the secret to Emily's past? Though observant viewers will see where the story is going fairly quickly, it does take a couple unexpected turns.
It's worth reminding moviegoers that not all animated movies are intended for small children. You'd think that'd be clear after 15 years of adult humor from The Simpsons, crass creations like South Park and Family Guy, and PG-rated fare like The Incredibles and Shrek. Yet despite Corpse Bride's PG rating, parents still blindly and inappropriately brought infants and toddlers to the screening I was at.
Is Corpse Bride family friendly? Absolutely, provided that said family doesn't include younger children easily frightened by comical images of skeletons and ghouls, or a mature fairy tale involving murder and the underworld, or a portrayal of the afterlife rooted more in fantasy than Christianity or the occult. Corpse Bride herself is missing some skin in a few spots and has a bothersome eyeball that keeps popping out at the wrong times—not to mention the little maggot living in her head that speaks like Peter Lorre and serves as comic relief.
Dark, yes, but the directors and screenwriters make great efforts to keep it safe and playful. Corpse Bride keeps things in the traditional realm of animated Halloween spooks and skeletons. Nightmare Before Christmas went much further when Halloweentown residents kidnapped Santa Claus and put him in peril while terrorizing children with twisted toy-making. Parents may take greater issue with some subtle, but unnecessary innuendo (see The Family Corner below).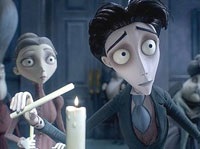 For those of us ages 8 and above, the movie is charming and funny with a snappy sense of comedic timing that is at times similar to that of VeggieTales—sometimes corny, sometimes brilliant. There's the ultra-efficient butler at the film's start, the town crier representing the overzealous media of the day, and a handful of scary movie clichés that suckerpunch the viewer with silly cartoonish resolutions. And like Nightmare, there's an adorable but unconventional scene-stealing dog—in this case, Scraps is a skeletal pup that gives new meaning to "roll over" and "play dead."
Despite the title character's absence of heart, Corpse Bride is ultimately a love story. It's refreshing to have a love triangle that doesn't spoon feed the audience into rooting for one match over the other. Granted, one of Victor's potential brides is living and the other is not, but he still has options and the film sweetly makes a case for both—Emily's dreams have been denied, but while marrying her could in a sense restore them, it would also shatter those of Victoria. And though the film doesn't show much respect for the church through the overly grumpy Pastor, it does have respect for the institution of marriage, focusing on the importance of keeping vows "till death do us part" while insisting on performing the marriage ceremonies within the sacred walls of the church.
While the story is inventive, it would have helped to, ahem, flesh it out more. At a mere 78 minutes, characters and plotlines are sufficiently developed, but it could have been so much deeper and meaningful with another 15 minutes of color and clarification. It's the difference between an entertaining film experience and a genuine cinematic classic (like Pixar's films). You can't help but wonder what treatment the script might have received if this were an inherently less complicated, CGI-effects driven live-action production.
Of course, there's far more to this film than story. The voice actors all do a fine job, but Carter stands out in the title role, offering an appropriate array of emotions that make her scary, sympathetic, and sweet. Also impressive are the songs and score by Burton's composer of choice, Danny Elfman, who offers some of his best work to date with clever Dr. Seuss-styled wordplay and a myriad of folk songs, operetta, and jazz.
But the real star of the film is the animation, a tedious process that was clearly a labor of love. It's amazing that Burton and his team could devise such a gloomy, monochromatic, gothic world that would make Edgar Allen Poe or Lemony Snicket proud, yet infuse it with moments of striking beauty—flashes of color, the occasional butterfly, and the Corpse Bride herself. Some movements involve a "jerkiness" in the stop-motion process that's almost nostalgic and endearing, but others are so fluid that you wonder how it could have possibly done with figurines. Nuances involving liquid and wind are impressive, and the scene involving a piano duet is particularly stunning in its accurate recreation of finger technique.
Not all Christians are going to appreciate this film, unable to separate fantasy from reality. A general rule of thumb: If you tend to boycott all things related to Halloween, you might think twice about this film. But make no mistake, stop-motion is a form of animation, and unless the forthcoming Wallace & Gromit: Curse of the Were-Rabbit is more impressive, this movie is the frontrunner to win the 2006 Academy Award for Best Animated Film. Sweet, funny, clever, occasionally creepy, and sometimes poignant—there's plenty of life in this Corpse Bride.
Talk About It
Discussion starters
Discuss this film's depiction of the afterlife. Do you think it's a serious belief, or is it more of a fantasy or fairy tale? Does the film suggest a heaven and hell?


How does this movie respect the traditions of the church? How does it disrespect them?


Is this a pro-marriage movie? What does the story teach us about respecting our vows? About careless love? Using examples from the film, contrast the right and wrong reasons for marriage.


The Family Corner
For parents to consider
The brief mild language for which Corpse Bride is rated PG refers to the use of Clark Gable's famed "Frankly, my dear … " line from Gone with the Wind. And just so you know, there are also a couple of minor, subtle (but still unnecessary) sexual innuendos that will surely go over the heads of kids. As for the scary images, Corpse Bride's eye occasionally pops out for comedic effect, and another ghoul can split himself down the middle, allowing us to vaguely see some of his innards. The majority of it is played for laughs, but take the PG rating seriously and leave the smaller kids at home. Also be prepared to talk about this film's depiction of the afterlife in contrast to Christianity (see Talk About It question #1 above).
Copyright © 2005 Christianity Today. Click for reprint information.
What Other Critics Are Saying
compiled by Jeffrey Overstreet
from Film Forum, 09/22/05
Tim Burton's Corpse Bride opened in New York and L.A. last week, and will expand to screens across the U.S. tomorrow. Early buzz indicates that Burton is ready to score his second hit of the year; in fact, his summertime smash Charlie and the Chocolate Factory is still in theatres.
But in Corpse Bride, Burton has cooked up confections of a different quality. He has reunited with the masterful stop-motion animator Harry Selick, who supplied the visual effects for Beetlejuice and the fantastic Nightmare Before Christmas, and together they've created another dazzling show of whimsical storytelling, one that shivers with affection for such gothic tales as The Addams Family and The Cabinet of Dr. Caligari. The only thing missing here is the voice of Burton's hero … Vincent Price.
Article continues below
This morbidly enchanted fairy tale finds a spindly youngster (Johnny Depp) dodging the altar to practice his wedding vows in a dark woods. The vows are overheard, and taken seriously, by a decomposing beauty (Helena Bonham Carter). Colorful mayhem ensues, accompanied by the ghoulish musical flourishes of Danny Elfman, of course.
Do all of these dancing cadavers have anything to offer audiences? Mainstream critics are raving that the film is one of Burton's very best. So far, only one Christian press publication has posted a review. (Christianity Today Movies' review will be posted tomorrow.)
David DiCerto (Catholic News Service) says, "While some may disagree with the film's depiction of death as liberation from the sepulchral stuffiness of the world above … a visually poetic coda suggests a more empyrean heaven beyond the purgatorial partying. … Despite its fablelike milieu, the movie—with its necromantic undertones—is a bit morose for young children."
DiCerto concludes by recommending the film. "Corpse Bride imparts a gentle message of selfless love that should warm most hearts—beating or not."
from Film Forum, 09/29/05
This big screen corpse is a beauty!
Steven D. Greydanus (Decent Films) says, "This macabre fairy tale becomes, variously, a poignant meditation on the daunting weightiness of the vows of marriage, a raucous danse macabre in jumping jazz rhythms and florid colors, a visually rich celebration of Edward Gorey Gothic-Victorian and Charles Addams grotesque, and, perhaps most surprisingly, a touching portrait of tragedy, doomed love, empathy, and sacrifice."
Christopher Lyon (Plugged In) calls it "a staggering visual achievement." But the story itself is "somewhat less engaging. Yes, it's fanciful and clever, especially in the jokes about the corpses (e.g., "I'll keep an eye out for him"). It even offers a couple of truly touching moments when the dearly departed are briefly reunited with their loved ones. But the course of the story is never really in doubt, and the macabre setting makes it harder to connect with the characters."
Josh Hurst (Reveal) raves, "Burton's always seemed keen on making weird, twisted fairytales for grown-ups—see Scissorhands and Big Fish—but he's never made one as delightful as this. Corpse Bride is the Tim Burton film with the biggest heart—which is ironic, since it's essentially about a guy who marries a dead woman."
At World's film blog, MovieIncite, Steven Tilson is not so pleased. "The film's view of death and the afterlife clearly has nothing whatsoever to do with Christianity; in fact, it doesn't seem to have much to do with anything beyond its own cosmology. … And while much of the film's major action takes place in a church, and its priest … is a major character, there are no crosses or Christian iconography that would make the association concrete. This allows the filmmakers to take swipes at organized religion without singling out any particular faith for ridicule—though it's fairly clear, from the movie's Victorian setting, that the priest and the church aren't anything other than Christian."
Article continues below
Do mainstream critics love Burton's accomplishment? Of corpse they do.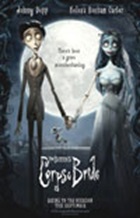 Browse All Movie Reviews By: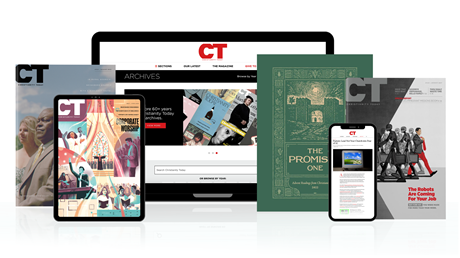 Annual & Monthly subscriptions available.
Print & Digital Issues of CT magazine
Complete access to every article on ChristianityToday.com
Unlimited access to 65+ years of CT's online archives
Member-only special issues
Subscribe
Tim Burton's Corpse Bride
Tim Burton's Corpse Bride