Kansas abortion records battle:
Kline vs. clinics: Abortion records case nears court | Next week, Kansas Attorney General Phill Kline will take his request for medical records of women and girls who received abortions to the state's highest court (The Kansas City Star)
Abortion foes, backers gear up for court battle | Groups on opposite sides of the abortion issue held competing news conferences Thursday, one week before a key court hearing on patient medical records is scheduled to be held (The Wichita Eagle, Kan.)
Clinics want Kline held in contempt in abortion records case | Two abortion clinics are asking the Kansas Supreme Court to cite Attorney General Phill Kline for contempt, accusing him of violating judicial orders in a case involving his attempts to gain access to their patient records (Associated Press)
Sides trade charges over abortion records | A week before a high-profile showdown before the Kansas Supreme Court, a large Kansas abortion clinic on Thursday fired shots at Attorney General Phill Kline and his attempt to examine the confidential medical records of dozens of abortion patients (The Capital-Journal, Topeka, Kan.)
Politics & Law:
Local man fighting for JN36TN plate | A federal judge said Tuesday he isn't sure many people will understand the religious message from the vanity license plate a West Rutland man has filed a lawsuit to get for his 1966 Ford pickup (The Rutland Herald, Vt.)
Also: Federal judge rejects bid for religious license plate | But JN36TN case will go forward (Associated Press)
Stamp of approval | Bush administration reverses policy for faith-based rehab (World)
ACLU seeks to free faith from Cobb's bias | In Cobb, where the majority of its government prayers are made in the name of Jesus, it is taking sides and preferring Christianity over all other faiths (Maggie Garrett, The Atlanta Journal-Constitution)
The contraception war | One woman is a victim. Will more follow? (Editorial, Philadelphia Daily News)
Anxious liberal groups try to rally opposition against Supreme Court nominee | In the past week, about 30 groups - including the NAACP, Naral Pro-Choice, the National Organization for Women, and Americans United for Separation of Church and State, and major Hispanic organizations like the Mexican-American Legal Defense and Education Fund - formally and forcefully called on the Senate to reject Judge Roberts (The New York Times)
Mysterious inaction on Trinity Cross issue | We continue to regret that the issue of the nomenclature of Trinity Cross has been allowed by several administrations to become a matter of ongoing controversy when it would seem that the most expedient recourse would have been to settle on a less emotive name such as the Order of Trinidad and Tobago (Trinidad and Tobago Express)
Yes or no? It is up to you, Kenyans told | The Ufungamano Initiative has asked Kenyans to vote any way they choose during the national referendum in November (The Nation, Kenya)
A sensible Iraqi constitution | The idea that it creates an Islamic theocracy is simply false (Charles Krauthammer, The Washington Post)
Gay marriage:
State senate votes to let gays marry | Passed without the help of Republicans, the bill is headed for a tough fight in the Assembly (Los Angeles Times)
Calif. Senate okays gay marriage bill | The state Senate approved legislation Thursday that would legalize same-sex marriage in California, a vote that makes the chamber the first legislative body in the country to approve a gay marriage bill (Associated Press)
Calif. Senate passes gay marriage bill | Move is the first by a state legislative body without a court order (The Washington Post)
Crime:
Monk is accused of stealing relics from monastery's graves | A Greek Orthodox monk awaiting trial on corruption charges is alleged to have plundered the ecclesiastical relics he sold on the black market from his own monastery (The Times, London)
Muslims rally for Christians | Indonesia's largest Muslim group has threatened to bring out thousands of militia members to protect Christians from Islamic hardliners who have forced the closure of more than a dozen churches (The Courier-Mail, Australia)
Clergy misconduct:
We didst commit adultery | A senior pastor at the Fifth Avenue Presbyterian Church and a married congregation member have admitted to investigators that they had an affair (New York Post)
Also: Princeton Seminary's board of trustees announces resignation of board chair | The board of trustees of Princeton Theological Seminary has announced that the Reverend Dr. Thomas K. Tewell, pastor of the Fifth Avenue Presbyterian Church in New York City, has resigned as chair of the seminary's board of trustees (Press release)
Accused priests seek canon trial | 4 removed from Albany Diocese would be first to face tribunal in 40 years (Times Union, Albany, N.Y.)
San Francisco diocese settles 4 abuse lawsuits | Victims will receive total of $4 million (San Francisco Chronicle)
Church life:
Conservatives plan to protest Methodists | Conservative groups and the Ku Klux Klan were planning to protest a weekend meeting at the lake of Methodists who want gays welcomed in all aspects of church life (Associated Press)
Religion in the News: Maine's plummeting priests problem | The ranks of priests here and around the country have been dwindling for years, and about 95 now serve in Maine. Their numbers are expected to drop further in the next five years, then stabilize at between 60 and 65 priests to serve the state's 234,000 Catholics (Associated Press)
Skoda ad agency gives the Church of England a push | Tub-thumping missionary zeal is being replaced by a gentle reminder of a wider role in society (The Times, London)
Also: By hook or by crook | The Church of England borrows from Skoda, with some effect (Editorial, The Times, London)
Statue's arrival reflects growing Hispanic impact | Catholic churches attract Hispanic men (St. Louis Post-Dispatch)
Rwenzori diocese roofs largest church | The South Rwenzori Diocese cathedral, now under construction, could become the largest in the country, Bishop Jackson Nzerebende has said (New Vision, Uganda)
Missions & ministry:
Purpose-driven | Reverends on the fast track to saving souls (The Plain Dealer, Cleveland)
The stage is his pulpit | One joke at a time, 'Christian comic' Tim Hawkins graces his audiences with laughter (The State, Columbia, S.C.)
Brother Roger's solution? Tear down the walls | He offered a faith grounded in simplicity, integrity, honest spirituality and unreserved commitment, qualities young people so admire and so often find lacking in much of the church (Palm Beach Post, Fla.)
Money & business:
Businesses take on Christian feel | Incorporating faith into business takes different forms (El Paso Times, Tex.)
Oil for prophets | Lost in the controversy over Pat Robertson's call to assassinate a foreign leader is the reverend's role in the local oil business (OC Weekly)
The sin of false profits | Bishop Eddie Long shouldn't count himself among the needy that his charity was created to help (Editorial, The Atlanta Journal-Constitution)
Education:
Faithful and true? | The paradoxical state of Christian colleges (World)
Parental prerogatives | With a growing number of voucher and tax-credit programs, 2005 has been the "most successful year yet" for advocates of school choice (World)
Two-edged swords | It's shaping up to be a lively fall for public-school Bible curricula as publishers and interest groups do battle (World)
Air Force:
Prayer out, moment of silence in | AFA's religious guidelines extend to locker rooms (The Gazette, Colorado Springs)
Air Force Academy gives up pregame prayer | Air Force coach Fisher DeBerry will offer moment of silence instead (Associated Press)
Focus on the Family's newest focus is on AFA | Focus on the Family has called on its millions of followers to contact the White House with their concerns about new Air Force religious guidelines and urge President Bush to "restore the right to religious expression" (Rocky Mountain News, Denver)
Books and scholarship:
Mysterious Temple Mt. artifact evokes `Da Vinci Code' | Cross-shaped bronze pendant shows Holy Grail lying on a crown of thorns (Haaretz, Tel Aviv)
Do as I say, not as I do | Noah Feldman's puzzling compromise between religion and secularism (Steven I. Weiss, The Wall Street Journal)
Science:
Most scientific papers are probably wrong | Most published scientific research papers are wrong, according to a new analysis. Assuming that the new paper is itself correct, problems with experimental and statistical methods mean that there is less than a 50% chance that the results of any randomly chosen scientific paper are true (New Scientist)
Ending the debate? | Edmond author hopes book will 'marry' science, religion (Edmond Sun, Canada)
'Intelligent design' and faith-based science | The people who are being seduced into thinking that there is a debate and that students should hear all sides are not giving adequate attention to the motives of the groups and institutions which have bought and paid for the popularization of their ideology (John C. Mohawk, Indian Country Today)
Other stories of interest:
Religion news in brief | PCUSA task force proposal hit from both sides; Pope meets Rome group facilitating relations with China; Zimbabwe Anglican bishop's ecclesiastical trial collapses; and other stories (Associated Press)
New version of Passion Play to premiere | "Passion Play, a cycle" originally was envisioned as three separate performances, but is being compressed into a four-hour program (Associated Press)
'They're not afraid to rock' | Christian bands gain secular appeal, aim to play as hard as they preach (Argus Leader, Sioux Falls, S.D.)
Related Elsewhere:
Suggest links and stories by sending e-mail to weblog@christianitytoday.com
See our past Weblog updates:
Hurricane blog: Sept. 2 | 1 | Aug. 31
September 1 | August 31 | 30
August 26 | 24 | 23
August 19 | 18 | 16
August 12b | 12a | 9b | 9a
August 4 | 3 | 2b | 2a
July 29 | 28 | 27 | 26b | 26a
Weblog
Launched in 1999, Christianity Today's Weblog was not just one of the first religion-oriented weblogs, but one of the first published by a media organization. (Hence its rather bland title.) Mostly compiled by then-online editor Ted Olsen, Weblog rounded up religion news and opinion pieces from publications around the world. As Christianity Today's website grew, it launched other blogs. Olsen took on management responsibilities, and the Weblog feature as such was mothballed. But CT's efforts to round up important news and opinion from around the web continues, especially on our Gleanings feature.
Ted Olsen is Christianity Today's executive editor. He wrote the magazine's Weblog—a collection of news and opinion articles from mainstream news sources around the world—from 1999 to 2006. In 2004, the magazine launched Weblog in Print, which looks for unexpected connections and trends in articles appearing in the mainstream press. The column was later renamed "Tidings" and ran until 2007.
Previous Weblog Columns: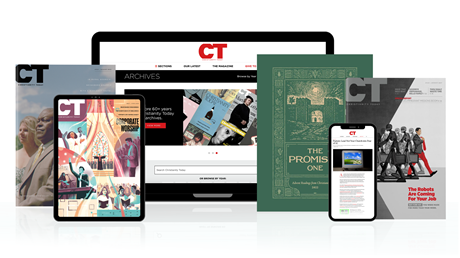 Annual & Monthly subscriptions available.
Print & Digital Issues of CT magazine
Complete access to every article on ChristianityToday.com
Unlimited access to 65+ years of CT's online archives
Member-only special issues
Subscribe
Prelude to Kansas' Abortion Records Battle
Prelude to Kansas' Abortion Records Battle