After the Asian tsunami last December, the outpouring of help, rescue, and relief efforts assured many that God was good despite the disaster. But the chaos into which New Orleans has fallen is so disturbing that it makes a convincing argument for either God's absence or man's depravity.
News reports abound with stories of death, rape, murder, and theft. "Thursday saw tens of thousands being evacuated by bus to Houston from the hot and stinking Superdome. Fistfights and fires erupted amid a seething sea of tense, suffering people who waited in lines that stretched a half-mile to board yellow school buses. The looting continued."
The Associated Press reports, "By Thursday evening, 11 hours after the military began evacuating the Superdome, the arena held 10,000 more people than it did at dawn. Evacuees from across the city swelled the crowd to about 30,000 because they believed the arena was the best place to get a ride out of town."
"Hoodlums" have shot at rescue helicopters sent to evacuate people stranded on rooftops and in hospitals that can no longer take care of patients. At the New Orleans Convention Center, 15,000 to 20,000 people took a shelter only to find lawlessness. When a helicopter arrived to drop off food and water the thronging crowd was so thick it couldn't land. Instead the helicopter dropped supplies from the air.
Tunku Varadarajan in The Wall Street Journal writes:
Physical strength has suddenly become more important than knowledge, or education. Everything smells.
For Americans, this is humbling, and aggravating. … There has been a descent so clear into indecency that one must address it as pressingly as the breakdown of the city's levees. It is as if the moral and civic "levees," too, were overwhelmed by the torrent. Once the waters have receded, New Orleans will face a task that will test our national mettle. A part of that task will be to ask why so many stooped so low as the waters rose so high.
Yet the chaos in New Orleans is not the only story. Donations by individuals and corporations in support of the rescue cleanup efforts are expected to top $1 billion. Churches and individuals are opening their facilities and homes to shelter and feed refugees, even against the government's advice. "Some of those offering shelter say they've been discouraged from doing so by government officials who fear the consequences of putting strangers in private homes. But that hasn't tempered grass-roots enthusiasm."
"I just don't believe that some guy with a couple kids who just lost his casino job is going to rob me," Tim Green of Joplin, Mo. told The Boston Globe. Green hopes to make a bedroom out of his basement recreation room. "These people are going to need more than just money. They're being herded around the Astrodome like cattle, with no communication to the outside world. They need to know that people want to help."
Perhaps the lawlessness in parts of New Orleans and the compassion of strangers around America shows that it's easier to love humanity than to love your neighbor. But it might also be an accurate picture of each one of us. Total depravity mixed with God's grace, saving us from ourselves.
More hurricane news:
Explosions Fill New Orleans Sky With Smoke | It was the opening strike in yet another day of sadly deteriorating conditions. (Associated Press)
New Orleans in Anarchy With Fights, Rapes | New Orleans descended into anarchy Thursday as corpses lay abandoned in street medians, fights and fires broke out, cops turned in their badges and the governor declared war on looters who have made the city a menacing landscape of disorder and fear. (Associated Press)
Hurricane Katrina Leaves Chilling Images | In the aftermath of Hurricane Katrina, viewers faced scenes of roads turned to rivers, communities to lakes, buildings to rubble. They saw survivors cling to makeshift rafts. A man on crutches slogged through knee-deep water outside New Orleans' Superdome. An almost biblical vision: water seemingly on fire, blazing from a broken gas line on a flooded street. (Associated Press)
In Hunt for Life's Necessities, Rumors Fly and Lines Crawl | Life here on the devastated coast of Mississippi has become a giant scavenger hunt for the most basic necessities. (The New York Times)
From margins of society to center of the tragedy | The scenes of floating corpses, scavengers fighting for food and desperate throngs seeking any way out of New Orleans have been tragic enough. But for many African-American leaders, there is a growing outrage that many of those still stuck at the center of this tragedy were people who for generations had been pushed to the margins of society.
After the Katrina tragedy, the looters come with their lies and half-truths | When Katrina struck the US Gulf Coast this week, the first images reflected man's instinctive compassion, heartening tableaux of daring rescues and selfless giving. Then, of course, came the looting, the inevitable exploitation of misery that contributes the insult of human depravity to the injury of natural disaster. (Times, London)
New Orleans: Episcopal Priest tells horror story of riots and more | The situation here is unimaginable. We are totally unprepared for what is becoming worse by the minute. Hundreds of thousands of people are showing up in Baton Rouge -- no end in sight. New Orleans has been entirely looted and the violence is moving our way. (VirtueOnline)
Aid & relief:
Churches asked to practice what they preach and help | 30 area pastors hope to raise $100,000 in 10 days for hurricane victims (Baltimore Sun)
Churches rally to aid refugees | Many BR sites providing services (The Advocate, Baton Rouge, La.)
Good Samaritans Turn To Web to Help Victims | The Internet is spreading more than just information about Hurricane Katrina, it's giving people in the far corners of the United States the power to offer storm victims tangible help in the form of jobs and housing. (The Washington Post)
Unable to Just Stand By, Thousands Sign Up to Help | More than 3,500 Red Cross volunteers, including about 400 from California, are in the Gulf Coast states now, setting up cots at emergency shelters, serving food, distributing dry clothing and counseling grieving victims. By Monday, the Red Cross expects to have more than 5,000 volunteers stationed in hurricane disaster areas. (Los Angeles Times)
Americans open homes, hearts to storm victims | As relief agencies descend on the Gulf Coast, Americans -- as they have in past disasters -- are reacting to the heart-wrenching footage of refugees by opening their wallets. This time, though, they also are offering their homes. (The Boston Globe)
America opens heart to refugees | Hundreds of thousands of people from regions devastated by Hurricane Katrina have resettled in shelters, hotels, churches and homes across the country for potentially long-term stays. (Washington Times)
Opinions:
A descent into indecency | In New Orleans, moral levees are inundated too. (Wall Street Journal)
The battle of New Orleans | Even in America, civil order is more fragile than we think. (Wall Street Journal)
The Man-Made Disaster | The situation in New Orleans became considerably worse Thursday with reports of what seemed like a total breakdown of organized society. (Editorial, The New York Times)
Even tragedy highlights our divisions | Should we really care about the color of the people looting in the hurricane zone? Or that Louisiana is a red state? Or that some of the dead are gay? (Leonard Pitts Jr., Miami Herald)
Now, about this 'nation of Christians' stuff | Is it just me, or is everyone else just floored by the crassness of the rising debate over who should pay to clean up behind Hurricane Katrina? (Bill Johnson, Rocky Mountain News, Co.)
Weblog
Launched in 1999, Christianity Today's Weblog was not just one of the first religion-oriented weblogs, but one of the first published by a media organization. (Hence its rather bland title.) Mostly compiled by then-online editor Ted Olsen, Weblog rounded up religion news and opinion pieces from publications around the world. As Christianity Today's website grew, it launched other blogs. Olsen took on management responsibilities, and the Weblog feature as such was mothballed. But CT's efforts to round up important news and opinion from around the web continues, especially on our Gleanings feature.
Ted Olsen is Christianity Today's executive editor. He wrote the magazine's Weblog—a collection of news and opinion articles from mainstream news sources around the world—from 1999 to 2006. In 2004, the magazine launched Weblog in Print, which looks for unexpected connections and trends in articles appearing in the mainstream press. The column was later renamed "Tidings" and ran until 2007.
Previous Weblog Columns: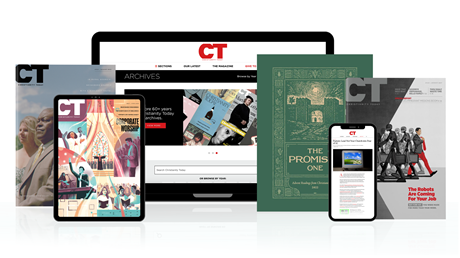 Annual & Monthly subscriptions available.
Print & Digital Issues of CT magazine
Complete access to every article on ChristianityToday.com
Unlimited access to 65+ years of CT's online archives
Member-only special issues
Subscribe
Hurricane Weblog: Where Is God in the Chaos?
Hurricane Weblog: Where Is God in the Chaos?