Abu Sayyaf recruiting Christians:
Abu Sayyaf recruiting Christians--military | Al-Qaeda-linked Abu Sayyaf militants have recruited about 100 mostly Christian men from two Mindanao provinces since July, offering them money to help stage attacks, according to a military report. (Philippine Daily Inquirer)
Abu Sayyaf now recruiting Christians for future attacks | Christians are being recruited by the Abu Sayyaf for future attacks in key areas in Mindanao, a military intelligence office revealed Wednesday. (The Manila Times)
Northern Ireland:
Feud sparks worst N.Irish violence in years-report | A feud between rival Protestant paramilitary groups has sparked the worst violence ever investigated by Northern Ireland's cease-fire watchdog, according to a report published on Thursday. (Reuters)
A Catholic town watches quietly as Protestant rancor grows | As the farmer starts to speak, the sudden roar of an aircraft engine cuts him off. A British Army helicopter bursts through the clouds and skims the rooftops of this Catholic town in County Armagh six miles from the border with Ireland. (The Christian Science Monitor)
IRA 'moving towards decommission' | The IRA is beginning to make moves related to decommissioning, Northern Ireland's new political development minister has said. (BBC)
War & terrorism:
Recent poll shows church-goers supportive of war | As insurgents continue to attack military and civilian targets, the number of American casualties rise and a consensus on a constitution remains elusive, support for the war in Iraq wanes. The president, however, can depend on one group for support: regular churchgoers. (Jeff Adair, Marlborough Enterprise, Mass.)
God-fearing Spartans | A look at America's "imperial grunts." … One of the more surprising of Mr. Kaplan's findings is that evangelical Christianity helped to transform the military in the 1980s, rescuing the Vietnam-era Army from drugs, alcohol and alienation. (The Wall Street Journal)
Government rests case against war protesters | Four anti-war activists who spilled blood at a military recruiting center before the American invasion of Iraq were portrayed by a federal prosecutor on Wednesday as religious zealots who routinely destroy government property yet have mostly evaded consequences. (The New York Times)
Religion & politics:
In questions about God, Reynolds trusts | State Sen. Tom Reynolds says he doesn't exactly ask job applicants if they are born-again Christians. (Cary Spivak & Dan Bice, Milwaukee Journal Sentinel)
Uniting church, state | It's probably the most common trait among humans. We always want to tell others how to live, to set the social agenda for our friends and neighbors. That's particularly true when religion gets into the act, which it almost always does, and becomes the guiding principle for existence, no matter how impractical and oppressive. (Dan K. Thomasson, Cincinnati Post)
Challengers to Zimbabwe regime attract little hope | With economy in crisis, opposition lacks inspiration(The Boston Globe)
John Roberts:
Feinstein to vote against Roberts confirmation, as nomination gathers steam | A second Judiciary Committee Democrat -- Sen. Dianne Feinstein of California -- announced Thursday she would oppose Supreme Court nominee John Roberts as his nomination made its way to the full Senate. (Associated Press)
Bush hears warnings about next court nominee | U.S. Senate leaders warned President George W. Bush on Wednesday his next Supreme Court nominee will likely face a far more contentious confirmation battle than conservative John Roberts, who is poised to become U.S. chief justice. (Reuters)
Marriage & family:
State Supreme Court says adoptee has no right to know parents | The Rhode Island Supreme Court has rejected a Pennsylvania man's claim that his belief in Mormonism entitles him to have his adoption records opened. (The Boston Globe)
Connecticut civil union law causes stir | As Connecticut officials try to determine the scope of a new law on homosexual unions, gay rights groups say they're being treated as second-class citizens. (The Washington Times)
Religion & homosexuality:
United Church of Christ gay marriage resolution divides local congregation | The United Church of Christ's governing body, the General Synod, passed a resolution July 4 in Atlanta, Ga., supporting equal marriage rights for same-sex couples. The decision is sending shock waves through Lancaster's religious community and has split the 30-member congregation of Grace Church in half. (The Eagle-Gazette, Lancaster, Ohio)
Church's support of gay marriage threatened | DuPage County authorities are searching for the person who threatened a church near Naperville, taking aim at the church's support of gay marriage. (CBS2, Chicago)
Canada Anglicans won't change policy on gays | Canadian Anglicans won't change their policy toward homosexuals, despite a rebellion against church leadership from the conservative Nigerian branch of the worldwide Anglican movement, the head of the church in Canada said on Wednesday. (Reuters)
Churches threaten to leave national Baptist group | Leaders of 300 churches in the Pacific Southwest plan to break from the American Baptist Churches USA, claiming the national denomination has failed to implement its declaration that gay relationships are incompatible with Christianity. (Associated Press)
Vatican to ban gay seminarians:
New Vatican rule said to bar gays as new priests | Homosexuals, even those who are celibate, will be barred from becoming Roman Catholic priests, a church official said Wednesday, under stricter rules soon to be released on one of the most sensitive issues facing the church. (The New York Times)
Report: Pope bans gay seminarians | Pope Benedict XVI is said to have approved a document saying that homosexual men should not be ordained as Roman Catholic priests, a conservative Catholic Web site reported yesterday. (Newsday, New York)
Catholicism:
For Spanish Apostolate, an 'Architect of Souls' | The Rev. Jose Eugenio Hoyos was studying architecture in his native Colombia when he felt the calling to become a priest. (Washington Post)
Priest raises $900,000 to fight hunger in Lawrence | A Catholic priest in one of the poorest parishes in the region has succeeded in raising $900,000 through the sale of edgy T-shirts and one-on-one fund-raising as his parish endeavors to construct and operate a 365-day-a-year meal center to feed the hungry in Lawrence. (The Boston Globe)
Abuse:
Two priests convicted in France of sex abuse | A French priest who wore suggestive underwear during catechism classes and showed his pupils pornographic images was sentenced to a year in jail by a court in the eastern French town of Besancon Thursday. (AFP)
Catholic church employee accused of soliciting sex | A spokeswoman with the Catholic Diocese of St. Petersburg could not say definitely why the man was hired, given his criminal history. (St. Petersburg Times, Fla.)
Time limits halt Philly clergy abuse cases | A three-year grand jury investigation of the Philadelphia Archdiocese, the longest known inquiry in the national clergy sex abuse crisis, ended Wednesday with scathing allegations that cardinals and other churchmen had conspired to protect offenders. (Associated Press)
Archdiocese hid abuse, grand jury says | No new charges in Philadelphia (The Boston Globe)
Repeal of time limit eyed for child sex-abuse suits | A bill to repeal the statute of limitations for civil suits involving child sexual abuse may have a new life in Massachusetts, with the support of leading lawmakers and the attorney general. (State House News Service)
Church life:
Parishioners to consider buying their church | A campaign group is to consider raising money to either purchase or lease a village church closed by the Church of Wales. (Denbighshire Free Press, Wales)
Mainline decline | Protestant churches continue to move away from faith and towards left-wing politics (Harvard Crimson)
Thank God Christians sing the same hymns — mostly | It was none other than the venerable Charles Wesley, writer of hundreds of grand hymns, who in the introduction to one of his hymnals pronounced stern words against anyone who would mess with the words (and thus the theology, not to mention the beauty) of his hymns. He had little use for the folks he derisively referred to as "hymn-tinkerers." (Curtis K. Shelburne, Clovis News Journal, NM)
Christianity on the rise in Alabama | According to a recent survey, 67 percent of Alabamians can be classified as "Born Again" - the highest percentage in the nation. (The Clanton Advertiser, Ala.)
Have you heard the one about the vicar and the organist? | Too many clergy use organists as "human jukeboxes", demand impossible working hours and refuse to bow to their superior musical knowledge when it comes to choosing hymns, according to a study this week. (Times, London)
Katrina:
Newton, churches sending aid to Southern cities | Churches, civic organizations, and volunteers young and old are reaching out from Newton to the survivors and evacuees of Hurricane Katrina. (The Boston Globe)
Group offers house to family of hurricane survivors | Deepwater's Project New Start seeks donations to buy more homes for other Katrina evacuees (The Register-Herald, WV)
Evacuee family gets home free for year | A family of Hurricane Katrina evacuees has been given a new start in southeast Raleigh, with the assistance of a developer and corporate donations. (NBC17, N.C.)
Missions & ministry:
Administration urged to step up efforts against Darfur genocide | A group of U-S religious leaders met with the State Department and Congress to again draw attention to the situation in Darfur. (Family News in Focus)
Minister turns to comics to illustrate his message | It was easy for Robert Short to create a slide show, and then a best-selling book, about "The Gospel According to Peanuts." That comic strip's creator, Charles Schulz, was a devout Christian whose footing in his faith often guided his fabled characters. Schulz even sometimes joined Short for presentations on the subject. Less clear-cut was using the "Calvin and Hobbes" comic strip for similar purposes. (Contra Costa Times, Calif.)
Prayer for peace | Evacuees, church mark special day (Detroit Free Press)
Promise Keepers returning with a new challenge for followers | About 8,000 men will be challenged to do the right thing this weekend at a conference being offered by Promise Keepers, a Christian men's organization. (The Arizona Republic)
In troubled region, monks build site for peace | Father Anthony and his tiny band of Orthodox monks have turned their backs on the wars and political turmoil shaking the Caucasus region of southern Russia. In a gesture as old as Christianity, they are retiring to this remote North Ossetian mountain valley to build an island of peace. (Christian Science Monitor)
See You at the Pole:
Christians gather for the annual prayer meeting before classes | Shortly after 7 a.m. Wednesday, a group of East High School students standing on the front lawn of the school formed a ring and locked hands. And then they began to sing and pray. (The Wichita Eagle)
Faith renewed for local students Wednesday | United by their love for Christ and their concern for a spiritually broken world, students Wednesday met at local schools for the annual "See You at the Pole" event. (The Edmond Sun, Okla.)
Thousands turn out for prayer event at flagpoles | Several thousand students from kindergarten through 12th grade gathered Wednesday around school flagpoles throughout Southwest Florida. (News-Press, Fla.)
Praying at the pole | Students gathered to pray for schools and classmates at the annual event. (Columbia Missourian)
Students end rally in prayer | Prayer and praise resonated through Heritage Wesleyan Church on Wednesday night as hundreds of area youth gathered together for the See You After the Pole celebration. (Quad City Times, Iowa)
Local students join ''See You at the Pole'' spiritual event | They gathered in the early sunlight around their schools' flagpoles to pray. For strength. For Hurricane Katrina victims. For two Chesapeake teachers who recently died. For the war in Iraq. (Virginian Pilot)
Faith-filled students heed call | With one hand raised and the other gripping a microphone, Sarah Baker worshipped and witnessed through song at Greenbrier High School on Wednesday morning as part of a nationwide prayer rally. (Augusta Chronicle, Ga.)
Education:
WBC's new president seeks higher profile for the school | For only the sixth time in its 67-year history, Washington Bible College/Capital Bible Seminary has a new leader. (Washington Post)
You might not expect an agnostic to say let's teach religion in the public schools | Sometimes we find allies in the most unusual people. I'm not a Christian, not a Jew, not a Hindu and not a member of any other organized religion. I'm agnostic, and I suppose that puts me on the fringe in my community. (Deborah Mitchell, Dallas Morning News)
ACLU targets abstinence-only programs | The American Civil Liberties Union yesterday began a campaign to urge officials in 18 states to reject abstinence-only sex-education programs. (The Washington Times)
School stays in church building | There appears to be a temporary standoff in a dispute between a private school and the Roman Catholic Diocese of Manchester. (The Boston Globe)
Hitting the books | Objections of Arkansas parents to graphic descriptions of sexual acts in books offered to students in their school libraries have fueled a feud in the Ozarks. (The Washington Times)
Bible Literacy Project:
Group pushing textbook on Bible's influence | A group called the Bible Literacy Project is unveiling a 392-page textbook Thursday entitled "The Bible and Its Influence," which its members hope will be embraced by English, history and social studies teachers and form the basis of elective high school courses across the country. (Arizona Daily Star)
Bible textbook could circumvent culture war | Seeking to defuse a central controversy of the culture wars, a Bible advocacy group will unveil a new textbook Thursday that could open the door to widespread Bible courses in public high schools. (Knight Ridder Newspapers)
100 Minute Bible:
The Bible for slow readers | In the beginning was the Word. But the Word went on a bit, so a new version of the Bible has been produced for readers with short attention spans. (Daily Telegraph, UK)
And if you don't have 100 minutes … | John Crace offers a summary of the main events of the Bible which may be of help to those even more pushed for time. (The Guardian, UK)
And lo, it came to pass that the Bible was shortened | A theatre company once condensed God's complete works to 120 minutes. Now the church itself has gone one better. (The Independent, UK)
For the busy faithful, the greatest story ever told - in 100 minutes | They may be the words of the Lord. But there are simply too many of them for the modern attention span. That, at least, was the reasoning behind the launch yesterday of a more "user-friendly" edition of the great work. (The Guardian, UK)
The slimline Bible that leaves out all those boring bits | It is a great opening: the creation, the flood, Adam and Eve, the apple and the serpent, Cain murdering Abel. Genesis is a real page-turner. (The Times, London)
The Bible in couplets | God makes the heavens and the earth/And finds them very nice./When Adam eats forbidden fruit/He forfeits Paradise. (Daily Telegraph, UK)
Books & music:
Scholar comes back to Christianity | At age 86, Huston Smith is returning home again -- to Christianity. Smith is the dean of American scholars on world religions, and his best-selling textbook about them is known to legions of college students. (Associated Press)
State of the Nation | Sufjan Stevens explores America—and the whole of humanity—in his album-long tribute to Illinois (Nashville Scene)
From Mormon to moshpit | Bert McCracken grew up in Utah, but his band the Used have become the new darlings of punk rock. Patrick Donovan has an audience with the Taste of Chaos headliners. (Sydney Morning Herald)
Other religions:
This doll has an accessory Barbie lacks: A prayer mat | In the last year or so, Barbie dolls have all but disappeared from the shelves of many toy stores in the Middle East. In their place, there is Fulla, a dark-eyed doll with, as her creator puts it, "Muslim values." (The New York Times)
Catholics and Jews use anniversary to reflect on relations | The Vatican's 'Nostra Aetate,' credited with ushering in a new era, was issued 40 years ago. (Los Angeles Times)
Interest in Dalai Lama shows Buddhism's reach | On Sunday, the 75-year-old leader of Tibetan Buddhism and global human rights champion will address more than 32,000 people at Rutgers University's football stadium - one of Rutgers' largest crowds for a guest speaker. (NorthJersey.com)
Spirituality:
We witness Ghana's daily devotions | One by one, and then in groups, the entire Ghana soccer squad emerged from their rooms on the first floor. The youngsters assembled in the corridor - and then it started. To a backdrop of rhythmic clapping, the players warmed up their vocal chords with increasing intensity, and before too long, a resonant wave of sound reached into every nook and cranny at the team hotel. (FIFA.com)
Acting on faith in Arkansas | More than 7.5 million people have traveled to a remote, eclectic town in the Ozarks to witness the play of Jesus' death and resurrection. (Los Angeles Times)
Does God care who gets an A? | Geoff McKee, principal of Boca Raton High, says his school got an A grade from the state last year because he and others prayed like heck for it to happen. Mr. McKee's assertion has upset some people who think that public school officials who talk that way are improperly advocating Christianity. (Palm Beach Post, Fla.)
More articles of interest:
Protests defied to put Jerry on stage | An imperilled British tour of the trash TV-inspired musical Jerry Springer - The Opera is to go ahead despite protests by an evangelical Christian group, the show's producers said. (Sydney Morning Herald)
If the design was intelligent, it wouldn't hurt so much | What extraordinary aspect of evolution makes human beings so argumentative? Whenever there is an explanation for anything with evidence to back it up, there are always individuals anxious to argue the toss. (Stephen Matchett, Australian, Australia)
Related Elsewhere:
Suggest links and stories by sending e-mail to weblog@christianitytoday.com
See our past Weblog updates:
September 21 | 20 | 19
September 16 | 15 | 14
September 8 | 2 | 1 | August 31 | 30
Hurricane blog: Sept. 6 | 2 | 1 | Aug. 31
August 26 | 24 | 23
August 19 | 18 | 16
August 12b | 12a | 9b | 9a
Weblog
Launched in 1999, Christianity Today's Weblog was not just one of the first religion-oriented weblogs, but one of the first published by a media organization. (Hence its rather bland title.) Mostly compiled by then-online editor Ted Olsen, Weblog rounded up religion news and opinion pieces from publications around the world. As Christianity Today's website grew, it launched other blogs. Olsen took on management responsibilities, and the Weblog feature as such was mothballed. But CT's efforts to round up important news and opinion from around the web continues, especially on our Gleanings feature.
Ted Olsen is Christianity Today's executive editor. He wrote the magazine's Weblog—a collection of news and opinion articles from mainstream news sources around the world—from 1999 to 2006. In 2004, the magazine launched Weblog in Print, which looks for unexpected connections and trends in articles appearing in the mainstream press. The column was later renamed "Tidings" and ran until 2007.
Previous Weblog Columns: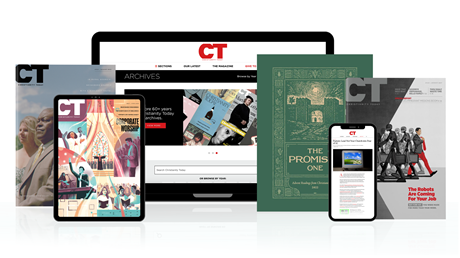 Annual & Monthly subscriptions available.
Print & Digital Issues of CT magazine
Complete access to every article on ChristianityToday.com
Unlimited access to 65+ years of CT's online archives
Member-only special issues
Subscribe
Abu Sayyaf Recruits Christians as Terrorists in Philippines
Abu Sayyaf Recruits Christians as Terrorists in Philippines