Despite the largest relief effort ever by the Southern Baptists, there is little immediate aid in sight as rescuers and other workers continue to evacuate those stranded by the flood and destruction following Hurricane Katrina and provide for those who have fled the Gulf Coast. Unable to provide food, water, or sometimes even security, rescue and relief efforts have so far made little impact.
"This is day three of the disaster, which is typically the most difficult day," Jim Burton, director of volunteer mobilization at the Southern Baptist North American Mission Board said yesterday. "We are beginning to understand the extent of the damage and the logistical challenges that lie ahead."
Because of bad roads, downed bridges, and other infrastructure problems, supplies have not yet reached many who need them. "People are walking into the church wanting water and ice and food. We don't have any of it yet," said Dennis Ray Smith, associate pastor of First Baptist Church in Pascagoula, Mississippi. "We've asked them to be patient, but we've had to lock the doors because we found people going through the volunteers' belongings, and they're just storming the church."
Refugees who were being sheltered at the New Orleans Superdome are now being evacuated to the Astrodome in Houston because of lack of water, food, and rising tempers.
Those who have already fled have found churches eager to help. Memorial Drive United Methodist Church in west Houston placed flyers on the windshields of cars with out-of-state license plates inviting refugees for a free spaghetti meal. "By noon Wednesday, 300 refugees from the hurricane were downing spaghetti with tomato sauce, salad, and bread, their first home-cooked meal in days."
"So many people were already right in our neighborhood," said Cynthia Harvey, associate pastor of the west Houston church. "So we said, 'Let's focus on food and take it from there.'" Houston's Astrodome is expecting 25,000 refugees, and San Antonio is expecting another 25,000.
Much more help is on the way. People like Richard and Sarah Trimble of Pensacola, Florida, have joined church and faith-based organizations to help feed, clothe, and shelter the hurricane's victims. The Southern Baptist Convention has more than 1000 volunteers and 100 mobile disaster relief units ready to assist refugees. The Salvation Army has arranged for 55 mobile feeding centers to provide meals for 500,000 people in Louisiana, Mississippi and Alabama.
However, the Army has struggled to coordinate its efforts due to the destruction and lack of communication. "We're trying to work under some very difficult circumstances," said Maj. Dalton Cunningham of the Salvation Army. "Right now, we've got 200 people trapped in our New Orleans building … . They're running out of food."
Yet the Salvation Army has had some successes. "The Salvation Army yesterday beefed up its Salvation Army Team Emergency Radio Network, or SATERN, a nationwide network of 2,800 amateur radio operators working to link stranded victims with search-and-rescue workers," writes The Washington Post reporter Elizabeth Williamson:
About 11:15 a.m. Tuesday, SATERN volunteer Russ Fillinger was running the network when he got an emergency call from an operator near Tulsa. One member of a group of more than 15 people trapped on the roof of a building in downtown New Orleans had used a dying cell phone to call a family member in Tulsa, who relayed the S.O.S. to the local Red Cross. The charity contacted a ham operator in the area, who contacted Fillinger.
"I was just a relay kind of station. The message got transmitted on into the Coast Guard, who handled the rescue," said Fillinger, 78, whose ham radio unit is based in his hilltop home in Portland, Oregon "By the evening, we got confirmation that the group had been rescued," including an 81-year-old woman that Fillinger knows only as Helen.
Yesterday's day of prayer has apparently had some effect.
So far, Americans have offered more than $27 million toward relief efforts. The Salvation Army has received $13 million, including two large donations from Wal-Mart and Eli Lilly. "That's an unprecedented number this early for any disaster," said Cunningham.
More hurricane articles:
Miss. could consider land-based casinos | Hurricane Katrina's devastation of the Gulf Coast gambling industry could sway Mississippi legislators to consider allowing land-based casinos and scrap the law that placed them on the water in vulnerable spots (Associated Press)
Sympathy translates to aid for victims | Ad hoc fundraising, states' mobilization focus on recovery (The Washington Post)
Texas shelters fill with Katrina refugees | The shortage of hotel rooms for Katrina victims is igniting already short fuses and increasing the pressures of aid workers across Texas (Associated Press)
Pope prays for Hurricane Katrina victims | Pope Benedict XVI said Wednesday he was praying for victims of Hurricane Katrina and urged rescue workers to persevere in bringing comfort to survivors (Associated Press)
Why do flood victims suffer? | What is at issue here is not just the rancid old chestnut of some religious people attributing natural disasters, like last year's tsunami, as being the consequence of sin, but something far more insidious (Shmuley Boteach, The Jerusalem Post)
Utah churches are going extra mile in relief efforts | Utah's faith communities are working with national religious and secular organizations to ship relief supplies, collect funding, organize feeding and cleanup teams and to pray for the tens of thousands of people devastated by Hurricane Katrina (Deseret Morning News)
Refugee archbishop | Forced out of his New Orleans headquarters by Hurricane Katrina, Archbishop Alfred Hughes was busy in Baton Rouge Tuesday praying fellow storm evacuees, then huddling with top aides to make plans for a Capitol City "administrative headquarters in exile." (New Orleans Times-Picayune)
Related Elsewhere:
Yesterday we rounded up the beginnings of Christian relief efforts.
Weblog
Launched in 1999, Christianity Today's Weblog was not just one of the first religion-oriented weblogs, but one of the first published by a media organization. (Hence its rather bland title.) Mostly compiled by then-online editor Ted Olsen, Weblog rounded up religion news and opinion pieces from publications around the world. As Christianity Today's website grew, it launched other blogs. Olsen took on management responsibilities, and the Weblog feature as such was mothballed. But CT's efforts to round up important news and opinion from around the web continues, especially on our Gleanings feature.
Ted Olsen is Christianity Today's executive editor. He wrote the magazine's Weblog—a collection of news and opinion articles from mainstream news sources around the world—from 1999 to 2006. In 2004, the magazine launched Weblog in Print, which looks for unexpected connections and trends in articles appearing in the mainstream press. The column was later renamed "Tidings" and ran until 2007.
Previous Weblog Columns: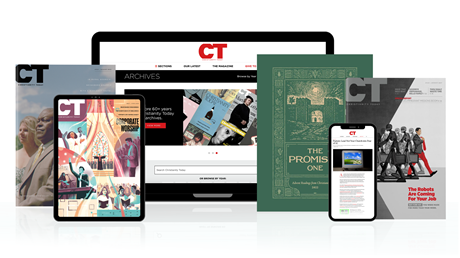 Annual & Monthly subscriptions available.
Print & Digital Issues of CT magazine
Complete access to every article on ChristianityToday.com
Unlimited access to 65+ years of CT's online archives
Member-only special issues
Subscribe
Hurricane Weblog: Little Relief in Sight
Hurricane Weblog: Little Relief in Sight