Katrina:
Hurricane Katrina changes the pace and face of giving | Charities see a broader spectrum of donors digging into their pockets, among them minorities and young people. They note that the Internet is making it easier to give. And they see more donors wanting to play active, roll-up-your-sleeves roles in helping (The Christian Science Monitor)
Discovering poverty (again) | The leap from Katrina to broad generalizations about poverty involves considerable simplification (Robert J. Samuelson , The Washington Post)
Hurricane Katrina hits three campus ministries in the US | InterVarsity Christian Fellowship's Southeast Regional Director says students are "shell-shocked" (Mission Network News)
Religion & politics:
Wisconsin weighs ban on cloning | Both sides accused of verbal dishonesty in stem cell debate (Chicago Tribune)
Boehner: Don't tie funding, hiring | Groups should not give up their rights, says Republican who chairs the House Education and the Workforce Committee (The Cincinnati Enquirer)
Religious leaders endorse tax plan | Coloradans of faith have a new message coming from some pulpits, synagogues and mosques: Pass Referendum C on Nov. 1 (The Gazette, Colorado Springs)
Also: Clergy coalition backs ballot measures | Religious leaders urge their flocks to show support (The Rocky Mountain News, Denver)
Ontario's faith based initiative stirs debate | When is it proper for the government to dictate the rules by which adults of sound mind agree to resolve family disputes? (Fox News)
Priest avows right to meddle in politics | It was not good enough for the federal Government to "cherry pick" its church leaders, listening only to those who supported its policies while dismissing their views when they disagreed, a leading Catholic priest said yesterday (The Australian)
Belief in God embedded in national psyche | The most recent Pledge ruling is not a bid for freedom from religion. Rather, it gives religious extremists yet another excuse to light their torches and storm the gates of tolerance. (Charita Goshay, Canton Repository, Oh.)
Abortion:
Group aims to help women heal after having abortions | Archdiocesan program started 21 years ago (Milwaukee Journal-Sentinel)
Remembering the unknown | Some say memorial provides comfort, others call it offensive (Milwaukee Journal-Sentinel)
Late-term abortion referrals not illegal in UK:
Abortion provider under fire from chief medical officer | Call for new guidelines to cover late terminations (The Guardian, London)
Charity cleared over late abortion advice | Britain's Chief Medical Officer cleared a charity of illegally sending women to Spain to undergo late abortions on Wednesday but criticized the service for being too willing to give out information about the service (Reuters)
Late abortion referrals 'legal' | A charity that referred abroad a woman who was seeking a late abortion was not breaking the law, an inquiry says (BBC)
War & terrorism:
Leave religion out of terror law, groups say | Courts should be able to convict people of terrorism even when there is no strong evidence of a political or religious motive for the crime, Canadian Muslim and Arab groups told a parliamentary panel reviewing the federal Anti-Terrorism Act yesterday (The Globe and Mail, Toronto)
War protesters ask jurors to heed their consciences | Four left-wing Catholic war protesters who threw vials of blood inside a military recruiting center to object to the impending United States invasion of Iraq in 2003 likened their actions to those of historic figures like Susan B. Anthony and the Rev. Dr. Martin Luther King Jr (The New York Times)
Britain wants IRA to deliver on promises | The outlawed Irish Republican Army must deliver soon on its July 28 promises to disarm and cease all threatening activities, the British secretary of state for Northern Ireland said Wednesday in his first major speech on the peace process (Associated Press)
Romney's misstep with Muslims | By advocating ''monitoring" and ''wiretapping" of Massachusetts Islamic centers and foreign students, the governor has demonstrated not only a lack of cultural understanding and a disregard for civil liberties but also an alarming ignorance about effective methods of combating radicalism (Shahid Ahmed Khan, The Boston Globe)
Do justly, love mercy? | American Presbyterians should reconsider their hostility toward Israel (Peter Hannaford, The American Spectator)
Christians, Muslims excluded from India's welfare bill:
Christians, Muslims out of welfare Bill? | Old people from Christian and Muslim communities may end up being excluded from the purview of the important welfare legislation aimed at ensuring the heirs take care of 60-plus persons (The Times of India)
Muslims, Christians outraged at exclusion from welfare bill | The government's decision to keep Christians and Muslims out of the ambit of a proposed welfare legislation for senior citizens has left community leaders puzzled and asking why they were not consulted on the move (IANS, India)
Persecution:
German harassed for preaching Christianity | Saboteurs detonated the car of a German national and burned his house in southeast Yemen for preaching Christianity among the country's Muslim population (UPI)
Bring anti-conversion bill before poll, demands JHU | More than one thousand Buddhist monks representing Jathika Sanga Sammelaneya (National Buddhist Convention), an umbrella Buddhis organization, including monks from Jathika Hela Urumaya (JHU), an extreme Sinhala nationlist party of Buddhist monks, attended a meeting held Tuesday evening to urge the Sri Lanka Government to bring to parliament the anti-conversion bill before the Sri Lanka Presidential elections scheduled for 17 November, sources in Colomb said (TamilNet, Sri Lanka)
Kenya's constitution:
Religious leaders say vote should be put off | Religious leaders in Coast province yesterday asked President Kibaki to postpone the referendum. (The East African Standard, Kenya)
Clerics call for dialogue before poll | Religious leaders in Mombasa have called for suspension of the referendum until contentious issues are resolved (The Nation, Kenya)
U.N. prosecutor says Vatican hid Croatian war criminal:
Church denies hiding war crimes suspect | The Roman Catholic Church denied that it was sheltering a top Croatian war crimes suspect, after an allegation by a United Nations prosecutor (The New York Times)
U.N. prosecutor faults Vatican in fugitive hunt | The chief prosecutor for the U.N. tribunal for Balkans war crimes has said that a Roman Catholic monastery in Croatia is sheltering a fugitive Croatian general charged with atrocities against Serb civilians and that the Vatican has refused pleas to help find him (The Washington Post)
Mexican church criticized for accepting drug money:
Church in row over "purified" drug money | A Mexican bishop sparked a row with the government on Tuesday after he admitted the Catholic Church accepted alms from drug traffickers and that they were "purified" when they reached its coffers (Reuters)
Mexico warns church on drug-tainted money | A spokesman for President Vicente Fox on Tuesday warned that no one may accept illegal funds, responding to a Roman Catholic bishop's statement that the church has no obligation to investigate whether donations come from drug trafficking (Associated Press)
Catholicism:
Tucson diocese emerges from bankruptcy | The Roman Catholic Diocese of Tucson officially emerged from bankruptcy Tuesday, exactly a year after sex abuse lawsuits drove it to seek Chapter 11 protection (Associated Press)
Pope approves barring gay seminarians | Pope Benedict XVI has given his approval to a new Vatican policy document indicating that men with homosexual tendencies should not be ordained as Catholic priests (CWNews.com)
US nominee eyes Vatican ties | The US president's nominee for ambassador to the Vatican said that he would probe the Holy See's position on ties with China if he is confirmed for the post (Taipei Times, Taiwan)
Croatian Jesuits launch prayer web site | Croatian Jesuits launch site for online prayer, offering different prayer for each day of month (Associated Press)
From Trappist monks, heavenly brew | For single-minded devotion to quality, purity and tradition, the Trappist monks of Belgium are hard to match, especially when it comes to ale (The New York Times)
Abuse:
Grand jury harshly criticizes Archdiocese for hiding clergy sexual abuse | Scathing critique says former archbishops and other leaders concealed and facilitated clergy sex abuse of children for decades (The Philadelphia Inquirer)
Also: No charges in Philly priest abuse case | Leaders of the Philadelphia Archdiocese including two cardinals concealed sexual abuse by Roman Catholic priests for four decades, a grand jury has found, but no criminal charges can be brought against the church or its clergy because of the limits of state law (Associated Press)
3 more clergy lawsuits are filed | Archdiocese sued over sex abuse. The cases include what is thought to be the first in the state involving the late Rev. Leonard Abercrombie (The Denver Post)
Man arrested for soliciting sex with teen in church | Church worker reportedly offered a 15 year old boy $100 in exchange for a sex act last year (WTSP, Tampa, Fla.)
Sexuality:
Conn. AG: Out-of-state civil unions valid | Connecticut will recognize civil unions and possibly domestic partnerships from other states and foreign countries when a new law allowing civil unions takes effect here Oct. 1 (Associated Press)
Breaking the taboo | When it comes to sex education, abstinence is not a dirty word, but an important message that young people need to hear (Catriona Martin, The Guardian, London)
Anglican Communion:
Ruling awards $81K to church | Episcopal Diocese of Los Angeles must pay legal fees to Newport's St. James, judge says (Daily Pilot, Newport Beach, Ca.)
Anglican rift over gays deepens in Nigeria | Nigeria's Anglican church has deleted all references to the mother church in Britain from its constitution, deepening a rift over homosexuality but stopping short of a feared schism. (Associated Press)
Episcopal bishop rejects Nigerian criticism on gays | Bishop of Washington DC, the Rt Rev John B. Chane says Nigerian Anglican Church neglects poor (Ekklesia, U.K.)
Document: Where do we go from here? | "Where is the strong voice of the Nigerian Anglican Church in opposing the continued neglect of vulnerable women and children, or in advocating on behalf of the poorest of the poor?" (John B. Chane, Washington Window)
Church life:
A 'come-as-you-are church' | Southern Baptist Pastor Chris Johnson wants church to seem practical (Kennebec Journal, Me.)
Group wants priest removed | Episcopal Church sanctioned him after probe of allegations (Chicago Tribune)
Watermarke Church plans 'affiliate' debut | 1st service as partner to Andy Stanley's North Point Community Church set (The Atlanta Journal-Constitution)
Education:
Azusa Pacific has big plans | The university has won city approval to go forward with a $550-million expansion to accommodate a jump in enrollment (Los Angeles Times)
More students are drawn to conservative colleges | Enrollment is up at smaller colleges with Christian values. Some think students hope it will launch political careers (The Christian Science Monitor)
Students gather at the pole to pray | Dozens of students came to school early Wednesday and took time out before classes to pray (News14, Charlotte, N.C.)
School stays in church building | There appears to be a temporary standoff in a dispute between a private school and the Roman Catholic Diocese of Manchester. (Associated Press)
Private school won't be forced to sell land | Fulton County school officials have withdrawn their threat to take a 19-acre site from a Jewish school in Sandy Springs (The Atlanta Journal-Constitution)
Officials: Suspension about policy, not religion | School policy in Augusta County dictates that students must have all materials approved before they can be distributed on school property, officials say (Springfield News-Leader, Mo.)
Yesterday: School officials review suspension | Fort Defiance sophomore distributed religious leaflets (Springfield News-Leader, Mo.)
Books:
Christian examines his faith, and the truth of other religions | Ptolemy Tompkins reviews The Soul of Christianity by Huston Smith (Los Angeles Times)
Latham book is sad, self-obsessed: Pell | The Latham Diaries is a sad, self-obsessed book that fails to give much insight into human nature, Sydney Archbishop George Pell has said (AAP, Australia)
T.S. Eliot papers sold for $438,000:
T.S. Eliot letters and poems sold for $438,000 | A series of largely unpublished letters from T.S. Eliot and a first edition of The Waste Land poem inscribed by the author sold for nearly $438,000 at auction on Tuesday (Reuters)
T.S. Eliot letters to godson auctioned | A collection of letters written by poet T.S. Eliot to a beloved godson sold at auction Tuesday for $82,300, auctioneer Bonhams said (Associated Press)
100-Minute Bible:
New page-turner Bible is launched | The 100-Minute Bible, written as a page-turner for those who do not have the time to read the full version, was unveiled at Canterbury Cathedral (BBC)
Vicar launches '100-Minute Bible' | The 39 chapters of the Old Testament and 27 of the New Testament are reduced to just a few pages, with large tracts deleted altogether in an attempt to make it more palatable (The Times, London)
'100-minute Bible' is launched | Ideal for plane journey, say creators (CNN)
Film, TV & radio:
Censored in the name of the Lord | What are decent-minded, US Christian conservatives to do if they want to watch a film without upsetting their sensibilities? Now they can watch their favourite blockbuster stripped of any sex and violence, thanks to two new companies (The Independent, London)
Occult following | The supernatural takes over the fall season (Lee Siegel, The New Republic)
Salem Communications ups revenue outlook | Salem Communications hikes third-quarter sales outlook; shares jump (Associated Press)
Nationals' chaplain suspended for comments about Jews:
Nats' Church apologizes for remarks about Jews | The Washington Nationals suspended a volunteer chaplain and distributed an apology from outfielder Ryan Church yesterday, two days after Church was quoted in a front-page Post article as suggesting that Jews are headed for eternal damnation (The Washington Post)
Nationals suspend chapel leader | The chapel leader for the Washington Nationals was suspended Tuesday after a flap over comments about Jews (Associated Press)
Press release: Washington Nationals statement regarding Washington Post article
People:
Wielding the hatchet | The Washington Post takes a cheap shot at Charles Colson (Scott Johnson, The Weekly Standard)
Searching for oil in Israel | John Brown, successful businessman and born-again Christian, says the Bible is a treasure map leading to petroleum reserves promised to three of the twelve Israelite tribes (CBS Evening News)
Crime:
Guyana woman convicted in exorcism death | A Guyana jury has convicted a woman of manslaughter for killing a friend during an exorcism ritual (Associated Press)
Fraud at local church investigated | Police searched the home and office of a Casper man in connection with the investigation into the reported disappearance of as much as $100,000 from a church's bank accounts (Casper Star-Tribune, Wy.)
More articles of interest:
Christian rockers risk wrath of DMCA with DRM tips | 'My heart is heavy with this whole copy-protection thing' (The Register, U.K.)
In a shift, Mormon Church is flexible on missionary commitment | The LDS Church has decided to move away from the days when young people went on a mission because they felt they were supposed to. Now the church wants people to serve because their faith is so strong they feel they must (The Arizona Republic)
New unity government for Sudanese | Sudan's President Omar Bashir has announced the formation of a unity government as part of a peace deal signed with former southern rebels (BBC)
Checking in with the chairgod | Time for another visit to the heavens, I think, to see what is on the gods' minds these days, so here are the latest minutes from the United Deities, as they discuss happenings on Earth (Miles Kington, Seattle Post-Intelligencer)
Related Elsewhere:
Suggest links and stories by sending e-mail to weblog@christianitytoday.com
See our past Weblog updates:
September 20 | 19
September 16 | 15 | 14
September 8 | 2 | 1 | August 31 | 30
Hurricane blog: Sept. 6 | 2 | 1 | Aug. 31
August 26 | 24 | 23
August 19 | 18 | 16
August 12b | 12a | 9b | 9a
Weblog
Launched in 1999, Christianity Today's Weblog was not just one of the first religion-oriented weblogs, but one of the first published by a media organization. (Hence its rather bland title.) Mostly compiled by then-online editor Ted Olsen, Weblog rounded up religion news and opinion pieces from publications around the world. As Christianity Today's website grew, it launched other blogs. Olsen took on management responsibilities, and the Weblog feature as such was mothballed. But CT's efforts to round up important news and opinion from around the web continues, especially on our Gleanings feature.
Ted Olsen is Christianity Today's executive editor. He wrote the magazine's Weblog—a collection of news and opinion articles from mainstream news sources around the world—from 1999 to 2006. In 2004, the magazine launched Weblog in Print, which looks for unexpected connections and trends in articles appearing in the mainstream press. The column was later renamed "Tidings" and ran until 2007.
Previous Weblog Columns: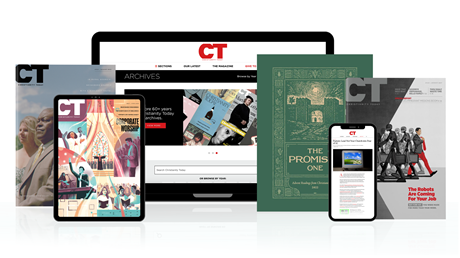 Annual & Monthly subscriptions available.
Print & Digital Issues of CT magazine
Complete access to every article on ChristianityToday.com
Unlimited access to 65+ years of CT's online archives
Member-only special issues
Subscribe
How Katrina Is Changing Giving
How Katrina Is Changing Giving