| | |
| --- | --- |
| | • |
Some 103 top Anglicans, amid tight security and a media blackout, gathered last week on Egypt's Red Sea coast for the third Global South to South Encounter to address disunity in the 75-million-member Anglican Communion, the world's largest and one of the most influential Protestant bodies.
Gay ordinations, same-sex unions, and acceptance of the homosexual bishop, V. Gene Robinson, have sharply increased tensions among Anglicans worldwide. Talk of schism is no longer speculation.
The world's leading Anglican, Rowan Williams, archbishop of Canterbury, joined the conference for a day. He gave little or no open encouragement to conservatives that the Episcopal Church (USA), the Anglican Church of Canada, or any other Anglican province would face meaningful penalties for participating in gay ordinations, same-sex unions, or the consecration of Robinson as bishop.
After five days of meetings, the group issued an eight-page statement, in which the delegates said:
Our own Anglican Communion sadly continues to be weakened by unchecked revisionist teaching and practices, which undermine the divine authority of Scripture. The Anglican Communion is severely wounded by the witness of errant principles of faith and practice which in many parts of our communion have adversely affected our efforts to take the gospel to those in need of God's redeeming and saving love.
The delegates made the following commitments:
"We express full confidence in the supremacy and clarity of Scripture and pledge full obedience to the whole counsel of God's Word."
"We in the Global South endorse the concept of an Anglican Covenant (mooted in the Windsor Report) and commit ourselves as full partners in the process of its formulation. We are seeking a covenant that is rooted in historic faith and formularies and that provides a biblical foundation for our life, ministry, and mission as a communion."
"We reject the expectation that our lives in Christ should conform to the misguided theological, cultural, and sociological norms associated with sections of the West."
Few Anglican archbishops were willing to comment openly after the meeting. But delegate Stephen Noll, vice chancellor of Uganda Christian University, noted a division within the Anglican Communion was inevitable. American Episcopalians recently held a service of consecration at the National Cathedral in Washington, D.C., for a top leader of the Metropolitan Community Church, which was created by and for the gay religious community.
"The Episcopal Church (USA) intends to send a signal that they are going in a certain direction and will not turn back," Noll said. "It confirms our sad realization that the Episcopal Church as it is now constituted is unreformable. It is a sad day to see your own birth mother fall away."
The Embattled Conservatives
In 1998, top Anglicans met for their once-per-decade Lambeth Conference and overwhelmingly voted that homosexual conduct was "contrary to Scripture." Since that time, theologically liberal Anglicans (mostly of the U.S. Episcopal Church, Church of England, and Anglican Church of Canada) have undermined that 1998 vote, moving the Anglican Communion toward acceptance of homosexual behavior as permissible for bishops, priests, and everyday church members.
The success of the Anglican left wing has been accompanied by the inability of conservatives to agree on goals and strategies. While some conservatives are committed to reform through the formal church process (the inside strategy), others want to create a rival global organization that would be biblical, reformed, and catholic (the outside strategy). The Anglican Communion is organized into more than 35 highly autonomous provinces around the world.
Anglican provinces are like spokes linked to the hub of the archbishop of Canterbury. Thus far, Rowan Williams, who as a bishop ordained a gay person to the priesthood, has given great license to the Episcopal Church (USA) and the Anglican Church of Canada to ignore the 1998 vote. Some scholars have argued that Williams's hands are tied because individual Anglican provinces are independent. But conservatives believe Williams has the authority under church law to sever ties with a rogue province for reasonable cause. In this case, that cause would be violating the spirit of the 1998 Lambeth vote and scriptural teaching against homosexual practice.
The South to South meetings bring together Anglican leaders from Asia, Latin America, and Africa. The number of active Anglicans in the United Kingdom and Episcopalians (as they are known in the United States) has been in steady decline for decades. But in the developing world, Anglican growth has been exceeding overall population growth by two or three times. Nigeria, Kenya, Uganda, Rwanda, parts of South America, Malaysia, and Singapore have all emerged as hot houses for evangelism, church planting, and traditional missions work for Anglicans.
Meanwhile, Anglicans in the West have been battling over theology, homosexuality, and the authority of Scripture. For years, the Anglican/Episcopal left has won nearly every significant battle in terms of policy and practice in Western provinces. The left has further undermined conservatives by persistently saying conservatives are motivated by fear and hatred of homosexuals. Also, after the 1998 Lambeth meeting, a few Anglican leaders alleged that African Anglicans were, in effect, bought off by conservatives. The charges have never been fully corroborated, nor have they gone away.
Forums for conservative Anglicans of all stripes have been hard to come by. But in mid-November, an estimated 3,000 conservatives are expected to gather for the Hope and a Future conference. It will be held in Pittsburgh, one of the few remaining strongholds for conservative Episcopalians in the United States.
Leaders are trying hard for a huge turnout. Oddly enough, they have turned to non-Episcopalians as headline speakers, including Southern Baptist Rick Warren of Saddleback Church and Anne Graham Lotz (Billy Graham's daughter, known for blasting "sin in the church" in her Just Give Me Jesus speaking tours). Eight Global South archbishops and many other conservative bishops from North America will also attend.
These actions by conservatives are not happening in a vacuum. Meanwhile:
More and more individual congregations are leaving the Episcopal Church (USA). In Florida, six conservative churches are negotiating with their bishop to leave while retaining their church buildings.
Via Media, an organization of liberal congregations in conservative dioceses, are laying the groundwork for retaining their church property in case the Episcopal Church (USA) formally splits in 2006 at its General Convention, according to Religion News Service.
Archbishop of Canterbury Williams has given interim protection to evangelical Bishop Robinson Cavalcanti of Recife, Brazil, after he and at least 30 other evangelical priests were threatened with excommunication by Brazil's liberal Archibishop Orlando Santo de Olivera. The embattled conservatives have been placed by Williams under the authority of the Anglican Province of the Southern Cone. There has been no penalty to Archbishop Santo. He was attempting to oust Cavalcanti and excommunicate evangelical clergy.
Limping Toward Rehabilitation
Global South Anglicans had expected to hold their meeting in Cairo. But as security and confidentiality concerns rose, the steering committee picked a little-known resort south of Suez City and a short distance from the historic Coptic monasteries of St. Antony and St. Paul, which date to the fourth century.
The delegates came from more than 20 Anglican provinces. Many archbishops (also known as primates) attended, including Peter Akinola, Nigeria; Emmanuel Kolini, Rwanda; and Yong Ping Chung, South East Asia. A handful of American church leaders attended as delegates attached to a Global South province.
At the Global South meeting, Christianity Today obtained a confidential petition and a supplemental 100-page statement. A new organization, SPREAD (the Society for the Propagation of Reformed Evangelical Anglican Doctrine) drafted the petition, which calls on conservative Anglicans to reaffirm:
Scripture is truly "God's Word written" and is sovereign over the church and its members.
A commitment to the church law not to ordain "anything that is contrary to God's Word written."
A pledge that as church leaders they will "banish and drive away from the church all erroneous and strange doctrine contrary to God's Word."
No Christian is free from obeying scriptural commandments that are moral.
Bishop John Rogers of the Anglican Mission in America (AMiA), an outside strategy group, is chair of SPREAD and a lead drafter of the petition. William Beasley, an AMiA church leader from north suburban Chicago, and Rwandan bishop John Rucyahana of Shyira also signed the petition. Beasley was present at the conference, but was not granted delegate or observer status.
According to SPREAD spokesman Martin Mahoney, the petition asks for Global South Anglican leaders to take three steps:
Be united in the Anglican reformed catholic faith.
Rehabilitate the Anglican Communion by "separating from the communion those provinces and bishops who do not follow the faith."
Form a new global communion (if rehabilitation is not possible) to carry forward the Anglican reformed catholic faith.
According to Mahoney's statement:
The debate has revealed that the communion is divided not only over the issue of whether the church should approve of same-gender sexual relations, but also over the more profound issue of whether the church is subordinate to Scripture. The church is no longer united in the Anglican reformed catholic faith, which subordinates the church to Scripture, and many of its members follow various other kinds of faith, which Subordinate scripture to the church.
It's Not About Sex
SPREAD's white paper supporting the petition opens with sobering words, "The South to South meeting … may well provide the last opportunity to save the Anglican reformed catholic faith, which submits the church to the sovereign authority of Scripture, as a major expression of the gospel of Jesus Christ to the world."
In background conversations with petition supporters, CT learned that one goal is to reframe the debate as over keeping the church under the rule of Scripture—a key Reformation tenet—rather than over homosexuality. Such a focus could place conservatives in a much stronger position. It would show that liberals are not just responding to gays and lesbians as an oppressed minority, but also straying radically from the roots of the Reformation.
According to the SPREAD paper, as liberal church leaders have advanced their agenda, they have repeatedly undermined the credibility of Scripture and Scripture's governing authority over church practice and teaching. Many Reformation standards were set in the Articles of Religion, published in the Book of Common Prayer.
But in the late 1970s and 1980s, the Episcopal Church:
Downgraded the articles to "historic" status and deleted reference to them in their constitution.
Amended the ordination vow so clergy were no longer required to drive away "strange doctrine."
Dropped the word "Protestant" from its official name.
The SPREAD paper says these changes created a new framework to permit liberals in the 1990s to ordain homosexuals and perform same-sex unions. Events in the Episcopal Church USA came to a global crescendo when the diocese of New Hampshire picked the openly gay Robinson as its next bishop. He was consecrated in late 2003.
In the wake of the Robinson's consecration, conservatives have attempted to isolate the Episcopal Church (USA), its top leaders, and Robinson himself. But the Anglican Church of Canada is following a path toward the same destination of full acceptance of homosexual behavior as normative. Also, this year, Church of England leaders for the first time are considering a move to permit homosexual priests who take a vow of celibacy to live openly with a partner.
These developments have thrown the Anglican Communion into uncharted waters and a crisis of historic proportions. But among nearly all Global South Anglicans, homosexuality is largely a non-issue since they affirm that sexual relations must be confined to the marriage of one man and one woman.
As a result, many Global South leaders support isolating Anglican provinces, such as North America. According to the SPREAD paper, Archbishop Rowan Williams is supportive of the left's agenda. Conservatives are coming to the conclusion that they cannot count on Williams as an ally.
That's why, after 100 pages of analysis, the SPREAD paper advises:
"Provinces and bishops who leave the Anglican Communion should form an association of like-minded churches to carry the gospel to the whole world."
Privately, conservatives told CT that they are not unified on whether to create a new entity now or wait until the next global meeting, Lambeth 2008. Some worry waiting another 18 months plays into the hands of liberals who, conservatives say, have proven brilliantly skillful in playing "the long game" of wearing down their opposition with meetings and dialogue.
Many of the delegates were given copies of the SPREAD petition, 14 boxes of which were held up in Egyptian customs for three days, after the final day of the conference. The concluding hymn after worship on Sunday, October 30, was "Onward Christian Soldiers."
Timothy C. Morgan is deputy managing editor of Christianity Today.
Related Elsewhere:
The full text of the Global South's statement, what is now being called TRUMPET III, is at the Anglican Communion News Service's website.
Discussion follows at TitusOneNine.
Classical Anglican Net News has links to other news coverage and commentary.
The American Anglican Council applauded the document. The group has more discussion on its weblog.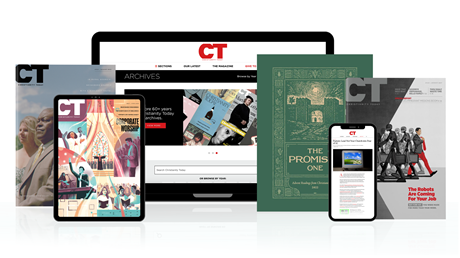 Annual & Monthly subscriptions available.
Print & Digital Issues of CT magazine
Complete access to every article on ChristianityToday.com
Unlimited access to 65+ years of CT's online archives
Member-only special issues
Subscribe
Anglicans 'Severely Wounded'
Anglicans 'Severely Wounded'