In the offices of Community Bible Church, pastor Barry Minkow leans over the phone talking to an executive who is trying to raise money for a Christian company. Minkow, after admitting he spent seven years in prison, uses his standard line when he has a hunch that a company's investment deal is a fraud. "We've got $2 million in our church building fund we're looking to invest." (His church actually does, though Minkow can't sign checks.) "You're a Christian company. We're a church. I see a fit."
"Now is really the time to buy," the man on the phone says, encouraged by Minkow's $2 million. Minkow frowns. A minute earlier the executive said he wasn't allowed to solicit funds. Hanging up the phone, Minkow shakes his head. "I don't like that at all."
Minkow smells a fraud. Sixteen years ago, as the famed Wall Street Whiz Kid, Minkow and his company, ZZZZ Best Carpet and Furniture Cleaning Company, swindled the investment community out of $26 million, going from boom to bust by the time he was 20. Minkow's firm was in fact a Ponzi scheme in which money from investors was used fraudulently to pay off a handful of early investors, creating the false impression of high returns. Such investment pyramids eventually collapse, causing most people to lose money. At age 21, Minkow was sentenced to 25 years in prison and ordered to pay back $26 million (which was dismissed by his judge in 2002).
Between 1998 and 2001, at least 80,000 people lost $2 billion in religious scams.
In prison, Minkow earned undergrad and graduate degrees from Liberty University. He now pastors a growing church of 1,200 in San Diego. To atone for his past, Minkow gives seminars to fraud investigators for the FBI. Insurance companies invite Minkow to speak to executives to demonstrate the consequences of white-collar crime. Minkow pulls out his bright orange prison jumpsuit to illustrate.
With his nose for fraud, Minkow helped found the Fraud Discovery Institute, which trains accountants and investigators on fraud-perpetration techniques and ways to expose them.
Minkow is now an investigator himself, uncovering more than $1 billion in fraud in recent months. In his book Cleaning Up, to be released this month by Thomas Nelson, Minkow documents his investigations of eight frauds, all of which were shut down by the government in a 10-month stretch from September 2003 to July 2004. The frauds were perpetrated against Christians, and, he believes, it's only of fraction of what's out there.
Minkow is convinced that frauds are occurring right now in churches nationwide.
Christians are easy targets, Minkow says, and they are increasingly a favorite of perpetrators who are bilking billions from believers and churches. "Can you imagine what this does to churches?" he asks. Minkow has watched as Christians—as investors or scammers—lie and steal tens of thousands of dollars from other believers and, in the process, destroy congregations. Burdened to stop the plague, Minkow is a busy man—investigating fraud when he's not preparing sermons, counseling, or making hospital calls.
Fraud's Perfect Storm
Scamming unwary, trusting believers is an age-old tactic, but Minkow believes that now more than ever investors are ripe for the picking. Minkow sees the conditions for what he calls a "fraud perfect storm"—the convergence of factors that make today's investors especially vulnerable.
Lower interest rates and a volatile stock market cannot provide the kind of returns many baby boomers need for retirement. But skyrocketing housing prices in many areas of the country give homeowners hundreds of thousands of dollars in home equity. "The average person doesn't have six figures to invest," Minkow says. "However, when the housing market goes up, they can tap equity, and now the average person becomes a mark."
In many of the cases Minkow uncovered, perpetrators encouraged victims to take a second mortgage on their homes to invest money in the scam. Victims were promised that in no time they would receive a 100 percent return on their investment and soon be set for retirement. For many soon-to-retire boomers, investments guaranteeing 40 percent to 80 percent returns seem to be the financial solution for their golden years. "The environment in California, in New York, in Chicago is ripe for that kind of deal," Minkow says.
Three kinds of investors are particularly susceptible to frauds, says Joe Borg, director of the Alabama Securities Commission. Investors who lost money because the '90s tech bubble burst are looking for other investments. Retirees are looking for safe investments, but cds, bonds, and mutual funds offer too little to live on. And those baby boomers approaching retirement who haven't saved enough are looking for high-yield investments to make up for lost time. Because of Wall Street's recent bust, they are hesitant to invest in traditional markets.
Because of the threat of terrorism, say both Borg and Minkow, the FBI appears to put less emphasis on white-collar crime. As a result, perpetrators are working harder than ever. Add the trusting atmosphere created by religion to the mix, and the combination is particularly dangerous.
An Epidemic within the Church
Religious-affinity fraud is among the most common scams, according to both the Securities and Exchange Commission and the North American Securities Administrators Association (NASAA). Minkow agrees, saying that the regulators he works with see fraud in Christian circles as a particular problem. Borg says, "I've got cases going out my ears."
Affinity frauds target any close-knit group—united by race, religion, or a common interest. By posing as part of the group, perpetrators bet on the trust members have for each other. They learn the language and concerns of the group, build a sense of commonality, and then offer the "investment opportunity." By this point, many Christians instinctively trust this "brother in the Lord" and don't think it necessary to investigate.
Between 1984 and 1989, 15,000 people were swindled out of $450 million due to religious-affinity fraud, according to NASAA, which represents state securities agencies. After a spate of massive fraud was uncovered in 2001, NASAA looked again. They discovered that between 1998 and 2001, at least 80,000 people lost $2 billion in religious scams. Regulators told Christianity Today such fraud is still on the rise. Minkow is convinced that frauds are occurring right now in churches nationwide. "Too many cases have occurred," Minkow says. "It's time to say something."
The nature of affinity fraud makes investigation difficult. In some Christian circles, mistrust of the government is greater than mistrust of fraud perpetrators, even when victims learn they've been ripped off. Borg has helped shut down many religious-affinity frauds and knows first-hand the difficulty of investigating scams within churches. He helped shut down Greater Ministries International, which stole more than $500 million from churches and Christian investors.
"Con artists try to make faith in God synonymous with faith in their investment scam," said one regulator. In one secretly taped conversation at Greater Ministries, which promised to double investors' money in 17 months, Borg said, one victim asked for financial statements showing those enormous returns.
In response, a church leader scolded him, "Obviously you just don't have faith. I question whether you ought to be a member of our church with such a lack of faith." After that, no one questioned the investment.
Some schemes don't target Christians but spread quickly once introduced in a church. Others go unreported, or regulators can't shut them down because victims refuse to testify. In one case, Borg said church members "were told that if they spoke to us, they would be excommunicated and their souls damned to hell. We had a lot of folks who said, 'Look, I may have lost everything I own, but I'm not going to take a chance.' " Borg said he has even had to let one scam continue because he could find no one willing to testify.
Investors are often following the advice of trusted leaders. Victims aren't simply mishandling their money or investing in scams reasonable people would steer away from. Scammers are smart, Borg says, and they play on victims' greed while easing their conscience by saying that the investment comes from God or that the money is being invested in ministry.
"This is a big spiritual problem. It's not how many dumb people are out there," Minkow says. "Greed blinds." Several church members offered Daystar Assembly of God in Prattville, Alabama, the opportunity to participate in their "investment programs." The church was promised huge returns that would help it grow. The church ended up investing and losing about $4 million. Borg says, "They got taken so bad that the church got foreclosed on because they couldn't pay their bills."
These schemes tempt Christians from all walks of life. Warren L. Ware raised more than $16.5 million from Christians who believed his promise that average investors could make money like the mega-rich.
Financial adviser James Lewis convinced top administrators at the Foursquare Gospel church to invest $15 million in Financial Advisory Consultants—the longest-running and largest Ponzi scheme ever, swindling a total of $885 million from investors.
MX Factors stole $1.4 million from three prominent pastors and a church employee as part of a $55.6 million Ponzi scheme.
Pastors, church elders, and plenty of well-heeled parishioners all believed the promises of con artists. But when Minkow first learned about those deals, he could smell the fraud, and he went to work uncovering it. "He's a cocaine-sniffing dog," says one victim of a fraud Minkow uncovered.
Minkow is unusually well-qualified to sniff out affinity fraud. Having perpetrated a $300 million Ponzi scheme himself, Minkow either knows the tricks of the trade, or he knows whom to ask—fellow former inmates are on Minkow's Rolodex. Minkow sees his criminal past as preparation for his new role warning the church and helping stop the hemorrhage.
As a teen, Minkow conned Wall Street's best accounting and law firms. As a pastor, Minkow says his new passion is to protect the church. "I can see where his God-given gifts got him in trouble prior to becoming a Christian because he's so dynamic and so intense," says Minkow's life coach, Gene French.
French founded the church Minkow now pastors in an area that was known as a "church graveyard." Minkow's drive, personality, and heart for the down and out helped him build the church from 130 to 1,200 members. "He takes the believer into the Word," French says. Minkow applies the same intensity and depth to his fraud work.
"God's been preparing me," Minkow told Christianity Today. "I was in prison and learned why perpetrators did what they did. I believe God has raised [the church] up, not just me, for this unique time in our church's history."
Horsing Around
Triple Crown Enterprises, though on a smaller scale ($15 million) than some of the frauds Minkow has uncovered, illustrates the destructive ripple effects on Christians and their congregations.
TC Enterprises offered investors an opportunity to participate in the sport of kings—horseracing—without needing to know anything about horses or racing. According to the report prepared by the Fraud Discovery Institute for state and federal regulators, TC Enterprises claimed that it was able to generate 30 percent to 80 percent annual returns by focusing its investments on horse-breeding instead of racing. One salesman told Minkow that he had never had an investor earn less than 50 percent annually. TC Enterprises offered customized packages for any level of investor and claimed that in four years the company had grown rapidly with offices from Tennessee to Thailand.
Salesmen, two of whom belonged to a church near San Diego, would invite prospective investors for a sales pitch on a rented yacht. One claimed to own the boat and said one of the company's executives, Tim Disney, was related to Walt Disney. They claimed that local celebrities and, later, church leaders were invested. TC Enterprises accepted IRA money, and many potential investors were told the company was legit because it was permitted to accept retirement funds.
But the come-on was littered with lies. Accepting IRA money does not amount to an sec endorsement. According to regulators, many con artists use that line because investors don't typically withdraw from IRAs for years. A phone call from Minkow to Roy Disney's office confirmed that Tim and Walt Disney were not related.
TC Enterprises also claimed they could guarantee the principal on the investment, because each horse was insured. If the horse died prematurely the insurer would pay investors the price of the horse. But the horses were worth far less than what investors paid for them—sometimes $100,000 less—and the insurance policy would only pay the estimated worth of the horse at the time of its death.
Whenever an investor places money in someone else's hands to invest, the investor is buying a security. Mutual funds, cds, and bonds are securities, and anyone selling a security must be registered in every state that the security is sold. A quick call to a state regulator revealed that TC Enterprises was not registered. And the address TC Enterprises listed as their headquarters was really a Mailboxes Etc. address.
Most of these claims could have been investigated with a phone call. Minkow complains that many victims do more to check out bananas when buying groceries than securities when investing thousands of dollars.
After Minkow filed his report with the California Department of Corporations, federal and state regulators shut down TC Enterprises, saying they had misrepresented the investment and sold it illegally. TC Enterprises immediately challenged the ruling in court.
Word spread quickly at the church. Some members, even leaders, claimed they had received all their money as promised. Others complained they hadn't received their return and that the deal was a fraud. According to one victim, a fault line grew within the church as members took sides.
At the time, Minkow received a call from Matt (not his real name), whose brother lost money in TC Enterprises. Minkow agreed to help Matt's brother recover his money. Matt also said he himself had lost $25,000 in the fraud but was hesitant to do anything about it.
Matt said he was friends with the man who sold him the investment. They went to church together. "We got into it and didn't even check up on it," he said. But he told Minkow he didn't want to cooperate with investigators because that could send a fellow Christian to jail.
He also revealed that the fraud perpetrators were telling investors that Minkow was overzealous and that the deal was legitimate. Minkow was accused of trying to ruin the church to increase membership at his own church.
Another victim said, "They got a couple of well-liked, high-integrity individuals to get in the program early and paid them." He says the investment as a whole did not specifically target Christians, but a couple of salesmen did, and once it entered the church, it spread rapidly.
Church leaders did not know how to respond to the fraud or the salesmen, this victim says. He complains that it was too easy for salesmen to make their sales pitches after Sunday school.
He has tried to expose the scam for what it is. "I can be quiet and go back and pretend this [salesman is] a nuisance. [But] he's a cancer who's going to infect other people, and if I'm a doctor, I will not stand to let cancer grow, not when I have the tools to contain it."
With Minkow's help, this victim was able to recover much of his $67,000 investment. But according to the Associated Press, after TC Enterprises dropped its challenge in California, it reopened in other states as Thoroughbred Championship Enterprises.
Minkow knows the consequences of fraud for both the perpetrator and the victim. He has seen it damage churches, individuals, and denominations.
Minkow still pays restitution to Union Bank for his own fraud, including more than $100,000 in 2004 through speaker fees and refinancing his house. He still owes Union Bank at least $7 million.
Minkow understands the pain he caused. He understands the guilt carried by the perpetrator, the lies told to others and to oneself. He knows the desire for wealth, fame, or power that leads to crime and masks a need for God.
So while frauds continue to be perpetrated in churches across the country, Minkow is fighting to stop them.
Rob Moll is online assistant editor for CT.
Related Elsewhere:
Sidebars to this main article are:
SIDEBAR
Success in Failure | Barry Minkow builds his ministry on what's gone wrong.
SIDEBAR
Stop Fraud Before It Starts | Barry Minkow says every investor should get the answer to four questions before investing.
INSIDE CT
Bilking the Brethren
It may be one of the biggest untold stories on the religion beat.
Also posted today is an excerpt from Barry Minkow's book Cleaning Up. The Cure | How perpetrators are more gullible than their victims. More information about the book is available from the publisher.
More about the Fraud Discovery Institute, including their training and investigative work, is available from their website.
More about Minkow's ministry is available from San Diego Community Bible Church.
Article continues below
Minkow's most recent bust, totaling $26 million, hit the news last month.
Alleged Ponzi scheme aimed at blacks took in $26 million | An alleged Southern California investment scheme targeting African Americans took more than $25.7 million from at least 1,273 people, a court-appointed receiver said Tuesday. That's triple the number first alleged by federal regulators who shut down two Riverside-based companies that used black celebrities to woo investors. (Associated Press, Nov. 23, 2004)
Fraud allegations detailed in report | Records unearthed at Riverside's Financial Solutions, the latest Inland Empire firm shut down by fraud allegations, reveal ambitious fund-raising goals pushing into the billions. (The Press-Enterprise, Nov. 9, 2004)
News articles on frauds discovered by Minkow, including some not mentioned in this article, include:
Thoroughbred investment firm skips hearing, denies it's a scam | Despite being shut down in July by California fraud regulators accusing it of bilking investors out of $15 million, a Tennessee company claiming to invest in thoroughbred racehorses is continuing to operate under a different name while its lawyers say company did nothing wrong. (Associated Press, Oct. 7, 2004)
Calif. Firm Accused of Pyramid Scheme; Marines, Churches Invested | A federal judge has frozen the assets of a California-based real estate company after authorities accused it of running a securities scam that counts at least 30 active-duty Marines and several churches as investors. (Associated Press, May 11, 2004)
Calif investment firm lacks licenses, records show | Financial Advisory Consultants, an Orange County-based investment firm, claims to have generated extraordinary profits for its clients over 20 years, but records indicate it has not registered with state and federal agencies that regulate financial advisers and investment funds. (Associated Press, Dec. 10, 2003)
U.S. probe shuts down Inland investment firm | A Riverside company promising fat returns was shut down this week after raising money at lavish events authorities say were aimed at bringing in $150 million. (The Press-Enterprise, November 5, 2004)
Other Christianity Today fraud articles include:
Fools' Gold | Christians lured into buying 'rare' coins. (June 30, 2004)
The 419 Fraud | New twist on an old scam tempts Christians to accept millions from a Muslim convert. (Nov. 20, 2002)
Swindle Taints Nigerian Church | Church growth and credibility in danger because of scam. (Nov. 20, 2002)
Article continues below
Greater Ministries Leaders Get Lengthy Prison Terms | After taking in 18,000 Christians with "gifting" program, five leaders convicted. (Oct. 2, 2001)
Indictments Handed Down | Five former Baptist Foundation of Arizona officials plead not guilty to theft, fraud, and racketeering. (May 17, 2001)
Jury Convicts Greater Ministries of Fraud | Five leaders face jail time for one of the largest Ponzi operations ever. (March 28, 2001)
Health Ministry Fraud Alleged | Ohio seeks $16 million in damages against Christian Brotherhood Newsletter. (March 9, 2001)
Elderly Investors Target Accountant | But Baptist Foundation of Arizona victims will have to wait in line. (May 17, 2001)
Defrauding the Faithful | If convicted, Greater Ministries defendants face massive fines, prison terms. (Feb. 8, 2001)
Baptist Foundation Faces Investment Fraud Charges | Freeze on redemptions leaves pensioners in a pinch. (Oct. 25, 1999)
Federal Authorities Collar Greater Ministry Leaders | Accusations include fraud, money laundering. (April 26, 1999)
$100 Million Missing in Greater Ministries Scandal | The financial scandal engulfing Greater Ministries International Church is expected to reach a climax soon in a Tampa federal court. (Oct. 4, 1999)
12 Million Fraud Scheme Parallels Greater Ministries | Jonathan Strawder's arrest in Orlando on December 15 on charges of grand theft and securities fraud involved more than just another religious scam with Christian contributors. Authorities hope he can provide crucial information about the workings of an even larger operation, Greater Ministries International Church (GMIC), which has headquarters in Tampa (Feb. 8, 1999)
Unsuspecting Christians Bilked of Millions | This month, Philip Harmon, 61, entered a federal prison to begin serving an eight-year sentence for conspiracy and tax fraud. His businesses have crumbled, and in their place Harmon faces, besides a penitentiary, a court order to repay $16 million dollars to his investors, a debt he is unlikely to repay. (July 13, 1998)
New Era's Bennett to Prison | How could a little-known Christian business executive defraud charities of $354 million while claiming to do God's work? (Oct. 27, 1997)
Have something to add about this? See something we missed? Share your feedback here.
Our digital archives are a work in progress. Let us know if corrections need to be made.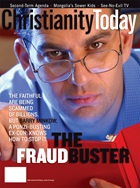 This article is from the January 2005 issue.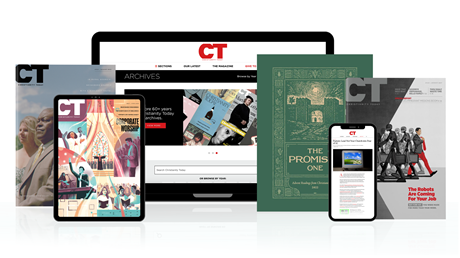 Annual & Monthly subscriptions available.
Print & Digital Issues of CT magazine
Complete access to every article on ChristianityToday.com
Unlimited access to 65+ years of CT's online archives
Member-only special issues
Subscribe
The Fraudbuster
The Fraudbuster