Vatican archaeologist: Paul really is buried where the church said he is
Giorgio Filippi, a archeology specialist with the Vatican Museums, says a sarcophagus containing the remains of the apostle Paul has been discovered in the basilica of San Paolo Fuori le Mura (St. Paul Outside the Walls).
"The tomb that we discovered is the one that the popes and the Emperor Theodosius (379- 395) saved and presented to the whole world as being the tomb of the apostle," Filippi told Catholic World News (partial reprint) after a brief item appeared in an Italian news report Wednesday.
"An initial survey enabled archeologists to reconstruct the shape of the original basilica, built early in the 4th century," Catholic World News reported. The article continues:
A second excavation, under the main altar of the basilica, brought the Vatican team to the sarcophagus, which was located on what would have been ground level for the original 4th-century building. Under the altar was a marble plaque was still visible, dating back to the 4th century, and bearing the inscription: "Apostle Paul, martyr." Filippi remarks that surprisingly, "Nobody ever thought to look behind that plaque." When the Vatican team looked, they found the sarcophagus.
We're still feeling the fallout from the last time we got all excited about an archaeological link to the early apostles. Weblog will let the pros debate this one for now. But it's worth noting this section from Christianity Today sister publication Christian History and Biography's special issue on Paul:
The New Testament doesn't tell us [how and when Paul died]. Acts ends with the cliffhanger: Paul under house arrest in Rome while awaiting trial. What happened next, the writer didn't say. Perhaps he figured his readers knew.
Christians, in fact, did know. Early Christian writers agree that Paul was martyred in Rome. The first person we know of who said this was a Roman bishop, Clement, writing to the Corinthians in 96, roughly 30 years after Paul's execution. Gaius, a second-century church leader in Rome, said he could point out the grave monuments of Paul and Peter …
Paul's monument was on the Ostian Way (Via Ostiensis), about two miles from the center or Rome. St. Paul's Outside the Walls was built on the spot Gaius mentions. The Catholic Encyclopedia reports, "Under Gregory XVI [1765-1846], the sarcophagus of St. Paul was discovered, but not opened. Its fourth-century inscription bears the words PAULO APOST MART (Paul, Apostle and Martyr)."
So, uh, is this news after all? Or is it kind of like saying "Grant said buried in Grant's tomb"?
Someone wake up The Wall Street Journal editors
Last month, Peggy Noonan's column on Bush's inaugural address was titled "Way Too Much God." But while Noonan called it "a God-drenched speech," her critique was that the speech was "over the top" in its ambitions of "perfection in the life of man on earth."
Today is a bit odder. An article titled, "The New Evangelicals" has the deck "They don't think like Billy Graham." Ooh. That's promising. How are new evangelicals different from Graham, pretty much considered the guy (along with Carl Henry) who catalyzed the neo-evangelical movement?
The problem is that Edith Blumhofer's article has nothing to do with that subject. It's about ethnic evangelicals, and the only reference to Graham is that ethnic evangelicals are influenced by Graham, if not by other 24 names on Time's most-influential list.
Huh. There are some nice observations in the brief piece, though the final line (The 20th-century global explosion of evangelicalism has come full circle: Evangelicals from everywhere rub shoulders in the U.S. Not that the media have really noticed) seems added by a Journal editor rather than something that was part of Blumhofer's original. The article is worth a read. The headline isn't.
More articles
Christian band sues after being dropped from school assembly:
Christian band sues Rossford schools | Rossford Superintendent Luci Gernot said she prohibited the Christian rock band Pawn from playing during a school anti-drug assembly Dec. 21 because of concerns about potentially being sued for promoting religion in a public school. Yesterday, the district was sued — by the band. (Toledo Blade)
Christian band sues Ohio school district | Rossford High School officials in December canceled the band Pawn's performance at an anti-drug assembly. Board members said they feared a lawsuit if they allowed a religious performance in a public school (Associated Press)
Education:
Don't let fear of vouchers halt Perdue plan | Much of the opposition to Gov. Sonny Perdue's proposed Faith and Family Services Amendment stems from belief that, if approved by the voters in 2006, it will remove a constitutional barrier to educational vouchers. Well, folks, I've got news for you. We already have vouchers in Georgia (Joseph M. Knippenberg, The Atlanta Journal-Constitution)
Profs free to speak -- not preach | Academic freedom protects professors from one another and from yahoos outside the university (like regents), and it should protect students from yahoo professors (Andrew Greeley, Chicago Sun-Times)
Not so fast on evolution | Textbooks need advisory, says county school board's Bunker (Commercial Appeal, Nashville, Tenn.)
Davidson allows non-Christian trustees:
Davidson reverses policy banning non-Christians as trustees | Davidson President Bobby Vagt compared the decision to admitting the first blacks and women in the 1960s and 1970s (Associated Press)
Davidson broadens criteria for trustees | School's change permits non-Christians to serve (The Charlotte Observer, N.C.)
Gays unhappy with AMA president's defense of gay student group ban:
Gay groups criticize AMA president remarks | After being criticized by gay and lesbian groups, the president of the American Medical Association said Thursday his views were misrepresented in a newspaper article that quotes him defending a Roman Catholic-affiliated medical school's decision to ban a gay student group (Associated Press)
Earlier: AMA chief defends ban on gay group | The president of the American Medical Association this week defended a decision by New York Medical College to ban a gay students group from campus, calling it a decision by a private institution to uphold its standards and likening it to Brigham Young University's decisions to ban Coca-Cola from campus and to suspend four athletes accused of raping a 17-year-old girl (The Journal News, White Plains, N.Y., Feb. 12)
Homosexuality & the Anglican Communion:
Archbishop: Gay issue splits Anglicans | The Anglican rift over gay bishops will be costly no matter how it is resolved, Archbishop of Canterbury Rowan Williams said Thursday (Associated Press)
Anglican church deeply wounded in gay row –Williams | "There are no cost-free decisions … there will be no cost-free outcome from this," he told a debate on the issue at the General Synod -- the Church of England's parliament. (Reuters)
Archbishop pledges to take tough action in Church gay row | The Archbishop of Canterbury, Dr Rowan Williams, yesterday warned liberals who have brought the Anglican Church to the brink of collapse over homosexuality that they would face the consequences (The Telegraph, London)
Gay clergy debate will hurt us, says archbishop (The Guardian, London)
Williams tells liberals they risk damaging the Church (The Times, London)
And women bishops: Not of this world | The continuing argument against women as bishops is theologically non-existent. To most people, this is not a serious debate; it is an alienating display of un-Christian misogyny (Editorial, The Guardian, London)
Church life:
Sunday parking fees debated | At a City Council hearing, the Brooklyn Council of Churches and the Queens Federation of Churches testified in support of a bill that would suspend meter regulations citywide on Sundays (The New York Times, first item)
Greek Church proposes urgent reforms | Greece's powerful Orthodox Church, rocked by sex and corruption scandals, opened an emergency meeting Friday into wide-ranging reforms that will look at introducing stronger controls over finances (Associated Press)
ELCA loses local church | "More and more of the influence in the ELCA has been of a secular nature," says Lee Harder, pastor Our Saviour's Lutheran Church in Lamberton (Redwood Falls Gazette, Minn.)
Hillsong spreads to UK | Hillsong London is the headquarters of the church's growing European parish with up to 2,500 members in Kiev and a new chapter in Paris (AAP, Australia)
Charles & Camilla:
Royal wedding strays into Anglican battles | Conservative groups complain the civil ceremony and post-vows service by the Archbishop of Canterbury — although fully legal — run counter to Church of England traditions against remarriage and will deepen rifts at a delicate time for the world's 77 million-strong Anglican Communion, which includes Episcopalians in the United States (Associated Press)
Religious storms on the throne | A look at some of the strains between royal romance and religious rules in Britain since Henry VIII broke with the Vatican and began the Church of England in the 16th century (Associated Press)
Church & state:
Audit finds no inappropriate IRS audits | An outside audit found nothing inappropriate in Internal Revenue Service examinations of allegations of improper political activity by churches, civic groups and charities (Associated Press)
Hampson withdraws motion on prayer at board meetings | La Crosse County supervisors will keep getting inspiration — or aggravation — from invocations at the start of their meetings. After a lengthy debate Thursday about the role of religion in government, Supervisor Sharon Hampson withdrew her motion to remove the invocation from the board's meetings (La Crosse Tribune, Wi.)
ACLU sues jail over church-state infringement:
Jail contractor pushes religion, lawsuit charges | The hiring of a contractor that allegedly mixes religion with the vocational training it provides to inmates at a northern Pennsylvania jail violates the state and federal constitutions, two national civil-liberties groups charged Thursday in a lawsuit filed in federal court (Associated Press)
ACLU officially files lawsuit against Bradford County | The complaint alleges the county through the commissioners, as well as Firm Foundation, through its inmate vocational training program violated the First Amendment of the US Constitution (Morning Times, Sayre, Pa.)
ACLU's local civil suit part of larger challenge over church-state separation issue | The lawsuit filed Thursday in U.S. District Court against Bradford County and the Firm Foundation may be part of a larger attempt by the American Civil Liberties Union to challenge President Bush's Faith-Based Initiative legislation. (Daily Review, Towanda, Pa.)
Religion & politics:
Ralph Reed to seek Georgia post in 2006 | Former Christian Coalition director announced Thursday he will run for lieutenant governor in 2006 (Associated Press)
Activists focusing on Romney in S.C. | When Governor Mitt Romney delivers a major speech to South Carolina Republicans Monday, many party activists there will listen with a key question in mind: Can a Massachusetts governor, with nuanced positions on gay rights and abortion, appeal to conservative Southern voters? (The Boston Globe)
When sexuality trumps family values | Too many people speak of family values but offer them only for approval (Julianne Malveaux, USA Today)
Forbidden by church, priest looks for God in Jharkhand polls | In tribal Christian heartland, 35-year-old Independent candidate says he's in the fray because God has willed it (The Indian Press)
Religion and the courts:
High drama, conflict await Supreme Court | The Supreme Court returns next week for the second half of its term with some of the biggest issues yet to be decided: the juvenile death penalty, Ten Commandments displays and the future of its ailing leader (Associated Press)
Judge upholds ban on polygamous marriage | A county clerk can legally refuse to issue a marriage license for a polygamous union, a federal judge ruled, turning aside the argument that a landmark Supreme Court decision overturning anti-sodomy laws should also be applied to plural marriage (Associated Press)
Justice Thomas finds himself in inauguration controversy | In an invitation-only ceremony, Thomas on Jan. 13 gave the oath of office to newly elected Alabama Supreme Court Justice Tom Parker, a close protégé and former aide to one-time Alabama Chief Justice Roy Moore (Legal Times)
Philadelphia Four acquitted:
Charges against anti-gay activists dropped | A judge dismissed all charges Thursday against four members of a conservative Christian group who were arrested last fall while picketing a street festival for gays (Associated Press)
Judge dismisses charges against anti-gay protesters | A Philadelphia judge yesterday dismissed all charges against four men of a Christian evangelical group who were accused of trying to disrupt a homosexual rights event in the fall (The Washington Times)
Anti-gay preacher cleared | Judge dismisses charges against Ephrata man (Intelligencer Journal, Lancaster, Pa.)
Christian protesters free | Judge: Speech at gay fest protected (Philadelphia Daily News)
Abortion:
Va. antiabortion measures fizzle before Senate panel | Key bill required doctors to speak of fetal pain (The Washington Post)
Defeated bills | Details on what went down (The Washington Post)
Bankruptcy bill advances | Senate Democrats who oppose the bill plan to propose dozens of amendments to change or at least stall it, including a controversial provision sponsored by Sen. Charles E. Schumer (D-N.Y.) that would bar individuals from using bankruptcy to avoid paying court-imposed fines for unlawful protests against abortion (The Washington Post)
Better choices | Seeking a new way to talk about abortion with those who sincerely oppose it need not mean supporting restrictions. It can start with three areas of truly common concern that can significantly reduce the number of abortions: adoption, contraception, and compassion (The Boston Globe)
Abortion bill would forbid coercion | A bill to require parental consent for an underage girl to have an abortion also would make it a crime for her parents or anyone else to coerce her into having one (San Antonio Express-News, Tex.)
Parental consent urged for abortions | Proposal would require girls under 18 to get approval (Associated Press)
Indiana considers viability law:
State may be 1st to establish viability of fetus | Legal and medical experts say bill raises ethical questions and could affect neonatal care (The Indianapolis Star)
10 bills rekindle abortion debate | House panel okays effort to license clinics, set age for viability of fetus (The Indianapolis Star)
Find middle ground on abortion bills | A reasonable compromise is possible on abortion legislation moving through the General Assembly (Editorial, The Indianapolis Star)
Life ethics:
Romney's stem cell power plays | Even if one believes his position heartfelt, Romney looks out of synch with his state. And if you judge his stance political? Well, then the governor has certainly opened himself to the charge that he is playing politics with the state's future prospects (Scot Lehigh, The Boston Globe)
Parents seek new tests for right-to-die Fla. woman | Robert Schindler, the father of Theresa "Terri" Schiavo, said the tests should be done because of a recent study that found patients with brain damage may be more aware of their surroundings than doctors previously thought (Reuters)
French unborn death 'not a crime' | A French appeals court has ruled that a man responsible for the death of a pregnant woman in a car accident was not guilty of a double crime (BBC)
Religious freedom:
Kidnapped Iraqi-Swede appeals for help in video | The leader of Iraq's Christian Democrats was snatched three weeks ago (Reuters)
US puts religious rights in Vietnam under close scrutiny | An impending US decision on whether or not to punish Vietnam for its poor record on religious freedom has put the communist country under mounting pressure that could already have yielded significant changes (AFP)
Abuse:
Group checks dioceses' abuse prevention | A group comprised mostly of former FBI agents has traveled the country for the second consecutive year, examining sex abuse prevention programs in Roman Catholic dioceses (Associated Press)
Some suspended priests still paid | No accused or convicted clergy have been defrocked (Concord Monitor, N.H.)
Archdiocese runs checks on priests | 60,000 probed include workers and volunteers (The Boston Globe)
Priest enters plea of not guilty | Solicitation case involves girl, 12 (The Boston Globe)
Blackwell trial:
Blackwell is convicted of molesting teen Stokes | Baltimore ex-priest guilty on 3 counts of child abuse; Crime festered since early 1990s (The Baltimore Sun)
Jury seemed hopelessly split, but doubts vanished overnight | Blackwell's demeanor, shooting were key factors (The Baltimore Sun)
'Thank God … This is over' | Though this wasn't Stokes' trial - the Baltimore barber was acquitted in 2002 of the attempted murder of Blackwell - in many ways it might as well have been (The Baltimore Sun)
Survivors hail Stokes as a hero for abuse victims | Advocates view verdict as part of larger message (The Baltimore Sun)
Priest convicted of molesting altar boy | A defrocked priest was convicted Thursday of molesting an altar boy who a decade later shot and wounded him on the street in a fit of rage when the clergyman refused to apologize (Associated Press)
Ex-priest guilty of sex abuse | Md. jury convicts on 3 of 4 counts (The Washington Post)
Ex-priest shot by former altar boy in 2002 convicted of abusing him | Dontee Stokes pressed his case against Maurice Blackwell for years. A second man goes public with allegations against the defrocked cleric (Los Angeles Times)
Catholicism:
Pope describes 1981 shooting in new book | Pope John Paul II for the first time publicly described the moments after he was gravely wounded in 1981, saying in his new book that he was fearful and in pain but had "a strange feeling of confidence" he would live (Associated Press)
Vatican decries 'religion of health' | "While millions of people in the world struggle to survive hunger and disease, lacking even minimal health care, in rich countries the concept of health as well-being figures in creating unrealistic expectations about the possibility of medicine to respond to all needs and desires," said the Rev. Maurizio Faggioni, a theologian and morality expert on the Vatican's Pontifical Academy for Life (Associated Press)
Priests sign up for exorcism 101 | Faced with a shortage of skilled clerics, Vatican is offering a course on demonic possession (Los Angeles Times)
Arlington priest faces judges | A whistleblower Catholic priest who says his bishop is persecuting him because of his activism against homosexuals in the priesthood appeared yesterday in front of an ecclesiastical court near Catholic University (The Washington Times)
Pope calls on Catholics in Lebanon to work for peace | Denouncing the "terrible attack" as a "criminal act which offends God and men created in His likeness," John Paul prayed for God's mercy to be felt in the Middle East, according to the text of the telegram sent to Cardinal Nasrallah Pierre Sfeir, patriarch of Antioch of the Maronite faithful (Associated Press)
Indian priest's grave vandalized:
Day after burial, priest's body goes missing | A day after Roman Catholic missionary Father Mark was buried on the premises of St Mary's Church School at Gumtala after a dispute with the Jalandhar Diocese, the body was reported missing this morning (The Indian Express)
Also: Father Mark's grave vandalised, body found elsewhere (The Tribune, Chandigarh, India)
BBC sorry for 'demonizing' Israel:
Thought for the Day ends in apology | BBC said there were a number of factual errors in clergyman's tale and they had been unable to substantiate the soldier's story (The Guardian, London)
BBC apologies for Thought for the Day's soldier story | The BBC apologised yesterday for an item on a religious programme that angered the Jewish community by "demonising" Israel (The Telegraph, London)
Evangelicals:
Praising the Lord | Diversity among evangelicals translates locally and nationally among a religious population that is growing in size and getting more attention after being seen as a force in the recent presidential election (The Sun Chronicle, Attleboro, Ma.)
Evangelical groups grow | 92,934 members are from coastal counties, 45,463 followers live in pineywoods counties (The Sun Herald, Biloxi, Miss.)
Religion & spirituality:
A quiet weekend with the monks | Cloistered vacations are a growing trend, with more and more lay people taking weeklong or weekend retreats to rejuvenate the spirit (The New York Times)
A Bono-fied religion | W.W.B.D. What would Bono do? (Geoff Boucher, Los Angeles Times)
Books:
Da Vinci Code goes on trial without a defence | Art experts and conservative clerics were putting the blockbuster novel The Da Vinci Code on trial in the art master's home town tonight (PA, U.K.)
Giving the devil his due | Bishop's book puts blame for society's ills squarely on shoulders of Satan (San Diego Union-Tribune)
Money:
Clergy back income tax increase | Proposal partially rolls back '99-'00 cuts (Pioneer Press, St. Paul, Minn.)
In God we trust -- our money | Seminar offers financial advice from a Christian perspective (The Express-Times, Easton, Pa.)
More articles of interest:
Who framed Buster Rabbit? The fallout continues (Lisa de Moraes, The Washington Post)
Gospel according to Buddy Miller | When your songs are as good as his, there's no need to put a label on them (The Boston Globe)
Nfld.'s Conservative premier speaks out in support of gay marriage | With Conservative Leader Stephen Harper once again under fire for his stance on the controversial issue, Danny Williams split with his federal counterpart to say he personally supports the rights of gays and lesbians to legally wed (Canadian Press)
Gambling ex-pastor gets work-release | A former Libertyville pastor who pleaded guilty Thursday to stealing about $44,000 in church funds was sentenced to 90 days of work-release in Lake County Jail (Chicago Tribune)
Religion news in brief | Closing Catholic parishes, Washington church agrees to host homeless Tent City, Gay couples exchange vows at Houston church, and other stories (Associated Press)
Related Elsewhere:
Suggest links and stories by sending e-mail to weblog@christianitytoday.com
Check out Books & Culture's weekly weblog, Content & Context, and the Christianity Today Movies weekly weblog, Reel News.
See our past Weblog updates:
February 17 | 16 | 15
February 11 | 10 | 9b | 9a
February 4 | 3 | January 31
January 28 | 27 | 26 | 25
January 19 | 18 | 17
January 14 | 13 | 12
Weblog
Launched in 1999, Christianity Today's Weblog was not just one of the first religion-oriented weblogs, but one of the first published by a media organization. (Hence its rather bland title.) Mostly compiled by then-online editor Ted Olsen, Weblog rounded up religion news and opinion pieces from publications around the world. As Christianity Today's website grew, it launched other blogs. Olsen took on management responsibilities, and the Weblog feature as such was mothballed. But CT's efforts to round up important news and opinion from around the web continues, especially on our Gleanings feature.
Ted Olsen is Christianity Today's executive editor. He wrote the magazine's Weblog—a collection of news and opinion articles from mainstream news sources around the world—from 1999 to 2006. In 2004, the magazine launched Weblog in Print, which looks for unexpected connections and trends in articles appearing in the mainstream press. The column was later renamed "Tidings" and ran until 2007.
Previous Weblog Columns: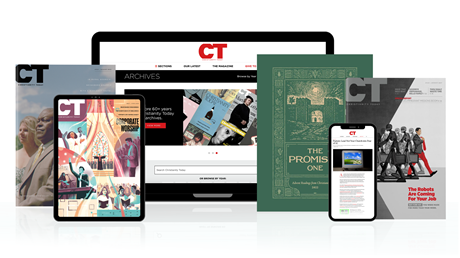 Annual & Monthly subscriptions available.
Print & Digital Issues of CT magazine
Complete access to every article on ChristianityToday.com
Unlimited access to 65+ years of CT's online archives
Member-only special issues
Subscribe
Paul's Tomb Reportedly Discovered
Paul's Tomb Reportedly Discovered