The parents of brain-damaged Terri Schiavo found short-term success for the second day in a row Wednesday, but prospects of legally keeping a feeding tube connected for a longer reprieve continued to dwindle.
"The stay is only temporary and her life is still very much at risk," said National Right to Life spokeswoman Lori Kehoe.
Following a 24-hour court extension of a deadline on Tuesday, pro-bono attorneys working for Bob and Mary Schindler convinced Circuit Judge George Greer to grant their 41-year-old daughter an additional 48 hours on Wednesday.
The Schindlers began a round-the-clock prayer vigil outside the hospice where Terri Schiavo lives. They hope public opinion will pressure Florida Gov. Jeb Bush to call the state legislature into special session to enact a law that would extend Schiavo's life.
That's what happened two years ago, when Bush ordered the feeding tube reinserted six days after its removal. Daniel Webster, the Republican senator in Florida who sponsored the law that has kept Terri Schiavo alive, says he doesn't know what options the state legislature has left.
The Schindlers are hoping a Florida Department of Children and Families investigation uncovers evidence that their daughter sustained serious physical injuries at the hands of her husband during the early years after becoming incapacitated. "Terri's life and the lives of many disabled, elderly, and vulnerable people in Florida hang in the balance," the family said in a statement Wednesday.
George Felos, attorney for Schiavo's husband, Michael, doesn't believe Greer will find enough evidence to overrule his original ruling in 2000 that the feeding tube could be removed, citing an earlier ruling by a three-judge panel. "The court of appeals has found otherwise: 'Mrs. Schiavo is blessed with a loving husband who has done his utmost to care for her.'"
After three witnesses made statements, the court found clear and convincing evidence that Schaivo didn't want to be tube-fed, Felos told CT. "Terri has a constitutional right to have her medical wishes honored," said Felos, who contends that even if Michael changed his mind, the court is bound to carry out the order.
But the Schindlers believe their daughter's Catholic faith played an important role in her life and she would never have chosen death by starvation and dehydration.
"The Schindlers know Terri wouldn't want to be killed by starvation, which is a horrifying death," said family attorney Barbara Weller.
Mary Schindler said she keeps up hope for the same reason Sarah Scantlin's parents did in Hutchinson, Kansas. In January, Scantlin spoke for the first time in 20 years after being injured by a drunk driver. Schiavo has been in this condition for 15 years after she suffered cardiac arrest, collapsed, and lost oxygen to her brain for five minutes.
Schindler concedes that her daughter is severely brain damaged, but she refuses to label her as being in a "persistent vegetative state," as Felos does. "Whatever her future, all I want is for my daughter to just have a chance," Schindler told CT.
The Schindlers have found broad support. "Pro-life groups, disability groups, and even liberal feminist groups who don't like the idea of a husband doing away with his wife helped the cause," Weller said.
Felos pointed out that the Schindlers initially agreed to allow Michael to be the guardian. But Mary Schindler said 48 hours after Terri collapsed, Michael asked her and her husband to sign papers they thought only allowed Michael to be the spokesman to the doctor. "We didn't know we were giving up all rights to Terri," said Schindler, who criticized Michael Schiavo for stopping therapy for Terri 12 years ago, not allowing her to leave a hospice room for five years, and for having two children with a live-in girlfriend he has had for the past decade.
Webster told CT that Schiavo has a heartbeat, brainwaves, and—except for the feeding tube—appears in excellent health. "She's no different from many other people who are severely handicapped," Webster said. "Her life is valuable and worth fighting for."
Webster said if the state proposed to put a serial killer to death by starvation, public outcries of cruel and unusual punishment would stop it. "If Terri had done something resulting in capital punishment she would have received far more rights," Webster lamented. "But here's a person who has done nothing wrong who has been sentenced to death by a court."
Dana Cody, executive director of the Life Legal Defense Foundation in Napa, California, said the disabled increasingly are being marginalized because of "quality of life" arguments.
"It's become standard operating procedure in the health-care community," Cody said. "Seeing Terri die will advance the 'right-to-die' agenda."
Weller cited parallels to Nazi Germany with Greer's edict to end Schiavo's life. "If they can kill Terri, they will kill many more people," Weller said. "Once they start killing off one group of people who don't mean much to society, who knows where it will end."
Related Elsewhere:
The Terri Schindler-Schiavo Foundation has the latest news of the efforts to keep Terri alive, how to help, and complaints about inaccurate media coverage.
News elsewhere includes:
Schiavo feeding tube stays for now | A Florida judge Wednesday afternoon ordered the tube delivering food and water to Terri Schiavo kept in place another 48 hours, as Gov. Jeb Bush pledged to do all he could to keep the incapacitated and brain-damaged woman alive. (Los Angeles Times, Feb. 24, 2005)
Protesters back in front of Michael Schiavo's home | For the second day in a row, protesters were back in front of Michael Schiavo's home, trying to convince him to give guardianship of his wife Terri Schiavo back to her parents. (Tampa Bay Channel 10, Feb. 24, 2005)
Florida steps back into fight over feeding tube for woman | As a judge delayed the removal of a brain-damaged woman's feeding tube for two more days, Gov. Jeb Bush's administration stepped back into the heated case Wednesday with the state's protective services agency seeking to intervene. (New York Times, Feb. 24, 2005)
Judge keeps feed tube in brain - damaged woman | A Florida judge on Wednesday extended until Friday an order preventing the husband of a severely brain-damaged woman from removing a feeding tube that has kept her alive for the past 15 years. (Reuters, Feb. 23, 2005)
Judge extends stay in right-to-die case | A judge Wednesday extended a stay keeping brain-damaged Terri Schiavo's feeding tube in place, saying he needed time to decide whether her husband, who wants to let her die, is fit to be her guardian. (Associated Press, Feb. 23, 2005)
Other CT articles following Terri's case include:
Reprieve for Brain-Damaged Woman | But Christian activists say the fight to protect the disabled is far from over. (Nov. 25, 2003)
Christian History Corner
Not a Mercy but a Sin | The modern push for euthanasia is a push against a two-millennia-old Christian tradition (Oct. 31, 2003)
Speaking Out
Why I Believe in Divorce | A disabled Florida woman's only hope to stay on life support is to divorce her husband who wants to pull the plug. (Oct. 16, 2003)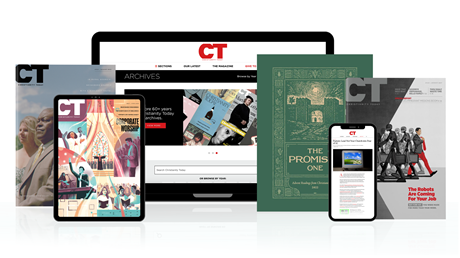 Annual & Monthly subscriptions available.
Print & Digital Issues of CT magazine
Complete access to every article on ChristianityToday.com
Unlimited access to 65+ years of CT's online archives
Member-only special issues
Subscribe
Stay of Execution
Stay of Execution