"In a sense," Billy Graham said in an address launching Christianity Today 50 years ago, "we are almost leaderless" in the evangelical movement. Half a century later, lack of leadership isn't a problem—we may have more leaders than followers.
When the Institute for the Study of American Evangelicals in 2001 provocatively named Tim LaHaye "the most influential American Evangelical of the last 25 years" (for the breadth of his bestselling bibliography), few took notice. But since the presidential election, both religious and mainstream media have been trying to map the tricky network and hierarchy of the popeless priesthood of evangelical believers. Evangelicals are now seen as key political influencers, so observers want to know: Who's influencing them?
New York Times columnist David Brooks came early to the fight, challenging fellow journalists to stop quoting Jerry Falwell and Pat Robertson. "There is a world of difference between real-life people of faith and the made-for-TV, Elmer Gantry-style blowhards who are selected to represent them," he said.
Evangelicals agree. A spring 2004 poll from PBS's Religion and Ethics Newsweekly found that only 23 percent of self-described evangelicals had "warm or positive feelings" toward Falwell—the same percentage they gave "pro-choice groups." Robertson scored higher, at 34 percent, but still lower than labor unions (36%) and far below Pope John Paul II (44%) and James Dobson (40%).
The real spokesperson for evangelicalism, said Brooks, is John Stott, who is "always bringing people back to the concrete reality of Jesus' life and sacrifice."
Christian publications followed Brooks with their own lists. Christian Retailing's "Top Fifty People" shrewdly broke up the names by category, then published the lists alphabetically (top authors: Chuck Colson, Dobson, T.D. Jakes, Tim LaHaye, Hal Lindsey, Max Lucado, Catherine Marshall, Janette Oke, Frank Peretti, Charles Swindoll, Phyllis Tickle, Rick Warren, and Bruce Wilkinson).
The Church Report, a tiny trade magazine with a circulation of 30,000, sought to make a splash in January with its own list of "The 50 Most Influential Christians in America." George Bush, Mel Gibson, Graham, Warren, and Joel Osteen started off the eclectic list.
Pollster George Barna sought to put some hard numbers behind the issue, asking pastors who most influences American churches. Graham, Warren, Bush, Dobson, Bill Hybels, Jakes, and John Maxwell hit the top, followed by Barna himself, just above the Pope and Lucado. Asked for the most trusted spokesperson for Christianity, pastors listed Graham, Dobson, Warren, Jakes, Swindoll, Falwell, Hybels, and Colson.
Still, it's Dobson whom the Times news section has taken to calling "the nation's most influential evangelical leader," and a January U.S. News profile calls him "the best-known leader" of the movement. Pundit Hugh Hewitt spent much of January arguing why the Focus founder is America's "most influential individual not in government," evangelical or no—which led to a Dobson vs. Oprah debate between Hewitt and fellow blogger Joshua Claybourn.
Dobson's "political influence is not everything people might think," an unnamed Bush aide told Time magazine, but the publication acknowledged that "only a sliver of the activities [at Focus on the Family] are political," highlighting him among "The 25 most influential evangelicals in America." Warren, wearing black instead of his usual aloha shirt, led off the February 7 photo essay, but the other names were listed alphabetically, from philanthropists Howard & Roberta Ahmanson to missiologist Ralph Winter.
"American Evangelicalism seems to defy unity, let alone hierarchy," Time's cover story said. "Yet its members share basic commitments." And apparently its leaders share something else: with few exceptions, all of those on these media lists are themselves somehow involved in the media. The lists highlight Warren's bestselling Purpose-Driven Life above his 22,000-member Saddleback Church. The popularity of Colson's Breakpoint radio program and books make his Prison Fellowship Ministries more noteworthy than the thousands of other large parachurch ministries.
It's not just an issue in Protestant evangelicalism, says Karl Thienes in a comment on pastor Chris Monroe's Paradoxology weblog. "Even in [Eastern] Orthodoxy, this mentality has crept in over the last 20 years with writers like Frederica Mathewes-Green, Peter Gillquist, and Bishop Kallistos Ware becoming very 'popular' more because of their media exposure rather than for their holiness." (He adds, "I love all three of them!")
In a sense, then, these lists are all terribly skewed. The most influential evangelical, after all, is the unsung Christian who quietly and faithfully demonstrates Jesus' love to his neighbors and coworkers. Joe Disciple can have an influence that a million radio broadcasts and books can't.
But the kind of gospel that Joe Disciple follows, how he communicates his faith, what emphases he puts in his life are increasingly determined by a media diet of both sacred and secular victuals.
In a sense, Robertson and Falwell get quoted in papers and booked on talk shows because they get quoted and booked on talk shows: Rolodexes don't get cleaned out very often. But they also get booked because they're quick with the quote: they help to feed an omnivorous media machine hungry for thoughts (or lack thereof) condensable into a dozen words that will make one side or another angry.
Provocation will be manufactured if necessary. Look at Dobson: He didn't start the critique of SpongeBob SquarePants and the "We Are Family" tolerance campaign, but his celebrity status made a speech's throwaway line, "Does anyone here know SpongeBob?" a runaway train—partly due to those trying to read signs into "what's the next big issue for evangelicals" and partly due to those desperate to show that evangelicals are rabid. The person that "broke the story" of SpongeBob's enlistment in the "pro-gay campaign" was American Family Association's Ed Vitagliano, who the previous month uncovered "an undercurrent of approval for homosexuality" in the animated film Shark Tale.
Take note: the guy whose occupation involves chronicling the dalliance between cartoon characters' and gay activism isn't news. But if an agenda of outing cartoon characters can be pinned on someone with real influence, that's a firestorm. It's not lonely at the top, but it's dangerous.
NOTE: In earlier versions of this column, I mentioned the American Family Associations Ed Vitagliano, who was the first to write about perceived gay marketing through a SpongeBob SquarePants video and the film Shark Tale. While Vitagliano regularly writes about what he sees as childrens entertainment promoting homosexuality, I was wrong to claim his professional writings demonstrate a personal obsession. My apologies to Mr. Vitagliano. —Ted Olsen
Related Elsewhere:
This column appeared in the magazine's March 2005 print issue as the sixth entry of "Weblog in Print," CT's effort to duplicate on paper our popular online Weblog feature. Earlier entries include:
Bad Believers, Non-Believers | Do religious labels really mean anything? (Oct. 19, 2004)
Pro-Abortion Madness | The abortion lobby has abandoned its rationales amid pro-life gains. (Aug. 17, 2004)
Grave Images | The photos from Abu Ghraib have reopened debate on the power of pictures.
Misfires in the Tolerance Wars | Separating church and state now means separating belief and action (Feb. 24, 2004)
A Theoblogical Revolution | Billy Graham's vision goes from print to online, then back again. (Jan. 16, 2004; Weblog update: "New Kids on the Blog," Feb. 13, 2004)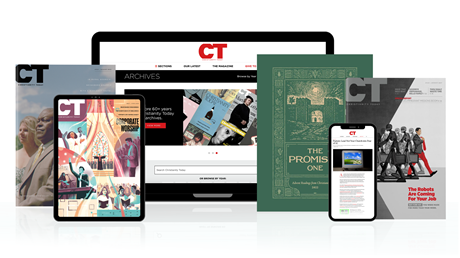 Annual & Monthly subscriptions available.
Print & Digital Issues of CT magazine
Complete access to every article on ChristianityToday.com
Unlimited access to 65+ years of CT's online archives
Member-only special issues
Subscribe
Who's Driving This Thing?
Who's Driving This Thing?