Christians in Indonesia are taking few chances this Christmas. As the choirs prep and evangelical rappers rehearse their hip-hop gospel numbers, church leaders are digging bomb pits and coordinating security with local police and the military.
In Jakarta, larger churches have highly visible perimeter security systems, including metal detectors and roadblocks that police and private security will be manning throughout Christmas weekend. Indonesia's government urged churches in rural areas to dig holes in which to place any suspicious objects that might be improvised explosives.
Many Indonesians anticipated more year-end violence because of worsening economic conditions, political unrest, and the strength of militant Islam. This year has seen renewed violence targeting Christians. In late October, on the island of Sulawesi in western Indonesia, Muslim militants beheaded three Christian girls on their way to a Christian school. In early December, also in Sulawesi, a suspected Muslim militant burned down one church.
Representatives of the government met with Muslim fundamentalists to ask them to focus their Christmas weekend demonstrations on things like the economy and to leave out sectarian attacks on Christians who tend to be economically more successful. Local papers just announced that there were millions more unemployed, and the poverty rate has zoomed upward in recent months.
This fall, police announced that they had launched a nationwide security operation "Candle Operation 2005" with 47,750 officers to ensure peaceful Christmas and New Year celebrations. Some moderate Muslim youth will volunteer guard duty at churches over Christmas, according to media reports.
Open Doors reports that more than 600 churches have been destroyed and 20,000 killed in Muslim-Christian violence since the early 1990s in Indonesia.
Be Watchful, Don't Panic
Last Sunday, December 18, Christianity Today interviewed worshippers at the 5,000-member Indonesian Christian Church (GKI) of the Gunung Sahari area of Jakarta. Cars were lined up for a brief anti-bomb inspection in the alleyway leading up to the church entrance. High walls surrounded the church itself.
The early morning service started with a bell ringing and then an announcement about security preparations and Christmas services. The church bulletin listed eight "Suggestions for Security During Christmas." The advice included: "Be watchful. Park away from the church. Don't panic."
Memories of Christmas 2000 are still fresh in the minds of local church leaders. Six years ago, 19 people were killed in coordinated bombings at 11 churches on Christmas Eve.
In those attacks and others, police suspect the involvement of terrorist mastermind Noordin Mohammed Top. A native of Malaysia, Top remains a most-wanted man in Indonesia for his leadership in Jemaah Islamiya, a group linked to al Qaeda.
According to American intelligence sources, another Jemaah Islamiya leader at a 2002 meeting in Bangkok announced that soft targets like churches would be attacked because foreign embassies had become too well protected.
At the GKI church, parishioners and pastors were calm, but not complacent. An elderly man named Hadianto said he wasn't worried.
"In fact, I have gone to two churches today. I want to know how to get closer to God."
Anita Permana, a church volunteer, admitted, "The situation in Indonesia is not too peaceful, but it doesn't scare me. I have God." Youth pastor Imanuel Kristo said this year, "There was more concern than in previous years about security. Rumors are flying."
But at least the December 18 service at GKI church was unmarred by trouble or worry. The 40-piece children's orchestra lit up "O Come All Ye Faithful." Three colorfully dressed wise men came in to illustrate the sermon on the source of wisdom. Pastor Bambang Soetopo said that in Indonesia "wise men" could be translated "weak men."
He asked if his church was wise or weak. "In Indonesia, we have people using magic and the paranormal. Others depend on their riches."
Taking up the theme of Indonesia's economic troubles, the pastor urged his parishioners to not let their economic troubles cause them to lose sight of God and biblical wisdom. "Our economic welfare is not the end of life, but our spiritual welfare is the end of life."
Seeking Reconciliation
Recently, high-ranking Christian and Muslim leaders in government announced a social movement for reconciliation and reconstruction. About 85 percent of Indonesia is Muslim. Christians make up the second largest group among the nation's 220 million people.
Retired army general Monang Siburian told a group of Christian denominational leaders that this Christmas should be focused on "reconciling and forgetting" past wrongs.
"Indonesia cannot be saved by the army. Indonesia cannot be saved by the politicians. The responsibility for saving Indonesia rests with you Christians. You must lead the nation in reconciling and forgetting."
Siburian told churches that the 2004 tsunami had opened up Indonesians to working together, but that the opening would not last very long.
The church needs to reach out to the rest of society with forgiveness, forgetting of past wrongs, and helping the poor. "There will be no more Indonesia without reconciliation and reconstruction," the influential general told the church leaders.
CT also traveled across town to a church in the poor Kamal district. There, Handi Hendrawan led his flock in prayers that Indonesians would be unified.
The congregation is full of kids from the neighborhood because of an after-school program that Compassion International sponsors. Compassion is a church-centered ministry to kids in more than 20 countries headquartered in Colorado Springs, Colorado.
The district is a mixture of Muslims, Christians, and non-believers—mostly poor and very troubled. Just down the block from the church, there are dealers selling street drugs.
Pastor Hendrawan says, "God laid on my heart to come here. This program for the children of the poor is a realization of that dream."
Before coming to the church program, each kid was running down a path of no return. Several of them spoke about their lives before joining the after-school program. Yunai was a fragile person when she came. Her teacher recalls, "She was afraid of everything."
Christina felt ashamed and would run away when someone hailed her. Imah wouldn't study or obey her parents. Susi was a "crying girl" who constantly threw tantrums.
Now, the children say that they are "smart," "happy," or "loved like a family member." As their children change, so do the parents. The families are more unified. There is hope for the neighborhood.
Could this be a parable for Indonesia?
So, appropriately, one week before Christmas, the local church rap artist chanted out during the service, "One Day Indonesia will be one."
Tony Carnes, a CT senior writer, is based in New York City.
Related Elsewhere:
More on Persecution and Indonesia is available on our site.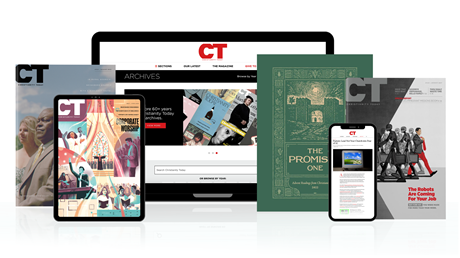 Annual & Monthly subscriptions available.
Print & Digital Issues of CT magazine
Complete access to every article on ChristianityToday.com
Unlimited access to 65+ years of CT's online archives
Member-only special issues
Subscribe
Christmas Attacks Suspected
Christmas Attacks Suspected