The Iraqi Electoral Commission will not allow Iraqi expatriates to vote on a new constitution, effectively locking out a quarter-million votes from mostly religious minorities living in the United States, Britain, and other countries.
The decision, revealed by Electoral Commission member Fareed Ayar in a telephone interview Tuesday (August 2) from Baghdad, is certain to alienate the Christian minorities who comprise most Iraqi exiles.
"You're changing the entire demographics of the country. If we don't vote, then we'll all be forced to leave there," said Nahrain Kamber, a ChaldoAssyrian Christian who lives in Palo Alto, Calif., who cast her ballot from the United States in January. "Given the history of what's been going on with the Christian minorities it looks like Iraq will be an Islamic state, as scary as that is."
New parliamentary elections will be held by the end of the year, following ratification of the new constitution. The commission does not yet know if those elections will be open to out-of-country voters. "It depends on the law of the elections which is now transitional, and then we will decide," Ayar said.
Ayar said that the organization running the elections had initially estimated an expatriate turnout of 1.25 million, but "we discovered only 250,000, which is a very low percent." Officials of the International Organization of Migration, which ran the election, said they had only two months to launch a global get-out-the-vote effort.
Expatriate leaders have alleged widespread voter fraud in their towns during the historic Jan. 30 elections. Ayar denied those allegations. "We didn't get anything official that there was any fraud in any place in the last election, and we will do our best to make our next election very pure," he said. "We will open all our centers in all our cities of Iraq, including in the ChaldoAssyrian (Christian) cities."
Yet Yonadam Kanna, the only ChaldoAssyrian Christian representative in Iraq's National Assembly, said the commission did respond to allegations of voter fraud in a formal letter to his party that "acknowledged irregularities," including several thousand missing ballots.
Voter registration in Iraq begins Wednesday at 550 sites selected by the Electoral Commission, Ayar said. Voting is expected to take place Oct. 15 as specified in the temporary constitution, a month following the release of the final draft.
Of about 3.5 million Iraqi Christians, more than half are expatriates, with concentrations in the United States and Syria. Under the current draft of the constitution, ChaldoAssyrian Christians in Iraq would be subject to Shariah law, a strict form of Islam.
"Adopting Shariah law as the only or the main source of the constitution, this is something that almost all of our community feels threatened by and oppose because we know that unless there is complete separation between religious law and state affairs, democracy will not be able to exist," said Iraqi-American Bishop Bawai Soro of San Jose, Calif.
Soro's Church of the East has roots in Iraq dating back 2,000 years. The news from Iraq's Christian leadership, he said, describes "what they're going through—and they are really in a very delicate situation."
The Assyrian Democratic Movement and the Iraqi Turkmen Human Rights Research Foundation estimated that six assembly seats were potentially lost because 200,000 registered Christian and minority Turkmen voters were not given ballots.
Both organizations have threatened public protests if they feel the commission has not put proper safeguards in place to prevent election fraud.
Related Elsewhere:
CT covered the Iraqi elections in the U.S. earlier this year. Other CT coverage of Christians in Iraq include:
Voting Against Anarchy | The greatest threat to liberty in Iraq is not international terrorism. (A Christianity Today editorial, Feb. 18, 2005)
The Mother of All Liberties | Full religious freedom for Iraq is not negotiable.—A Christianity Today editorial (June 2, 2003)
Longing to Be Heard | It's dangerous and lonely to be an Iraqi Christian—at home or in exile. (March 21, 2005)
Losing Jesus' Language | The Assyrians, Iraq's main Christian population, struggle to keep their heritage and their ancient language. (Feb. 04, 2005)
Iraq's Christians Disenfranchised at Home and in U.S. | Assyrians are fighting for survival in a region that has long sought their ouster. (Jan. 31, 2005)
Fighting Flight | Christians call for commitment in wake of church bombings. (Sept. 03, 2004)
Iraq's Church Bombers vs. Muhammad | Attacks defy the Prophet's wish for the area's millennia-old Christian community, which is now on the edge of oblivion. (Aug. 06, 2004)
Emerging from the Shadows | House-church Christians start renting buildings, and dream of evangelism. (March 11, 2004)
Iraq's Good Samaritans | This past summer, pundits predicted that Iraqis would resent Franklin Graham's ministry. What really happened when the workers showed up? (Oct. 24, 2003)
Daring to Dream Again | Chaldean Christians connect with other believers. (July 14, 2003)
Damping the Fuse in Iraq | A veteran peacemaker discusses how religion can help stave off religious conflict after Saddam. (July 09, 2003)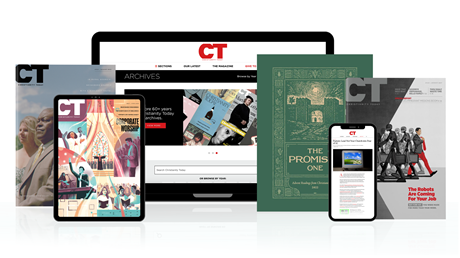 Annual & Monthly subscriptions available.
Print & Digital Issues of CT magazine
Complete access to every article on ChristianityToday.com
Unlimited access to 65+ years of CT's online archives
Member-only special issues
Subscribe
Iraqis in U.S. Won't Vote on Constitution
Iraqis in U.S. Won't Vote on Constitution