true
Every now and then we hear about a movie that's "off the radar screen" but turns out to be a gem. Such is the case with A Foreign Affair, a quirky but fun independent film that opened last week in just three cities: Los Angeles, Phoenix, and—get this—Grand Rapids, Michigan. All three make perfect sense.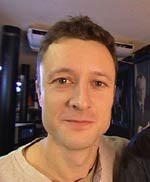 L.A. makes sense, as the movie capital of the world.
Phoenix makes sense, as the home of A Foreign Affair, a company that takes American men on "romance tours" of Russia in search of potential brides. Apparently works; the website boasts: "We average more than seven engagements a day."
And Grand Rapids makes sense, because the film's scriptwriter, Geert Heetebrij, is a 1993 graduate of that town's Calvin College.
A Foreign Affair, Heetebrij's first full-length feature, is a romantic comedy about two 30-something brothers—Jake (Tim Blake Nelson of O Brother Where Art Thou) and Josh (David Arquette of Scream) live with their mom on the family farm. When Mom dies, the sons realize they're clueless when it comes to cooking, cleaning, and keeping house. So they decide they need a wife—yes, a wife, singular, not plural. And they end up on this romance tour to Russia in search of the perfect woman—Jake, the logical, measured (and anal retentive) big brother with his list of criteria for interviewing prospects, and Josh, the sweet, shy, little brother who suddenly transforms from a homebody into an outgoing playboy while on the tour.
Hilarity ensues, but this film is much more than just a comedy. It's a poignant look at sibling relationships and the mysteries of romantic love. Ebert & Roeper both gave it thumbs-up, and it was well-received at the Sundance Film Festival last year, where one critic called it "partly comic in an absurdist way and partly very human" and "a wry comment on the whole notion of romance tours. … A Foreign Affair is one of the sleeper hits at Sundance."
It's also one of the best movies I've seen this year, so here's hoping it comes to a theater near you. If not, look for it on video some day. In the meantime, Heetebrij, a Christian who now lives in an LA suburb, talked with us about the movie.
How did you come up with the idea for A Foreign Affair?
Geert Heetebrij: I came across the website for A Foreign Affair years ago and thought it was a really bizarre concept, shopping for a spouse that way. I remember thinking immediately that it would be a great arena for a story, but I didn't know what that story might be. Much later, I connected the arena with the characters of the two brothers, and then I suddenly had a story.
Is any of this story based on real characters?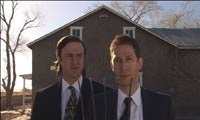 Heetebrij: Jake and Josh are inspired by two actual brothers living with their mom, although the film brothers end up being quite unlike the actual people who inspired it. And, to my knowledge, they've also never taken a romance tour. But maybe the movie will change that.
Are you reflected in either of the characters?
Heetebrij: I think I have a lot of the rigidness and stubborness of Jake in me. A shorthand way to describe both brothers would be Id and Superego.
I understand your research actually included taking one of A Foreign Affair's romance tours!
Heetebrij: Yes, but that didn't come up until after I started writing the story. Helmut Schleppi (director) and I began to realize that in order to come up with something good here, we needed to see what these tours were really like. Anything else would have felt "made up." We decided on approaching A Foreign Affair because they were one of the biggest agencies in this field. And they were very cooperative, welcoming the media attention.
Good enough, but you and Helmut are married! When you proposed this idea to your wife, did she throw anything at you—or throw you out of the house?
Heetebrij: Her first reaction was a laughing, "Yeah, right." When she saw I was serious, she got serious: "There's no way you're going on that tour." I responded with a lengthy pitch that I wouldn't be able to write the script right if I had no idea what I was talking about, that I would be going for only a few days, that I wouldn't be going alone, but together with Helmut, who's also happily married. Our wives let us go.
Did you pretend to be men looking for brides, or did you identify yourselves as filmmakers?
Heetebrij: We identified ourselves as researchers for a docudrama about these romance tours. So both clients and would-be brides talked to us as reporters basically, and then they opened up, talking about themselves, their motives for being there.
Still, you were surrounded by hundreds of beautiful, and willing, women. How did you protect yourselves?
Heetebrij: We protected ourselves by being upfront about not being part of the tour and that we were married. With kids. But of course it's a dangerous tour for a married man, which is why we went on this trip together, shared a room, and didn't stay long.
Would you bill this film as a "romantic comedy"?
Heetebrij: Most people seem to call it a romantic comedy. Personally, I don't know how to bill this film. It's kind of a hybrid. You could also call it a comedy-drama.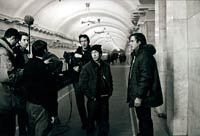 I understand the movie was made on a budget of just $500,000. That's astounding. Who funded it? And how, on such a limited budget, were you able to land such reputable actors?
Heetebrij: The film was funded by (producers) Dirk-Jan and Tonneke Bijker in Holland, and also by Helmut and myself. Tim Blake Nelson was the first actor who responded after we sent the script out, and once he made up his mind that we could pull this off, he really stuck his neck out in recommending us to David Arquette and others. I think they were attracted by the quirkiness of the project, the filming on an actual romance tour, them having to stay in character and ad-lib with actual tour clients and would-be brides. Salary-wise I can't really disclose any specifics, but obviously we had to come up with a different kind of payment plan than they're used to.
One of your former Calvin profs calls you "a Christian trying to make it in Hollywood." Is that an accurate assessment?
Heetebrij: I don't think of myself as "a Christian trying to make it in Hollywood." I am a Christian, and I like to make movies, but I don't feel making movies is any harder for me than for anybody else. I also have no ambitions of "making it in Hollywood," whatever that means. I do have ambitions to make a living making movies. Whether future movies will be with studio money or independent financing, I don't know. I guess that also depends on the success of A Foreign Affair. If it does well enough, the studios might be interested in working with us on our next film.
Seems like Christians now have "a seat at the table" in Hollywood, with the likes of Ralph Winter (producer, X-Men, X2) and Tom Shadyac (director, Bruce Almighty). Do you feel like you have a seat at the table?
Heetebrij: I don't feel qualified to answer that because we made this film outside the Hollywood system. I do think that if you make a great movie you'll get noticed and that will lead to more work, whatever your faith is.
How does your faith inform your script-writing and movie-making?
Heetebrij: I hope my faith imbues everything I do, so also my writing. Having said that, A Foreign Affair is not a "Christian" film, in the sense that it is evangelical or something. It's not. It's just a light, fun story that, once stumbled upon, I couldn't shake. I compare looking for stories to digging for gold or precious stones; you have no control over what you'll find, but when you find a diamond in the rough, its end-shape is to a large degree already determined. You just have to cut it. In the cutting process, i.e., working out the story concept, you have to be honest in following the characters and letting them take you along, and refuse the temptation to put words in your characters' mouths that aren't organic to their characters. There's no overt Christian content in this film because the concept didn't have it in it. But I'd love to find a story in the rough someday that has faith questions organically running through it.
Who are your influences? Favorite writers? Directors? Favorite movies? Books?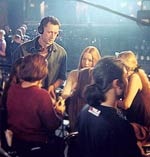 Heetebrij: Strong personal influences are my father, growing up in Holland, Calvin College (I met my wife there!), the sermons of Tim Keller. I like the work of screenwriter Brian Helgeland. I love Victor Nunez' film Ulee's Gold, Kenneth Lonergan's You Can Count on Me. Other favorite movies would be The Godfather (1 & 2), Apocalypse Now, Dr. Strangelove, The Shining, A River Runs Through It, Toy Story (only the 1st one), and Pooh's Grand Adventure. Those last two are from my kids' video collection, and I can never get over the tightness of their story structure—it's beautiful. I can't seem to find enough time for books, although at the moment I am reading Loraine Boettner's The Reformed Doctrine of Predestination. I'm addicted to reading newspapers and newsmagazines.
What are your hopes for A Foreign Affair?
Heetebrij: I hope it will be a monster hit so I can stop making movies as a hobby and start making them for a living.
What next?
Heetebrij: I have a couple of ideas I'm currently working on, the most promising one being a sci-fi thriller.
For theater showings of A Foreign Affair, check the official website. The film is due on video in July 2004 via Universal Home Video, but the title may be changed to "Two Brothers and a Bride."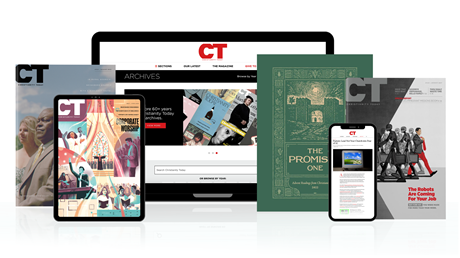 Annual & Monthly subscriptions available.
Print & Digital Issues of CT magazine
Complete access to every article on ChristianityToday.com
Unlimited access to 65+ years of CT's online archives
Member-only special issues
Subscribe
An Affair to Remember
An Affair to Remember