Last week, representatives of the government of Sudan and the Sudan People's Liberation Army/Movement signed a peace agreement to end Africa's longest-running civil war. More than 2 million have died and 4 million have been displaced because of the fighting. War has intermittently ravaged the country since its independence from the U.K. in 1956, due to northern Arab and Islamic dominance of the southern, black Christian and animist population. The current war began in 1983 when the Islamic government began imposing Shari'ah law in the south.
U.S. Ambassador Michael Ranneberger, Special Advisor for Sudan Policy, was in Naivasha for the signing ceremony last week. We spoke to him about the difficulty of the peace process and its future implementation
What does the peace treaty entail?
The Sudanese government and the Sudan People's Liberation Army signed three protocols last week, which effectively concludes their substantive negotiations. They still have quite a few details to work out over the next couple of months before they sign the final peace accord. In Naivasha, they signed three agreements, one on power sharing, one on the disputed area of Abyei, and one on the disputed areas of Nuba and Southern Blue Nile.
Previously they had signed a protocol on security arrangements, a protocol on wealth sharing, and of course the Machakos protocol [which allowed for self-determination in the south]. Those six protocols together constitute a resolution of all the outstanding issues.
Last October, Secretary of State Colin Powell
said
he expected a peace agreement by the end of December. What have the sticking points been?
We've been pushing [the two sides] very hard, and we've been saying things like that to try and keep the momentum and to urge them to move ahead. We knew it would be very difficult because there have been profound differences in this negotiation. They have come a long way. They had to sort out what percentage of power sharing the SPLM [Sudan People's Liberation Movement] would get in the north and what percentage the government would get in the south. These are very difficult issues. They made arrangements on power sharing for the Nuba and Southern Blue Nile. They have the issue of the status of Shari'ah and the capital [Khartoum] in the north, how the presidency would be structured, dozens of profoundly difficult issues.
You just came back from Sudan. What is the mood in the country?
I think the mood is very upbeat. Both the Sudanese government team and the SPLM team are extremely positive about what happened. There's an excellent rapport between Vice President [Ali Osman] Taha and SPLM Chairman [John] Garang, and they have indicated they want to work in partnership to finish the details of the negotiation and then to implement the peace accords over the next six and a half years.
So there's a very upbeat feeling that they really are on the road to peace and stability, finally.
Sounds like that rapport is important in order to implement the agreement so that it will be acceptable to the people of Sudan.
It's extremely important because the two sides need to feel that they are in a form of partnership to carry out this peace process implementation. That's the only way it can work. I think in the course of the negotiations they've overcome a lot of the mistrust and lack of confidence that was there. Obviously they're still quite suspicious of one another, and there's still a very long, bitter history between them. But I think they have built a degree of confidence through the negotiations, and they view themselves as partners in this implementation process. That will be absolutely crucial.
The two leaders and the senior officials on both sides have an enormous responsibility to present this accord to the people in the north and the south. It's my understanding that they're going to do that together in order to overcome this mistrust among the people and to build their confidence in the implementation process. That's going to be extremely important.
At the same time the parties are going to need very strong help from the international community—first of all to fund this implementation and the kind of reconstruction and development they need, but also to monitor the implementation so that the parties themselves know that there is an international monitoring mechanism looking over their shoulder to ensure that they adhere to the terms of the agreements.
What is the U.S.'s role in the implementation process?
We've been supporting these negotiations that have been held under the auspices of EAGAD, the East African Intergovermental Authority on Development. We've had observers—including myself and others—at the talks continuously. We've been lobbying both sides at very high levels. So, we've been very active on this.
At a key moment in the negotiations earlier this year, we introduced a compromise proposal on Abyei that broke through a long impasse and basically helped to bring this to closure. At various other times we've presented ideas on how to overcome some of the differences. We are going to be supporting a resolution in the U.N. Security Council endorsing these accords and calling for a U.N. monitoring mission in the Sudan. And we're mobilizing to ensure that we have the necessary funding so that we can play a leading role in helping to implement the accords and also to promote reconstruction and development in the south.
How does this agreement affect the situation in Darfur?
The situation in Darfur is horrendous, and we've been working on that for quite a number of months. We've done an awful lot, which I could enumerate, but it includes bringing the issue to the U.N. Security Council, helping to broker a ceasefire in Darfur, helping to organize international monitoring in Darfur. Now, with the signing of these accords in Naivasha, I think the signing of those accords presents an important window of opportunity to intensify efforts to resolve Darfur.
There are two things: one, the parties themselves, Taha and Garang, both know that the north/south agreement essentially cannot be implemented unless there is peace in Darfur, because you cannot have a peace process in one part of the country with war raging in the other. So they have a strong interest in working together to resolve Darfur. Secondly, now that the Naivasha process is essentially completed, the international community can turn its full focus and force to pressing for a resolution in Darfur.
We intend to continue to exert enormous pressure on the government to end the violence in Darfur. I think we have an opportunity now with the signing of the Naivasha accords to try to turn around the situation in Darfur. So I think those accords signed at Naivasha will have a very positive impact on Darfur.
Related Elsewhere:
U.K.'s Church Timesreports that the peace agreement is offering hope to church leaders and mission agencies.
More Christianity Today coverage of Sudan includes:
Sudan's Biblical History | Sudan's ongoing civil war isn't the only reason Christians should be familiar with the region. (May 25, 2004)
Ethnic Cleansing | Christians among hundreds of thousands displaced. (April 14, 2004)
Sudan Peace Stalled Again by Possible Genocide | Muslim on Muslim killings in the western Darfur region of Sudan have become the next roadblock to peace in the country. (April 08, 2004)
Q&A: Franklin Graham | President of Samaritan's Purse on Sudan (Feb. 16, 2004)
Article continues below
Churches Demolished at Sudanese Refugee Camp | Bulldozers raze prayer centers as part of government "re-planning" exercise. (Dec. 30, 2003)
Hope Amid the Ruins | Anglican bishop in Sudan sees massive church growth. (Dec. 18, 2003)
Submitting to Islam—or Dying | Ceasefires and peace talks bow to greater powers in Sudan. (Oct. 08, 2003)
Sudan Peace Process Criticized | Bush acknowledges country's military activity, but does not impose threatened sanctions. (May 21, 2003)
Sudan Peace Act 'Has Teeth' | But Sanctions are at President's discretion. (Nov. 26, 2002)
Christians Push For More Progress in Sudan | Observers say there's a long road to go for peace. (Sept. 04, 2002)
Christian History Corner: Legacy of an Ancient Pact | Why do Christians still chafe under restrictions in some Muslim nations? It all started with Umar. (July 26, 2002)
Books & Culture Corner: A Cry for Help | Sudanese Christians gather in Houston and ask for U.S. support. (June 17, 2002)
Justice Delayed | Sudan Peace Act may be a casualty of the war on terrorism. (Nov. 02, 2001)
Finding Homes for the 'Lost Boys' | They've seen their parents shot, their villages burned, and their homeland recede in the distance as they escaped. Now these Sudanese youth build a new life in suburban Seattle. (July 20, 2001)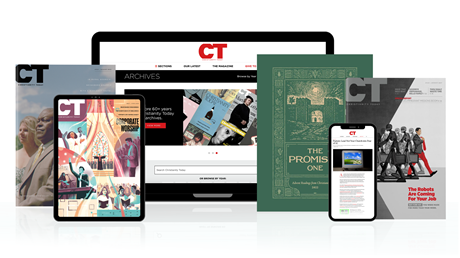 Annual & Monthly subscriptions available.
Print & Digital Issues of CT magazine
Complete access to every article on ChristianityToday.com
Unlimited access to 65+ years of CT's online archives
Member-only special issues
Subscribe
Ambassador: Sudan Accords Only One Step in Peace Process
Ambassador: Sudan Accords Only One Step in Peace Process