Archaeologists in Israel and around the world are getting caught up in a festering controversy over artifact authenticity.
First it was the James Ossuary, the burial box with the inscription connecting it to the brother of Jesus. Many archaeologists overcame their profession's hesitancy in dealing with items with uncertain histories and publicly endorsed compelling evidence in favor of its authenticity.
Last June the Israel Antiquities Authority (IAA) famously announced that its investigation found the inscription a forgery. But a few Ossuary supporters say the counterevidence is, so far, unconvincing.
Another artifact, known as the Jehoash Tablet, surfaced at about the same time as the Ossuary. Investigators eventually traced it to the same controversial collector, Israeli engineer Oded Golan.
Many archaeologists saw the Tablet's ancient inscription—like the inscription on the Ossuary—as being almost too good to be true. (The inscription describes repairs to the Jewish Temple under the reign of King Jehoash, which occurred in the 9th century B.C., according to 2 Kings 12.)
The IAA study committee also evaluated the Jehoash Tablet. The committee concluded that its gold-flecked patina (the aging sheen of the stone) was not natural.
It also said the inscription reflected more modern word usage.
But as in the case of the James Ossuary, critics accuse the IAA of a rush to judgment. Four Israeli scholars have called for another, more careful investigation, "without prejudice."
David Merling, professor of archaeology at Andrews University and president of the Near East Archaeological Society, said archaeology must be done without an agenda. "We need to make sure that we draw the theories from the data and not evaluate the data based on theories."
Meanwhile, scholars who doubt the authenticity of the Ossuary and the Tablet are questioning other artifacts on exhibit at the Israel Museum in Jerusalem.
Some scholars describe a tiny inscribed ivory pomegranate on display since 1988 as the only surviving relic of the first Hebrew Temple. AndrÉ Lemaire, the French scholar who discovered the James Ossuary in Golan's collection, attested to its authenticity.
The IAA now says the pomegranate is a forgery but has not revealed the nature of its evidence. The IAA wants to run tests on it. Museum officials maintain its authenticity.
The IAA's Theft Prevention Unit claims it has discovered dozens of forgeries. It says they came from a forgery factory during the last 15 years and that Golan is a key figure in an investigation. But authorities have no yet charged Golan with any crime.
Related Elsewhere:
Christianity Today's earlier coverage of archaeology includes:
Why We Dig the Holy Land | If biblical archaeology is not reinvigorated, Scripture-illuminating evidence will remain buried in the Middle East. (Sept. 26, 2003)
Listening to the Fifth Gospel | The sun-baked ruins of the Holy Land have a story to tell. By David Neff (Sept. 25, 2003)
What Do the Stones Cry Out? | Beware of claims that archaeology disproves—or proves—the Bible is true. By Christian M.M. Brady (Sept. 24, 2003)
Top Ten New Testament Archaeological Finds of the Past 150 Years | How do shrouds, boats, inscriptions, and other artifacts better help us understand the Christ of the Ages? By Ben Witherington (Sept. 23, 2003)
Bones of Contention | Why I still think the James bone box is likely to be authentic. By Ben Witherington (Sept. 22, 2003)
Biblical Archaeology's Dusty Little Secret | The James bone box controversy reveals the politics beneath the science. By Gordon Govier (Sept. 21, 2003)
Did the Exodus Never Happen? | How two Egyptologists are countering scholars who want to turn the Old Testament into myth (Sept. 7, 1998)
Weblog: James Ossuary Owner Arrested on Fraud and Forgery Charges (July 23, 2003)
Ossuary Questions Remain | Israel Antiquities Authority says "brother of Jesus" inscription is a forgery, but supporters say its report may be flawed (June 20, 2003)
Weblog: Israeli Officials Say James Ossuary, Joash Tablet are Fakes | Israel's Antiquities Authority unanimously calls James Ossuary inscription a forgery (June 18, 2003)
Weblog: Apostle Paul's Shipwreck Makes Headlines | Former U.S. ambassador tries to block book (May 15, 2003)
Books & Culture's Book of the Week: Oh, Brother | Most everyone agrees that the James ossuary is a significant find. Ask what it means, however … (Mar. 17, 2003)
Weblog: Israel Inspects James Ossuary, But Joash Tablet Has Disappeared (Mar. 6, 2003)
The Unluckiest Church | Archaeologist predicts the future is grim for the ancient church's site (Feb. 6, 2003)
Christian History Corner: Finding God in a Box | Have archaeological discoveries like the James ossuary served or obscured the quest to verify the Bible? (Jan. 31, 2003)
The Dick Staub Interview: Dan Bahat on Jerusalem Archaeology | One of Israel's leading archaeologists talks about the importance of the Temple Mount and key historical finds in the Holy Land (Jan. 28, 2003)
Article continues below
Weblog: Experts Get a Closer Look at the James Ossuary (Nov. 26, 2002)
Weblog: James Ossuary Goes on Display as New Findings Emerge (Nov. 18, 2002)
Weblog: Ossuary Owner Will Go to Toronto After All (Nov. 11, 2002)
Weblog: Ossuary Owner Oded Golan Emerges to Defend Himself (Nov. 7, 2002)
Weblog: James Ossuary Display Might Be Delayed (Nov. 6, 2002)
Weblog: James Ossuary Owner Revealed, Under Fire from Israeli Government (Nov. 5, 2002)
Weblog: James Ossuary 'Badly Damaged' en Route to Toronto (Nov. 4, 2002)
Weblog: James Ossuary Contains Bone Fragments (Oct. 29, 2002)
Weblog: What Does James Ossuary Say About Mary? (Oct. 23, 2002)
Weblog: More Details Emerge on History of James's Bone Box (Oct. 22, 2002)
Stunning New Evidence that Jesus Lived | Scholars link first-century bone box to James, brother of Jesus (Oct. 21, 2002)
Herod's Stadium | Israeli archaeologists discover 2,000-year-old stadium. (Aug. 19, 2002)
Weblog: The Politics of a Hole in the Ground | U.S. News: Biblical archaeology matters politically (Dec. 19, 2001)
Bird Searches for Ark | World's highest-resolution commercial imaging satellite will investigate the "Ararat Anomaly." (Dec. 10, 2001)
Christian History Corner: Ghosts of the Temple | Soon after Jerusalem fell, the Roman Colosseum went up. Coincidence? (July 6, 2001)
Violence Puts Archaeologists Between Rocks, Hard Places | About half of the planned excavations in the Holy Land this summer have been canceled (June 27, 2001)
Christian History Corner: Case of the Missing Relic | A piece of Jesus' cross is stolen from a Toronto cathedral—or is it? (Oct. 20, 2000)
Rightly Dividing Biblical History | A journalist makes a case for Scripture's reliability. (May 30, 2000)
Temple Mount Artifacts Removed | Archaeologists upset over unsupervised excavations (Feb. 22, 2000)
Astronomer Discovers Star of Bethlehem | Rutgers University professor believes Jupiter, other bodies key to biblical mystery (Dec. 22, 1999)
Ancient Church Discovered in Gaza (May 24, 1999)
Holy Land Archaeology Imperiled (Feb. 8, 1999)
Signs of Canaanite Jerusalem Found (Oct. 5, 1998)
Temple Mount on Shaky Ground? (April 6, 1998)
Pottery Shard Points to Temple (Jan. 12, 1998)
Excavations Continue Despite Cutbacks (Mar. 3, 1997)
Do Photos Evidence Lost Edenic River? (Oct. 7, 1996)
Christians Recreate Jesus' Home (Feb. 8, 1999)
'Oldest Church' Discovered in Jordan (Sept. 7, 1998)
Disciples' Village Opens to Tourists (June 15, 1998)
Cloaked in Mystery | Those who believe it is Jesus' shroud point to features on it that seem unique to Jesus' death, including pathological ones (Nov. 16, 1998)
Jewish Scientists Enter Debate Over Shroud of Turin (Oct. 27, 1997)
The War of the Scrolls | Fifty years after the discovery of the Dead Sea Scrolls, evangelical scholars are using them to demonstrate the reliability of the Scriptures (Oct. 6, 1997)
Dead Sea Scrolls: First English Translation Published (Dec. 9, 1996)
Indiana Jones and the Gospel Parchments | A sensationalist attempt to prove the authenticity of the Jesus story with a shred of papyrus (Oct. 28, 1996)
Have something to add about this? See something we missed? Share your feedback here.
Our digital archives are a work in progress. Let us know if corrections need to be made.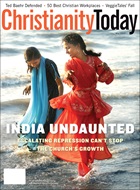 This article is from the May 2004 issue.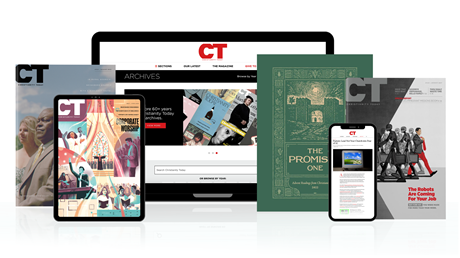 Subscribe to Christianity Today and get access to this article plus 65+ years of archives.
Home delivery of CT magazine
Complete access to articles on ChristianityToday.com
Over 120 years of magazine archives plus full access to all of CT's online archives
Subscribe Now
Rush to Judgment?
Rush to Judgment?