Nearly a decade ago, pastor Charles Lyons of Armitage Baptist Church was preparing for a siege. Members of Armitage Baptist, a multiracial congregation in Chicago's multiethnic Logan Square neighborhood, had played a leading role in nonviolent protests at local abortion clinics. Now abortion-rights groups and activists from Queer Nation were planning a noisy reverse Operation Rescue-style protest to shut down the church's Wednesday evening prayer meeting.
Then Lyons received a call from James Meeks, pastor of Salem Baptist Church, a congregation on Chicago's far South Side. Lyons, who is white, and Meeks, who is black, met about five years earlier during a Sunday school conference and quickly become friends. They pray together regularly.
Meeks asked Lyons, "Why didn't you ask me to come over and help?" That night, Meeks canceled a Bible study for 800 people at his church, loaded seven buses with members of his congregation, including a youth choir, and drove to Armitage.
Outnumbered 10 to 1, the 100 or so protesters didn't stand a chance. Once the Salem choir started singing, "the demonstrators were done for," wrote a reporter for U.S. News & World Report. "The kids were too good and too loud."
This quick action on behalf of a friend and a good cause is one reason James Meeks has risen from being a relatively unknown South Side preacher to one of the most recognizable and powerful pastors in the city.
Other reasons? Well, he has made Salem Baptist one of the largest African American churches in Chicago. It has grown from around 3,000 members in 1997 to more than 17,000 today.
Meeks is also an Illinois state senator, representing five of the poorest communities in Illinois.
He also serves as executive vice president of the Rainbow/PUSH (People United to Serve Humanity) Coalition, and is named as successor to Jesse Jackson. He is perhaps the only person welcome at both the Rainbow/PUSH Coalition and at Moody Bible Institute, where he often speaks. His many ambitious plans for his church and community include delivering 30,000 Bibles to residents in the church's ZIP code.
Despite these and other accomplishments, his name mostly draws blanks from people outside of Chicago. This is odd, since it's increasingly clear that Meeks is one of the most effective megachurch pastors in the nation.
'You need Jesus'
It's just after 7 P.M. on a Wednesday in mid-July, and Salem Baptist is packed. Even with five weekly services—four on the weekends and one tonight—there's not enough room for all of the church's members to get into the 1,700-seat sanctuary at 118th Street and Indiana Avenue in Chicago's Roseland neighborhood.
Such vitality bucks the trend in Roseland. The overall population of the neighborhood has shrunk by 18 percent—from 64,372 in 1980 to 56,493 in 1990 to 52,723 in 2000, according to the Census Bureau. Nearly 99 in every 100 of Roseland's residents identify themselves as black. Most of the rest are white.
Economic development in Roseland is stagnant at best. Once a predominantly blue-collar area for white European immigrants and southern blacks who worked in Chicago's steel mills and factories, Roseland today lacks a sit-down restaurant and a chain grocery store. Residents must drive an average of 40 minutes to and from work each day. Until recently, bars and liquor stores have dominated the landscape. Many have been breeding grounds for crime.
On weekends, however, people line up an hour early, as if for a rock concert, to get into Salem. Two of the services, at 12:30 on Sunday and the Wednesday night service, air on local television station WJYS.
The Wednesday service begins at 6 with an extended prayer time, followed by worship songs such as "When I Think about the Lord," with its chorus, "It makes me want to shout, Hallelujah, thank you, Jesus" echoing through the sanctuary. The choir, the band, and the congregation stand, sway, and lift their hands as they sing. Finally, Meeks steps to the translucent lectern, his well-worn Bible in one hand and a long legal pad with his handwritten sermon in the other.
Tonight's sermon is an unapologetic gospel presentation, based on Ephesians 2. Drawing an analogy from personal computing, Meeks tells his congregation you can't just enter any screen name and gain access to God. You can only gain access in the name of Jesus.
For the next 45 minutes, with humor and fiery oratory, the stocky minister hammers home the message. Can't find your calling in life? You need Jesus. Can't find happiness in your relationship? You need Jesus. Tried every religion under the sun—Islam, Buddhism, Jehovah's Witnesses, Hare Krishna—and still can't find peace? You need Jesus.
Every service ends with two altar calls—one for people who want to accept the Lord, the other for people who are "ready to come home" and become members of the church. Tonight's service ends with dozens of people coming forward during both altar calls.
The second altar call reflects one theme of Meeks's ministry: Everyone has a job to do in the church. Meeks says too many believers miss God's calling in life, convinced that God blesses them solely for their own benefit. "Once people discover that their spiritual gift is really not for them, they don't really want it," Meeks preaches. "If they don't get to play with it, if they don't get to make money with it, if they don't get to lord over other people because they've got it, they don't want it. The reason the Bible says he gave some to be apostles, and prophets, teachers, evangelists, is for the perfecting of the saints for the work of the ministry."
From IBM to Salem
Meeks has never been shy about challenging people to put their gifts to work for the kingdom. Just ask Veronica Abney. She was living the American Dream, with "a house in the suburbs, two kids, a dog, and a husband," she says. She also had a corporate information technology job to die for. She worked for IBM on a team that managed IT accounts—her main client was Sears. Abney enjoyed a corner office, quarterly bonuses, and junkets to Palm Springs and San Diego. The future looked bright.
Then one Friday afternoon in January 1997, she received a call from Pastor Meeks.
"I was just a member of the church," Abney says. "I didn't even think he knew my number."
Meeks offered her a job as church administrator, to run the day-to-day operations of the congregation.
"Veronica," he said, "I want you to give up corporate America and come to work for the kingdom."
"You must be crazy," Abney told him before hanging up.
"I thought: Here I am, working for one of the top computer giants, working for one of the top retailers, and he wants me to give all of this up and come work in Roseland," she says. "He must think I flip burgers for a living."
But Abney says she heard something else in his offer: a call from God. Though working at a church was "never, ever" something she had considered before, she found herself thinking about coming to work at Salem.
About the same time, IBM began allowing employees to take a one-year leave of absence for "once in a lifetime" opportunities. This was just the safety net Abney needed to accept the offer—and the 50 percent cut in pay that went with it.
Abney's year of absence turned into two years, and then into a permanent position when IBM turned down her request for a third year in 1999.
When Abney began working at Salem, the church was already a remarkable story. Started in 1985 by Meeks and 200 former members of Beth Eden Baptist Church, the church was so poor that it could not afford to pay Meeks a salary. Instead, each week, he received a love offering from parishioners. The practice continues to this day, though the congregation can now afford to pay the salaries of 177 staff members.
By 1990, the church bought the former St. Salomea Roman Catholic Church at 118th and Indiana for $825,000. As the church continued to grow, it started a daycare facility, a counseling center for drug abusers, a soup kitchen, a ministry to help people get out of debt, and a 500-student private school, Salem Christian Academy.
Meeks was in charge of it all. Besides being pastor, he was principal of the school, Sunday school superintendent, volunteer coordinator for the nursery. He even opened up their parking lot before services.
Today, all of the church staff—except Meeks, his associate pastor, and Salem's lawyer—report to Abney. With her arrival, Meeks handed over the daily details of the church and began making plans.
They were big plans, like closing down all the liquor stores in the Roseland community; winning 25,000 people to Christ in a yearlong evangelistic campaign; delivering Bibles, door to door, to the more than 30,000 residents in the 60628 ZIP code; giving the Bible on cassette to every prison inmate in the state.
He also began honing the sermons and programs needed to help the church's growth and empower members to put his plans into action.
Aided by Abney's organizational and technical skills—he calls her the "unsung hero" in Salem's success—those plans started to become reality. From 1997 to 1999, more than 6,000 people joined the congregation, and a 1999 evangelistic campaign resulted in 27,000 people confessing faith in Christ and 3,000 of them joining the church.
Meeks is also pushing for economic revitalization in Roseland. As part of his plan, the church led a Vote Roseland Dry campaign to close down all the liquor stores in the community, using "local option" rules in place in Chicago. While the community voted the establishments out in 1998, liquor-store and bar owners appealed. Few have actually shut down while the case works its way through the courts. Still, what was once the area's largest liquor store is today the House of Peace, one of three bookstores Salem owns and operates. Crain's Chicago Business praised the church—along with Willow Creek Community Church and Chicago's Old Saint Patrick's Church—as models of nonprofit management.
The latest plan for Salem is a $32 million, 10,000-seat church combined with a 7,000-seat sports arena—with three basketball courts and an ice rink—on 23 acres of vacant land at 115th Street and the Bishop Ford Expressway. The church received zoning approval from the city council, and plans to begin construction this spring.
It's quite a change from the backyard of Meeks's family's home in the Englewood neighborhood on Chicago's South Side, where Meeks, now 47, first preached at funerals for the family pets.
"I have never had the desire to do anything else in my life other than to preach," he says. "I didn't want to be a policeman, a fireman, a businessman—never wanted to do anything but preach. Any pet I ever had—from a bird to a fish—when it died, I conducted a funeral service for it in the backyard."
When he was 11 or 12, Meeks built a pulpit and several rows of snowmen in the back yard and preached to them. "It was the coldest congregation I would ever face," Meeks jokes.
At 19, he preached "How to Have Life More Abundantly," his first sermon to a warm-blooded congregation.
Meeks grew up in a Christian home. "My parents have always been part of the church," he says, "so, like every other kid, I marched down the aisle when I was 7."
He credits his parents for teaching him right from wrong, a duty he believes many parents have shirked. In a sermon, Meeks said a school official once called home to report on his misbehavior in class. Meeks's father pulled out his belt and told him, "I may not have all the education in the world, I might not be able to teach you algebra and geometry and all that kind of stuff, but I can teach you how to mind."
After graduating from Bishop College in Dallas, he attended Southwestern Baptist Theological Seminary in Fort Worth, the world's largest Southern Baptist seminary. He stayed at Southwestern for a year before starting his pastoral career back home in Chicago. On Christmas Day, 1979, Meeks married Jamell, his high-school sweetheart, and today they are the parents of four children, three of them girls.
Their oldest, Jamie, a graduate of Johns Hopkins University, attends law school. Janet and James study at California Lutheran University in Thousand Oaks, California, and the youngest, Jasmine, is still at home.
Meeks and his son, a freshman, spent hours talking on the phone this past autumn, following their beloved Chicago Cubs in the playoffs. "He's my sports buddy," Meeks says. "When you live in a house with four women, you have to bond really quickly around the remote."
Political priorities
His closeness to another Chicago fixture—Jesse Jackson—troubles some conservative Christians. Since the mid-1990s, Meeks has had a growing friendship with Jackson, who was his boyhood idol. Meeks says he clipped every news story about Jackson that appeared in Jet, Ebony, or local newspapers, and had over 75 pictures of Jackson on a bulletin board in his room.
In 1995, according to the Chicago Sun-Times, Meeks crashed a pre-Christmas gathering of local pastors at Jackson's house and impressed Jackson the next morning by dropping off a detailed analysis of the issues discussed at the party.
"He literally wrote down almost everything I had said in that meeting like a stenographer," Jackson told the Sun-Times. "I was very impressed with that. We just kind of spiritually connected and took off."
As his friendship with Jackson grew, so did Meeks's involvement in civil rights issues. In 1999, he helped organize rallies in support of six African American high school students from Decatur, Illinois, who were expelled from school for fighting in the stands at a football game. That same year he traveled with Jackson to Kosovo to negotiate the successful release of U.S. prisoners of war. And back in Chicago, he led rallies calling for Internet filters to be installed on Chicago Public Library computers to protect children from online porn.
In the summer of 2002, Rainbow/PUSH named Meeks as Jackson's successor. Meeks has described his role as someone who could take over were something to happen to Jackson. He admits there's little chance Jackson will leave in the near future. "That's his life," Meeks says. "He will go out with his [boots] on."
Laura Washington, a Sun-Times columnist and former editor of The Chicago Reporter, a news magazine focused on race and poverty, agrees with Meeks. "push is Reverend Jackson," she says. "Reverend Jackson has to leave us at some point, and I suspect the organization will follow close behind."
If PUSH is to have a future after Jackson, Meeks will "have to reshape the organization in his own image," Washington says. "I don't know if the African American community would go with him."
Meeks says he would try to build bridges between blacks and whites—focusing first on issues that are "color neutral."
"The most dangerous thing we can do is to look at social projects that are African American-sensitive only," he says. "What about clean air? White people breathe and black people breathe. Clean air would benefit both of us. What about prescription drugs for seniors? There are old white people and old black people."
Despite their friendship, it is clear that Meeks and Jackson don't always see eye to eye. Meeks, who has great respect and personal affection for Jackson, is reluctant to criticize his mentor, who declined to be interviewed for this article. "I think I'm more conservative," Meeks says, "and I think Reverend Jackson might be a little more liberal."
The Chicago political scene is often racially charged, and Jackson is usually in the middle of it. In early September, Jackson held a press conference to denounce the lack of African-American finalists to replace retiring Chicago Police Superintendent Terry Hillard, who is black. Missing among the ministers and activists joining Jackson was Meeks. He says he had a prior commitment.
Would he have gone if available?
Meeks paused for a moment, then smiled as his office phone began ringing. "Saved by the bell," he said. After a few minutes on the phone, he answered, "Let's just say it was a good thing I had something else to do."
Meeks added that he believed an African American should have been among the candidates to replace Hillard.
Meeks's 2002 election as an independent to the state Senate, which Jackson supported, also brought some of his and Jackson's differences into plain view. Jackson is prochoice; Meeks is prolife. Jackson supports gay rights; Meeks considers homosexuality a sin and would support a constitutional amendment prohibiting homosexual marriage.
A proposed amendment to the state's Human Rights Act has also been a source of tension. The amendment, shelved last fall, would extend protection against discrimination to gay, lesbian, and transgender citizens of Illinois. The Senate version remains a few votes shy of passing, although it has the Democratic governor's support. Meeks has been under pressure from both liberals and conservatives.
Washington, who has sharply criticized Meeks in her Sun-Times column, says his religious beliefs are interfering with his responsibilities to his constituents in the 15th District.
"Who is he accountable to, the church or the community?" Washington says. "I suspect that a lot of African Americans are supportive of gay rights—they may not be comfortable with the lifestyle or the morality, but they recognize the civil rights issues."
That point is debatable. Some black leaders have publicly objected to linking civil rights and gay rights. "The civil rights struggle is not analogous to the gay and lesbian struggle," said Bishop George McKinney of the Church of God in Christ, one of the nation's largest predominantly African American denominations.
R. Drew Smith, director of the Public Influences of African American Churches Project, says Meeks's views on homosexuality are likely in line with those of his congregation and his constituents. "It's been argued on more than one occasion," Smith says, "that African American churches tend to be more liberal on a range of political rights issues but fairly conservative on moral issues."
Meeks says he faces the same conflicts that any other Christian holding a public office faces. "It is not my being a pastor that governs my decision-making as much as it is my being a Christian," he says, "which puts me on equal footing with all other believers. Every believer who is an elected official must take into account [that] belief first."
State Senator Peter Roskam, a conservative Republican and evangelical Christian, opposes the amendment to the Human Rights Act. He says if Meeks were to vote against the bill, that "would carry tremendous weight" in defeating it.
So far, Senator Meeks says he has not made up his mind.
"I am for the bill on the equal protection side," he says. "I believe in equal protection under the law. Regardless of a person's sexual preference, that person should be protected by law, like every other sinner."
What troubles him is the "transgender aspect" of the bill—that an employer would not be able to fire a school teacher who decided to change from being a man into being a woman.
"I think that's too far," Meeks says. "At what point do we, in protecting the right of one person, take the right of somebody else away?"
Stretching Himself Too Thin?
To get a sense of the pace that Meeks keeps, consider his schedule from last October. After traveling to China on a trade mission, he returned to Roseland to preach. Then, along with T. D. Jakes, Tony Evans, and William J. Shaw, president of the National Baptist Convention, U.S.A., he spoke at the funeral of legendary pastor E. K. Bailey of Concord Missionary Baptist Church in Dallas. (Bailey, 57, died in mid-October after a two-year battle with cancer.)
Meeks then hopped another plane and spoke at a Conference Point Camp retreat in Williams Bay, Wisconsin, before returning to preach at Salem.
Meeks tries to balance his schedule with spiritual input. He calls his friend Charles Lyons every morning, including weekends and holidays. "I call him at 6 A.M. to make sure he is up, and then he calls me at 7," Meeks says. "And I feel real bad if I go back to sleep knowing that he is up praying, so it forces me to be up praying."
Lyons wonders if Meeks is "stretching himself too thin."
"That's something we have interacted about" during prayer sessions, Lyons says. But so far, he says, Meeks has recognized when he is in too deep and has made changes.
Lyons also says his friend benefits from the congregational polity of many African American churches.
"In a white congregation, he'd be hauled before the church board if he announced he was running for office," Lyons says. "You'd need to bring in one of these church specialists to keep the peace. [But Meeks] gets up and says, 'God wants me do this,' and they stand up and cheer."
Balancing the roles of pastor and politician is a fairly common one for African American ministers, according to data collected in Smith's projects. Of 1,956 African American congregations surveyed, almost 10 percent had a pastor who has held elected office.
Meeks says he manages all his responsibilities by doing one task at a time—and by delegating. "Everything that someone else can do," he says, "I find someone else to do it." That includes finding someone else to get his lunch, run errands, or even do research for a speech or sermon.
"I do only the things that are unique to me—things that only I can do," he says. That means the big things—like preaching and setting a vision for the congregation. It also means the small things. After the Wednesday evening service at Salem this past July, he stood in the midst of the congregation greeting people, looking them straight in the eyes, asking how they were, and conveying that he really cares for them.
And he still calls parishioners in times of crisis and visits them when they are in the hospital—not all of them, but he has not given up that pastoral task. Just before an interview in July, he took a few minutes to call a parishioner whose mother had died. After making sure all the funeral arrangements were set, he prayed with her for several minutes. "I want you to know we are praying for you," he said in a tender voice, full of compassion and concern. "We are all praying for you."
It was a small but telling moment. No matter what his title—megachurch preacher, Rainbow/PUSH vice president, state senator—he remains a pastor at heart. It's his greatest strength, he says—and his greatest weakness: "I believe I can help everybody."
Guess Who Might Come to Dinner?
Despite Salem's success, the church faces great challenges. Unlike other megachurches, such as Illinois's Willow Creek and Southern California's Saddleback churches, both located in tony suburbs, Salem sits in the middle of an impoverished urban area. In 2000, the median family income in Roseland was $42,001 a year—well under the national median of $50,046.
The neighborhood has many of the same struggles as other urban neighborhoods, such as gangs, drugs, and crime. The local schools are struggling: 65 percent of third-graders (like African American third-graders nationwide) read below grade level.
Meek says, "We can predict by looking at the third-grade reading levels how many kids will not finish high school," sharply limiting their income potential.
Salem organized a tutoring program to reach all of the third graders in the 60628 ZIP code surrounding the church.
The Chicago Public Schools system paid to keep the schools open on Saturdays from October to May. Salem in turn provided 600 tutors to work one-on-one with the students. Eight hundred students participated. The 375 children with perfect attendance each received a new computer. In mid-July, the church was still receiving thank-you cards from students.
A handmade card from the Metcalf School at 12339 Norman Avenue reads, "This is one of those times where saying thank you doesn't seem enough," and is signed by every third-grader in the school.
Meeks believes that besides learning how to improve their reading, the third- graders learned that the church cares about them, that the "kingdom is relevant" in their lives. That's a lesson he believes students are not hearing from most white evangelicals.
"Evangelicals must be very careful not to be irrelevant," he says. "Evangelicals will grab … one issue—like abortion—and they think that because they take a tough stand on abortion then they have addressed a societal ill. I don't hear the same outcry from any evangelical pulpit about the unequal funding for education among the haves and the have-nots.
"I don't hear from the evangelical pulpit about the disparity in the prison population between blacks and whites, between the test scores of African American kids and white kids."
"If white kids couldn't read and black kids could," he adds, "the evangelical church would address it. If white kids were in jail and not going to college, the evangelical church would address it. So if you live in a society and you only address the things that face your ethnicity, you are not really concerned about social ills.
"My invitation to evangelicals who love the Lord is to partner with other Bible-believing churches who can address some social ills."
Meeks hopes to persuade African American and white evangelicals to work together. And he's willing to start small—say, by getting together for dinner.
"I want my children to see that," Meeks says. "Most black children grow up never having had dinner with white people. Most white people grow up never having had African Americans in their homes. So we view each other as 30-second sound bites on television."
Meeks says he'd like any church, anywhere, to take Salem up on this offer. "We can do it with ten [families], do it with five, do it with those that are willing. It has to get started somewhere. The world will never see how colorblind Jesus is until they see how colorblind the church is."
Meeks says it is possible. And with his track record, it's hard not to believe him.
Bob Smietana is features editor of The Covenant Companion, the monthly magazine of the Evangelical Covenant Church, and a freelance religion writer based in Chicago.
Article continues below
Related Elsewhere:
Meeks was featured in a 2002 CT article on Jesse Jackson.
Charles Lyons wrote for CT about racial reconciliation and how Meeks help during protests.
CT sister publication Leadership reported on Meeks's trip to Yugoslavia. (The article is available from the CTLibrary.)
Meeks wrote an article for Leadership on prayer and community impact.
Meeks also wrote an article for Leadership on how his church dealt with gangbangers. (From the CTLibrary)
Meeks's Illinois Senate page is available online.
Salem Baptist Church's web site has a bio of Meeks.
The Illinois Senate Democrats also has a bio of Meeks.
Have something to add about this? See something we missed? Share your feedback here.
Our digital archives are a work in progress. Let us know if corrections need to be made.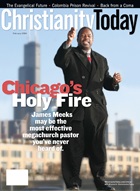 This article is from the February 2004 issue.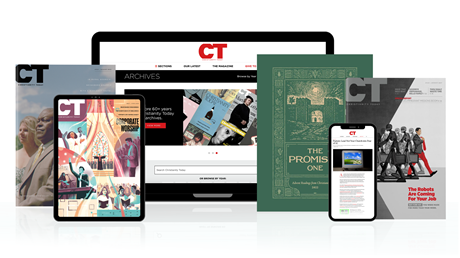 Annual & Monthly subscriptions available.
Print & Digital Issues of CT magazine
Complete access to every article on ChristianityToday.com
Unlimited access to 65+ years of CT's online archives
Member-only special issues
Subscribe
MegaShepherd
MegaShepherd