It was just this summer, you may recall, that the National Endowment for the Arts issued its solemn report "Reading at Risk," fuel for a thousand op-eds. (Surely with poet Dana Gioia in charge, the nea might have been expected to come up with a title less nanny-stateish, less patently bureaucratic.) Reading at risk? Well, we wouldn't know about that, would we now? A more apt title for our kind would be "The Risk of Reading," or maybe "Risks Associated with Excessive Reading: An Assessment."
Think what I might have accomplished this past year if I hadn't had my nose buried in Writings of the Luddites (Johns Hopkins Univ. Press), the collection of letters, proclamations, and other documents edited by Kevin Binfield, and who knows how many more heterogeneous volumes: novels and books of poetry, piles of books on Islam, little books (like Oxford's series on the Seven Deadly Sins: look for Jay Wood's review of Lust in our March/April issue) and big books (like the Encyclopedia of the Great Plains from University of Nebraska Press, edited by David Wishart—a review of that is coming too), books that made me furious and books that made me laugh. Books that accumulate, inexorably, in my office and at home, stacked by our bed in serried rows, stacked in my study, threatening to colonize any flat surface in the house.
My favorites from the year's crop, listed in alphabetical order:
1. Armageddon: The Battle for Germany, 1944-1945. Max Hastings (Knopf). Ranging from the high councils of the rival commanders—Roosevelt, Churchill, Hitler, Stalin—and their leading generals to the experience of ordinary soldiers and civilians, taking in not only the war in the west but also the much less familiar eastern front where the Germans and the Soviets fought to the death, Hastings writes about war with a profound moral realism. (If you want history-as-cheerleading, go elsewhere.) Look for Don Yerxa's interview with Hastings in our March/April issue.
2. The Bones of the Earth. Howard Mansfield (Shoemaker & Hoard). What links the pieces in this collection is a preoccupation with how Americans remember or forget their history. It includes, for example, a history of the "Washington Elm" in Cambridge, Massachusetts, beneath the spreading branches of which George Washington was said to have taken command of the Continental Army in 1775. Elsewhere Mansfield visits cemeteries and describes the rules they impose ("The Grief Police"); he inspects venerable granite bridges in New Hampshire; he reflects on strip malls and urban sprawl. He writes with wit and passion; he has an eye for the luminous detail, and wears his learning lightly.
3. The Complete Cartoons of the New Yorker. Edited by Robert Mankoff (Black Dog & Leventhal). Every week, more or less, since the late 1970s Wendy and I have curled up in bed to look through the cartoons in the latest issue of the New Yorker. I have some gripes with the emphases in this volume—not least, the anointing of Bruce Eric Kaplan, whose cartoons Wendy and I dislike so much that we invariably skip them—but I'm very glad to have the whole caboodle. (Two cds come along with the book.)
4. The Divine Voice: Christian Proclamation and the Theology of Sound. Stephen H. Webb (Brazos). If you read very far in this exploration of "theo-acoustics," you'll begin to see—and hear, and think about—all sorts of things you hadn't previously noticed, and not only those explicitly mentioned by Webb, though as it is he covers enough territory for five normal books. Here's how it starts: "Sound is invisible and thus it can penetrate walls and barge unannounced through closed doors. It is this invisibility that makes sound so convenient for thinking about our relationship to God."
5. The Final Solution. Michael Chabon (Fourth Estate). Pastiches of Sherlock Holmes are a dime a dozen, and while the good ones are delectable I tend to avoid the genre. What Michael Chabon has produced is not only a brilliant homage to Holmes and his creator—a story set in 1944, imagining the great detective as a very old man—but the single most accomplished work of fiction I read this year, joyful and sorrowful in full measure. First published a year earlier in The Paris Review, this novella brims over with great talent exuberantly put to work. (The audio version, read by Michael York, is superb.) A review is coming in our May/June issue. And speaking of matters Holmesian, have you checked out The New Annotated Sherlock Holmes, edited by Leslie Klinger (Norton)? The two-volume slipcased set includes all the short stories; the longer tales in the canon will be gathered in a single volume to be published in 2005, completing the set.
6. The Finishing School. Muriel Spark (Doubleday). This little novel—really a novella too; why not call a spade a spade?—got mostly lukewarm notices from American reviewers, some of whom even suggested that the length of the book alone made it suspect. Others used it as a point of departure to talk about Spark's books that Really Matter. What a pity. This marvelously deft and enigmatic tale centers on a very precocious young novelist—still a teenager—and his jealous teacher. It has all the qualities that make Spark Spark, above all the irreducible strangeness. (Speaking of novellas, did you see the wonderful Shanahan cartoon in the Christmas issue of the New Yorker?)
7. Florence of Arabia. Christopher Buckley (Random House). As a very funny writer and the son of a very famous man, Christopher Buckley is doubly disqualified from being taken seriously. He is certainly among the most underrated novelists at large these days. His new book, as good satire always does, eludes the familiar political categories. Set largely in a fictitious Middle Eastern kingdom with a strong resemblance to Saudi Arabia, it offers a bracing contrast both to the careful banalities of the Bush Administration and to the tiptoeing interpreters of the "Arab world." Wonderfully entertaining, yes, but the story comes with a wicked punch that leaves the reader unsettled.
8. Ira Foxglove. Thomas McMahon (Brook Street). McMahon, who died in 1999 at the age of 55 from complications after surgery, was a scientist with an endowed chair at Harvard University. He was also a marvelously idiosyncratic novelist. To the three novels published during his lifetime—Principles of American Nuclear Chemistry (yes, that is one of his novels—a fictionalized account of Los Alamos, among other things), McKay's Bees, and Loving Little Egypt, all reissued in paperback a year ago by University of Chicago Press—we can now add a fourth, written 30-odd years ago (we're told) and discovered by his daughter among McMahon's papers. It's the story of a winsomely eccentric inventor and a love story, too; and it features a trans-Atlantic flight by blimp. (It's also the most suited of all McMahon's books to be made into a movie; I hope someone good takes that on.)
9. The Undressed Art: Why We Draw. Peter Steinhart (Knopf). This book by a naturalist and writer reminds me of a certain kind of piece from the heyday of the New Yorker, combining reportorial virtues with the leisurely manner of a confident essayist, inspecting a subject from this angle and that, unrushed yet unflaggingly interesting. Steinhart has been writing less and drawing more, he says, so we're fortunate that he has taken time to write about drawing: its continuing primal appeal despite its marginal place in the current art scene, its typical life-cycle (blooming in childhood and then quickly fading), above all its invitation to pay attention to the world, to the human figure, to faces, to the visibility of the invisible. The book includes drawings by various artists; a few more of these would have been even better. (And it has been lovingly designed by Gabriele Wilson—no relation, I hasten to add. Visit a bookstore and take a look at the dust jacket, one of the best designed of the year.) A review is coming in B&C.
10. Vanishing Point. David Markson (Shoemaker & Hoard). Markson's latest is billed as a novel. If you have read some of his earlier books, you'll know that what he means by novel is not what you might otherwise be expecting. This particular novel consists of short passages rather like entries in a commonplace book. Many of them have to do with writers, painters, composers, artists of one kind or another. Certain themes recur: for instance, the scorn with which many great works (as we now regard them) were originally greeted, but also the contempt of Artist X for Artist Y, so that we're not simply getting a skewering of the unenlightened. Another theme is the anticipation, many centuries ago, of complaints that we tend to think of as distinctively modern. And so on, all adding up to a memento mori. Oddities and ironies are duly noted. The book is perfect for bedside reading (several pages each night).
Next week: more noteworthy books from 2004, and a look at some coming attractions for 2005.
John Wilsonis editor of Books & Culture.
Related Elsewhere:
Reading At Risk is available from the National Endowment for the Arts.
Books in this list are available from Amazon.com, Christianbook.com, and other book retailers: Armageddon: The Battle for Germany, 1944-1945, The Bones of the Earth, The Complete Cartoons of the New Yorker, The Divine Voice, The Final Solution, The New Annotated Sherlock Holmes, The Finishing School, Florence of Arabia, Ira Foxglove, The Undressed Art: Why We Draw, Vanishing Point.
For more books, see Christianity Today's 2004 book awards and our collection of articles, interviews, and reviews from all the CT book awards through 2000, including the books of the century.
Books & Culture Corner appears every Tuesday. Earlier editions of Books & Culture Corner and Book of the Week include:
Modern, All Too Modern | Tom Wolfe's new novel, largely reviewed as a satiric report on the sexual mores of today's college students, is fundamentally about the nature of the human will. (Dec. 14, 2004)
Article continues below
Unfashionably Good | A savory collections of essays by Alan Jacobs. (Dec. 07, 2004)
Communicating Communication | A roundup from the National Communication Association's annual convention. (Nov. 30, 2004)
"Summer's Ebullient Finale" | A richly varied anthology offers a "spiritual biography" of autumn. (Nov. 15, 2004)
Autumn Books | Some that stand out in this season's plenty. (Nov. 15, 2004)
Reaching the Light | A review of On Broken Legs: A Shattered Life, a Search for God, a Miracle That Met Me in a Cave in Assisi. (Nov. 09, 2004)
The Prayers of a Self-Governing People | A psalm for Election Day. (Nov. 02, 2004)
In Memoriam: Jacques Derrida (1930-2004) | Remembering a philosopher who never forgot about death. (Oct. 19, 2004)
Whose Independence? | All the Founding Fathers of America celebrated "independence," but what the word meant depended on who was speaking. (Oct. 12, 2004)
Darkness Visible | An unsparing new memoir by the author of Slackjaw. (Oct. 05, 2004)
After Worldview? | A lively conference offers a state-of-the-art assessment of the concept of "worldview," with both advocates and dissenters represented. (Sept. 28, 2004)
A Forgotten Founder's Fatherhood | Race, nature, and patriarchy meet in Rhys Isaac's biography of early American diarist Landon Carter. (Sept. 21, 2004)
The Great American Hustle | The first volume of an ambitious new history of America highlights the engine of "worldly ideals"—and the role of evangelical religion in creating a distinctive American identity. (Sept. 14, 2004)
The Poet Who Remembered | Poland (mostly) honors Czeslaw Milosz upon his death. (Sept. 07, 2004)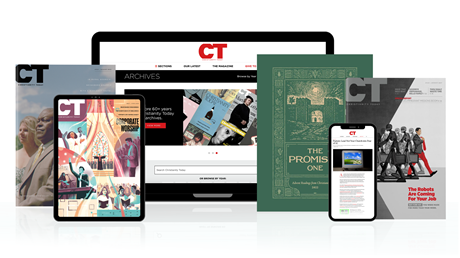 Annual & Monthly subscriptions available.
Print & Digital Issues of CT magazine
Complete access to every article on ChristianityToday.com
Unlimited access to 65+ years of CT's online archives
Member-only special issues
Subscribe
The Top Ten Books of 2004
The Top Ten Books of 2004