After Election Day, the op-ed pages of The New York Times seriously freaked out, say the GetReligion bloggers. Their response to the number of Christians whose votes turned on moral issues can be summed up in one headline: "The Day the Enlightenment Went Out" (republished at CommonDreams).
But it seems that at least one Times columnist is beginning to settle in for the next four years. Nicholas D. Kristof, whom Weblog has previously criticized, says that while he still disagrees with the Religious Right, they're right on with international human rights issues.
"Members of the Christian Right, exemplified by [Kansas Senator Sam] Brownback, are the new internationalists, increasingly engaged in humanitarian causes abroad—thus creating opportunities for common ground between Left and Right on issues we all care about."
He then lists several human rights issues on which religious conservatives have taken the lead:
Sex trafficking—"Paul Wellstone, the liberal from Minnesota, led an effort with Mr. Brownback and others to pass landmark legislation in 2000 to battle sex slavery around the world. But since Mr. Wellstone's death in 2002, the leadership on the issue has passed to the Christian Right and to the Bush administration."
Sudan—"Conservative Christians have been jumping up and down about Sudan for years."
North Korea—"It has been Mr. Brownback and other conservative Christians who have turned the heat on North Korea's human-rights record."
Kristof also rattles off other issues: "immigration reform, prison reform, increased funds for AIDS and malaria, construction of an African American history museum, and even an apology to American Indians."
"Liberals traditionally were the bleeding hearts," says Kristof, but now things are changing. He cites Allen Hertzke's Freeing God's Children (excerpted and reviewed on our website) to show that evangelicals are "leaping into human rights causes."
So, Kristof suggests that Democrats do something while out of power. "Democrats aren't going to accomplish much on their own over the next four years, but by working with the likes of Mr. Brownback they might register real progress on sex trafficking, an African American history museum, malaria and immigration reform. That would be a much better use of the next four years than sulking."
Not only that, but it could mean an opportunity for conservative Christians to work with liberals on other issues, and show that the Religious Right stands for issues beyond the sanctity of life and traditional marriage. There has been talk of the Democratic Party loosening up their strong pro-abortion stance. Maybe working with Democrats on international human rights issues could help pave the way toward a "culture of life" at home.
California Civil Unions OK'd, Marriage Challenge Begins
The Campaign for California Families and the Proposition 22 Legal Defense and Education Fund lost their effort to prevent California's civil-unions bill from taking effect January 1 before an appeals court hears their challenge to the law. Passed in September, the law provides that "same-sex couples who register as domestic partners in California will have the same spousal benefits as married couples in California, except for the ability to file joint income taxes."
Earlier, a Superior Court judge disagreed with "Christian activist" groups opposing the bill, according to the Associated Press, saying it does not violate California's Proposition 22, which requires the state to recognize only heterosexual marriages. The court is allowing the appeal to move forward.
Also today, a San Francisco Superior Court will hear arguments brought by the City of San Francisco and a handful of same-sex partners challenging Proposition 22.
More Articles
Same-sex marriage:
Patriots win can't beat gay marriage debate | February, with all its hearts and valentines, is sometimes called the month of love. And while love for a pro football team soared to new heights Feb. 1 when the New England Patriots won their second Super Bowl, it was marriage that dominated the news. (Milford Daily News, Mass.)
Court denies bid to block gay rights bill | A state appeals court on Tuesday denied an effort by Christian activists to prevent a law that will grant same-sex couples nearly all the rights and responsibilities as married couples from taking effect on Jan. 1. (Associated Press)
Same-sex marriage -- little room to agree | This morning, San Francisco Superior Court Judge Richard Kramer will open a hearing in which both sides will present oral arguments on why the state constitution either permits California to prohibit gay couples from marrying, or disallows it from banning such marriages. (Sacramento Bee, Calif.)
Same-sex union cases to be heard | Consolidated lawsuits on marriage rights for gays and lesbians are to be presented today before a judge in San Francisco. (Los Angeles Times)
Sudan:
Newsview: Settlement in sight in Sudan | Suffering continues in war-ravaged western Sudan. But to the south, after 21 years of conflict, things are looking up. (Associated Press)
Sudan conflict settlement 'in sight' | The Islamic government in Khartoum may be ready to initial a peace agreement with southern Sudanese rebels on or before a December 31 deadline. There might even be a formal signing ceremony in Washington if all goes well during the next month. (icWales, UK)
Crisis in Darfur | The humanitarian crisis in Darfur, western Sudan, got much worse yesterday when the British charity Save the Children announced it is to withdraw its 350 personnel after four of them were killed. (Irish Times, via Sudan Tribune, Sudan)
Somali talks conclude, Sudanese talks drag on at yearend | Peace talks held in Kenya to end long-running civil wars in Somalia and Sudan have figured prominently in 2004. Cathy Majtenyi from VOA's East African Bureau in Nairobi looks at where peace negotiations stood as the year ended - and at the challenges that lay ahead. (Voice of America)
Germany's Christian Democrats leader steps down:
German opposition leader steps down | The general secretary of Germany's leading opposition Christian Democrats resigned from his post Wednesday, succumbing to pressure that had been building since it emerged that he continued to be paid by a former employer after taking the party job. (Associated Press)
Company's payments to party official set off uproar in Germany | Adding to the growing troubles of Germany's conservative opposition, leading politicians were calling Monday for the resignation of the Christian Democratic Union's general secretary following disclosures that he had received payments from a large utility company for which he once worked. (Associated Press)
German opposition leader backs senior aide | Germany's opposition leader gave her backing to a senior aide in a dispute over payments he received from his former employer, a utility company. (Associated Press)
December dilemma:
Panel to address manger issue | Commissioners will discuss growing controversy over the holiday displays. (The Ledger, Fla.)
Christians protest actions that play down Christmas' religious nature | Julie West is tired of being wished "Happy Holidays" instead of "Merry Christmas." She's annoyed with department stores that use "Season's Greetings" banners, and with public schools that teach about Hanukkah and Kwanzaa but won't touch the Nativity story. (USA Today)
Christians upset and they aren't going to take it | It appears many Christians are mad as hell and they aren't going to take it anymore. That familiar shibboleth is usually applied to politicians but in the case of evangelical Christians (and there is a difference between evangelicals and other church groups), the target of their wrath is secularists who want to take Christ out of Christmas. (Robert Nolte, Hernando Today, Fla.)
Better way to address secularized Christmas | Surely we can figure out ways to enjoy the season without imposing the majority faith on everyone -- or turning the public square into a religion-free zone. (Charles C. Haynes, Asbury Park Press, NJ)
Expression is our given right | In the America of today, the Christian faith is drawing increasingly more fire. Are Christians being persecuted? Perhaps, and perhaps not. A multi-year campaign by the American Family Association to place "In God We Trust" banners in the nation's public school buildings is one example of how far we've removed ourselves in this nation from the Judeo-Christian philosophy which guided its foundation. (Editorial, Demopolis Times, Ala.)
Christians protest actions that play down Christmas' religious nature | Julie West is tired of being wished "Happy Holidays" instead of "Merry Christmas." She's annoyed with department stores that use "Season's Greetings" banners, and with public schools that teach about Hanukkah and Kwanzaa but won't touch the Nativity story. (WZZM, Mich.)
Tolerance has ruined Christmas | I've never known Christmas to be about anything but Christ. There are, of course, distractions from the idea that we are celebrating Christ's birth, but by and large that's what everything is about at this time of year. (Mitch Beaumont, Papillion Times, Neb.)
Christmas in school:
The Christmas tipping point | This year, some unlikely folks have joined the effort to celebrate Christmas in public schools: non-Christians. (Beliefnet)
School Yuletide observances shift into neutral | Beverly Hills elementary school students pretended to travel around the world to show how holidays are celebrated in China, Israel and Mexico. In Del Mar, students at a "Winterfest" program sang "Frosty the Snowman" but not "Silent Night." And at an Altadena elementary school, students performed "Jingle Bell Rock," "Feliz Navidad" and "Oh Hanukkah." (KTLA, Calif.)
School ban on Xmas carols spark debate | South Orange-Maplewood school district decided to ban instrumental Christmas carols at school-sponsored holiday concerts. (Associated Press)
December dilemma, non-U.S.:
Christian Europe may have to rely on Muslims to keep the faith | Here's a question to ponder as December 25 approaches: for how long more will Christmas be celebrated in Europe? (Irish Examiner, Ireland)
Putting Christ back into Christmas | LORD Mayor John So joined 200 of his critics to sing non-secular Christmas carols on the steps of the Melbourne Town Hall yesterday. (Herald Sun, Australia)
Unholy war on Christmas | Real-life Scrooges and Grinches have banned Christmas before, not because their hearts were too small but because their bigotry was too great. And now it is happening again. (Anthony Browne, The Australian, Australia)
Praise for a secular Santa who delivers the goods | When I was growing up in Canada, Ho-Ho-Ho was a No-No-No - not because my parents deemed it so, but because I did. My defiance sprang from the Mennonite kid who incurred my second-grade teacher's wrath by refusing to make Christmas ornaments with the rest of our class. The moment she condemned him to stand in the hall, I felt my own rumblings of resistance. (Irshad Manji, The Australian, Australia)
Saying 'Merry Christmas':
Too close for comfort and joy | When I encounter fellow Christians during these days of comfort and joy, I wish them a Merry Christmas. When I encounter Jewish friends, I wish them Happy Hanukkah. And when I encounter people whose religious beliefs are unknown to me, I wish them Happy Holidays. (E.J. Dionne, Seattle Times)
'Merry Christmas' versus 'Happy Holidays' | Mark the season in the way your religion believes. Christmas is based in religion. It marks the birth of Jesus Christ. It's also a season of goodwill. So it's unfortunate that in many circles fights have broken out over what the proper holiday greeting should be. (Editorial, Mansfield News Journal, Ohio)
Christmas greetings—no apology | Let me begin by saying, "Merry Christmas." And, by the way, "Merry Christmas." Oh, and did I mention, "Merry Christmas"? Let's just say the "Merry Christmas" backlash has officially begun. (Kathleen Parker, Fort Wayne Journal Gazette, Ind.)
Merry … oh, all right … Christmas! | Forget the disputed origins of the celebration. Just have a ball. (John Williams, The Age, Melbourne)
It's that time of year | Does your throat tighten when you start to wish someone a "Merry Christmas?" How about the opposite: Do you object when someone brings up Christmas. Or, a third possibility: Are you offended when someone says "Happy Holidays" as if Christmas is a word to be avoided? Our suggestion is one that we're often moved to offer: Everybody should lighten up. (Editorial, Santa Cruz Sentinel, Calif.)
Christmas:
Tracing the Christmas tree's roots | The Christmas tree remains a powerful symbol for many of us, a mandala of sorts, evoking emotions that can be traced through thousands of years of humankind and across many faiths. (Los Angeles Times)
In study, holidays fail as a life force | No evidence that death can be delayed (Hartford Courant, Conn.)
Birth of Christ has ring of truth | The Christmas season is accompanied by many things: mistletoe, evergreen trees and Santa Claus. And while most Americans accept the store-bought image of Christmas, there remains an ongoing debate on one of the season's most sacred symbols -- the nativity. (Pasadena Star-News)
Two holidays in December | Who was it that said "These are the good old days"? Is it possible that today's children will look back at Christmas 2004 as the Golden Age which preceded the crass commercialization of a formerly religious holiday? (Macon Telegraph, Ga.)
Peaceful message shared in Woodstown | On the darkest day of the year, some Woodstown residents took time to brighten their town with candles of peace. (Today's Sunbeam, NJ)
Nativity scenes rare in these commercial times | Tamworth shoppers are being bombarded with images of the commercial hype surrounding Christmas, but very little of the true religious significance of the day, with shop front displays failing to include traditional themes. (Tamworth Northern Daily Leader, Australia)
So this is Winterfest … and what happened to Christ? | It's surprising that there is still a crib on O'Connell Street each year. It's surprising that the new puritans of secularism have not yet managed to ban it in the name of 'pluralism'. (Belfast Telegraph, Ireland)
Why is Dec. 25 the date to celebrate Christmas? | There's a small disagreement about why Christians chose Dec. 25 for Christmas. Two main theories compete. (Associated Press)
No invite for Jesus to Malaysian Christmas | In multi-ethnic Malaysia, where Muslims make up a slim majority and control the government but where there are also sizeable Christian, Hindu and Buddhist minorities, news that the government would ban any reference to Jesus in hymns and Christian symbols like the nativity scene from its Christmas Day open house, was destined to ruffle some feathers. (Asia Times Online, Hong Kong)
The continuing tradition of Winter Solstice | As the holiday season arrives, many families begin decorating a tree and their homes with bells, holly, ivy and mistletoe -- all in preparation for the most mainstream American celebration: Christmas. (WESH, Fla.)
Travelers keeping the faith | For many, prayers follow the packing (Washington Post)
Hot cross Christmas for inmates | Hot cross buns, for many Christians a symbol of their Saviour's death by crucifixion, will be on the breakfast menu for Johannesburg Prison inmates on Christmas Day, the day that marks his birth. (Independent Online, South Africa)
Political parties wish South Africans a joyous X-MAS | Various political parties have wished South Africans a happy and safe festive season ahead of Christmas Day on Saturday. (SABC News, South Africa)
Christmas opinion:
Silent Night? Hardly. | Surfergirl makes list of reader feedback, checks it twice. (Dana Stevens, Slate)
A melting pot of holiday traditions | Few things signal the arrival of Christmas more than the glorious strains of "Angels We Have Heard on High." I can't hear the familiar hymn without singing it; I can't sing its powerful refrain without tearing up. The pureness of the notes carries me back to a simpler time, when my world was small and perfect. (Ginger Ebinger, Dallas Morning News)
Merry holiday/culture wars at Christmas | Habitual watchers of "Seinfeld" reruns know that tomorrow is Festivus, the holiday for the "rest of us" created by George Costanza's father for "the airing of grievances." It's in that comic spirit that we offer a holiday grievance of our own: the perception that Christians are victims of religious persecution in America and, more specifically, their warnings of a secular conspiracy to stamp out Christmas. (Editorial, Minneapolis Star Tribune)
Christianity in retreat? | Church leaders sound positively apologetic when they defend the 2,000- year-old message that has resonated with worshipers throughout the ages and brought them comfort and peace. (Helle Dale, Washington Times)
For a happy Christmas | For most Israeli Jews Christmas is a non-event. But it is the perfect time to reflect on how well sovereign Israel has fulfilled its duties to the Christians of the Holy Land. (Editorial, Jerusalem Post)
He's made a list and checked it twice | Everyone has a list this time of year -- just like Santa Claus (Walter Robinson, Ottawa Sun, Canada)
A touch of joy needed | The season we celebrate has a dramatic challenge behind it: yes, it's a season of joy. But when we read the papers or check out TV a gush of "compassion fatigue" runs through our bodies. A nation divided. We have Christians at each other's throats with conflictive takes on the world and the place of the United States in it. (Editorial, Bangor Daily News, Me.)
In search of the true spirit of Christmas | In the increasingly capitalistic and commercialised world that we inhabit today the real question that we must ask is not have we lost the true meaning of Christmas; but what does Christmas mean to people these days? (Sinead O'Donnell, Western People, Ireland)
They may be Christian, but not into Christmas | In Kendall, Fla., the Sunset Church of Christ isn't decorated for Christmas. Indeed, the nondenominational Church of Christ doesn't officially celebrate Christmas: Its leaders decided more than a century ago not to celebrate the holiday since the early Christians never wrote of marking Jesus' birthday, nor did they mention what day Christ was born. (Donna Gehrke-White, Knight Ridder Newspapers)
Celebrating the birth of Christ | An aspect of Christmas is the celebration of the winter solstice on December 21st. This ancient celebration (especially of the Celts) announced the rebirth of the light against the darkness. Christianity celebrates Jesus as the light of the world. (Liamy MacNally, Mayo News, Ireland)
The Christmas story through Islamic eyes | This unpredictability is why I like to reread the birth narratives in the New Testament. But I also have found it enlightening to read the story as it's told in the Quran, the holy book of Islam, which considers Jesus a major prophet. (Bill Tammeus, Knight Ridder Newspapers)
Bethlehem:
U.N. Report: Bethlehem is isolated town | As Christmas approaches, Bethlehem is an isolated town with boarded up shops instead of a bustling cultural and spiritual center hosting tourists and pilgrims from around the world, a new U.N. report says. (Associated Press)
No room at the inn, the shop or café in stranded Bethlehem | Shame is writ large on Sameh Yateem's face. The Palestinian Christian from a wealthy family that ran one of Bethlehem's most popular restaurants is reduced to filling grocery bags at a supermarket checkout. (Times, London)
Ann's awe over Bethlehem Mass | A Coventry woman will be taking part in a Christmas Mass at a Bethlehem church and spending her holidays on a peace mission in Palestine. The aim of Ann Farr's 10-day peace pilgrimage, run by international Roman Catholic movement Pax Christi, is to bring together Christians, Jews and Muslims. (ic Coventry, UK)
Church & state:
French pretzel logic and pagan Christmas trees | Recently France, a nation made of men and women who in the majority are Roman Catholic, has passed legislation designed to create a sharp distinction between church and state. (Carolina Morning News, SC)
Math teacher fired over religious comments | Robert Ziegler is a second-year math teacher at Papillion-La Vista High School. Administrators said he discussed Christianity while teaching his math class several times, and parents and students had complained. Administrators suspended Ziegler last month for violating school policy: He deviated from the system's math curriculum. (KETV, Neb.)
Ukraine:
'Revolution' shows Ukraine's religious divide | While Ukraine's Catholic denominations have been united in their support for Yushchenko, its Orthodox Churches - which claim the lion's share of the nation's believers - are deeply divided. (ISN, Switzerland)
Ukraine's fate after the vote | Since September 11, 2001, there has been much talk of the potential clash between Christian and Islamic civilizations. But in his 1996 book on the clash theory, Samuel P. Huntington focused as much on the potential divide between Orthodox and Western Christians. (Jim Rosapepe, Washington Times)
Religious freedom:
Kano: Govt uncovers plot to foment religious crisis | Kano state government yesterday said it had uncovered a plot hatched by some elements in the state to plunge the state capital into religious disturbance during Christmas celebration. (This Day, Lagos, Nigeria)
Pastors found guilty of religious vilification of Muslims | Two Christian pastors in Australia have been found guilty of religious vilification of Muslims. The decision threatens us all. (Human Events, D.C.)
Egyptian Coptic protesters freed | Thirteen Egyptian Coptic Christians detained after clashes with police have been released on humanitarian grounds, the prosecutor-general said. (BBC)
Boy Scouts should shed its legacy of bigotry | Many Tucsonans support the Boy Scouts, as do I. My only quarrel is with the Boy Scouts of America. (Bob Days, Tucson Citizen)
Sharia has no place here | Muslim law is tyranny against women. Outrageous as it is, former NDP attorney-general Marion Boyd wants sharia law introduced into Ontario to resolve Muslim domestic disputes. (Peter Worthington, Toronto Sun, Canada)
Theater closes after offending Sikhs:
Theatres and religious leaders to hold summit | The Commission for Racial Equality is attempting to prevent a repetition of the violent scenes which forced Birmingham Rep's controversial production Behzti to close, announcing it will host an emergency meeting between British theatre representatives and religious leaders. (Stage, UK)
'Offensive' play withdrawn after protests by Birmingham's Sikh community | While we unreservedly condemn the use of violence by any section of the community and regret the injuries inflicted on policemen going about their lawful duties, we must also express our concern at the decision of Birmingham Stage Company to pick up where Birmingham Repertory Company showed sound judgment and to stage a play which is not only offensive to the Sikh community, but to all other religious faiths as well (Times, London)
Can censorship ever be justified? | In the week the play Dishonour was cancelled after violent Sikh protests, the Guardian set five experts a challenge: what would they do faced with this and other controversial artists' works (Guardian, UK)
Row pushes faith into the spotlight | Rarely does a piece of theatre occupy centre stage in the national consciousness, much less when the playwright is a non-white woman. (Navraj Singh Ghaleigh, The Scotsman, UK)
Film:
AFI cites 'Passion, ' '9/11' among 2004's 'moments' | Putting its own stamp on 2004, the American Film Institute has selected nine ``Moments of Significance'' as an adjunct to its annual AFI Awards, which will be presented to the creators behind 10 previously announced film and TV shows at a luncheon Jan. 14. (Reuters)
US film fans shun cinemas | American filmgoers may be growing tired of Hollywood epics with bloated budgets, after domestic box office figures for 2004 showed a 2.25 per cent drop in cinema attendance, after a 3.8 per cent drop last year. (Times, London)
That old feeling: The Year in docu-politics | Richard Corliss on all those left-wing documentaries that attacked George Bush, and the Jesus movie that inspired the Right (Richard Corliss, Time)
Sabah: Screening of Passion sign of Israeli openness | The screening of Mel Gibson's 'The Passion of Christ' in Israel is a sign of more openness in Jewish Israeli society, said the top Roman Catholic clergyman in the Holy Land Tuesday. (Jerusalem Post)
Books:
Conversation: Left Behind | Jeffrey Brown talks with Tim LaHaye and Jerry Jenkins, authors of the "Left Behind" series of Biblical thrillers. (News Hour, PBS)
Joyce Carol Oates, venturing into parallel universes | Famously prolific as a novelist, essayist, short story writer, poet (and professor of literature at Princeton), Oates wrote "The Tattooed Girl" simultaneously as novel and play. (Washington Post)
Lake Wobegon? It's where men are persistent | Garrison Keillor, 62, is a very accomplished writer. A former staff member at The New Yorker and the author of several novels, he takes his role as a writer very seriously. But he has this side job, as ringmaster of "A Prairie Home Companion," a live radio show he founded on Minnesota Public Radio 30 years ago, that has at its very center a monologue, "The News From Lake Wobegon," that he makes up each week on the fly. There is never a written script. (The New York Times)
Spirituality:
God's falling from grace | Behind the bumper crowds that traditionally file into churches at Christmas is the realisation that growing secularism in Australia has put religion on notice. Religious affiliation is falling along with church attendance. (The Australian, Australia)
Britain a Christian country: bishop | A Church of England bishop has used his Christmas message to argue that Britain is still a Christian country rather than a multi-faith society. (Indo-Asian News Service, India)
Teens are finding that God is cool | What happened to the days of parents having to drag junior to Sunday School? Today, junior is begging mom and dad to let her attend bible camp with the rest of her friends. (Walnut Creek Journal, Calif.)
Religious landscape diversifies in Switzerland | The religious landscape has changed in Switzerland, with the Catholic and Protestant Churches emerging as the biggest losers. (NZZ, Switzerland)
Marriage & family:
Better together | Couples' improvement plans enrich bodies, minds and spirits (Chicago Tribune)
Good news on marriage | The good news on marriage is that a lot of Americans are not taking the bad news lying down. (Maggie Gallagher)
Bishop Long marches past real issues | Bishop Eddie Long is confused about the decline of marriage. Like many conservative Christians, he blames gays for the problems facing the institution, fearing that their desire to marry would somehow undermine heterosexual unions. On Dec. 11, Long — pastor of New Birth Missionary Baptist Church, a DeKalb County megachurch that claims 25,000 members — assembled thousands to march in support of an amendment to the U.S. Constitution banning same-sex unions. (Cynthia Tucker, Atlanta Journal Constitution)
Interfaith couples dance around December Dilemma | Is it OK to put up a Christmas tree? What about presents for the kids? Should Christian spouses take part in Hanukkah celebrations? (Robin Galiano Russell, Knight Ridder Newspapers)
Interfaith families find ways to maintain religious beliefs | Celebrating the religious significance of Hanukkah and maintaining the customs of Michael's family solves the "December dilemma" for the Meredith-Jacobs household, an interfaith family where one parent - Jacobs - comes from a Jewish background and the other - Meredith - grew up in a Christian household. (Wilmington Morning Star, NC)
Abuse:
Cardinal subpoenaed in priestly abuse lawsuit | For the first time since becoming archbishop of New York in 2000, Cardinal Edward M. Egan is expected to testify as a witness in a civil lawsuit alleging sexual abuse by a priest, the cardinal's spokesman and lawyers involved in the case confirmed yesterday. (The New York Times)
Abuse settlement reached | The Roman Catholic Archdiocese of Seattle has agreed to pay $1.8 million to settle 12 claims of sexual abuse by priests, the majority involving a former pastor at several churches in the area. (Associated Press)
Crime:
Minister dies after altar attack | A 72-year-old minister died Tuesday, two days after being attacked and choked in front of the altar by a man who called him ``the devil,'' police said. (Associated Press)
Wis. priest questioned in slayings dies | A 31-year-old Roman Catholic priest who had been questioned by police in two gunshot slayings has killed himself, church officials said Monday. (Associated Press)
Hundreds gather to mourn slain mother | Hundreds of mourners gathered Tuesday in this small northwestern Missouri farming community for the funeral of a young pregnant woman who was strangled and whose baby girl was cut from her womb. (Associated Press)
Seasonal displays being looted | Hostility to religion or profit motive? (Washington Post)
People:
Edward Shedlick; commerce official, former priest | Edward F. Shedlick, 76, a Catholic priest for more than a decade in the Washington area who, after leaving the priesthood, entered government service, died of a stroke Dec. 16 at his home in Frederick. He worked for the Department of Commerce for nearly 30 years. (Washington Post)
Buddy Miller, Universal United House of Prayer | What if your faith suggests some scepticism of the loudest of the faithful, and some contrary views based on, say, compassion? Buddy Miller, both solo and with his wife, Julie, has been a Christian believer in song for two decades. He's also been one of the finest guitarists and backing men, and most underrated - not least by himself - songwriters and singers in the roots scene. (Sydney Morning Herald, Australia)
History:
Site of Jesus' miracle said to be found | Among the roots of ancient olive trees, archaeologists have found pieces of large stone jars of the type the Gospel says Jesus used when he turned water into wine at a Jewish wedding in the Galilee village of Cana. (Associated Press)
7,000 years of religious ritual is traced in Mexico | Archaeologists have traced the development of religion in one location over a 7,000-year period, reporting that as an early society changed from foraging to settlement to the formation of an archaic state, religion also evolved to match the changing social structure. (The New York Times)
Other articles of interest:
YMCA creates a PR disaster almost overnight | When you say "YMCA" and feel you should mention that it doesn't stand for "Young Men's Cross-dressers Association," the YMCA might have a public relations issue. (John Kass, Chicago Tribune)
Pope: Age brings more need for God's help | Pope John Paul II made a rare allusion to his personal struggle with aging and illness, saying in a Christmas address Tuesday that each passing year brings a greater need for help from God. (Associated Press)
Church resurrects cartoon | After a nearly 30-year hiatus, Davey Hansen and his faithful dog Goliath are back to teach values to a new generation of young people. The Lutheran church has revived the 1960s-era animated series for a holiday special, "Davey & Goliath's Snowboard Christmas." The special — with a theme of religious tolerance — debuted on the Hallmark Channel last week , and will be repeated at noon Sunday. (Associated Press)
Who are the nation's 'cheapstates'? Try the blue ones. | "They are tithing, evangelical Protestants, and they are giving in proportion to their income," he says. "Up here [in the Northeast], religion doesn't help our giving. I wouldn't say it hurts, but it doesn't help, either." (The Christian Science Monitor)
Analysis: Life, death in the Schiavo case | The Supreme Court of the United States is used to dealing with disputes over life and death, but the case of Terri Schiavo is among the most poignant. (UPI)
Churchman lashes out at liberals | A leading Cheshire churchman has hit out at what he calls 'nasty liberalism'. (ic CheshireOnline, UK)
Ha'etzni apologizes for comparing settler to Jesus | Longtime right-wing leader Elyakim Ha'etzni sent a letter of apology Tuesday to Shaul Goldstein - deputy head of the Council of Jewish Communities in Judea, Samaria and the Gaza Strip - over an interview he gave The Jerusalem Post in which he compared Goldstein to Jesus. (Jerusalem Post)
Related Elsewhere:
Suggest links and stories by sending e-mail to weblog@christianitytoday.com
Check out Books & Culture's weekly weblog, Content & Context.
See our past Weblog updates:
December 21
December 17 | 14b | 14a
December 10 | 9 | 7 | 6
December 3 | 2 | 1
November 24 | 23 | 22
November 19 | 18 | 17 | 16
November 12 | 11 | 10
Weblog
Launched in 1999, Christianity Today's Weblog was not just one of the first religion-oriented weblogs, but one of the first published by a media organization. (Hence its rather bland title.) Mostly compiled by then-online editor Ted Olsen, Weblog rounded up religion news and opinion pieces from publications around the world. As Christianity Today's website grew, it launched other blogs. Olsen took on management responsibilities, and the Weblog feature as such was mothballed. But CT's efforts to round up important news and opinion from around the web continues, especially on our Gleanings feature.
Ted Olsen is Christianity Today's executive editor. He wrote the magazine's Weblog—a collection of news and opinion articles from mainstream news sources around the world—from 1999 to 2006. In 2004, the magazine launched Weblog in Print, which looks for unexpected connections and trends in articles appearing in the mainstream press. The column was later renamed "Tidings" and ran until 2007.
Previous Weblog Columns: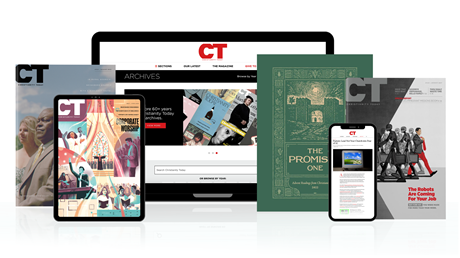 Annual & Monthly subscriptions available.
Print & Digital Issues of CT magazine
Complete access to every article on ChristianityToday.com
Unlimited access to 65+ years of CT's online archives
Member-only special issues
Subscribe
Kristof—'When the Right Is Right'
Kristof—'When the Right Is Right'