true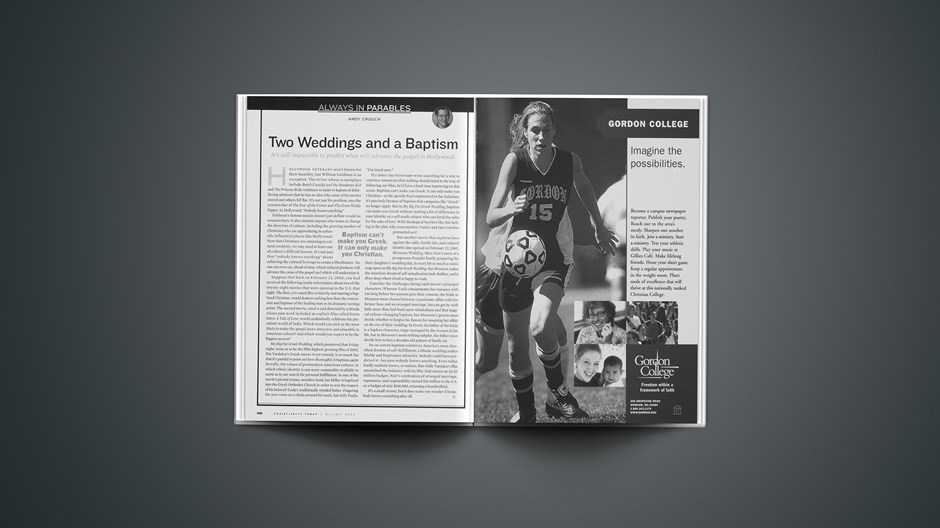 HOLLYWOOD VETERANS aren't known for their humility, but William Goldman is an exception. The writer whose screenplays include Butch Cassidy and the Sundance Kid and The Princess Bride continues to insist to legions of disbelieving admirers that he has no idea why some of his movies soared and others fell flat. It's not just his problem, says the screenwriter of The Year of the Comet and The Great Waldo Pepper. In Hollywood, "Nobody knows anything."
Goldman's famous maxim doesn't just deflate would-be screenwriters. It also cautions anyone who wants to change the direction of culture, including the growing number of Christians who are apprenticing in culturally influential places like Hollywood. Now that Christians are returning to cultural creativity, we may need to learn one of culture's difficult lessons. It's not just that "nobody knows anything" about achieving the cultural leverage to create a blockbuster. No one can even say, ahead of time, which cultural products will advance the cause of the gospel and which will undermine it.
Suppose that back on February 22, 2002, you had received the following inside information about two of the twenty-eight movies that were opening in the U.S. that night. The first, a PG-rated film written by and starring a baptized Christian, would feature nothing less than the conversion and baptism of the leading man as its dramatic turning point. The second movie, rated R and directed by a Hindu whose past work included an explicit film called Kama Sutra: A Tale of Love, would unabashedly celebrate the pluralistic world of India. Which would you pick as the most likely to make the gospel more attractive and plausible in American culture? And which would you expect to be the biggest success?
My Big Fat Greek Wedding, which premiered that Friday night, went on to be the fifth-highest-grossing film of 2002. Nia Vardalos's Greek-meets-WASP comedy is so much fun that it's painful to point out how thoroughly it baptizes, quite literally, the values of postmodern American culture, in which ethnic identity is one more commodity available to assist us in our search for personal fulfillment. In one of the movie's pivotal scenes, sensitive hunk Ian Miller is baptized into the Greek Orthodox Church in order to win the respect of his beloved Toula's traditionally minded father. Fingering the new cross on a chain around his neck, Ian tells Toula, "I'm Greek now."
If a latter-day Screwtape were searching for a way to convince Americans that nothing should stand in the way of following our bliss, he'd have a hard time improving on this scene. Baptism can't make you Greek. It can only make you Christian—as the apostle Paul emphasized to the Galatians, it's precisely because of baptism that categories like "Greek" no longer apply. But in My Big Fat Greek Wedding, baptism can make you Greek without making a bit of difference in your identity as a self-made subject who can bend the rules for the sake of love. With theological howlers like this lurking in the plot, why even mention Toula's and Ian's carefree premarital sex?
But another movie that explores love against the odds, family ties, and cultural identity also opened on February 22, 2002. Monsoon Wedding, Mira Nair's story of a prosperous Punjabi family preparing for their daughter's wedding day, is every bit as much a comic soap opera as My Big Fat Greek Wedding. But Monsoon makes the American dream of self-actualization look shallow, and it dives deep where Greek is happy to wade.
Consider the challenges facing each movie's principal characters. Whereas Toula consummates her romance with Ian long before her parents give their consent, the bride in Monsoon must choose between a passionate affair with her former boss and an arranged marriage. Ian can get by with little more than laid-back open-mindedness and that magical culture-changing baptism, but Monsoon's groom must decide whether to forgive his fiancée for resuming her affair on the eve of their wedding. In Greek, the father of the bride is a hapless character, stage-managed by the women in his life, but in Monsoon's most striking subplot, the father must decide how to face a decades-old pattern of family sin.
An on-screen baptism reinforces America's most cherished dreams of self-fulfillment; a Hindu wedding makes fidelity and forgiveness attractive. Nobody could have predicted it—because nobody knows anything. Even today hardly anybody knows, or notices, that while Vardalos's film astonished the industry with its fifty-fold return on its $5 million budget, Nair's celebration of arranged marriage, repentance, and responsibility earned $14 million in the U.S. on a budget of only $146,000, returning a hundredfold.
It's a small victory, but it does make you wonder if Somebody knows something after all.
Related Elsewhere
CT's Film Forum reviewed My Big Fat Greek Wedding, and Monsoon Wedding.
Many of Crouch's other writings are available at his and his wife's web site.
Article continues below
Earlier Andy Crouch columns for Christianity Today include:
Wrinkles in Time | Botox injections as a spiritual discipline. (Aug. 11, 2003)
Rites of Passage | Self-improvement is our culture's most durable religion. (June 6, 2003)
Christian Esperanto | We must learn other cultural tongues. (June 4, 2003)
We're Rich | But why is it so hard to admit? (Feb. 20, 2003)
Blinded by Pop Praise | To see God "high and lifted up," just open your eyes. (Dec. 17, 2002)
The Future Is P.O.D. | Multicultural voices have an edge in reaching a rapidly changing America. (October 12, 2002)
Rekindling Old Fires | We can resist technology's chilling effects on how we spend time together. (August 2, 2002)
Interstate Nation | The national highway system is a lesson in how to transform a nation. (June 21, 2002)
Amplified Versions | Worship wars come down to music and a power plug. (April 17, 2002)
Thou Shalt Be Cool | This enduring American slang leaves plenty out in the cold. (March 18, 2002)
Borrowing Against Time | We live in a fallen world. We will die. We need to face that. (Jan. 17, 2002)
Grounded | Our technologies give us an illusion of omnipresence—most of the time. (Nov. 15, 2001)
Zarathustra Shrugged | What apologetics should look like in a skeptical age. (Sept. 5, 2001)
Consuming Passions | One man's "testimony" from the First Great Mammon Awakening. (July 10, 2001)
Have something to add about this? See something we missed? Share your feedback here.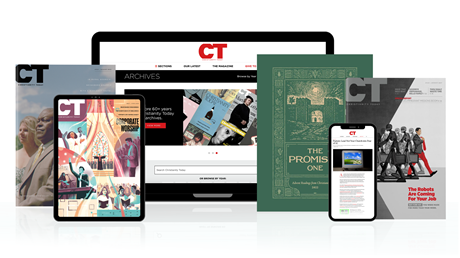 Annual & Monthly subscriptions available.
Print & Digital Issues of CT magazine
Complete access to every article on ChristianityToday.com
Unlimited access to 65+ years of CT's online archives
Member-only special issues
Subscribe
Two Weddings and a Baptism
Two Weddings and a Baptism