When a moving crew finally hauled Alabama Chief Justice Roy Moore's 5,280-pound Ten Commandments monument from public view at the Alabama Judicial Building in late August, one angry protester screamed, "Get your hands off our God!" Fortunately, he was a minority of one. His fellow demonstrators urged calm.
Indeed, many pundits' and activists' predictions failed that day. Protesters didn't violently charge in, but prayed peacefully on the courthouse steps. Moore didn't fling himself atop the monument—he wasn't even present.
Neither did God step off his throne, nor references to him suddenly vanish from the public square. When Congress reconvened after its summer break, it did so with a prayer. The Alabama state constitution still "invoke[s] the favor and guidance of Almighty God." Art at the Supreme Court still depicts Moses holding the Ten Commandments.
When U.S. District Judge Myron Thompson ruled the display unconstitutional, he wrote, "The court does not hold that it is improper in all instances to display the Ten Commandments in government buildings; nor does the court hold that the Ten Commandments are not important, if not one of the most important, sources of American law." What was improper, he ruled, was the explicitly religious purpose that the Alabama monument served beyond the inherently religious content of the Decalogue itself.
Both Thompson and Moore agreed that the monument's purpose was religious in nature, and Moore refused to let the debate wander too far from the question of whether the state may, in Thompson's words, "acknowledge the sovereignty of the Judeo-Christian God and attribute to that God our religious freedom." For Moore, this was an opportunity to put the lie to the separation of church and state myth.
We agree wholeheartedly with Moore that many courts have misinterpreted the First Amendment, and that some judges seem to impose freedom from religion rather than protect the freedom of it. There truly is a growing antagonism toward public religion, and Christians must continue to fight for equal protection under the law in a variety of areas.
Rest assured, however, that the Alabama case was not a turning point in church-state law. But the furor over it may have shaped future battles, especially in public opinion. By erroneously claiming that the courts are opposed to displaying the Commandments, Moore and his supporters may have created the perception that such displays are always unconstitutional. In fact, state and federal courts are split on the matter.
Meanwhile, the sentiments of those such as the man who screamed "Get your hands off our God" are especially troubling. Such a remark is sheer idolatry, directly contradicting the Commandments themselves.
After all, heeding the Commandments is far more important than displaying them. And even more important is to realize that God is still present in the Alabama Judicial Building. And he reigns there, too.
Related Elsewhere
"In an era in which we are struggling to find the proper place of religion in a pluralistic society, we must be careful neither to crusade for nor to accept mere symbols," Christianity Today said in a 2000 editorial. "When something becomes a rallying point for a cause or an identifying symbol for a movement, it runs the danger of becoming an idol."
Joseph Loconte pontificated on the Ten Commandments last month in an opinion piece for our web site. He earlier commented on the Commandments controversy for National Public Radio's All Things Considered. His commentary was picked up by the Chicago Tribune and other publications.
Christian History Corner earlier examined the history of the Decalogue's place in British and American history.
More coverage of the Alabama Ten Commandments controversy and similar debates are available from Christianity Today's Weblog and past news stories.
The center of Commandments disputes has apparently shifted from Alabama to Georgia. For up-to-the-minute Ten Commandments news, check out Google.
Fox News has several videos from the monument's removal, including the now-infamous man shouting, "Get your hands off our God!"
Have something to add about this? See something we missed? Share your feedback here.
Our digital archives are a work in progress. Let us know if corrections need to be made.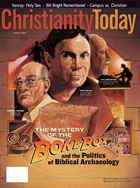 This article is from the October 2003 issue.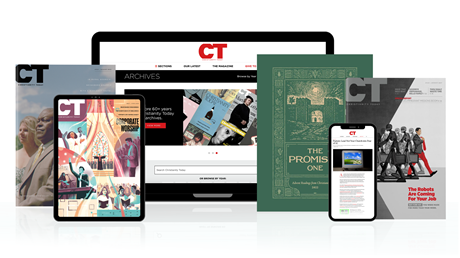 Annual & Monthly subscriptions available.
Print & Digital Issues of CT magazine
Complete access to every article on ChristianityToday.com
Unlimited access to 65+ years of CT's online archives
Member-only special issues
Subscribe
God Reigns-Even in Alabama
God Reigns-Even in Alabama