Some parts of culture are like a river: they flow through the terrain on a definite course. You can decide what you want to do with a river—float along with the current or swim against it, lounge on the banks or dive in. There is a place where the river is, and a place where the river is not.
But every river has a flood stage. This year, one particular river in our cultural geography rose above its banks. The cause of homosexuality, which has been gaining ground for years, spilled over into nearly every part of American life.
From courts in both the United States and Canada (which overturned prohibitions against sodomy and legalized same-sex marriage, respectively) to trend-setting, or trend-driven, pop culture events (the MTV Music Awards and the Tony Awards ceremonies both featured same-sex smooches), and perhaps most vividly in the Bravo TV series Queer Eye for the Straight Guy—in 2003 homosexuality consolidated its claim to be both exceptional and normal, both oppressed and privileged.
With uncanny timing, the Episcopal Church's General Convention approved the consecration as bishop of a priest who had dissolved his marriage and later began a long-lasting relationship with a man. Tellingly, deputies agreed to consecrate someone who was sexually active outside of matrimony even before they approved a tentative exploration of rites that Episcopal churches might use to solemnize such a relationship.
These developments were no more surprising than a flood after 40 days of rain. But they still force us to confront questions that once were easier to ignore.
First, what is the meaning of sexuality? Is it, like so much in consumer culture, an opportunity to define my identity by carefully excavating, and duly satisfying, my individual preferences? (The ostensibly heterosexual plot lines of Sex and the City, which has several gay writers on its staff, are pristine expressions of this view of sex. It is no coincidence that the series is ending now that its star has had a child.) Or is sexuality, whether expressed in intimacy or reserved in chastity, less a matter of finding myself than offering myself, less about satisfaction than servanthood?
Second, what are human beings? Are we fundamentally good creatures whose desires are implicitly to be trusted? Or are we both victims and perpetrators of rebellion against our own good, persistently deceived and deceiving?
Beneath these questions hides the third and ultimate question of our time, the goodness (not the existence) of God. Is God for us? Is God distant, cruel, or both, leaving us to do the best we can to provide for ourselves? Or does God suffer with us in our passions, longings, and yearnings—even and especially those that come from the most fragile reaches of our hearts?
I have accompanied many friends through these questions. Some of these friends would usually be described as "homosexual." But the more I have faced these questions, and the more deeply I come to know my friends and myself, the less I believe that "homosexual" is the right word. Humankind is not divided into "heterosexuals" and "homosexuals." Rather, we are "sexuals," people created for union with another, in the image of a relational God. And all of us have a sexual orientation that bends toward self, that tends toward self-justification, and that hides from a God we fear is not good enough to satisfy us.
Unfortunately, our churches often maintain a devilish double standard that expects heroic levels of purity from those with homosexual desires, while aggressively enforcing a "don't ask, don't tell" policy for the rest of us. The hypocrisy—if not homophobia—of such attempts at sexual sin management is only confirmed by the divorce rate among evangelicals, which is slightly higher than that of the general population. We sexuals are not heroes.
Yet we do have a hero. Some of us have been delivered by him out of the worst that sin can do. I have had the privilege of being friends with those who lived for years as gays and lesbians, who were adulterers, who were cross-dressers, who were consumed by pornography or obsessed with their own attractiveness—and who now joyfully live a different life thanks to Christ. Among us, too, are some who have not experienced any such dramatic deliverance, but who continue to submit themselves to their friends and to God even in the midst of emptiness that goes as deep as the soul can see.
Is there room for their stories in America, circa 2003? Is there room for their stories in the church? If not, we'd better start building an ark.
Related Elsewhere
Earlier Andy Crouch columns for Christianity Today include:
Two Weddings and a Baptism | It's still impossible to predict what will advance the gospel in Hollywood. (Oct. 15, 2003)
Wrinkles in Time | Botox injections as a spiritual discipline. (Aug. 11, 2003)
Rites of Passage | Self-improvement is our culture's most durable religion. (June 6, 2003)
Christian Esperanto | We must learn other cultural tongues. (June 4, 2003)
Article continues below
We're Rich | But why is it so hard to admit? (Feb. 20, 2003)
Blinded by Pop Praise | To see God "high and lifted up," just open your eyes. (Dec. 17, 2002)
The Future Is P.O.D. | Multicultural voices have an edge in reaching a rapidly changing America. (October 12, 2002)
Rekindling Old Fires | We can resist technology's chilling effects on how we spend time together. (August 2, 2002)
Interstate Nation | The national highway system is a lesson in how to transform a nation. (June 21, 2002)
Amplified Versions | Worship wars come down to music and a power plug. (April 17, 2002)
Thou Shalt Be Cool | This enduring American slang leaves plenty out in the cold. (March 18, 2002)
Borrowing Against Time | We live in a fallen world. We will die. We need to face that. (Jan. 17, 2002)
Grounded | Our technologies give us an illusion of omnipresence—most of the time. (Nov. 15, 2001)
Zarathustra Shrugged | What apologetics should look like in a skeptical age. (Sept. 5, 2001)
Consuming Passions | One man's "testimony" from the First Great Mammon Awakening. (July 10, 2001)
Have something to add about this? See something we missed? Share your feedback here.
Always in Parables
Andy Crouch is an editor at large for Christianity Today. Before working for CT, Crouch was chief of re:generation quarterly, a magazine which won the Utne Reader's Alternative Press Award for spiritual coverage in 1999. He was formerly a campus minister with InterVarsity Christian Fellowship at Harvard University. Crouch and his wife, Catherine, a postdoctoral fellow at Harvard, have two children. His column, "Always in Parables," ran from 2001 to 2006.
Previous Always in Parables Columns:
Our digital archives are a work in progress. Let us know if corrections need to be made.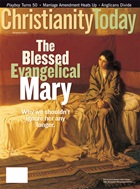 This article is from the December 2003 issue.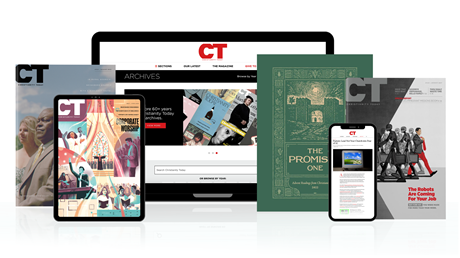 Annual & Monthly subscriptions available.
Print & Digital Issues of CT magazine
Complete access to every article on ChristianityToday.com
Unlimited access to 65+ years of CT's online archives
Member-only special issues
Subscribe
Before the Deluge
Before the Deluge