true
In the last several years, writers and academics have begun to seriously analyze what pop culture icons say through their worldviews. Books have explored the philosophy of The Matrix, Buffy the Vampire Slayer, and Seinfeld and the gospel according to Tony Soprano and The Simpsons.
Alistair Begg, pastor of Ohio's Parkside Church and the author of Made For His Pleasure (Moody), has been a longtime fan of The Beatles. He doesn't suggest the band had a solid theology or an admirable worldview. Instead, he feels the band is important to look at now because it asked a lot of pertinent question in its music—and too many of those questions went unanswered.
Why is it important to understand what The Beatles were saying during their era?
They were on the forefront of a generation's thinking. At the same time, they were able to articulate things and were given a voice. Without fully understanding it themselves, originally, they found themselves the mouthpiece of a generation. They were actually interpreting some of the angst, the hopes, and the fears of teenagers with mothers and fathers who didn't understand.
Did The Beatles simply reflect culture or did they shape it?
For good or for ill, they were shaping culture. That's true if you take the development of the music alone. Everything that they did pushed the frontiers out. This wasn't only true in terms of the way in which they were recording material or the way in which they were writing melody lines, but it was actually in the lyrical content as well. Think about what Elvis Presley was singing about, or about what Chuck Berry was doing. It was all about love and different things like that. The Beatles got into a whole new business the further they went.
The Beatles first said money was everything (in the song "Money"), then they said that love could give you anything you want on "From Me to You", and then they record "Can't Buy Me Love". What do you see in this progression?
An American journalist asked Paul in 1966 if "Can't Buy Me Love" was actually about prostitution. There is this morbid fascination with the idea that these guys were coming from the bottom level of everything. It is a shame. It carried over into fundamentalist/evangelical response to their music at that time.
I'm not suggesting that The Beatles had a wonderful theology, or that their worldview was perfect. It clearly wasn't. It left them high and dry on just about every front, eventually. But they weren't simply writing cute little tunes. They were beginning to take seriously the platform that they'd been given. That's why so many people found them offensive; it was because of the things that they were prepared to tackle.
What do you see when looking closely at what The Beatles were saying or looking for in their songs?
If you take Lennon's "In My Life," you have the tender side of John Lennon coming out, a side that many people missed completely.
When they went in and got Lennon's belongings after his untimely death, one of the closest family friends found a huge notebook, which contained virtually all of Lennon's handwritten lyrics for everything he'd done, including this song. It was clear that what had happened to Lennon is that as the fame thing had come, a sense of nostalgia crept into his life. He started to remember the places in the past.
It was always sad to me that people couldn't see that he was crying out for something. I just always felt that in Lennon you had this guy who every so often would open the door to himself ever so slightly. Every time he opened up, it never seemed to be a Christian response to say, "Hey, we've got an angle on that. We'd love to talk to you about that." It was always, "Hey, get out of here, you long-haired nuisance. You're destroying the youth of Great Britain and corrupting the life of America." We did this in the '60s and, frankly, we're doing it again now.
Speaking of the religious community's reaction to Lennon, there was a huge fervor after his comment that The Beatles were bigger than Jesus. But in an interview after that event, he said, "I wasn't saying The Beatles are better than Jesus or God or Christianity, I was using the name Beatles … as an example. But I could have said TV or cinema or anything else that's popular. Or motor cars are bigger than Jesus."
It's a shame that it served the agenda of certain people to misunderstand the quote. What Lennon was saying is what people might justifiably say today about all kinds of idols and icons in relationship to young people in particular. He was in some ways bemoaning the fact. He was honest enough to say what has happened here is a phenomenon that is way beyond anything that we could ever have conceived. The response, of course, was not particularly attractive—such as when the band hit Dallas and all those youth pastors came out to welcome them with bonfires.
While there were things that needed to be addressed in pop culture—and there always will be—I think we missed an opportunity. Later on, we see them involved with a maharishi yogi. You see Harrison's interest in mysticism. While we can't lay the charge at the feet of the Christians, nevertheless it is a sad thing that there was nobody there who had gained a platform to them at a time when they were willing to listen. The interviewer asked about the song "Help." He said, "I wrote "Help" in '65, and people hailed it as another advance in rock & roll. It was the cry of my heart and nobody came to answer."
This is just a picture of what we're dealing with every day in all of our lives. Lennon, the drummer in Smashing Pumpkins, and Kurt Cobain are only big, dramatic examples of the interaction that all of us have with kids. I want to encourage Christians to get serious about being real about Jesus Christ. Listen to music so that you can talk to people about it rather than sloganeering and banging the drum for the same old stuff.
Related Elsewhere
Visit DickStaub.com for audio and video of his radio program (4-7 p.m. PST), media reviews, and news on "where belief meets real life."
Recent Dick Staub Interviews include:
Robert Seiple on the War in Iraq | The founder of The Institute for Global Engagement says America suffers from an inconsistency between national values and national interests.
Marcia Ford on Christian Misfits | The author of Memoir of a Misfit describes her eccentric family and her faith journey. (April 8, 2003)
War Is Not a Necessary Evil | The author of When God Says War Is Right says early Christians weren't pacifists but looked at the entire Bible for advice on war. (April 8, 2003)
Jim Van Yperen on Church Conflicts | The author of Making Peace: A Guide to Overcoming Church Conflict says the early church was also "full of problems." (March 18, 2003)
Texas Pastor James Robison on the Life-Changing Faith of George W. Bush | The president of Life Outreach International talks about his friend's faith, the moral need of America, and his own conversion. (March 11, 2003)
National Book Award Finalist Ron Hansen on Christian Fiction | It's important to instruct while entertaining, but method can be as important as message, says the author of Isn't It Romantic? and Atticus. (March 4, 2003)
Gods and Generals' Director Links the Civil War with Today | Ron Maxwell talks about the role his faith plays in his career and what attracts him to the generation of the 1860s. (Feb. 25, 2003)
Why Don Richardson Says There's No 'Peace Child' for Islam | The author and missionary says he has tried to find bridge-building opportunities with Islam, but failed. (Feb. 11, 2003)
Article continues below
Did Martin Luther Get Galileo In Trouble? | David Lindberg talks about the early relationship between science and faith and his own journey on the subject (Feb. 4, 2003)
Dan Bahat on Jerusalem Archaeology  | One of Israel's leading archaeologists talks about the importance of the Temple Mount and key historical finds in the Holy Land. (Jan. 27, 2003)
Eddie Gibbs Reconsiders Gen X Churches| The author of Church Next and Fuller's professor of church growth says his views on church leadership have grown. (Jan. 21, 2003)
Peter Jenkins Finds Jesus While Walking America | The author of A Walk Across America talks about why angels smiled down at him at a revival in Mobile, Alabama. (Jan. 7, 2003)
The Dick Staub Interview
Dick Staub was host of a eponymous daily radio show on Seattle's KGNW and is the author of Too Christian, Too Pagan and The Culturally Savvy Christian. He currently runs The Kindlings, an effort to rekindle the creative, intellectual, and spiritual legacy of Christians in culture. His interviews appeared weekly on our site from 2002 to 2004.
Previous The Dick Staub Interview Columns: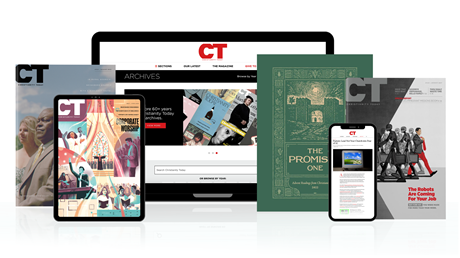 Annual & Monthly subscriptions available.
Print & Digital Issues of CT magazine
Complete access to every article on ChristianityToday.com
Unlimited access to 65+ years of CT's online archives
Member-only special issues
Subscribe
Alistair Begg on The Beatles
Alistair Begg on The Beatles