An ordinance banning conversions by "force, allurement, or fraudulent means" could put Christian relief work at risk in the southern state of Tamil Nadu.
The decree introduced last week is expected to be ratified into law when the Tamil Nadu assembly convenes later this month. The Tamil Nadu state government claimed the measure was aimed at preventing attempts by "some religious fundamentalists and subversive forces to create communal disharmony in the name of religious conversion." Under the law, all conversions must be reported to a district magistrate.
The legislation follows the conversion of 250 Dalits (members of India's lowest economic and social class) to Christianity in August by evangelists of the Seventh-day Adventist church at Madurai, Tamil Nadu's second-largest city. Tamil Nadu is a Southern Indian state with a strong Christian community that dates back 2,000 years. The capital city is twelve percent Christian with some 2,000 congregations and hundreds of Bible schools.
Hindu groups in the state welcomed the emergency legislation, which provides for a punishment of up to three years in prison and a fine. VHP international president Ashok Singhal said that freedom of religion does not cover conversion, but only the practice, propagation, and protection of it. But Christian organizations are strongly opposed to the immediately effective ordinance.
The All India Christian Council (AICC) has threatened to challenge the law in court. It has also called for a national day of prayer and fasting tomorrow and a day of non-violent protest next week.
In a press release, AICC president Dr Joseph D'Souza writes:
This ordinance puts severe curbs on the peoples right to religion as enshrined in the Indian Constitution, and is targeted mainly against the Christian and Dalit community.  It announces a stiff penalty for anybody engaged in converting a person through force, fraud, and allurement. The ordinance does not define [those] words.  It is common knowledge that such ambiguous terminology has been used to harass and intimidate Christians in the States of Orissa, Madhya Pradesh, and Arunachal Pradesh.
The National Council of Churches in India, which consists of 29 Protestant and Orthodox churches, said the law threatens to undermine constitutional rights and creates mistrust between religious communities.
"The law will also make it difficult for the churches in Tamil Nadu and religious NGOs [non-governmental organizations] to work for social and economic justice and even for humanitarian relief," the Council said, calling on the state government to repeal the measure.
"We are concerned about this. This [law] could be misused to curb the genuine exercise of freedom of conscience which is a fundamental right," Archbishop Vincent Concessao of Delhi, senior vice president of the Catholic Bishops' Conference of India, told journalists. 
K. Rajaratnam, the executive secretary of the United Evangelical Lutheran Church of India and the National Council of Churches in India's chairperson for national issues, said the law was "unconstitutional, undemocratic and opposed to secularism."
Rajaratnam said a meeting of church leaders will decide on "concerted church action" against the legislation.
Nearly 70 per cent of India's 24 million Christians are Dalits. Rajaratnam said many of them had converted from Hinduism in protest of the discrimination they face from upper-caste Hindus. Said Rajaratnam: "The upper-caste Hindus do not want the Dalits to be liberated. They want to keep intact their hegemony over the Dalits."
Related Elsewhere
Previous Christianity Today articles on religious tensions in India include:
Hounded, Beaten, Shot | What you can do to help persecuted Christians in India. (June 11, 2002)
Critics Assail Dialogue with Hindu Radicals | But some Christians see talks as an opportunity to build bridges in times of persecution. Critics Assail Dialogue with Hindu Radicals. (May 14, 2002)
New Curriculum 'Tampering' with History, Indian Churches Protest | Christian leaders allege that a current education proposal promotes Hindu nationalism. (Dec. 12, 2001)
Law Could Curb Foreign Donations To Churches, Indian Christians | Worry Stringent legislation is aimed at cutting off terrorist funding, but could hurt non-government organizations. (Nov. 9, 2001)
Christians Encouraged as 50,000 Dalits Leave Hinduism | Low-caste Hindus see conversion as their only escape from oppression. (October 11, 2001)
India's First Dalit Archbishop Holds 'No Grudge' Over Predecessor's Attack | Once "untouchable" Dalits make up bulk of country's Christians. (May, 11, 2001)
Plans to Resolve India's Interfaith Tensions Face Delays and Accusations | Did India's National Commission for Minorities plan a meeting to discredit Christians? (July 20, 2000)
Foes Claim BJP is Using Arms Training to Win Crucial Election in India | Fears mount that reason for camps is to galvanize support for temple construction. (June 29, 2001)
Bomb Explosion During Mass Stirs Fear, Public Outcry in Bangladesh | Suspects linked to rash of attacks. (June 25, 2001)
Article continues below
India Election Results Rattle Ruling Nationalists | Hindu BJP "getting irrelevant day by day" say rivals. (June 13, 2001)
Despite Tensions, Indian Churches Agree to Talks With Hindu Groups | Mainline churches will join talks, but other Christians say "partisan" meeting is dangerous. (Apr. 11, 2001)
India Relief Abuses Rampant | Radical Hindus hijack supplies in quake intervention. (Mar. 20, 2001)
In Orissa, You Must Ask the Government If You Want to Change Religion | Christian church leaders say they're trying to ignore the controversial law, but police aren't doing the same. (Mar. 12, 2001)
Churches Angry that Indian Census Ignores 14 Million Christian Dalits | Only Hindu, Sikh, and Buddhist members of "untouchable" caste being counted. (Mar. 2, 2001)
India's Christians Face Continued Threats | We must preach what we believe in spite of Hindu pressure, says Operation Mobilization India leader. (Feb. 15, 2001)
Christianity Today'spersecution archive has more articles on religious discrimination and violence from around the world. The World Report section allows readers to search for past articles by country (see articles on India).
For more articles, see Yahoo's full coverage on India.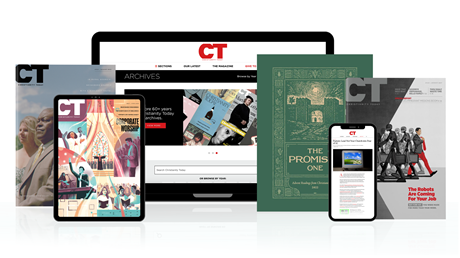 Annual & Monthly subscriptions available.
Print & Digital Issues of CT magazine
Complete access to every article on ChristianityToday.com
Unlimited access to 65+ years of CT's online archives
Member-only special issues
Subscribe
Indian State Bans Conversion
Indian State Bans Conversion