Connie Neal is the author of What's a Christian to do With Harry Potter? and The Gospel According to Harry Potter (Westminster John Knox Press).
How did you get started on this?
I'm a mom, that's how. Actually it was before any controversy in the Christian community.  I'm very much involved in my children's lives and [the mother of] one of their friends said, "I've just read the most fabulous book.  Sarah loves it.  It's about this little boy who finds out he's a wizard and he goes off to this school to learn witchcraft."
And I went, "Oh, lovely." So I read the first book thinking I was reading it to explain to my kids why they couldn't. I could see immediately that it would be enormously popular. As I looked at it, it did not take me very long at all to decide that this was something tremendously useful for an involved Christian parent.
What do you say to people who say the problem with Harry Potter is that it encourages kids to dabble in witchcraft, divination, sorcery, and casting spells? The Bible says God abhors these things.
I absolutely agree that God abhors them.  I abhor them. One of the things that convinced me to take on Harry Potter with my children was I saw that it would be a tremendous tool for me to help them learn spiritual discernment.
I took them to Deuteronomy 18. I made it clear to my children that we are totally against witchcraft. But, I said to them, "Here's what we're going to do: What [J.K. Rowling] has done is she's mixed really fun, wonderful, creative creatures with some things that actually are real according to the Bible.  And so I want you to practice sorting it out.  As I'm reading the story, raise your hand if you find something that is also real in our world and then we can go to the Bible and understand it."
I went through and made sure that my children understood every single thing in these stories so that now they really are better able to help their non-Christian friends who are reading these stories.
In the stories you really see the dangers of the occult. You see the dangers of evil.  So I turned it into really some tremendous lessons on spiritual discernment. For all the fear that [the books are] going to be leading kids into the occult, I've not found any real children who have become occultists because of Harry Potter. 
There was a four year old who jumped off her counter on a broom, thought she could fly, and got hurt. And there are kids who will, you know, dabble with casting spells.  And they might get on a website and go to another one.  Therefore, that is all the more reason that we, as parents, must engage it.
What else do you say to opponents of Harry Potter?
If you start dissecting literature in this way, you end up looking at The Chronicles of Narnia and saying, "The Magician's Nephew.  My goodness."
Witches and magicians and wands and spells have been a part of children's literature throughout the ages. A lot of the accusations that have been made against Harry Potter have been selectively ignored when the same Christians are looking at the Narnia books.
One of the heroes on Aslan's side in Voyage of the Dawn Treader opens up a spell book and she casts a spell. It actually works. Aslan shows up. And then he says, "Do you think I wouldn't use my own magic?"
So for a person who sets out with an intent to find something specific to fill, they will find what they're looking to find. C.S. Lewis said that anyone can find almost anything in a book if they're determined enough.
Your position in The Gospel According to Harry Potter grows out of teaching people about the Bible through what you call "glimmers of gospel in culture."
It is just what Paul did.  It's what Jesus did. They would meet people where they were. John 3:17 says, "God didn't send his Son into the world to condemn the world but that through him the world would be saved."
Paul walks up and down the streets of Athens.  He's reading all these shrines to these idols.  And he's totally disgusted.  But instead of telling them how disgusted he is, he finds one to the unknown god and says, "Look, I see you're religious.  Let's start here with something familiar to you." He would find something in the culture that he could then connect to the gospel.
I led someone to Christ using Harry Potter, someone I'd been trying to witness to for three years. He's the father of the girl who introduced the Harry Potter books to our family. When the first controversy was going on, he shows up pounding at my door and he's a real mild-mannered guy. 
I said, "Tully, what is wrong?" And he said, "I just heard some Christian on the radio saying we should burn or ban Harry Potter.  And I just want to make sure you're not telling my daughter that because we don't raise her that way." 
I said, "Tully, calm down. First of all, I have respect for you as a parent.  I wouldn't do anything with your daughter I wouldn't want you to do with mine, so I'm not going to be going behind your back in that way. But actually, Tully, I saw the gospel in the first book of Harry Potter."
He looked puzzled. His anger froze. And then this broad grin broke across his face. It was obvious we had been trying to get them to come to church, to the Christmas musical, or to the picnic. But they always managed to leave before the presentation of the gospel.  So he gets this big grin on his face, plops down on my couch, and goes, "Okay, you finally got me. Go ahead."
So you then sat him down and walked through the themes of the Gospel you saw in the first book. What happened then?
He looked at me and he said, "I've got to go back and read that again." And he did.
Within a month his wife, who was only 42, stood up one night and said, "I can't breathe."  And she dropped dead. Undiagnosed lung cancer.  Tully and Sarah turned to our family because we were good friends to them, and to our church, because they didn't have a church of their own. 
We helped them through that hard time and Tully accepted the Lord.
Related Elsewhere
Visit DickStaub.com for audio and video of his radio program (4-7 p.m. PST), media reviews, and news on "where belief meets real life."
Chris Rice is also a regular writer for Sojourners magazine.
Earlier Dick Staub Interviews include:
Chris Rice | The author of Grace Matters talks about his friendship with racial reconciliation leader Spencer Perkins, his former coauthor and best friend. (Nov. 12, 2002)
John Polkinghorne | The 2002 Templeton Prize winner sees the Bible as "the laboratory notebook" of the Holy Spirit. (Nov. 5, 2002)
Ruth Tucker | The professor and author of Walking Away from Faith talks about doubting God. (Oct. 29, 2002)
Vishal Mangalwadi | The author and lecturer talks about how the Bible shaped India, Western democracy, and his life. (Oct. 22, 2002)
Dave Alan Johnson | The creator of Doc talks about balancing entertainment with spiritual depth and TV shows with evil plumbers. (Oct. 15, 2002)
Chuck Palahniuk | The author of Fight Club talks about his new book and the need to see culture not on a TV set but by talking to neighbors. (Oct. 8, 2002)
Frederica Mathewes-Green | The author of Facing East and The Illumined Heart talks about her spiritual journey and transformation. (Oct. 1, 2002)
Chris Seay | The author of The Gospel According to Tony Soprano talks about men who want to be in the "Christian mafia." (Sept. 24, 2002)
John Sloan | The author of The Barnabas Way says Christians need to kiss more frogs and reconsider their prayers for blessings. (Sept. 17, 2002)
Article continues below
Nancy Guthrie | Two years after sharing her story of Hope with Christianity Today, the modern Job tells of losing another child to Zellweger Syndrome (Sept. 10, 2002)
Stephen L. Carter | The Yale University law professor and author of The Emperor of Ocean Park talks about the lack of religious characters in modern fiction (Sep. 3, 2002)
Francine Rivers | The fiction writer says she starts each book with a question that she doesn't know the answer to. God provides the ending. (Aug. 27, 2002)
Ben Heppner | The acclaimed dramatic tenor speaks about getting into opera, his faith, and P.O.D. (Aug. 20, 2002)
Morton Kondracke | The political commentator talks about how being saved from alcoholism, and trying to save his wife from the ravages of Parkinson's. (Aug. 13, 2002)
Mike Yaconelli | The author of Messy Spirituality discusses God's "annoying love." (Aug. 6, 2002)
David Brooks | The Weekly Standard senior editor talks about the spiritual life of Bobos. (July 30, 2002)
Calvin Miller | The author of Jesus Loves Me: Celebrating the Profound Truths of a Simple Hymn talks about childlike faith (July 23, 2002)
Kathleen Norris | The author of The Virgin of Bennington talks about being found by God in the midst of sex, drugs, and poetry. (July 16, 2002)
Thomas Moore | "To really live a secular life and enjoy it is part of being a religious person," says the author of Care of the Soul and The Soul's Religion (July 9, 2002)
Os Guinness | Whether we're seeking or have already been found, we're all on a journey. (July 2, 2002)
Oliver Sacks | The physician author of Awakenings talks about his Orthodox Jewish upbringing, order in the universe, and testing God. (June 25, 2002)
David Myers | People say they know money can't buy happiness, says the Hope College psychology professor. But they don't truly believe it. (June 18, 2002)
Richard Lewis | The comedian, actor, and author talks about his humor, addiction, and spiritual journey. (June 11, 2002)
The Dick Staub Interview
Dick Staub was host of a eponymous daily radio show on Seattle's KGNW and is the author of Too Christian, Too Pagan and The Culturally Savvy Christian. He currently runs The Kindlings, an effort to rekindle the creative, intellectual, and spiritual legacy of Christians in culture. His interviews appeared weekly on our site from 2002 to 2004.
Previous The Dick Staub Interview Columns: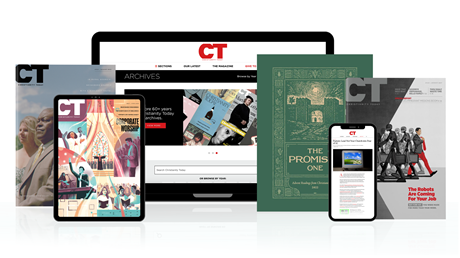 Annual & Monthly subscriptions available.
Print & Digital Issues of CT magazine
Complete access to every article on ChristianityToday.com
Unlimited access to 65+ years of CT's online archives
Member-only special issues
Subscribe
Connie Neal
Connie Neal