true
Increasing sales, fueled in part by the resources of new owners, have made contemporary Christian music (CCM) one of the hottest market segments. Sales of albums have grown from 31 million in 1996 to 44 million in 2000. Increased sales were an anticipated benefit of the buyouts—from 1992 to 1997, large secular corporations snatched up the industry's major labels. That growth has come at a cost—but not the cost many feared.
"I think the general perception is that a parent secular company comes in and buys the Christian company and will make them water down their Christian message," says Greg Rumburg, former managing editor of CCM magazine. "That's not what has happened."
Instead, industry observers say, the downside has been an unwavering focus on the bottom line. "In many cases, the parent company is saying, 'No, you need to be more Christian,' " Rumburg says. "They understand that the more Christian they are, the more appeal to the [listener], and the more money they make."
Expanding Media Empires
Word Entertainment was the first to go. It was purchased in the 1970s by ABC, which then sold it to Christian publisher Thomas Nelson in 1992. In 1997, Nelson sold it to Gaylord Entertainment (owner of the Grand Ole Opry) for $120 million and finally, after a three-year slide in profitability and creativity, Gaylord sold it for $84 million to the ever-growing AOL/Time Warner empire.
British media giant EMI bought Sparrow Records from founder Billy Ray Hearn's family in 1992. Sparrow became the cornerstone of EMI Christian Music Group, which also includes Forefront, EMI Gospel, and half of Tooth & Nail.
Zomba's Provident Music Group includes Reunion, Essential, and Verity Records and the mammoth Brentwood-Benson publishing operation.
Meanwhile, there are the smaller labels—like M 2.0/INO Records, Gotee, and Rocketown Records.
They remain independent and, they would say, more driven by creativity. "Independent labels always lead trends," says Rocketown President Don Donahue.
Donahue has worked on both sides of the industry, and his experience highlights the tension between secular and spiritual forces on Christian music.
His tenure at Reunion began in 1990 when it, too, was a respected independent. Michael W. Smith's managers had founded Reunion as a home for Smith, Rich Mullins, and others. Donahue left Reunion in 1996 after it had been sold three times and was nearly hobbled by corporate profit-seeking pressures.
Donahue and Smith created Rocketown to be like Reunion, and it quickly became one of the industry's most respected independent labels. Rocketown artists include Chris Rice, Ginny Owens, and Watermark.
"Everything started to impact lives for Christ," Donahue recalls. "Now you're getting heat—from people who don't believe the way you do— to grow your company, to make money. There's nothing wrong with making money. There's nothing inherently evil about corporate ownership—but when you mix it in with art and the gospel, it's a dangerous mixture."
EMI's partnership with Sparrow has clearly been the smoothest transition to corporate ownership. When Sparrow was sold to EMI in 1992, it was a $35 million company. Now, according to Bill Hearn, chairman of EMI-CMG and the son of Sparrow founder Billy Ray Hearn, it's worth $135 million, and sales have grown 100 percent in eight years.
In those eight years, EMI-CMG has purchased or started four other labels. It has let Forefront retain an independent, rock-oriented spirit, and intends to do the same with a recently purchased interest in Seattle-based Tooth & Nail, according to Hearn. But the company also shuttered Star Song, a Christian pop label it purchased in 1994.
Veteran artist Margaret Becker has been with Sparrow all of her career. "I have the soup-to-nuts view. Sparrow was newly successful when I signed on. It was a one-room office in United Artists Tower—the president of this branch and his secretary," she says. "Now EMI/Chordant [Distribution Group] is a behemoth. That one-room mentality is something they've tried to preserve, but it's not possible in most senses. With success there come some compromises in the areas of security and family."
But Becker also notes how the company has tried to remain responsible to its roots: "They've given lots of money back into the CCM community through the Sparrow Foundation."
Hearn says he struggles daily to keep the business focused on godly success. "Are we using the resources of EMI truly to have a positive impact on the world? I think that we are. Have we had the kind of impact we'd like to? We have a long way to go. Are we selling more records than Madonna or Lenny Kravitz? No. Are we selling more than ever before? Yes. Has EMI asked us to tamper with or water down or change our biblically based music just to succeed more? If anything, we've needed EMI to put more input into our music," and to use Sparrow as a source of creativity.
In the wake of the terrorist attacks, that's become more likely. Citing spikes in sales since September 11, many predict that Christian music's greatest days are ahead, as people turn to Christian artists for answers or comfort.
Crunching PNL Numbers
If that's the upside of such partnerships, industry veteran John Mays has seen the downside. Mays was a bassist before working successful stints at Word and Sparrow, where he signed Cindy Morgan, Point of Grace, and Nichole Nordeman. He became president of the foundering Benson Records in 1997 (then recently bought by Zomba).
His increased responsibility at Benson put Mays at the center of pressures that would ultimately crush his hopes to revitalize Christian music's oldest label. "I wanted to give the label credibility again, to bring some artists in who would be successful and effective," Mays says. But the company was more focused on its profit and loss sheet (PNL), by which music labels project sales and profits. Bottom-line expectations differ, but for most labels it's a profit of 10 to 15 percent.
His first plan, to sign Out of the Grey, Greg Long, and Erin O'Donnell, was shot down by his superiors at Zomba. "When the corporate powers saw the PNL's and what those records were going to return, they decided they wouldn't be wise investments," he says. "I thought [these albums] would bring credibility, get us on the radio again, and bring something to Benson that wasn't there before."
Instead, he ended up signing three new acts and putting out low-budget records that didn't yield the results that Zomba's executives were looking for. After the New Year holiday in 2000, Mays was pulled out of a staff meeting and told the Benson label would be closed, its staff and artists let go or reassigned within Provident.
"The dirty little secret is [the corporate parent] could [not] care less what your content is—if it's a hit, they could [not] care less," Mays says. "Whether you're talking about Christ or Satan, doesn't matter to them. Does it sell, and not just does it sell—does it make the [PNL] number? Making the number is the only guiding force in corporate Christian music making today."
Mays adds: "It's not so much 'Steven Curtis Chapman is going to have to change his lyrics'—it's if he doesn't sell enough to make the number, he has to go." Mays has since joined producer Mark Heimermann and former GMA head Bruce Koblish to start Gravity Records, an independent that will release its first record this summer.
Some Independents Thrive
Margaret Becker agrees that corporate pressures have increased. "The industry at this point is so commercialized," she says. Profit expectations once could be bent for fledgling artists, but now "most companies have taken on such a strong corporate template, they can't respond that way—they have to be focused on the bottom line."
So is there an alternative? Yes. Although they have to make money to stay in business, independent labels like Rocketown, inpop, and Flicker base their decisions on more diverse factors.
"We sign something we believe in—that we've prayed about and believe is a good fit," says Rocketown's Donahue. "I want to be in the business with people I trust and like."
Becker also cites the growing number of independent artists, like Jill Phillips and Ramsie Shick, who make and market their music without the support of a label. "It's not a mistake [to sign with a label]," says Becker, "but you should do it with fear and trembling. It's a machine, and you can't marry the machine."
It's easy to dismiss corporations as the enemies of all things good and right in Christian music, but Becker warns against oversimplification. "I think it's important for people to keep an open mind about it all—because it's very tempting in Christian culture to find a bad guy and ostracize them, and there's not one in this situation," she says. "It's just a matter of natural growth patterns that are mimicking the economy."
Indeed, what's happened in Christian music mirrors what's happened in mainstream music, with major labels consolidating and new independents springing up as an alternative. At the end of the cycle, the independents often become part of big companies themselves, and the cycle starts over.
Big money from AOL/Time Warner, EMI, and Zomba, along with the innovation of independents, likely will fuel the industry's continued growth. But the influence of those big companies ensures that the industry remains as driven by the bottom line as by the message.
Beau Black teaches English at Weatherford College. He writes about music for the Dallas Morning News, CCM, and CDNow.com.
Related Elsewhere
An opinion piece by Mark Joseph recently argued that "All the glowing press releases and exaggerated sales numbers in the world cannot conceal this fact: The idea of Christian music as a genre is in decline among a new generation of people of faith."
For more Christianity Today CCM coverage, see our music archive and ChristianityToday.com's Music channel.
Have something to add about this? See something we missed? Share your feedback here.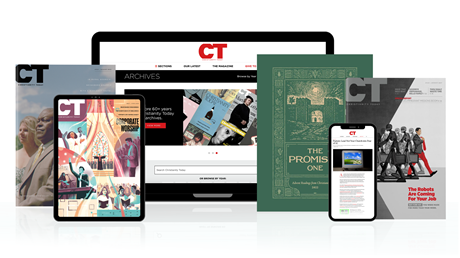 Annual & Monthly subscriptions available.
Print & Digital Issues of CT magazine
Complete access to every article on ChristianityToday.com
Unlimited access to 65+ years of CT's online archives
Member-only special issues
Subscribe
Read These Next
Trending

American Christians Should Stand with Israel under Attack

While we pray for peace, we need moral clarity about this war.

From the Magazine

The Unusual Epistle that Helps Me Counsel on Sexuality

Jude has strong words for immorality in the church. Yet he advocates for mercy for those who doubt.

Editor's Pick

Don't Miss These African Christmas Hits

Jam out this season to highlife, Afrobeats, jazz, a cappella, R & B, rap, dance, and hip-hop artists from Nigeria, South Africa, and more.
CCM's Growing Pains
CCM's Growing Pains