A New Kind of Christian:
A Tale of Two Friends on a Spiritual Journey
Brian D. McLaren
Jossey-Bass, 192 pages, $21.95
Is the church at a monumental crossroads, like those created by the rare epochal shifts of moving from the ancient world to the Middle Ages, or from medieval to modern times? Are we witnessing the slow death of one expiring age and the groaning, struggling birth of a new one?
Many thinkers believe that is exactly where the church finds itself at the dawn of the 21st century, and they have written books to help us understand the grand implications of this crossroads. Of these books, Brian McLaren's A New Kind of Christian is among the most helpful. McLaren, a pastor, has a passion for Christ's church to accomplish God's will in this unique generation. His understanding of how we should go about it is uncommon.
What is this epochal change? It is the postmodern turn, and McLaren's explanation can help those who know they should understand postmodernism but are not sure they do. McLaren's interest in postmodernism is not as a positive philosophy with an ideological superstructure constructed at the hands of Foucault, Derrida, and Rorty, but more importantly the natural result of the exhaustion and slow death of modernism—with nothing yet replacing it.
Modernism is dying because experience brought the Enlightenment project up short in some important areas. For instance, working in a closed, naturalistic system, science cannot answer the ultimate questions of why the universe is this way rather than another, or whether there's any meaning behind it. Those answers can come only from a transcendent source, for which modernism makes little room.
Enlightenment science also failed to provide a sufficient basis for acting morally in a civil society. The modernist promise of inevitable progress fueled by the inherent goodness of knowledge has been judged a fairy tale by the experience of the last century, the bloodiest in all of history. As Diogenes Allen asserts, the modernist Enlightenment project was an "embargo on the possibility of God" for its supposition that ultimate reality was a self-contained, mechanical universe and nothing more.
'Christ Against Modernity'
While modernity produced good things that enhance our humanity, from the printing press to penicillin, it also suppressed our humanity by denying the possibility of the transcendent. The death of modernism has us listening anew to a rumor of angels, as Peter Berger put it more than 30 years ago, and rediscovering the supernatural. It finds us seeking something more.
That is the postmodern turn. It doesn't promise good things for the church, but it does provide a massive opportunity, if only we will seize it. Postmodernity is opportunity.
McLaren seeks to help the church seize this unique opportunity by helping evangelicals do some serious self-analysis. His method of explanation is itself postmodern. He doesn't make his case with systematic propositions like 95 theses. Rather, he allows the reader to eavesdrop on a conversation taking place over weeks and months in the developing relationship between Dan Poole, a burned-out, questioning pastor, and Dr. Neil Edward Oliver (Neo for short), a pastor-turned-high school biology teacher who has done a lot of thinking about the church and the spirit of our age.
The substance of the conversation is some honest (and at times brutal) questioning of contemporary evangelical methodology. Some will find the discussion hopeful and comforting, glad to hear others articulating what is often held privately. Others will be unsettled that some of the questions are raised at all. But the ensuing discussion is good for our community and natural in such changing times. McLaren believes evangelicalism has had two variant relationships with modernism that it must overcome if we are going to fulfill God's call in the coming age. One relational form is well known; the other is not.
Evangelicalism and its first cousin, fundamentalism, have famously been at odds with a modernism that has either treated the idea of God as a fairy tale or an evil. As a consequence, our relationship with modernity has largely been reactive and defensive. While much of evangelicalism is still in this pitched battle, we fail to realize we are in the window of time between modernity's flat-lining and its obituary being posted in the newspapers. The death of the highest modernist ideals is not widely realized, but evangelicals should recognize it and change our posture from reactive to constructive, because we find ourselves in a culture with an empty stage and an open microphone.
In a conversation with Christianity Today, McLaren said our current approach to the age reminded him of a friend who worked in Washington as a spy. "He saw everything through the lenses of the Cold War—who was good, who was bad, and what his mission was," McLaren said. "When the Cold War ended, he was lost. His worldview no longer served him well in a new climate, and he didn't know how to adjust. We evangelicals tend to be that way at the death of modernism."
'Christ Molded by Modernity'
At the same time, contemporary evangelicalism is deeply steeped in and shaped by the modernist mindset—Christ molded by modernity. We are far more acculturated to modernity and shaped by its values than we appreciate. We run our churches with the efficiency of the industrial age. We market our messages and conduct our services in the spirit of capitalist consumerism.
In the modernist exaltation of knowledge, we teeter on a biblicism that sees the Christian faith as a religion of a book rather than a relationship with the Triune God and our neighbors. We often make the Bible the foundation and center of our faith. But, as Neo tells Dan, "the Bible never speaks of itself this way." It speaks of Christ as the foundation of the church; thus we are historically known as Christ-ones.
Dan and Neo take up other important issues like the nature of the Kingdom of God, what the gospel is, and how few Christians really understand the importance of such questions. They wrestle with how we approach theology, believing it should be more narrative than propositional, both true and beautiful. This is a book for people who believe we cannot expand the Kingdom of God by doing more of the same but who are unsure how things should change in our changing times. It is also a book for people disillusioned or discouraged with the current state of evangelicalism.
"It's a hopeful book," McLaren says, "for people who ask, 'Can I still call myself a Christian if I don't buy the whole package of what many call Christianity today, which includes a lot of modernity and has little to do with authentic Christianity?' "
McLaren's book is not intended as a definitive list of what evangelicalism needs to be vital in this new age. It is a discussion starter, and it helps the reader understand why the discussion is needed and where it should go. Our glorious, sacred mission will be better for the engagement this book initiates.
Glenn T. Stanton is director of social reseach and cultural affairs at Focus on the Family.
Related Elsewhere
A New Kind of Christian is available at Christianbook.com.
Christianity Today columnist Andy Crouch reviewedA New Kind of Christian for Christianity Today's sister publication Books & Culture.
In April, Christianity Today managing editor Mark Galli wrote that McLaren's plea is typical of postmodern reformers. He said: "I fear they would merely slap a coat of paint on a sagging building whose foundation needs attention. They would do well to take lessons from the very people they say they admire."
Article continues below
Publisher Josey-Bass has an excerpt of the book, as does Beliefnet.
There's a Yahoo group discussing the book.
In 1997, Leadership Journal, another Christianity Today sister publication, analyzed "The Riddle of Our Postmodern CultureWhat is postmodernism? Should we even care?"
Previous Christianity Today articles on the postmodern debate include:
The Anti-ModernsSix postmodern Christians discuss the possibilities and limits of postmodernism. (Nov. 13, 2000)
What Exactly Is Postmodernism?The often-maligned movement is today's academic Rorschach blot. (Nov. 13, 2000)
Urbanites: More Justice, Less EpistemologyThe emerging urban class is targeting capitalism and Christianity—often for good reason. (Nov. 13, 2000)
Scientists: Just Leave Us AloneNot all the academy is so taken with postmodernism. (Nov. 13, 2000)
The Sky Isn't FallingThe only remaining "ism" is postmodernism. And it is a formalized expression of despair. (Jan. 11, 1999)
Poster Boy for PostmodernismStrohmeyer told police he strangled the little girl by twisting her neck the way he had seen in movies. (Nov. 16, 1998)
Abraham Kuyper: A Man for This SeasonThe surprisingly relevant advice of a Dutch statesman for engaging postmodern culture. (Oct. 5, 1998)
The Oxford ProphetLewis predicted a time when those who want to remold human nature "will be armed with the powers of an omnicompetent state. (June 15, 1998).
A Theology to Die ForTheologians are not freelance scholars of religion, but trustees of the deposit of faith. (Feb. 9, 1998)
The New TheologiansCreating a theological symphony. (Feb. 8, 1998)
A Cultural Literacy PrimerTen resources Christians need for understanding today's world. (April 28, 1997)
Have something to add about this? See something we missed? Share your feedback here.
Our digital archives are a work in progress. Let us know if corrections need to be made.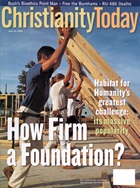 This article is from the June 10 2002 issue.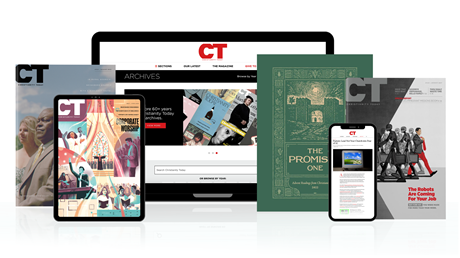 Annual & Monthly subscriptions available.
Print & Digital Issues of CT magazine
Complete access to every article on ChristianityToday.com
Unlimited access to 65+ years of CT's online archives
Member-only special issues
Subscribe
The Postmodern Moment
The Postmodern Moment