Now and then a powerful artist late in his career produces a work that is both unexpected and at the same time a kind of culmination of a lifetime. Frederick Buechner's most recent book, Speak What We Feel (Not What We Ought to Say): Reflections on Literature and Faith, due in paperback in August from HarperSanFrancisco, is such a book.
Buechner's title is taken from some lines spoken by the Duke of Albany in William Shakespeare's King Lear: "The weight of this sad time we must obey, / Speak what we feel, not what we ought to say." Of his earlier works, this one can most readily be compared with Telling the Truth: The Gospel as Tragedy, Comedy, and Fairy Tale. In Speak What We Feel, Buechner reflects on an intriguing and complex question: "within what life-circumstances have great writers produced their very best work?" In four chapters he considers what is at first glance an unlikely ensemble of writers: Gerard Manley Hopkins, Mark Twain, G.K. Chesterton, and Shakespeare.
The epitaph on Hopkins' Dublin grave records that "he had a most subtle mind, which too quickly wore out the fragile strength of his body." Hopkins spent the last few years of his life as a teacher of Latin and Greek to undergraduates, and this seems to have been far from a satisfactory assignment. Hopkins was alienated from his homeland, from his family's Anglicanism and from his father, and even to some degree from his vocation. What's more, even his literary friend Robert Bridges thought very poorly of Hopkins' poetry, so that he can't have had much hope that what he wrote would even outlive him. Buechner gives us a good sense of what must have been Hopkins' cast of mind as he tried to compose a poem for his brother's wedding, writing for a particular occasion and yet at the same time trying to write his way out of himself.
Any reading of Hopkins' poetry gives impression that his words, phrases, and rhythms are shaped by intense forces from both inside and outside his soul. Buechner gives us just enough biographical detail to shed light on how the priest-poet's loneliness, self-doubt, and vocational non-fulfillment enriched his work rather than reducing it to self-analysis or disclosure.
Mark Twain's is an entirely different story. While best known and loved as a humorist and curmudgeon, he carried from his boyhood the shame of his father's financial failures and a range of dark superstitions and fears concerning death. Buechner wants to know what it was that helped Twain hit his creative stride during the eight-year stretch beginning in 1876 when he wrote most of Huckleberry Finn. While carrying on for years as a kind of professional character, Twain mostly kept the dark side of his life hidden, yet the tension between the persona of funnyman and his self-understanding as a soul under damnation is evident in Huck's story.
It is Buechner's view that writing Huckleberry Finn provided the author with at least a temporary measure of catharsis: "he had written it out of the deepest truth of who he was, and in doing so had come to terms with the shadows that all his life haunted him." More important, the book that he produced has served countless others by speaking for them what they deeply feel yet have been unable to say.
Like Twain, G.K. Chesterton became a literary celebrity, and it is no simple matter to extract the person from the personality. Further, the sheer volume and range of Chesterton's writings means that it is a challenge to discern at what point of his career he spoke especially from the depths of his soul. Buechner thinks that his novel The Man Who Was Thursday is especially revealing. After providing a sketch of Chesterton's unusual upbringing (a teacher referred to him in 1891 as "A great blunderer, with much intelligence"), Buechner pieces together the circumstances in which the ideas for The Man Who Was Thursday germinated.
Several factors were of critical importance, including Chesterton's separation during college from a strong circle of friends and a period of intense spiritual, psychological and artistic struggle. Buechner sees Chesterton as reclaiming his life through his art: "having been given back his life and his sanity, he was filled both with an enormous sense of thankfulness and an enormous need for someone or something to thank." This is a compelling and satisfying explanation for a literary life lived with such an enduring and compelling blend of energy, bluster, brilliance and audacity.
Buechner's approach in Speak What We Feel is pressed to the limit in the chapter on Shakespeare and King Lear, if only because we really don't possess enough firm knowledge to reconstruct any certain connections between the great playwright's life and his art. Nevertheless Buechner boldly surmises that during the later years of his literary career, Shakespeare's thoughts may well have been occupied by his relationship with his daughters, Judith and Susanna, and their varied troubles, and that such concerns inform his treatment of the tale of King Lear and his daughters, Goneril, Cordelia, and Regan.
If so, this lends an even greater poignancy to the contrasts between loyalty and treachery, honor and contempt, and love and hate which characterize the play. Buechner notes that Shakespeare's version of the story differs from its antecedents: first, in ending with Lear's utter loss both of his kingdom and beloved daughter Cordelia; and second, in incorporating the separate story of Gloucester, which extends still further the possible range of contrasts between truth and falsehood, goodness and evil. Thus in Shakespeare's telling the story abounds both in what is comic and ironic and in what is wretched and tragic. This, as Buechner understands it, is what renders this particular story, and humanity's universal story, so rich.
Speak What We Feel shows what can be achieved when a terrific idea for a book is in the hands of exactly the right author. Buechner's relentless quest to make sense of his own life, particularly in his memoirs, serves him well in this endeavor to comprehend the life and work of others. What is especially intriguing here are the affinities he illuminates between the creative tasks of the preacher and the author, a topic which has rarely been given such thoughtful reflection. Any of us whose work calls on us to teach, write, speak, or read will find these tasks enriched and enlightened by having read this, one of Buechner's very best works.
David Stewart is associate librarian at Princeton Theological Seminary.
Related Elsewhere
Visit Books & Culture online at BooksandCulture.com or subscribe here.
In the March/April 1997 issue of Books & Culture, Philip Yancey profiled writer and Presbyterian minister Frederick Buechner in the print edition only. But Christianity Today printed excerpts of the article, which brought into sharp relief the contours of Buechner's colorful, sometimes brooding, faith.
Recent Christianity Today articles about G.K. Chesterton include:
The 'Ample' Man Who Saved My Faith | G.K. Chesterton propounded the Christian faith with great wit—and sheer intellectual force. (September 3, 2001)
G.K. Chesterton, the Eccentric Prince of Paradox | With a reputation for mild eccentricity, Chesterton laughed most at himself. (August 31, 2001)
Books & Culture Corner appears Mondays at ChristianityToday.com. Earlier Books & Culture Corners include:
The Great Inflatable Shark Hunt | A report from the Christian Booksellers Association convention in Anaheim. (July 22, 2002)
Article continues below
Why Evangelicals Can't Opt Out of Political Engagement | Remembering Jeremiah Evarts and Samuel Worcester. (July 19, 2002)
The Pledge Controversy | Asking the wrong questions? (July 8, 2002)
Reading Danny Pearl | How would the murdered journalist want to be remembered? (July 1, 2002)
A Cry for Help | Sudanese Christians gather in Houston and ask for U.S. support. (June 17, 2002)
Agrarians of the World, Unite! | Wendell Berry's vision, and how Christians should respond to it. (June 10, 2002)
Stop, Drop, and Cover … | Then hack your lungs out and die. (June 3, 2002)
Death of an Evolutionist | RIP Stephen Jay Gould. (May 31, 2002)
Closing The X-Files … | … with the sign of the Cross. (May 20, 2002)
And the Next Thing Is … | Marxism (or not). (May 13, 2002)
God Bless the Eliminator | Mother Jones magazine makes known a shocking discovery: evangelicals are sending missionaries to Muslim countries! (May 6, 2002)
'A Peculiar People' | The uniqueness of the Jews. (April 29, 2002)
'Nebuchadnezzar My Slave' | Was the Holocaust God's will? (April 15, 2002)
'In the Beginning Was the Holocaust'? | Blasphemy, rage, memory, and meaning of the Shoah. (April 8, 2002)
The Gospel According to Biff | A conversation with novelist Christopher Moore. (April 1, 2002)
Baseball 2002 Preview | Part 2: Saving the game? (March 25, 2002)
The State of the Game | After one of the best World Series ever, baseball faces a crisis. (March 18, 2002)
America's Homegrown Islam—and Its Prophet | The strange story of Elijah Muhammad, leader of the Nation of Islam and onetime mentor of Malcolm X. (Mar. 11, 2002)
'Must Be Superstition' | Rediscovering spiritual reality. (Mar. 4, 2002)
Science Holds a Meeting | A report from the annual convention of the AAAS. (Feb. 25, 2002)
Saint Frodo and the Potter Demon | The Lord of the Rings and Harry Potter series spring from the same source. (Feb. 18, 2002)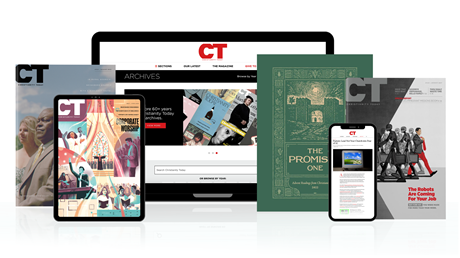 Annual & Monthly subscriptions available.
Print & Digital Issues of CT magazine
Complete access to every article on ChristianityToday.com
Unlimited access to 65+ years of CT's online archives
Member-only special issues
Subscribe
Speak What We Feel
Speak What We Feel